Made with 6 ingredients, avocados, tomatoes, onion, garlic, lime juice and cilantro, this Authentic Homemade Guacamole is ready fast!
Whether you're having a party or just want some, this recipe is sure to win over your guests!
If you're looking for more easy-to-make appetizers, make sure you check out my Homemade Queso Dip...made with no fake cheese!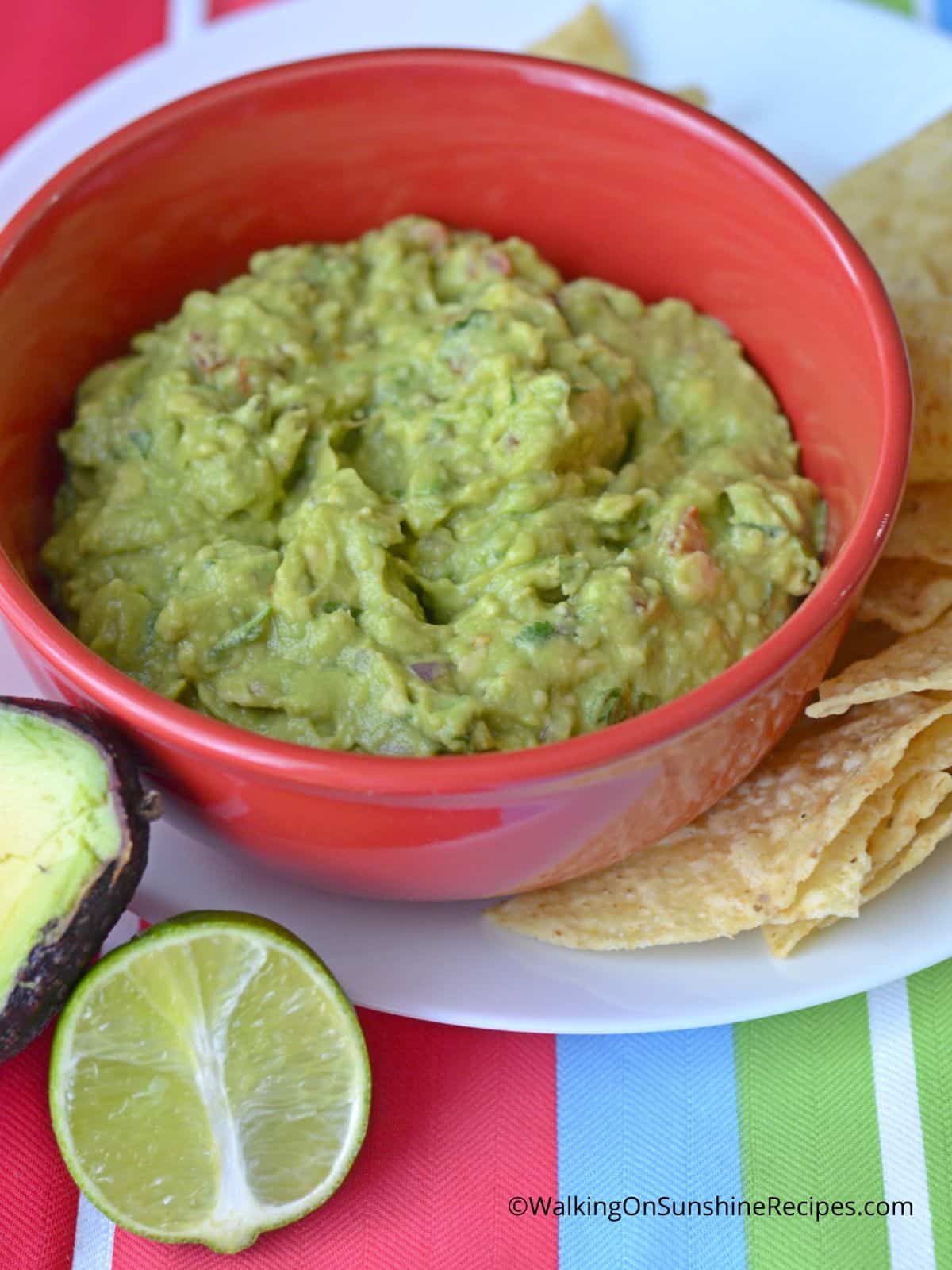 In this post, we'll be learning how to make true homemade guacamole - with all the traditional ingredients like avocados, garlic, onions and tomatoes...yes, tomatoes.
Plus some helpful expert tips to make sure it comes out as smooth and creamy or as spicy as you desire! I hope you enjoy this recipe as much as my family does.
Then check out my Pioneer Woman Salsa Recipe! Both recipes go perfectly together when you're hosting a party.
Oh and if you enjoy fresh guacamole as much as I do, you might want to try a spoonful on top of a hamburger. Or maybe in place of tomatoes for bruschetta.
Table of Contents
Looking for more easy appetizers to make? Try my Bacon Wrapped Jalapenos, Cheese Puff Pastry Bites or my Air Fryer Mini Ravioli.
Does authentic guacamole have tomatoes in it?
True, authentic guacamole does not have tomatoes in it. Adding tomatoes seems to be a common ingredient that Americans love.
Authentic guacamole is made with only four ingredients: avocado, onion, cilantro and lime. Adding tomatoes is really up to each individual.
I add fresh chopped tomatoes to this recipe. You can choose to leave them out if you prefer. I also add chopped garlic, again, you can choose to leave that out as well.
How to keep guacamole green
Once you cut into an avocado, it starts to turn brown. And that happens when you make guacamole too. Here are two tips for keeping it fresh:
Save the pits from the avocados and store them in the container with the freshly made guacamole.
Or you can cover the guacamole with water, and refrigerate for up to 24 hours. Then pour off the water and stir when you're ready to serve.
🛒Helpful Kitchen Tools
Gorilla Grip Heavy Duty, Mortar and Pestle Set for Guacamole, Salsa, Herb Crusher, Grind and Crush Spices and Nuts to Release Flavor
3 Piece Set Avocado Slicer, Knife, Peeler, Pitter, Cuber, Dicer, and Keeper
Avocado Keeper - Keep Your Avocados Fresh for Days, Snap-On Lid, Avocado Storage Container – Prevent Your Avocados From Going Bad
Divided Serving Dishes
📋Ingredients
Be sure to see the recipe card for exact quantities, detailed instructions and special notes.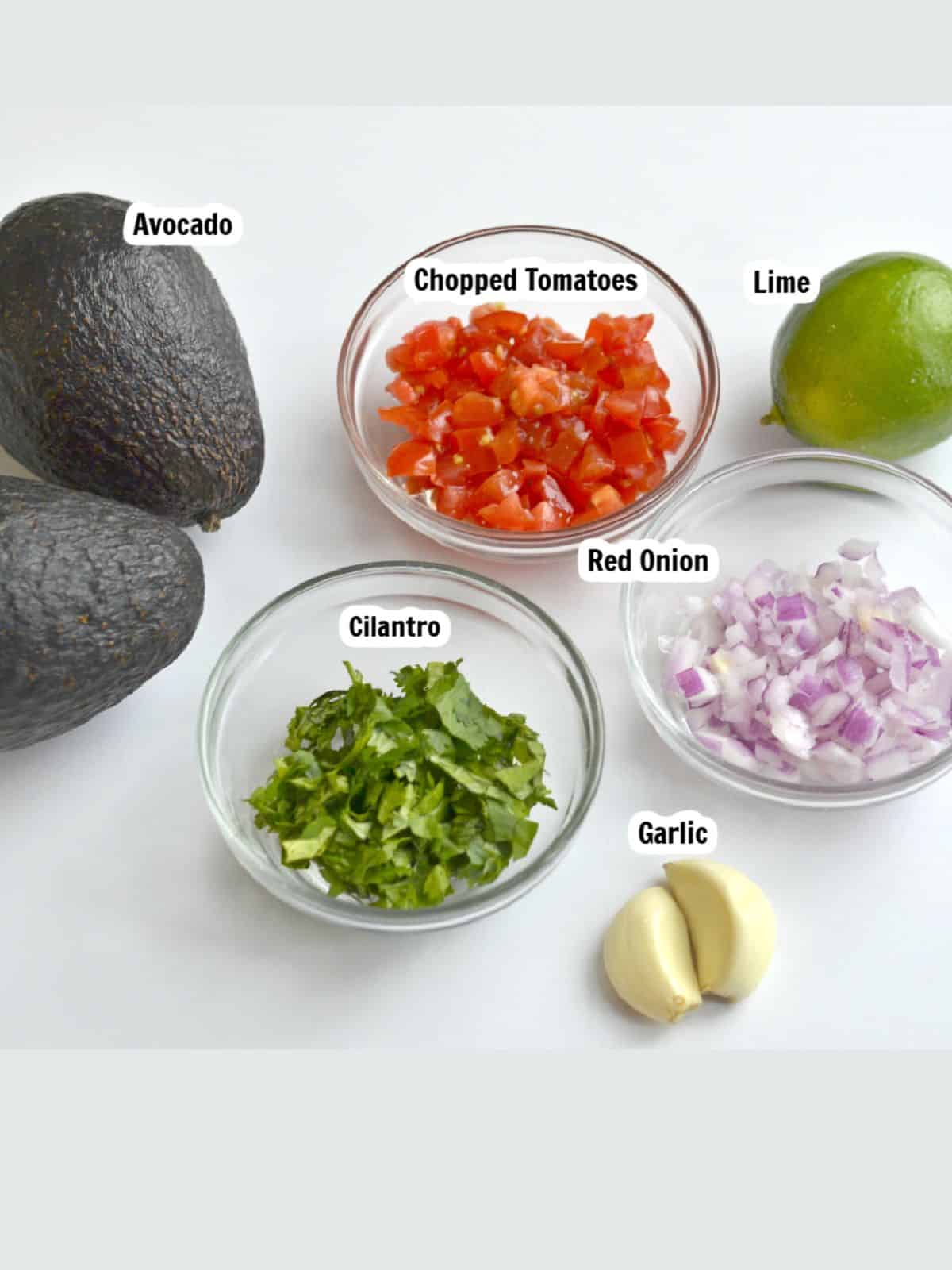 🥣Instructions
With a spoon, gently scoop out the avocados into a bowl.
Then using a fork, smash them into a smooth texture.
Stir in the tomato, onion, garlic and cilantro.
Finally add the lime juice to the bowl and mix well.
Add salt to taste.
Chill before serving.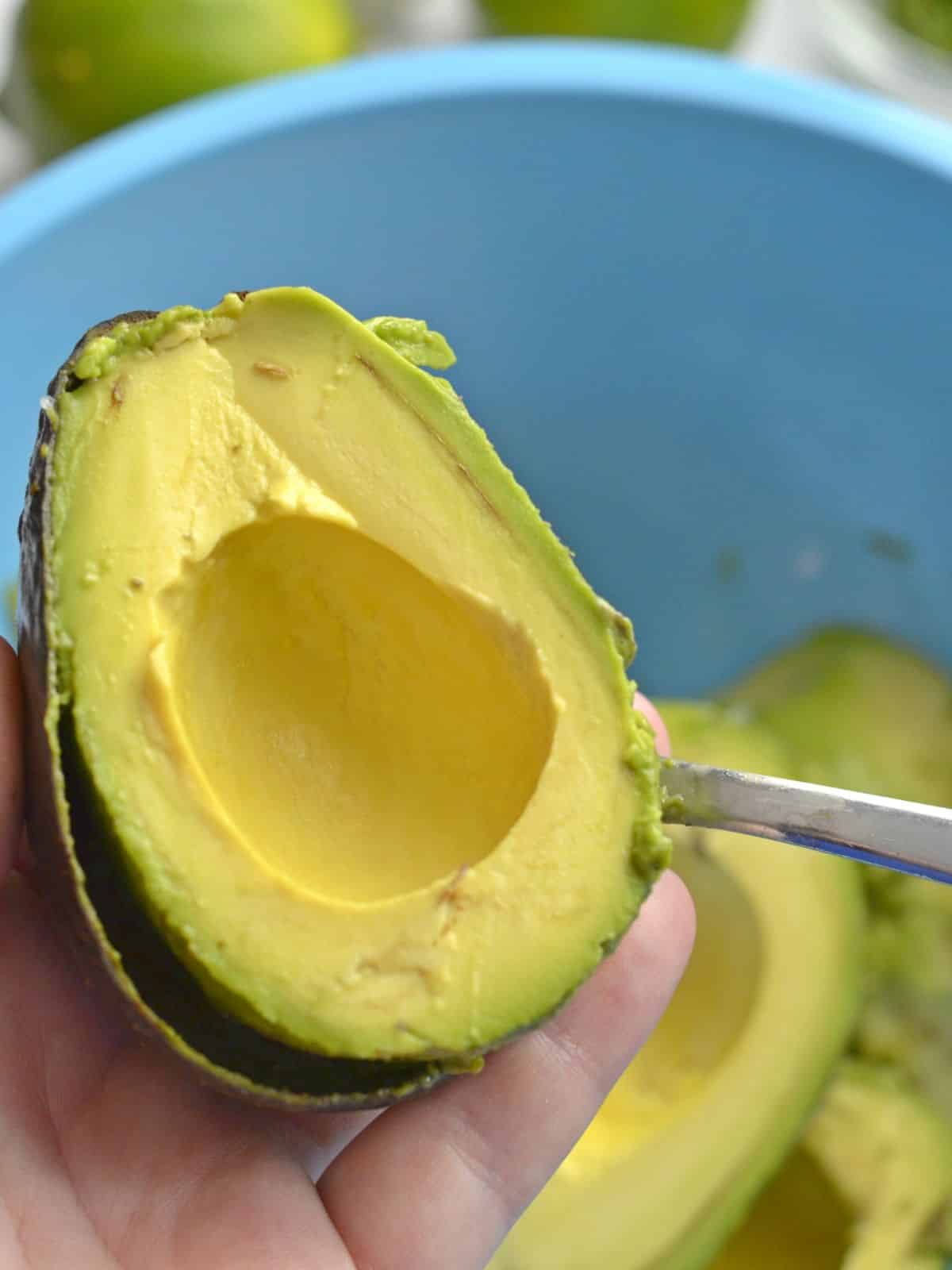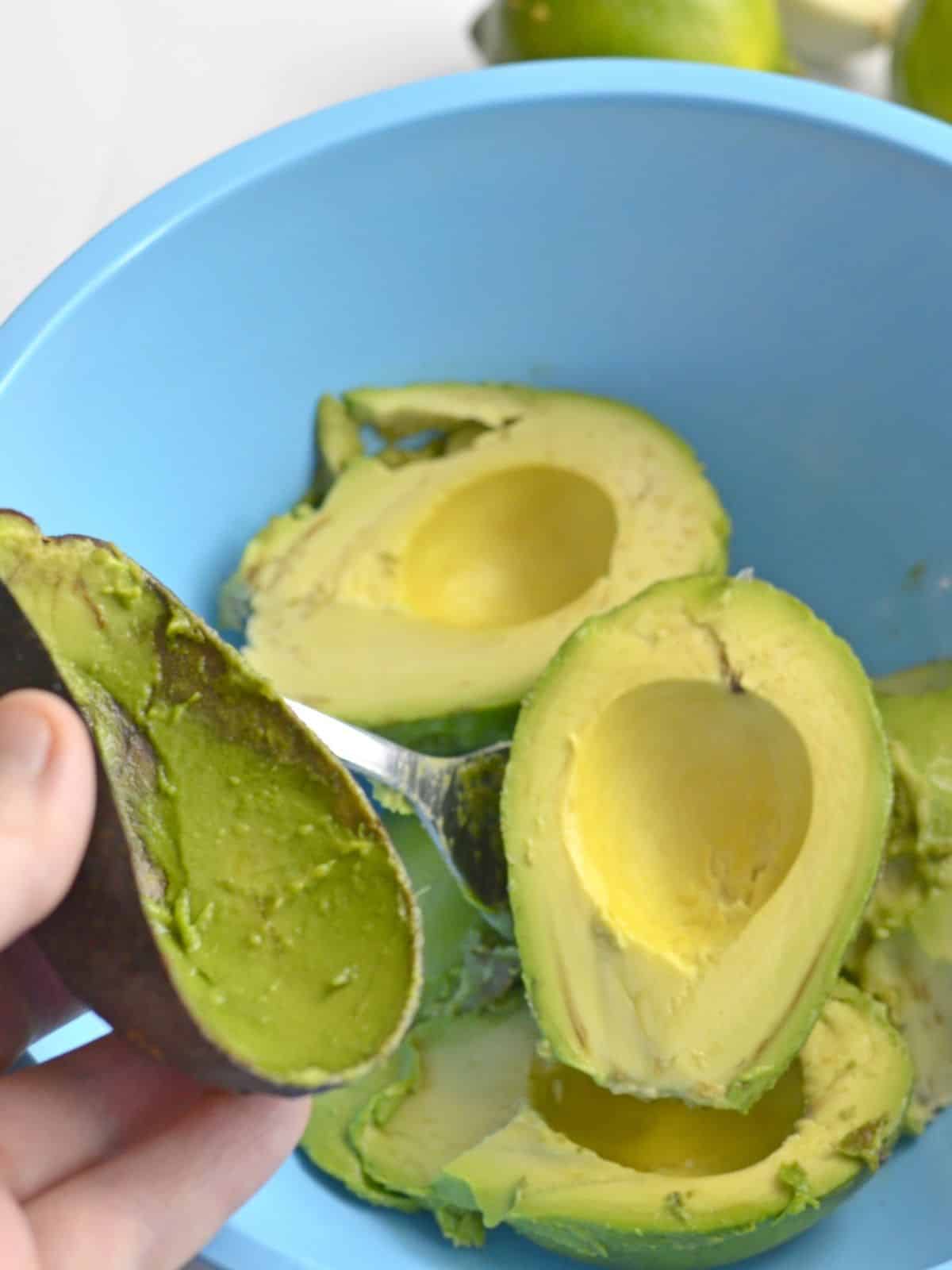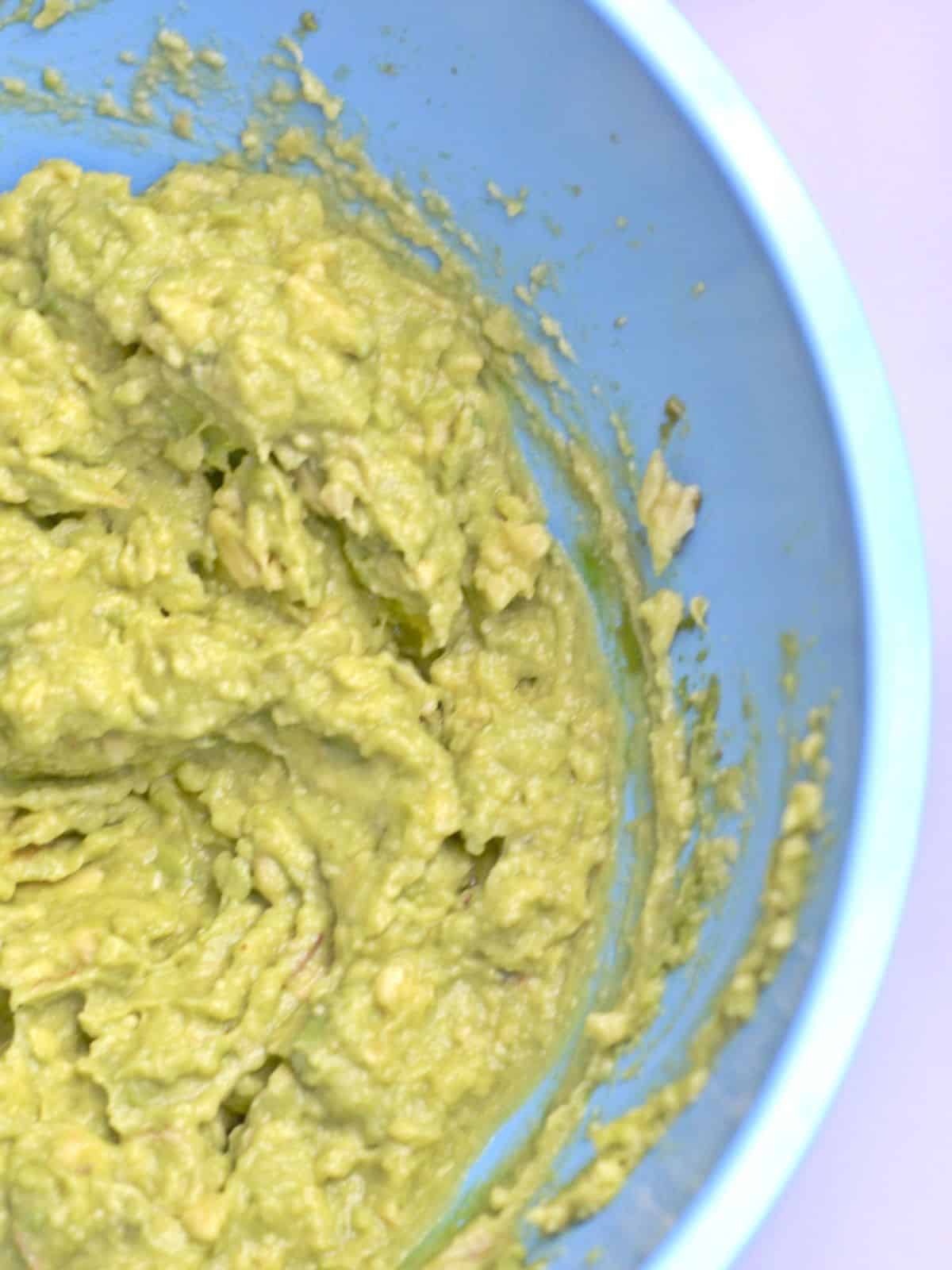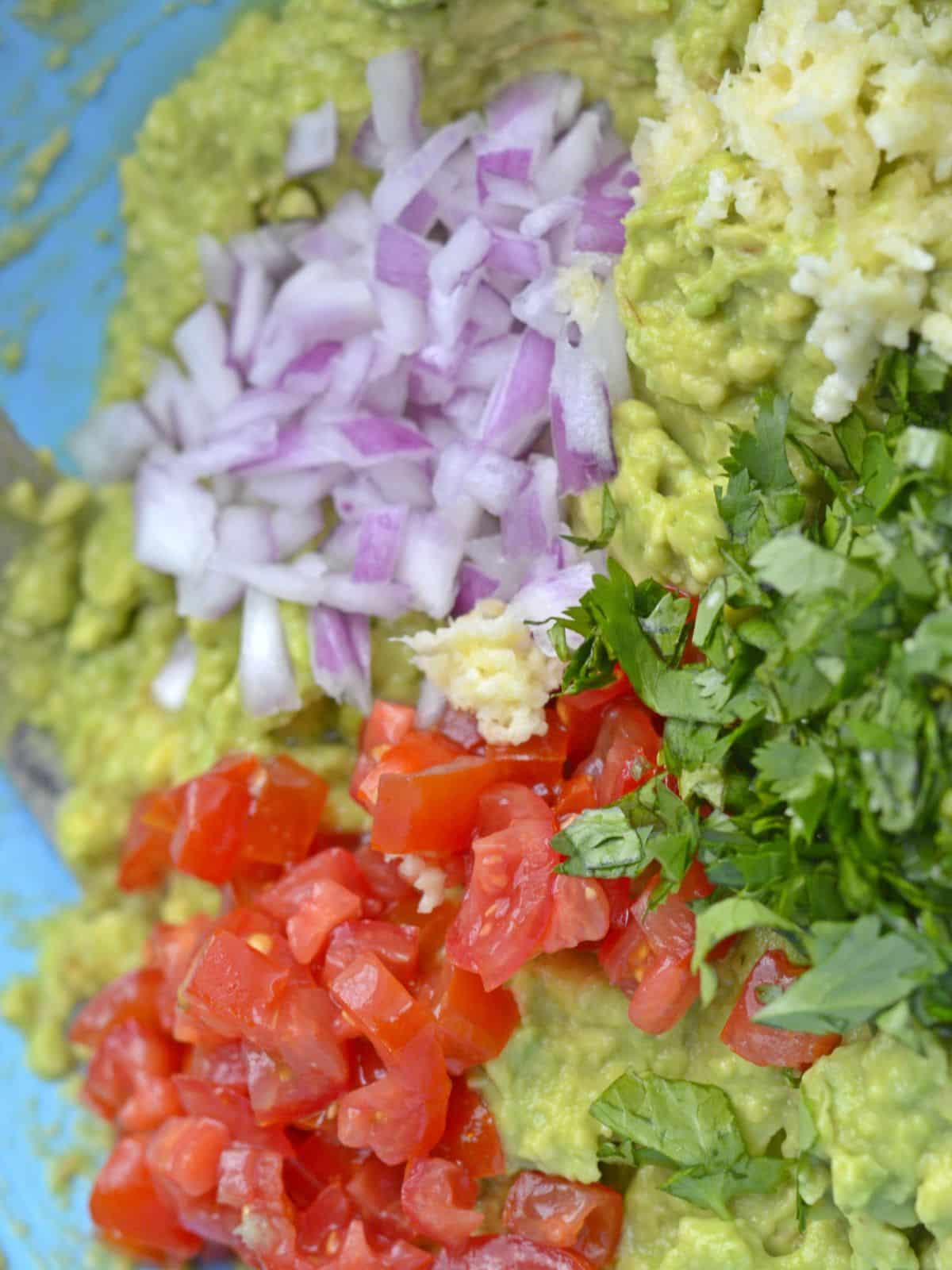 💭Serving Tips
Serve the authentic homemade guacamole with tortilla chips or with veggie sticks. It also tastes great on top of grilled chicken with salsa or a grilled hamburger.
Of course, you can serve homemade guacamole with tacos, burritos or my favorite taco salad. Try these Guacamole Tomato Boats for dinner.
Try my Homemade Taco Seasoning for even more flavor!
⭐Before You Begin! If you make this recipe, please leave a review and star rating. This helps my business thrive and continue providing FREE recipes.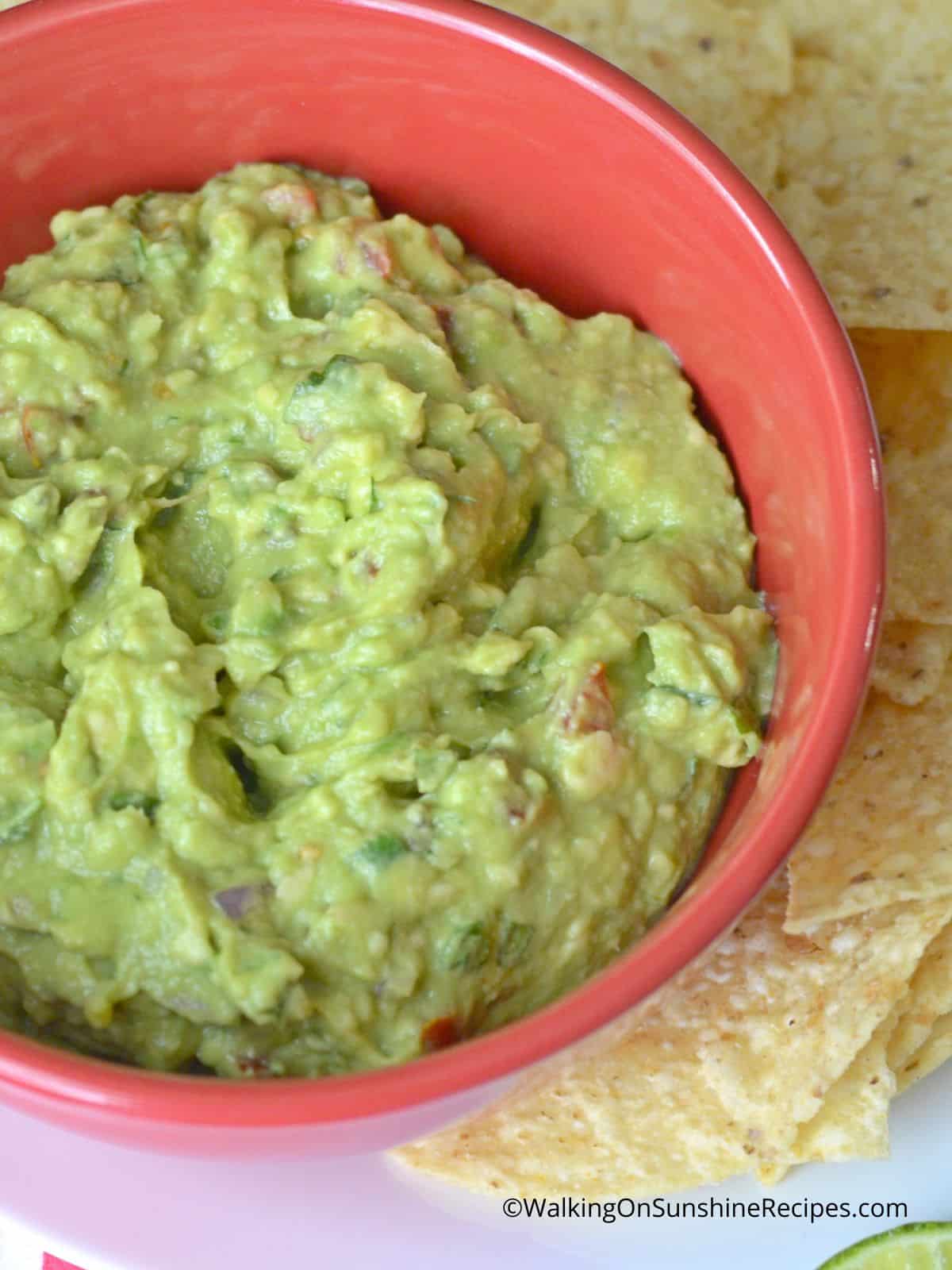 💭Storage Tips
Homemade guacamole is best served and enjoyed the same day. Here's how you should store any leftovers you have:
Make sure the container is completely airtight. Remember, any exposure to oxygen causes avocados to turn brown. And that means the guacamole will also turn brown.
Store the leftover guacamole with the pits from the avocados.
As mentioned above, you can cover the guacamole with water and then pour off the water right before serving the leftovers. Don't forget to stir!
💭Top Recipe Tip
Remember the tips from above. If you're not ready to serve this immediately, you can store it in the refrigerator with the pits from the avocados or cover the guacamole with water. Then right before serving pour off the water and stir to combine any extra moisture.
🌟Try these recipes next...
📇Recipe Card
Yield: 6 servings
Authentic Homemade Guacamole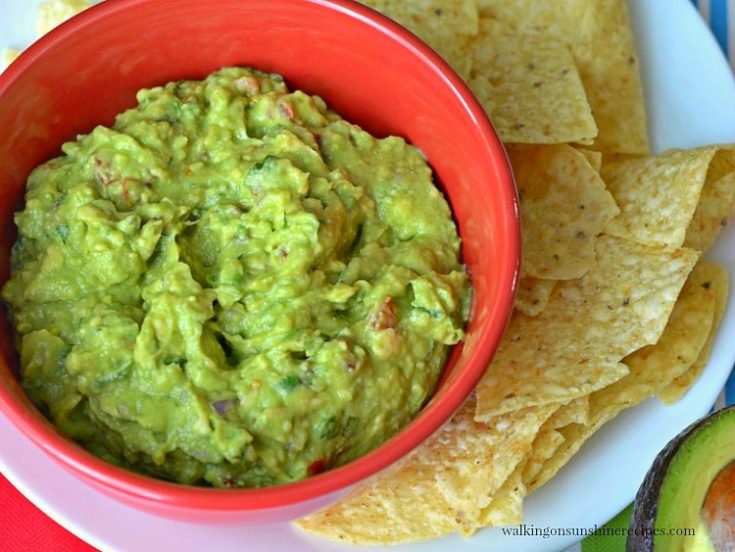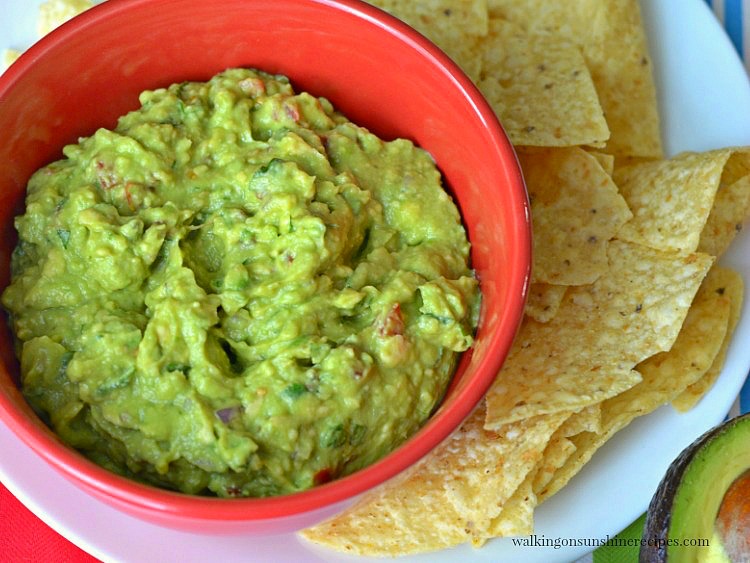 The only guacamole recipe you'll ever need! It's easy to make and quick...you'll be enjoying it with chips in just a few minutes.
Ingredients
3 ripe avocados
½ medium tomato, diced
½ small red onion, diced
2 - 3 teaspoons cilantro, chopped
2 cloves garlic, minced
juice of 1 lime
salt
Instructions
Cut, peel, and pit all 3 avocados, and place them in a bowl. Using a fork, smash them into a smooth texture.
Add the tomato, onion, cilantro, garlic, and lime juice to the bowl. Mix well.
Add salt to taste.
Enjoy!
Nutrition Information:
Yield:
6
Serving Size:
1
Amount Per Serving:
Calories:

168
Total Fat:

15g
Saturated Fat:

2g
Trans Fat:

0g
Unsaturated Fat:

12g
Cholesterol:

0mg
Sodium:

105mg
Carbohydrates:

10g
Fiber:

7g
Sugar:

1g
Protein:

2g
The nutrition information is calculated automatically. I cannot guarantee its accuracy. If this data is important to you, please verify with your trusted nutrition calculator.
More Information
More Information
More Information
More Information
More Information
More Information
More Information
More Information
This recipe has been updated since it first appeared in 2018 with new photos, information and a new printable recipe card that includes nutritional information. I hope you enjoy the updates as much as I enjoyed working on them!