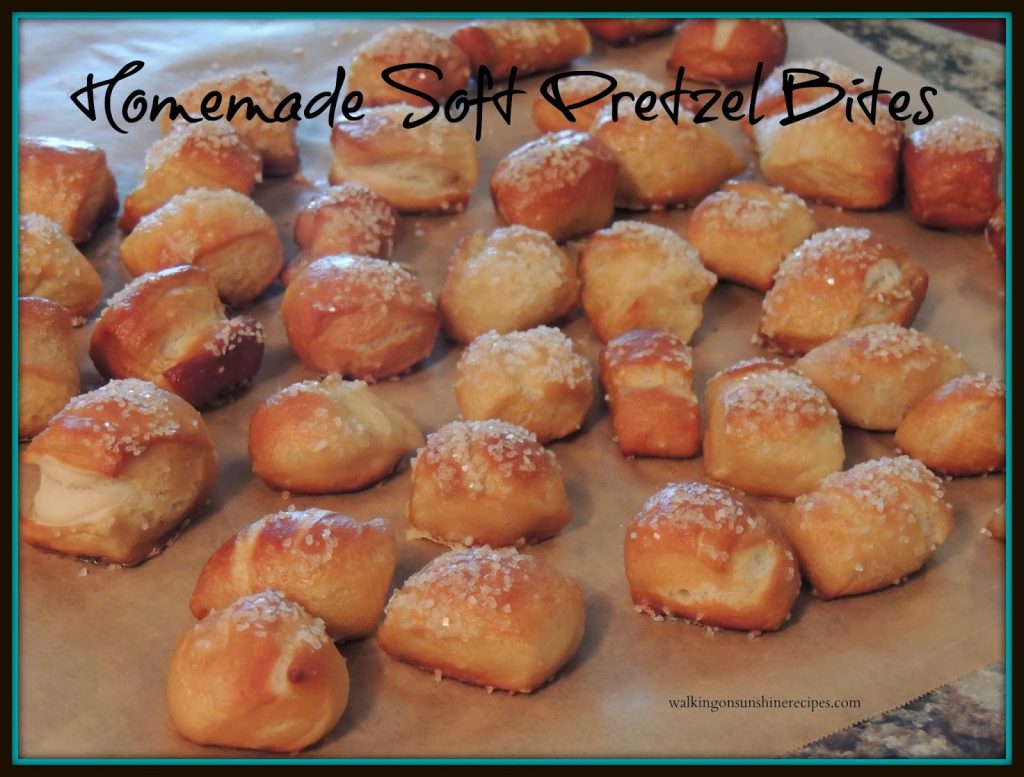 Like a good part of the country, we have had so much snow this winter. Last week alone we had three different snow storms. During the snow storm on Thursday, I put together this yummy recipe that I found awhile ago for Homemade Soft Pretzel Bites. We were all snowed in, so I had some help from my daughter, Olivia. They were amazing. They were the perfect snack for a snowy day. My family loves pretzels and we often get these if we're out shopping. I loved that we were able to spend time together in the kitchen and make these! I can't wait to make them again for my hubby!
Homemade Soft Pretzel Bites
Ingredients:
Pretzel Dough:
1 1/2 cups warm water; 105 to 110 degrees
2 1/4 tsp active dry yeast or one package
6 TBS. butter; melted
2 TBS. brown sugar
4 to 5 cups flour
To Boil the Pretzel Bites:
3 quarts water
3/4 cup baking soda
Glaze:
1 egg mixed with 1 TBS. water
Coarse salt. (see NOTE below)
Directions:
In a mixing bowl, mix together the warm water, sugar, yeast and melted butter. Let sit for 10 minutes for the yeast mixture to get foamy.
Using the dough hook of your mixer, begin adding four and a half cups of flour; one cup at a time.
Set your timer for 8 minutes and begin letting the machine "knead" the dough; adding more flour as necessary. (I added almost another 1/2 cup of flour while the dough was kneading.)
Turn the dough out onto a floured cutting board and form into a ball.
Place into a lightly greased bowl, cover and let rise for about an hour or until the dough has doubled in size.
Once the dough has doubled in size, break off pieces of the dough and start forming long ropes.
Cut the long ropes into one inch pieces and place on a baking tray; trying not to let the pieces touch each other.
Boil the 3 quarts of water.
Once the water is boiling, slowly add in the baking soda; a little at a time.
Do NOT pour all the baking soda in at once or you will have a huge mess.
Begin adding your pretzel bites into the boiling water/baking soda mixture.
Let the bites boil for about 30 to 40 seconds and remove with a slotted spoon to a greased baking tray.
Brush the pretzel bites with the egg wash and then add the salt.
Bake in a preheated 425 degree oven for about 15 minutes or until they are golden brown.
Remove the pretzel bites from the oven and let cool on a cooling rack.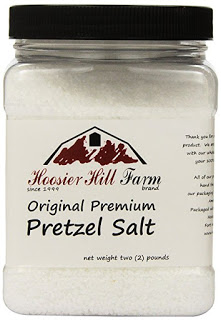 Dough has doubled in size.
Form the dough into ropes and then cut into one inch size pieces.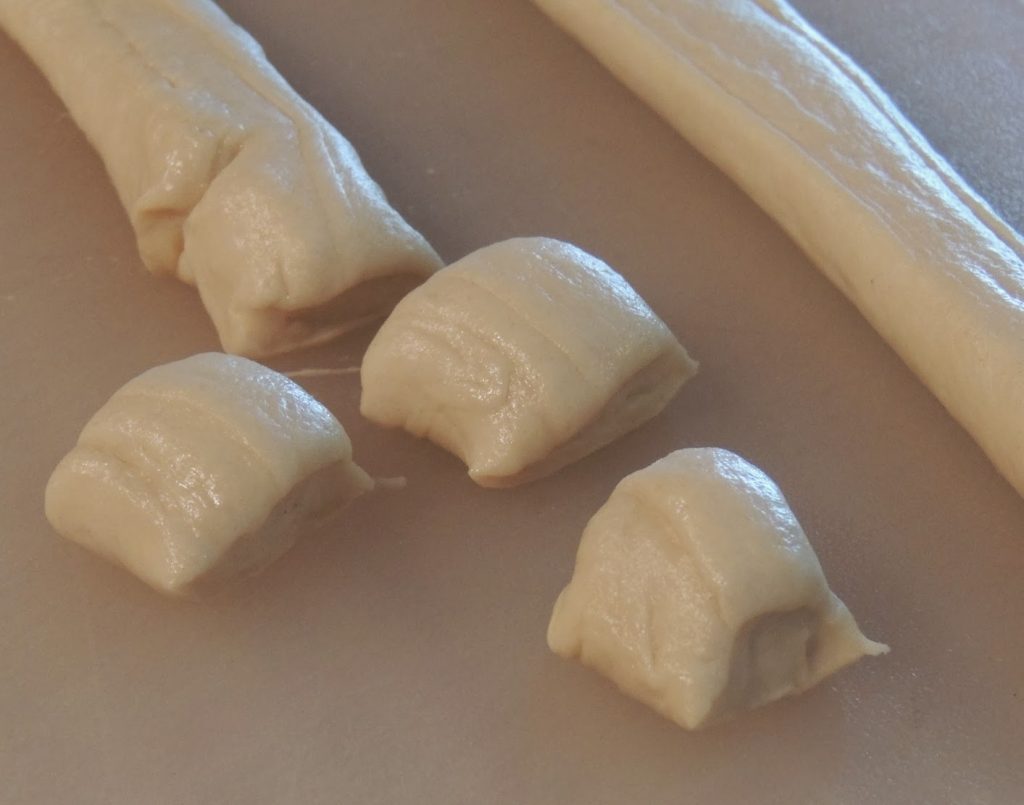 Place the pretzel bites on a baking tray while the water boils.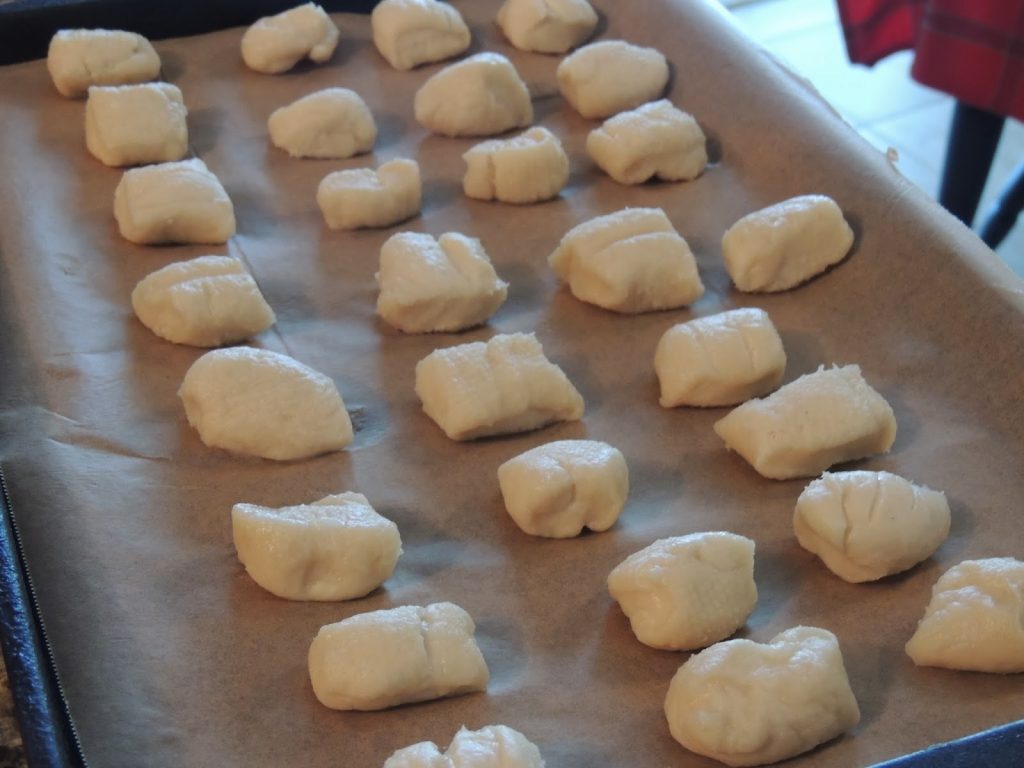 Slowly add the baking soda into the boiling water.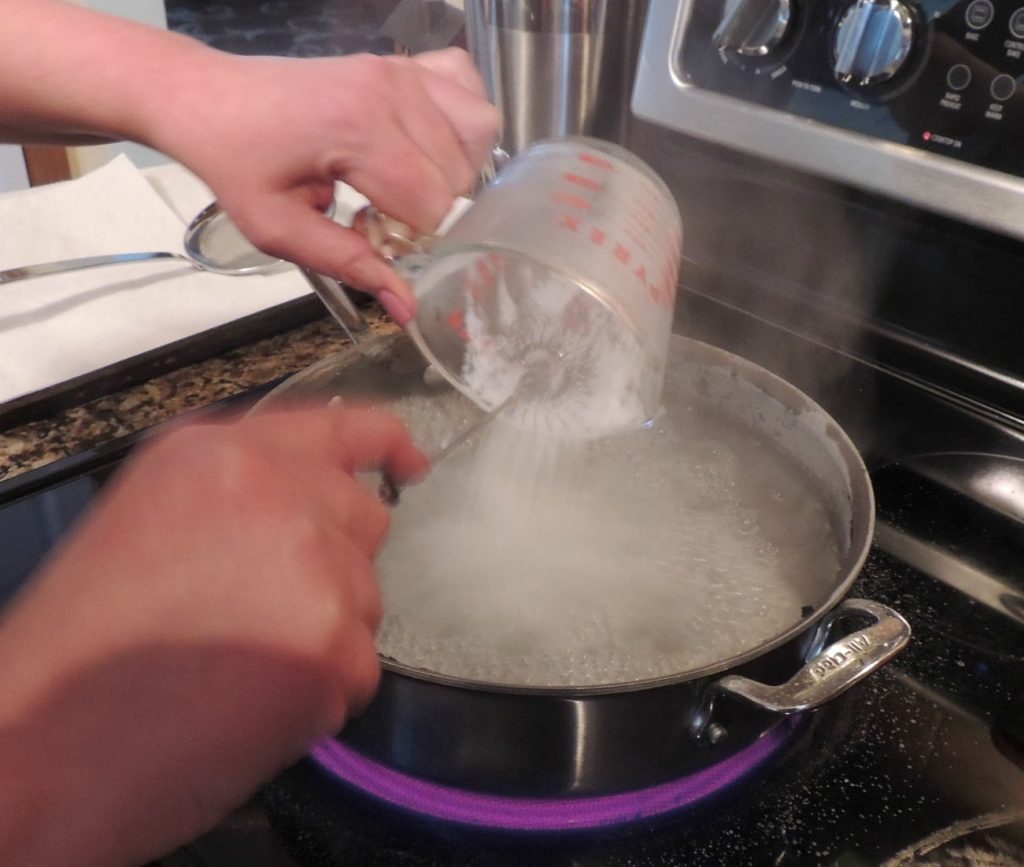 Once the pretzel bites have boiled for about 40 seconds, place on a greased baking tray and brush with the egg wash and sprinkle with coarse salt. I used parchment paper.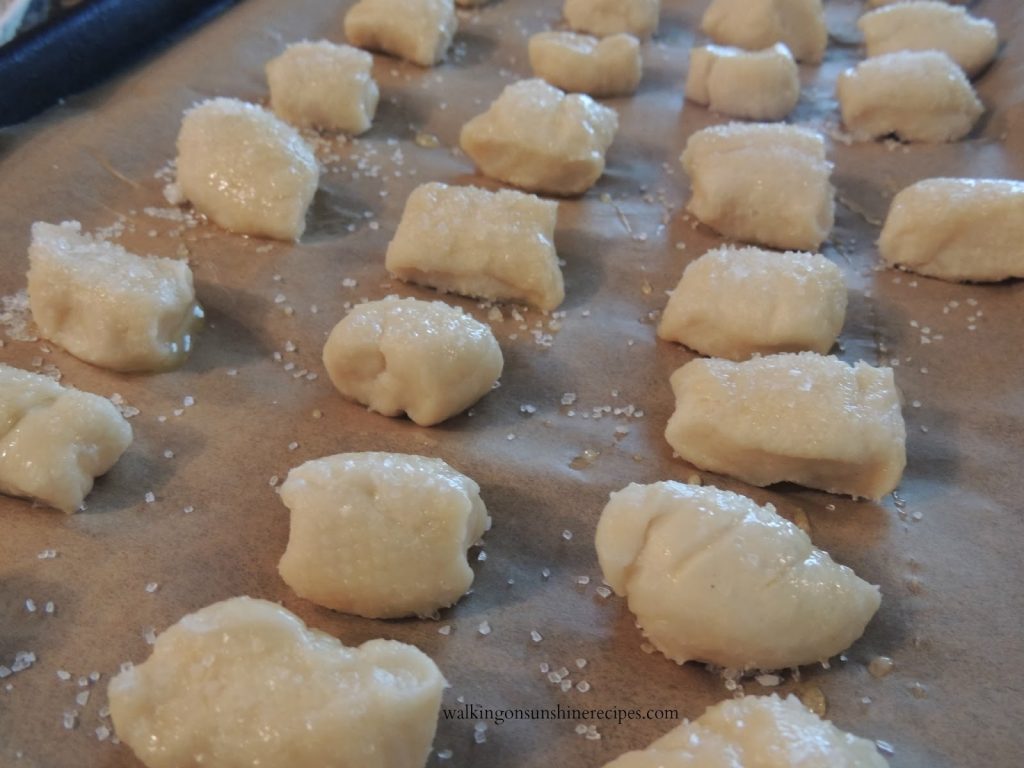 Bake in a preheated 425 degree oven till golden brown; about 15 minutes.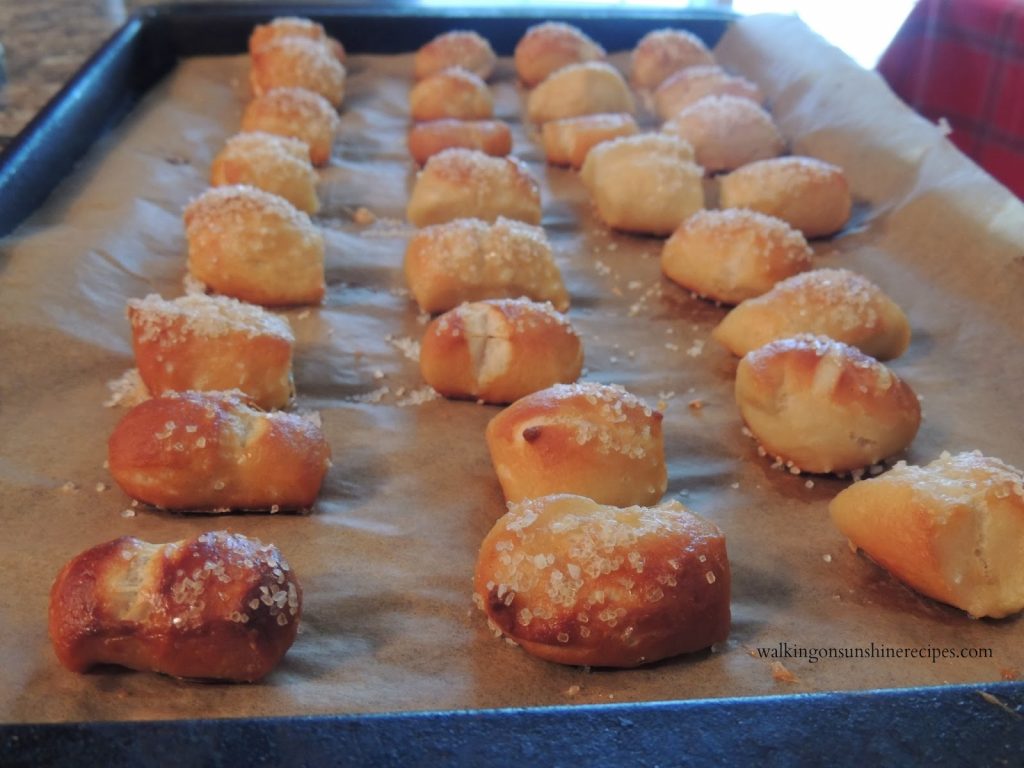 Tip: The next time I make these I will brush them with melted butter once they come out of the oven.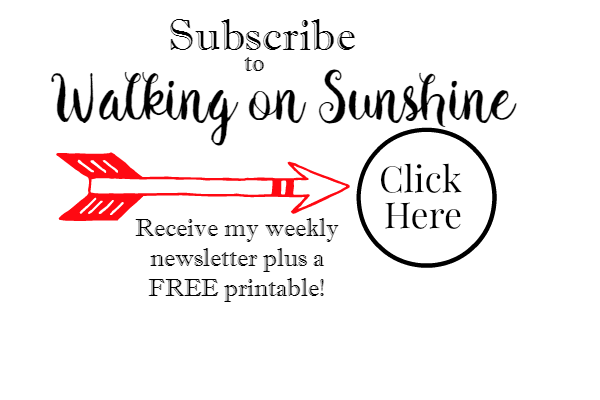 I do all the work, you just sit back and shop!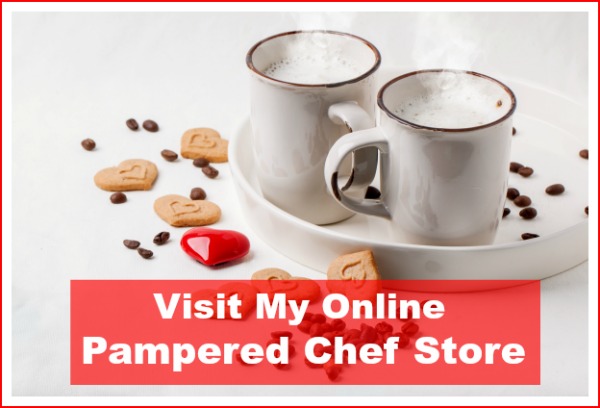 Find What You Need at Amazon!
amzn_assoc_placement = "adunit0";
amzn_assoc_search_bar = "true";
amzn_assoc_tracking_id = "walkonsunsrec-20";
amzn_assoc_ad_mode = "manual";
amzn_assoc_ad_type = "smart";
amzn_assoc_marketplace = "amazon";
amzn_assoc_region = "US";
amzn_assoc_title = "My Amazon Picks";
amzn_assoc_linkid = "3badd455b209645b1e82b9e2884ca1c1";
amzn_assoc_asins = "B00XBC3O8Y,B009J9ALES,B00030CGKY,B000R4LD1Y";
Don't forget to check out my hubby's blog, Manning the Wall.