Easy tips on how to manage anxiety along with a free printable to help cope when life becomes overwhelming.
Did you know that anxiety is your body's natural response to stress. It's a feeling of fear or apprehension about what's to come.
Anxiety is a real emotion that causes feelings of tension or worry about things you believe you have no control over.
What Causes Anxiety?
For some people fear of the unknown causes anxiety. Not really knowing what to expect when something new is happening in your life.
A new job, new school, moving to a new state are all things that can cause anxiety. A big event whether happy, like a wedding or sad, like a funeral can also trigger anxious thoughts.
How to Manage Anxiety
Here are 14 tips that will help you calm your mind from anxiety:
Stand up straight. I find that changes my position helps tremendously. Have you been sitting down for too long? Get up and move around.
Stretch - this one helps me a lot!
Talk to a friend. Pick up the phone and call someone. Start asking your friend questions about their life and how their day is going. Hearing someone else talk about their day is a great way to calm your thoughts.
Control your breathing. Take deep breaths. When I was in college, a friend and I used to repeat this phrase, "In with the good air, out with the bad air" all the time and you know what? It helps!
Meditate or think on something else. Put Philippians 4:8 into practice!
Play the 5-5-5 game. This is new for me and it's so easy. List 5 things you see, 5 things you hear and then move 5 body parts.
Use a calming visualization. What exactly does this mean? It's simple. Look around your room, your office or wherever you may be when panic starts to take over. Focus on what's in the room. Make a mental list of what you see. It will help get your mind off of the fear by focusing on something else.
Keep a journal of your feelings and emotions.
Try lighting a scented candle or smell lavender oil.
Think back to a happy time in your life. Maybe carry a photo in your wallet of a relaxing vacation or day trip you took.
Listen to music. I keep a playlist of "Calming Music" in my Spotify app on my phone.
Drink a glass of cold water.
Get outside and go for a brisk walk. If you can't outside because of the weather, do a walking video on You Tube.
Print out these Anxiety Strategies
Here's a free printable for you to download and use as a reminder of the above strategies to help manage anxiety.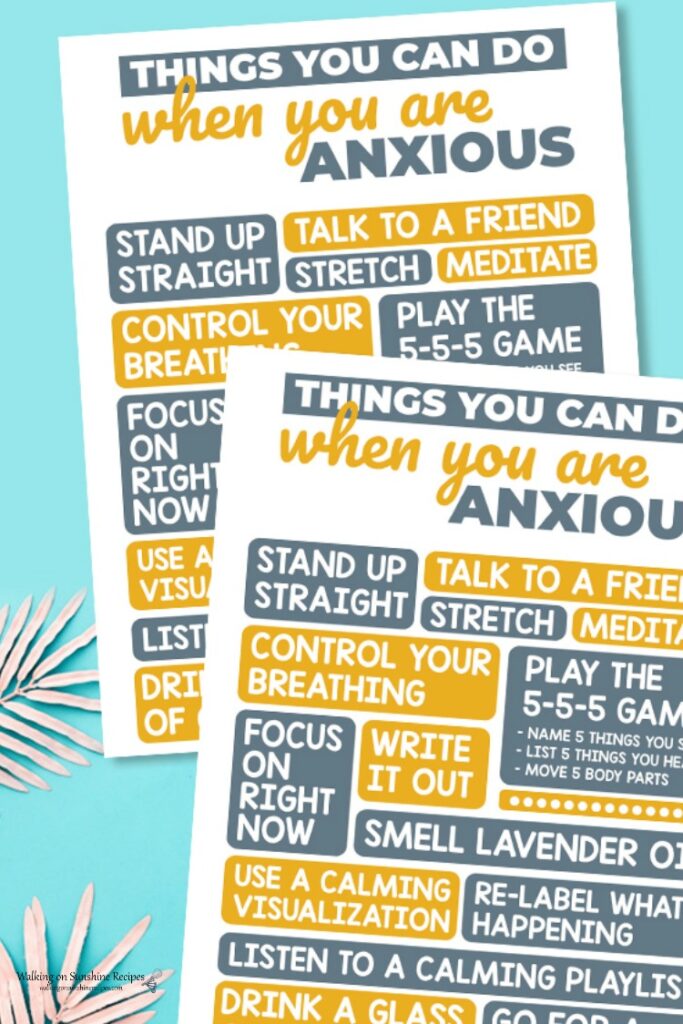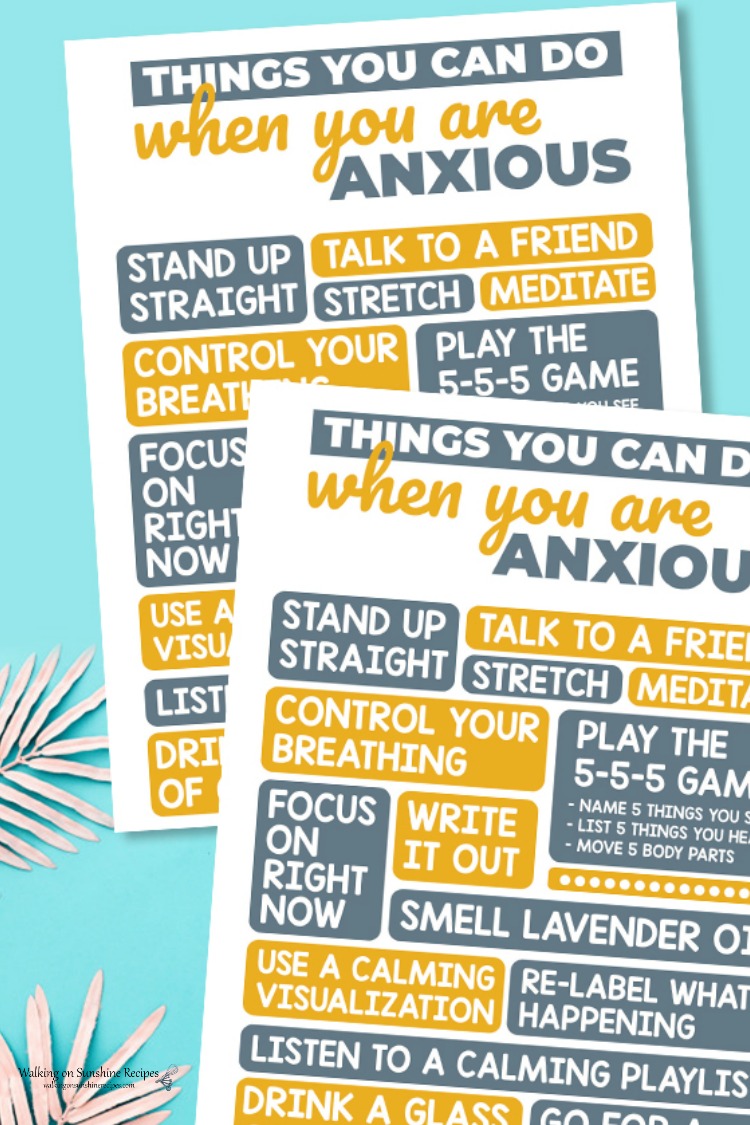 HOW TO DOWNLOAD AND PRINT
You don't need to sign up for anything to print these out. This printable is my gift to you.
Click on the BUTTON BELOW to print. A new window will open where you'll be able to either download the printable to your computer or phone. Once the printable is downloaded, you'll be able to print it out using whichever print program you have for your computer.
Make sure you select the "fit to paper" scale in your print program. If you don't select this setting, the printable will be too big for your printer.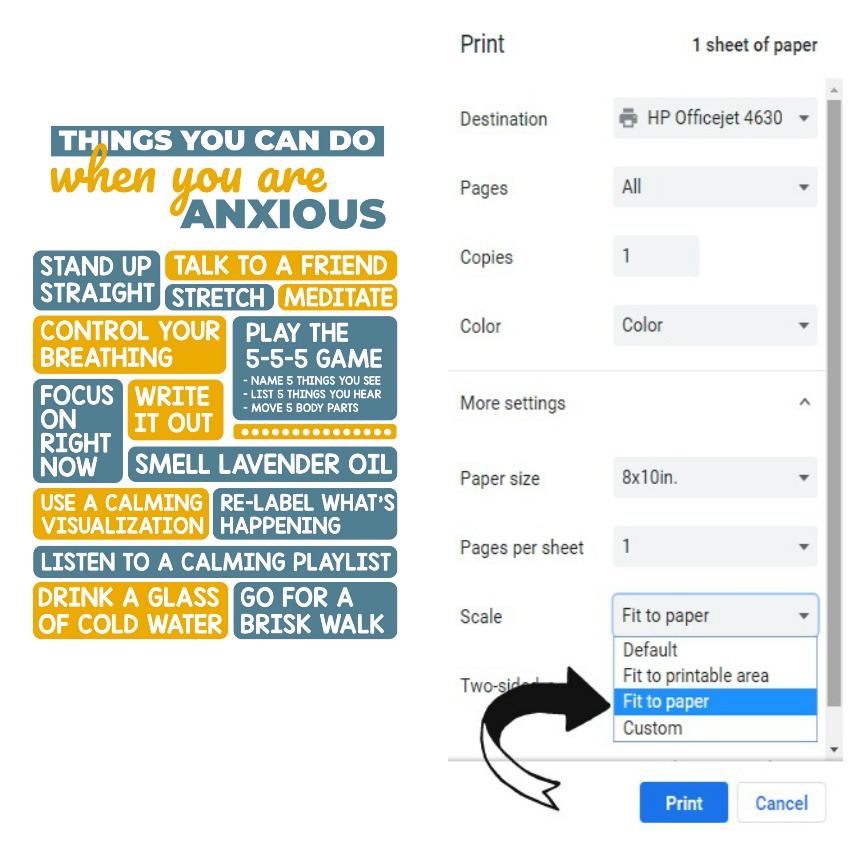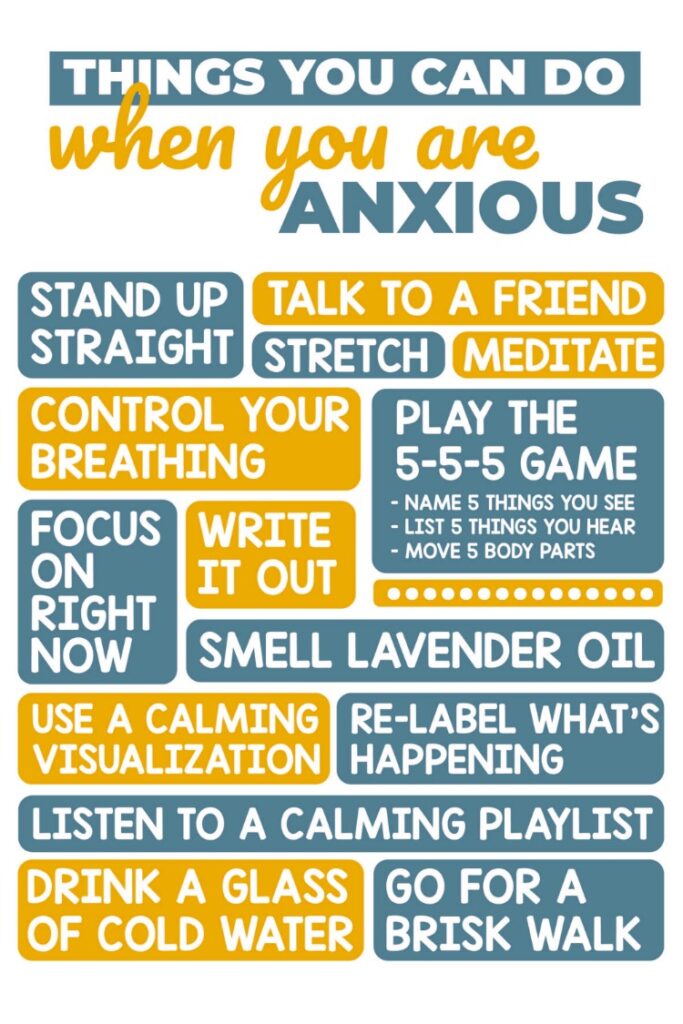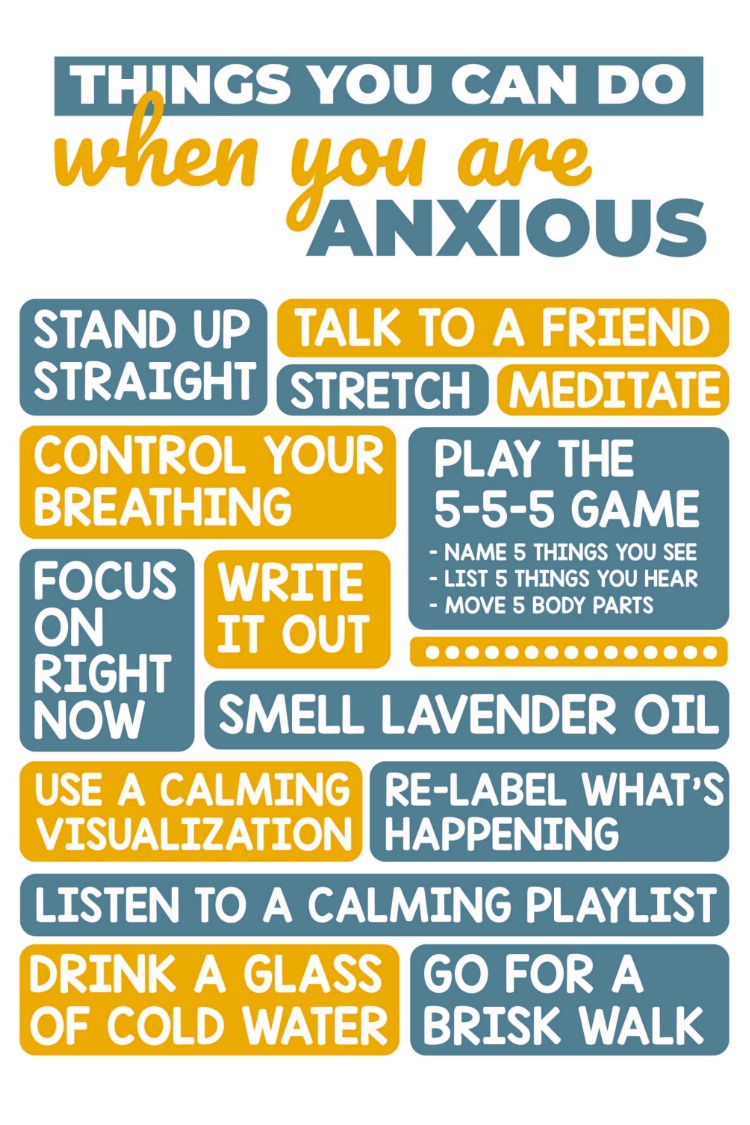 Like this Printable? Here are a few others just for you: