Is your pantry stocked with everyday items that will help you put together a delicious meal? Let me show you the 10 Essential Pantry Items you should always keep stocked inside your kitchen cupboards. There's also a great printable for you to use that will help make sure your pantry is always well-stocked.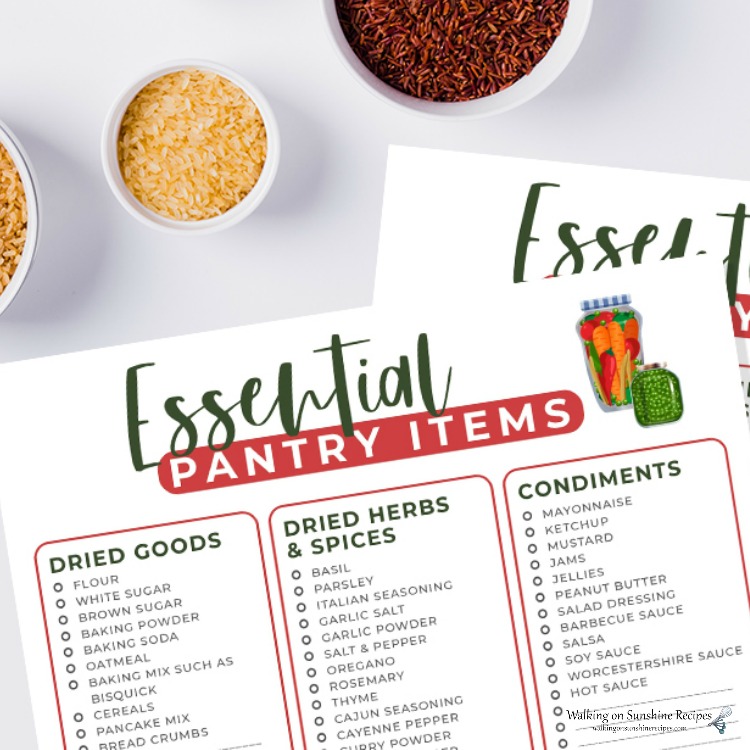 This post has been updated since it first appeared in 2012 with new photos and information. I hope you enjoy the updates as much as I enjoyed working on them!
I'm sure there are probably more than 10 Essential Pantry Items, but for this post let's talk about the most important things needed.
Did you know that with a properly stocked pantry, you can make a last minute meal for your family without having to run to the grocery store?
You can also bake a cake, brownies or cookies at the last minute for school bake sales or football dinner. My son was famous for volunteering me to bake cookies for a lot of school events without giving me much notice!
10 Items Everyone Needs in their Pantry
What are the essential items needed for every kitchen pantry?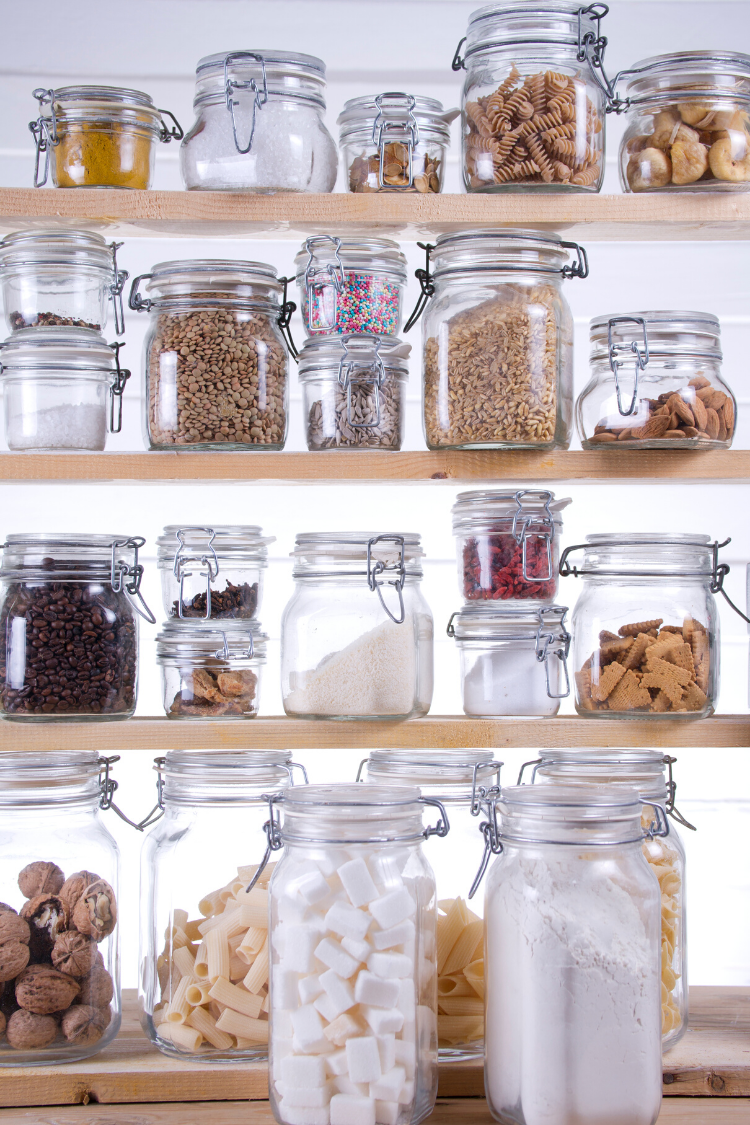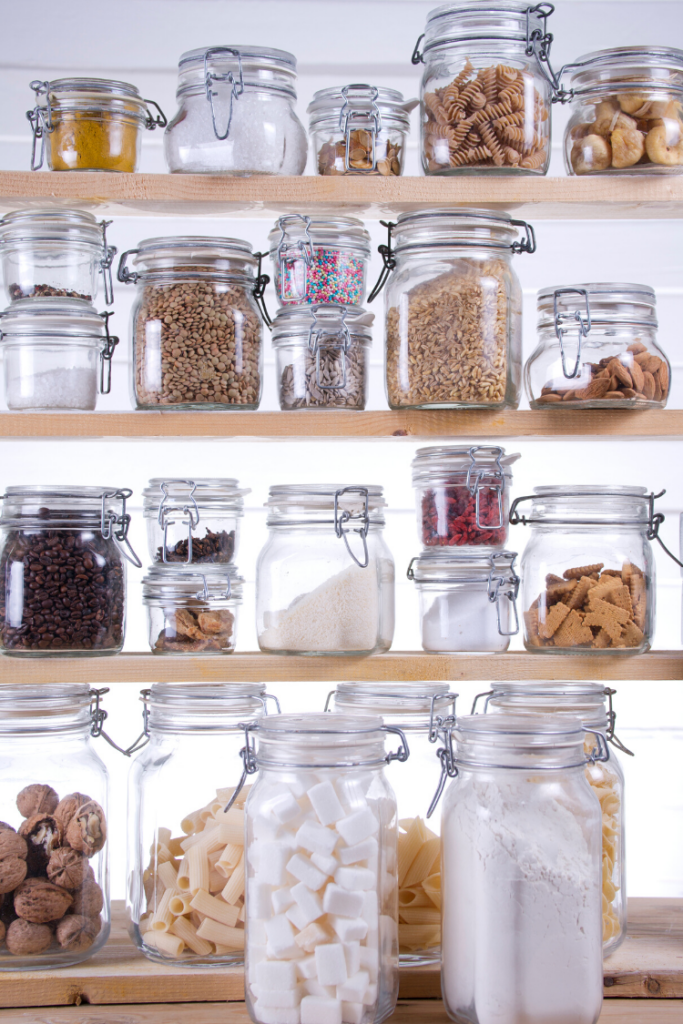 This list is by no means complete. I'm including 10 Essential Pantry Items that I think are essential to any good organized kitchen.
Please feel free to leave a comment and let me know what you would include.
Number One:
Dried Goods - flour, white sugar, brown sugar, powder sugar, baking powder, baking soda, oatmeal, baking mix such as Bisquick, cereals and pancake mix.
Also included in dried goods are breadcrumbs.
Number Two:
Dried Spices - basil, parsley, Italian seasoning, garlic salt, garlic powder, salt and pepper. Seasoning salt that you can use for chicken or steak.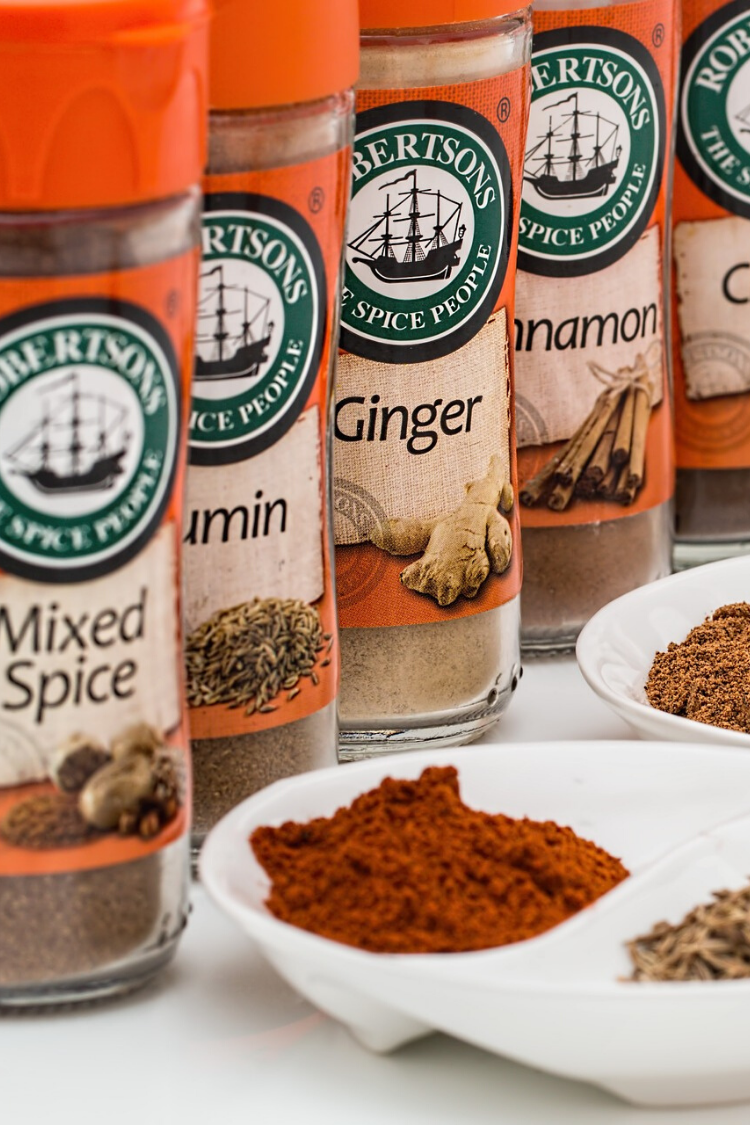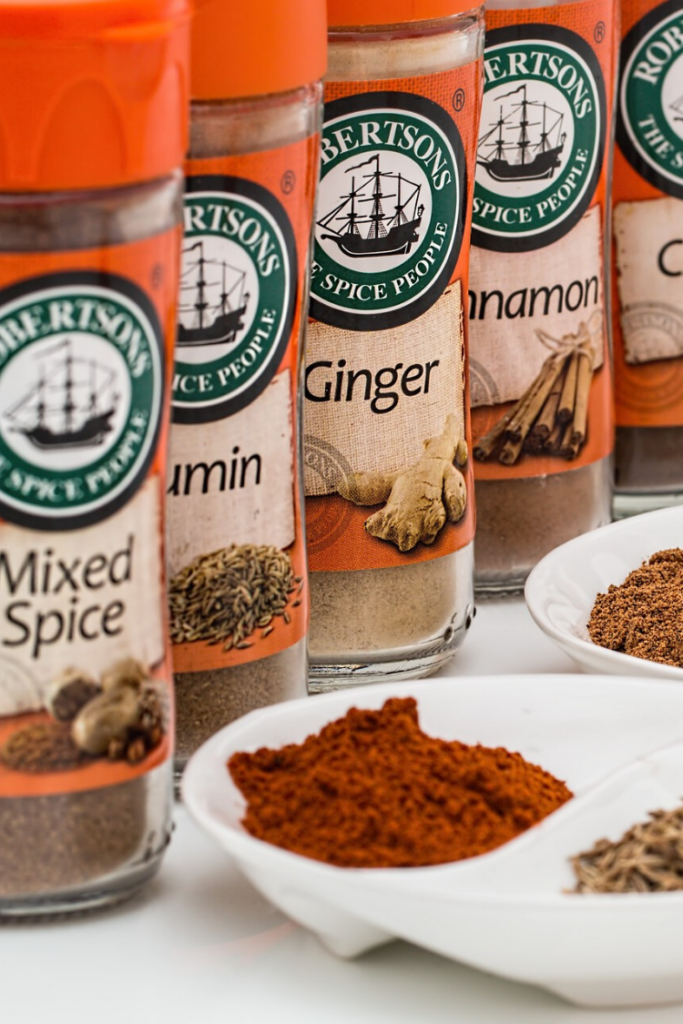 Number Three:
Cheese - A variety of cheeses such as American, cheddar, mozzarella. Most cheeses freeze well, which is great.
Number Four:
Canned Goods - Vegetables, Soups, Fruits, Tuna, Beans, Tomatoes
Number Five:
Oils - vegetable, olive oil and non-stick cooking spray. I would also include in this category, solid shortening.
Vinegar - white, red, apple cider vinegar and balsamic.
Number Six:
Condiments - mayonnaise, ketchup, mustard, jams, jellies, salad dressing. barbecue sauce, salsa, soy sauce, Worcestershire sauce, hot sauce.
Peanut Butter - this is a must in our household!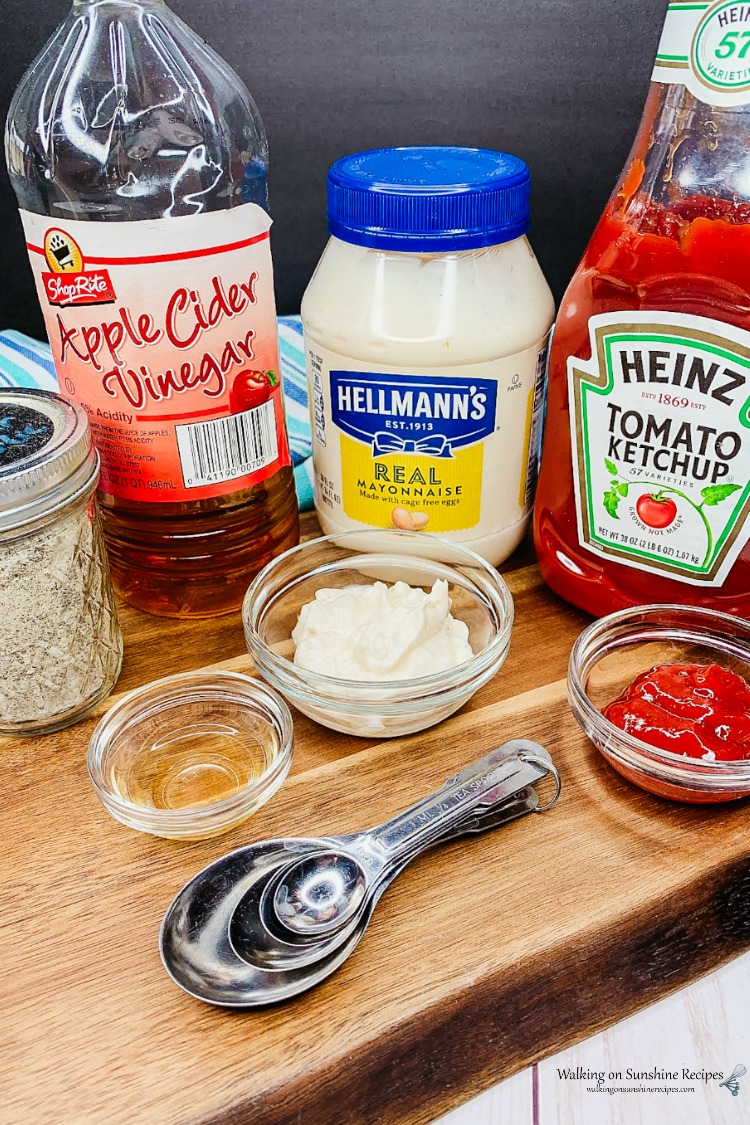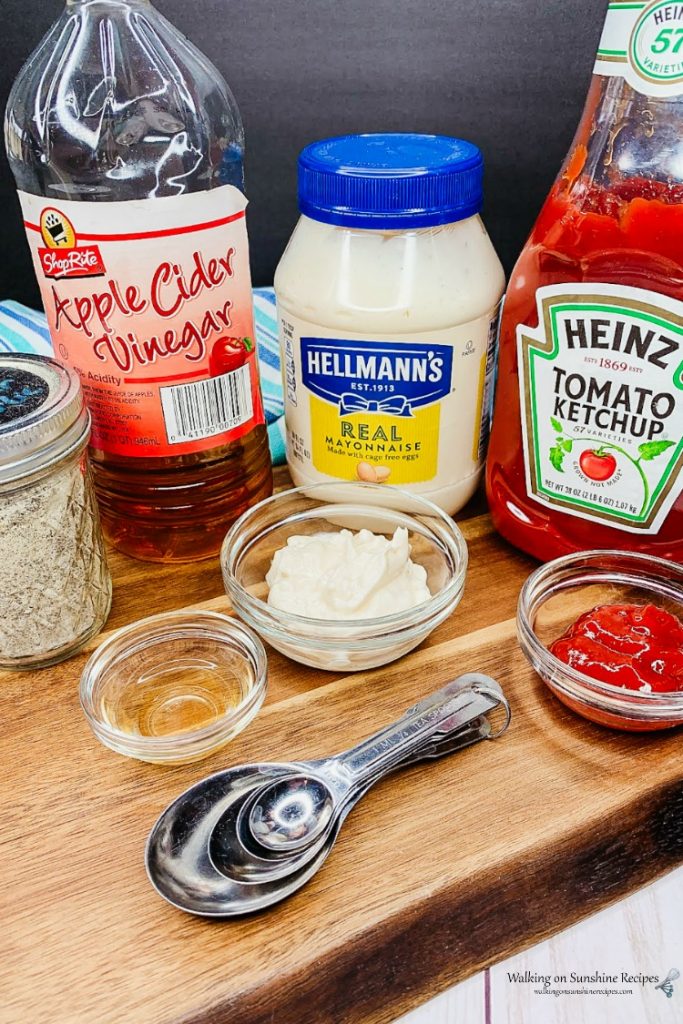 Number Seven:
Baking supplies - cake mixes, chocolate chips, candy melts, cocoa powder. Make sure you check out my Cake Mix Baking Secrets and Printable for more great cake mix ideas.
Yeast - I like to purchase a "brick" of yeast that lasts a very long time in the freezer.
Number Eight:
Sweeteners - sugar substitute if you use this for coffee or tea, honey, maple syrup, corn syrup.
Number Nine:
Rice and Grains - pasta, brown rice, white rice, rolled oats, barley, dried beans.
Number Ten:
Nuts and Dried Fruits - it helps to store the nuts in the freezer to prolong the shelf life.
Free Pantry List Printable
Here's a FREE printable to help you make sure your pantry is stocked with everything you need to be able to cook delicious meals for your family.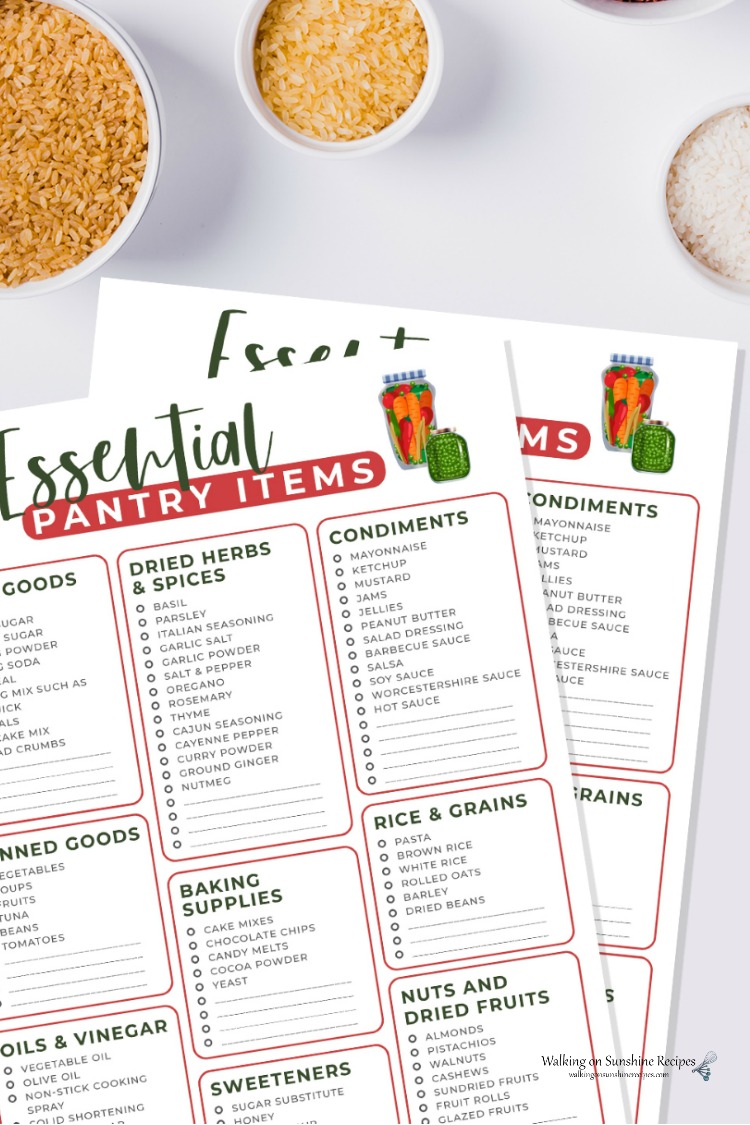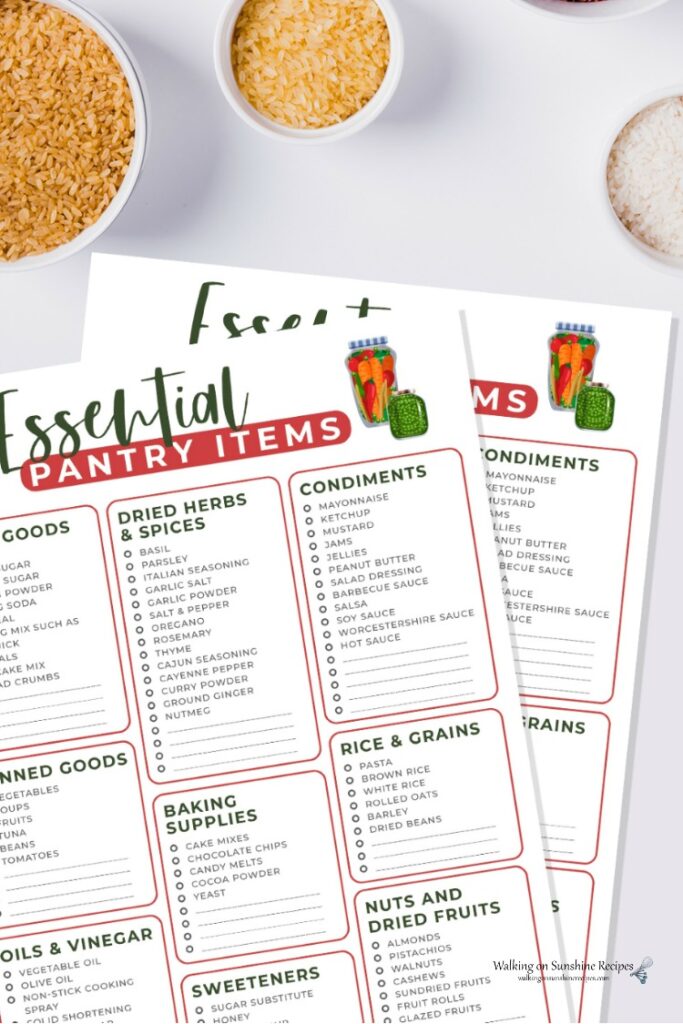 How to Download and Print
You don't need to sign up for anything to print this pantry list out. This is my gift to you!
Click on the button below to print. A new window will open where you'll be able to either download the printable to your computer or phone. Once the printable is downloaded, you'll be able to print it out using whichever print program you have for your computer.
Make sure you select the "fit to paper" scale in your print program. If you don't select this setting, the printable will be too big for your printer.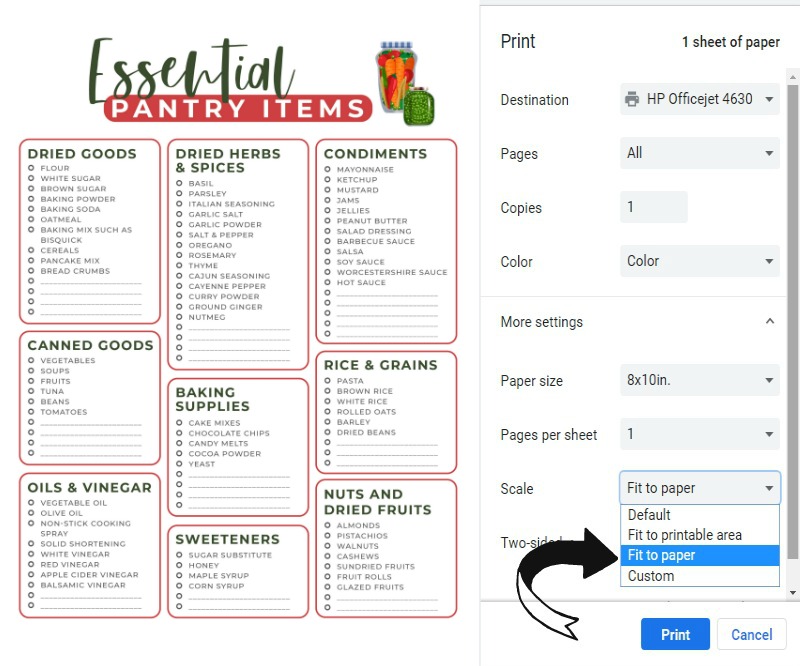 Like this list? Check out these Cooking Tips: