Step-by-step instructions on how to make your own Christmas wreath with tree clippings from your own yard.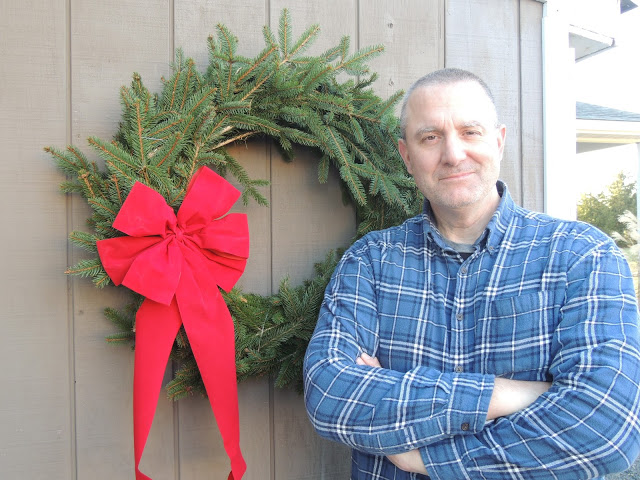 Handmade Christmas Wreath
Do you have a Christmas wreath hanging on your front door? To be honest, we don't. But we do have a handmade Christmas Wreath hanging on our shed and the whole neighborhood can see it every night lit up in its glory.
Every year my husband makes an evergreen wreath that we hang on our shed. I thought it would be fun to have him share with you how he makes our Christmas wreath this week with you!
Our first home together outside of Queens, NY was a cabin at the edge of the forest in Sussex County, New Jersey. We lived at around 1,200 feet above sea level, so early winter snows where the norm. The area where northern New Jersey borders Pine Island, New York was one of black-dirt farms, quaint country restaurants, perpetual garage sales, and vegetable stands.
On a cold December morning, over 25 years ago, I found myself trudging through the forest, pruning clippers in hand. Purely on a whim, I had decided to make a wreath for our front door. Something I enjoy doing now every year.
Make sure you check out the shopping list at the bottom of the post to help you find all the proper tools and items that I used to make the Christmas wreath.
Tips for Making a Handmade Christmas Wreath
My one piece of advice for making your own Christmas wreath is to do the work outside.
If you can't work outside, try to put down a drop cloth under your work surface.
When you are dealing with fresh-cut fir or pine, you're also dealing with shedding needles and small amounts of tar.
Helpful Tools Needed for a Handmade Wreath
This post contains affiliate links. Your cost is the same, but I earn a commission when you shop through them. For more information, click here.
Small Folding Table with Drop Cloth Covering.
How to Make a Handmade Christmas Wreath
The northern United States contains evergreens in abundance. Fir and pine mix with the hardwoods creating a lush variety in the warm months, beautiful scenery through Autumn, and often breathtaking winterscapes in the colder months. My neighbor has an abundance of fir trees of varying species running on the property line. For better or worse, they are never pruned on our side. That's where I come in.
Using the lopper and shears, prune 10 – 15 branches 18" – 36" in length.
Carry the branches to the table and assemble them on the floor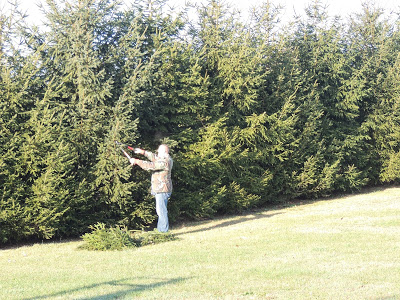 When harvesting evergreen bows proceed with extreme caution and be aware of the laws in your area. Many states and local municipalities have strict laws with respect to harvesting from public lands. The best source for harvesting is one that you own. The next best source is one for which you have explicit permission.
Yes, I asked my neighbor if I could trim the branches to make our wreaths.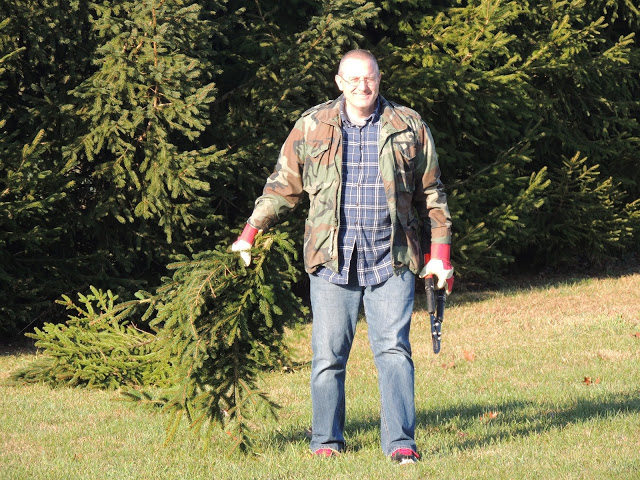 How to Assemble a Handmade Christmas Wreath
Go with the natural curve of the branches. You can help it along by bending and holding them for a minute. Fir branches are pretty pliable, just don't crack them.
Make the "base." Snip off an arms length of craft wire and wind it for 6-8 turns near the front of the branch 3"-6" from the end.
Lay the next branch so that they overlap somewhat. How much overlap will depend on the thickness and pliability of the branches.
Lash them together with the rest of the wire. How many branches you will need depend on just how large of a wreath you want. The one I made this year for the shed took three for the first circle.
Lay the base down on the drop cloth covered table. Now lay down two more layers of branches.
Anchor the one end of the wire spool around one branch one the base, and start winding it around the circle. The wire should be firm enough to hold all the branches together but not so tight that it cuts into the wood.
You should have a nice firm circle of branches. Now take smaller branches to fill in the parts where it may be a little bare.
Continue to fill in until the desired "fullness," is reached, hiding as much of the wire as is practical.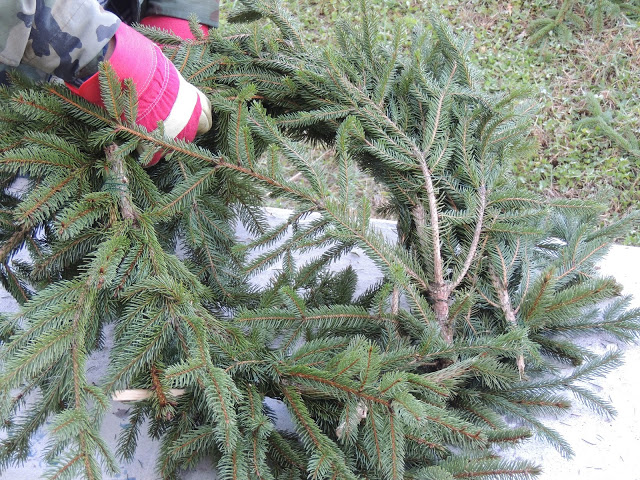 Two completed wreaths. One for our house and one for our daughter's house. Yes, she got married this year. My heart is still recovering from the shock that my little girl is on her own.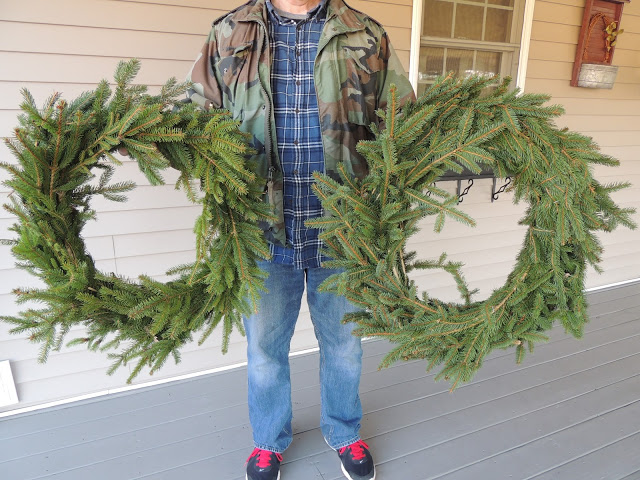 How to Display a Handmade Christmas Wreath
A doubled-up length of craft wire is strong enough to suspend this particular wreath from a galvanized nail resting in the stud of the shed frame.
A modest red bow and a string of white lights gives this traditional Holiday decoration an understated feel.
The electrical wire is snipped off about 6" from the plug and then threaded through a small ⅜" hole drilled into the shed wall.
The wreath is hanging just low enough to hide the entry port of the wire.
On the other side, 2 strips of electrical tape re-attach the wire to the plug, which is then inserted into the outlet through a timer.
Digital and analog timers work equally well.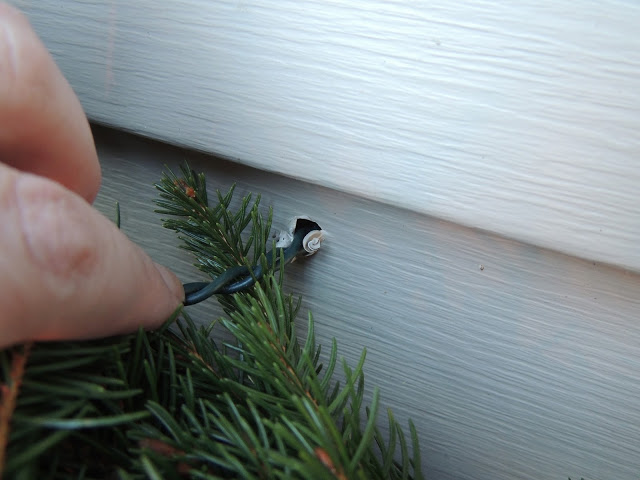 The hole is big enough to thread the wire through, but small enough to be hidden by both Summer and Winter ornaments.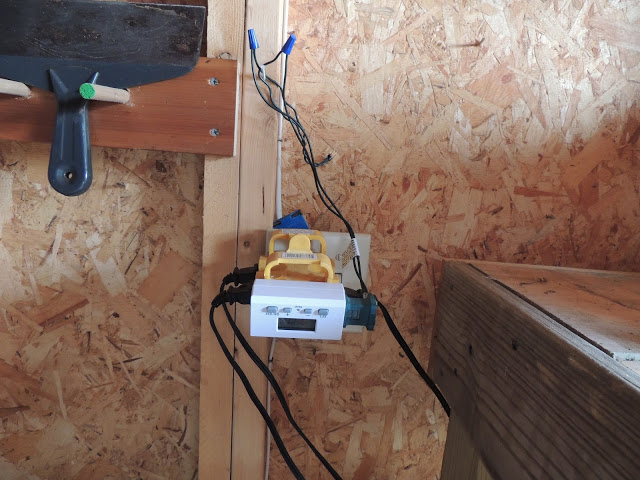 Make sure the spliced ends are capped off with appropriate sized connectors. You don't have to be a licensed electrician to practice common sense.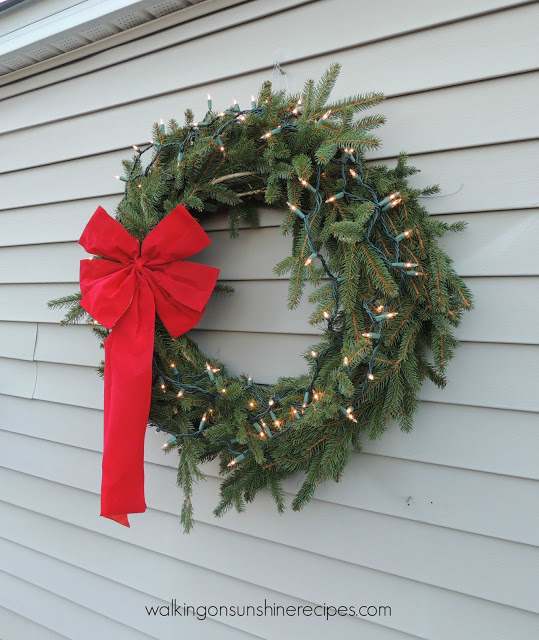 Merry Christmas!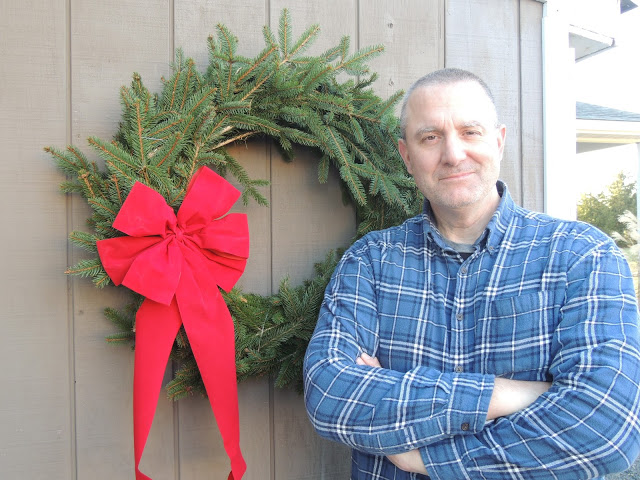 Easy Christmas Ideas you Might Enjoy: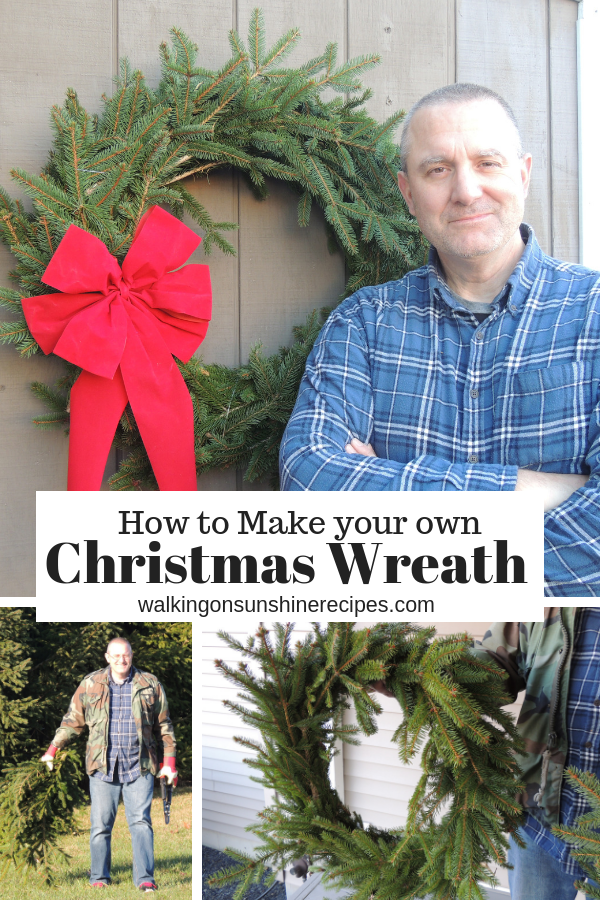 This post contains affiliate links. Your cost is the same, but I earn a commission when you shop through them. For more information, click here.
More Information
More Information
More Information
More Information
More Information
More Information