Ready in 10 minutes, this Pioneer Woman Salsa recipe is made with canned tomatoes, jalapenos, fresh lime juice and spices.
It's easy to make, and you can customize the ingredients to your taste. This homemade recipe can be enjoyed as an appetizer with chips or as the base for my Crock Pot Salsa Chicken Recipe.
This recipe makes a lot...which is good because it tastes amazing!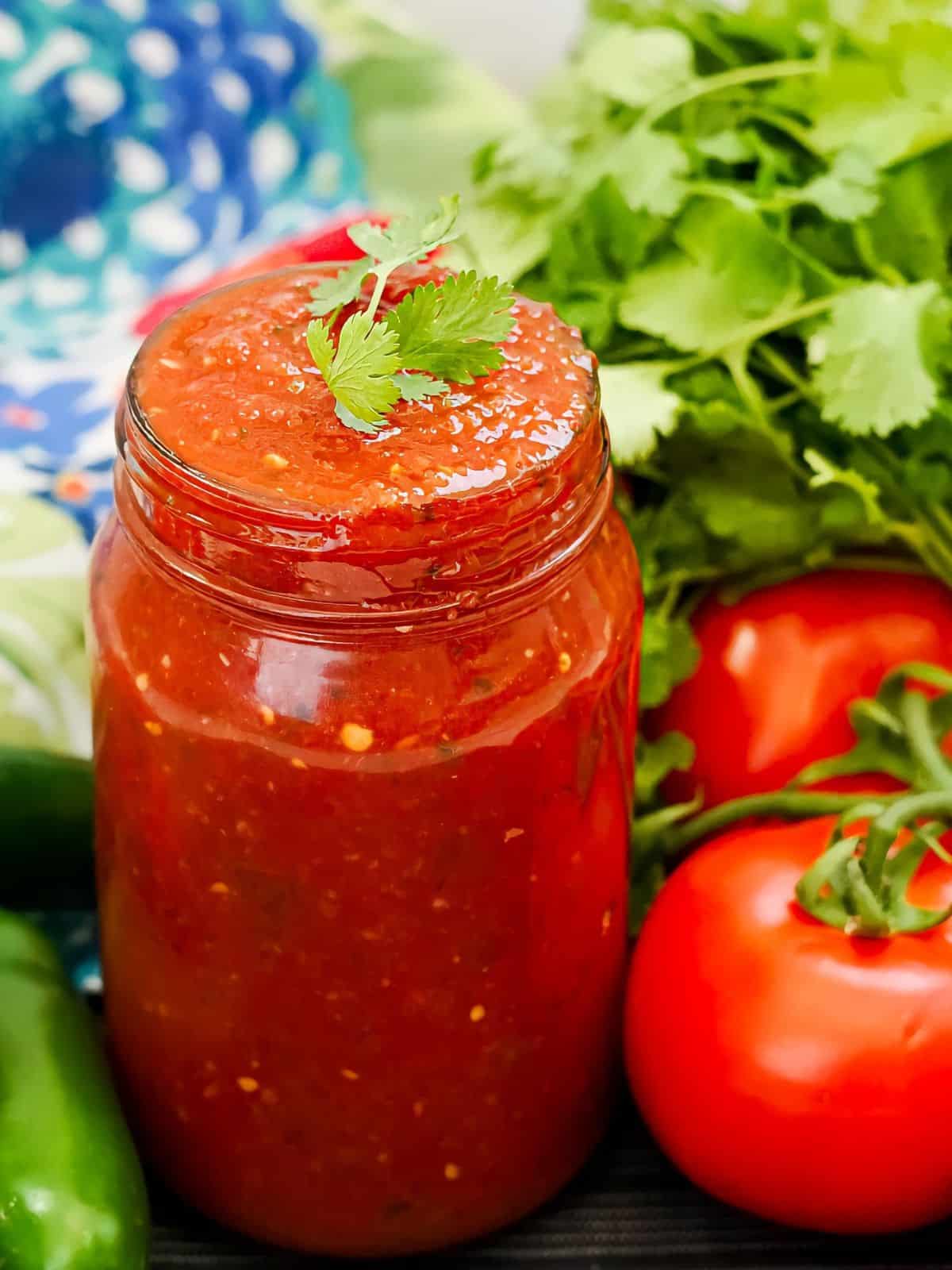 Salsa is one of those things that is so much better when it's homemade, however, a few years ago I tried to make salsa with a recipe I found online. It was watery and tasteless.
My friend Jani makes the Pioneer Woman Salsa Recipe, however, I was skeptical to try the recipe because it uses cilantro. But I was specifically told not to substitute cilantro with parsley. And I'm telling you today, do not substitute the cilantro. You will be happy with the flavor...trust me.
Table of Contents
What is Ground Cumin?
This recipe was the first time I used ground cumin. It has a strong, earthy flavor and can be used to add depth of flavor to soups, stews, curries, and this salsa recipe!
Ground cumin is a spice made from the dried seed of the cumin plant. It is commonly used in Indian and Middle Eastern cuisine, as well as in many Latin American dishes.
Ground cumin can be found in the spice aisle of most supermarkets. It should be stored in a cool, dark place and will keep for up to six months.
The Best Salsa Ever
I couldn't believe this recipe for the best salsa ever had cilantro in it. Cilantro is one of those love-it-or-hate-it herbs. Some people find its flavor to be refreshing and bright, while others find it to be soapy and overpowering.
In fact, cilantro haters often say that it tastes like soap or dirt. So what gives? It turns out that cilantro's pungent flavor is due to a compound called aldehyde. This compound is also responsible for the characteristic "soapy" taste of certain soaps and detergents.
However, there are also those who enjoy the unique flavor of cilantro and use it often in their cooking. Whether you love it or hate it, there's no denying that cilantro is a divisive herb and really does make this recipe the best salsa ever!
Looking for more easy appetizers to make? Try my Bacon Wrapped Jalapenos, Homemade Queso Cheese Dip with no fake cheese or my Homemade Guacamole
Helpful Kitchen Tools
This post contains affiliate links. As an Amazon Associate, I earn from qualifying purchases. For more information, click here.
Lemon Squeezer, Stainless SteelMore Information
Cuisinart Mini-Prep Food ProcessorMore Information
Chip and Dip Acrylic Bowl SetMore Information
Ball Wide Mouth Pint 16-Ounces MasonMore Information
Blender Salsa Pioneer Woman
For this recipe it's best to let your food processor do all the work. If you don't have one, a blender will work but you'll need to work in stages being careful not to over-stuff the blender and use the correct settings:
Add the chopped tomatoes, onion, and garlic to the blender. Pulse a few times.
Then add the jalapeños, cilantro, seasonings and lime juice.
Pulse the blender on low until the ingredients are combined but still chunky.
Season with salt and pepper to taste.
For a smoother consistency, blend on high for 1-2 minutes. Serve immediately or store in the fridge for later.
PowerCrush Multi-Function BlenderMore Information
Immersion Blender Salsa
An immersion blender is a handy tool to have in the kitchen, and it can be used for a variety of tasks, from pureeing soups to making baby food. For those who enjoy homemade salsa, an immersion blender can be a quick and easy way to make a delicious batch:
To use an immersion blender for salsa, start by chopping the ingredients into small pieces. This will help to ensure that the salsa is smooth and evenly blended.
Next, add the chopped ingredients to a blender or food processor along with some seasonings, such as salt, pepper, and cumin. Be sure to add enough liquid so that the ingredients are fully submerged.
Then, simply place the immersion blender into the bowl or pot and blend until the desired consistency is achieved. For a chunkier salsa, pulse the blender several times; for a smoother salsa, blend until completely smooth.
Enjoy immediately or store in the fridge for later!
KitchenAid Variable Speed Corded Immersion BlenderMore Information
Main Ingredients
Make sure you print out the recipe below and save it for later!
1 can Whole Tomatoes; drained
2 cans 10 Ounce Rotel
Chopped onion
1 clove of garlic minced
Jalapeno quartered and sliced thin
Sugar
Salt
Ground cumin
Cilantro
½ of a whole lime juiced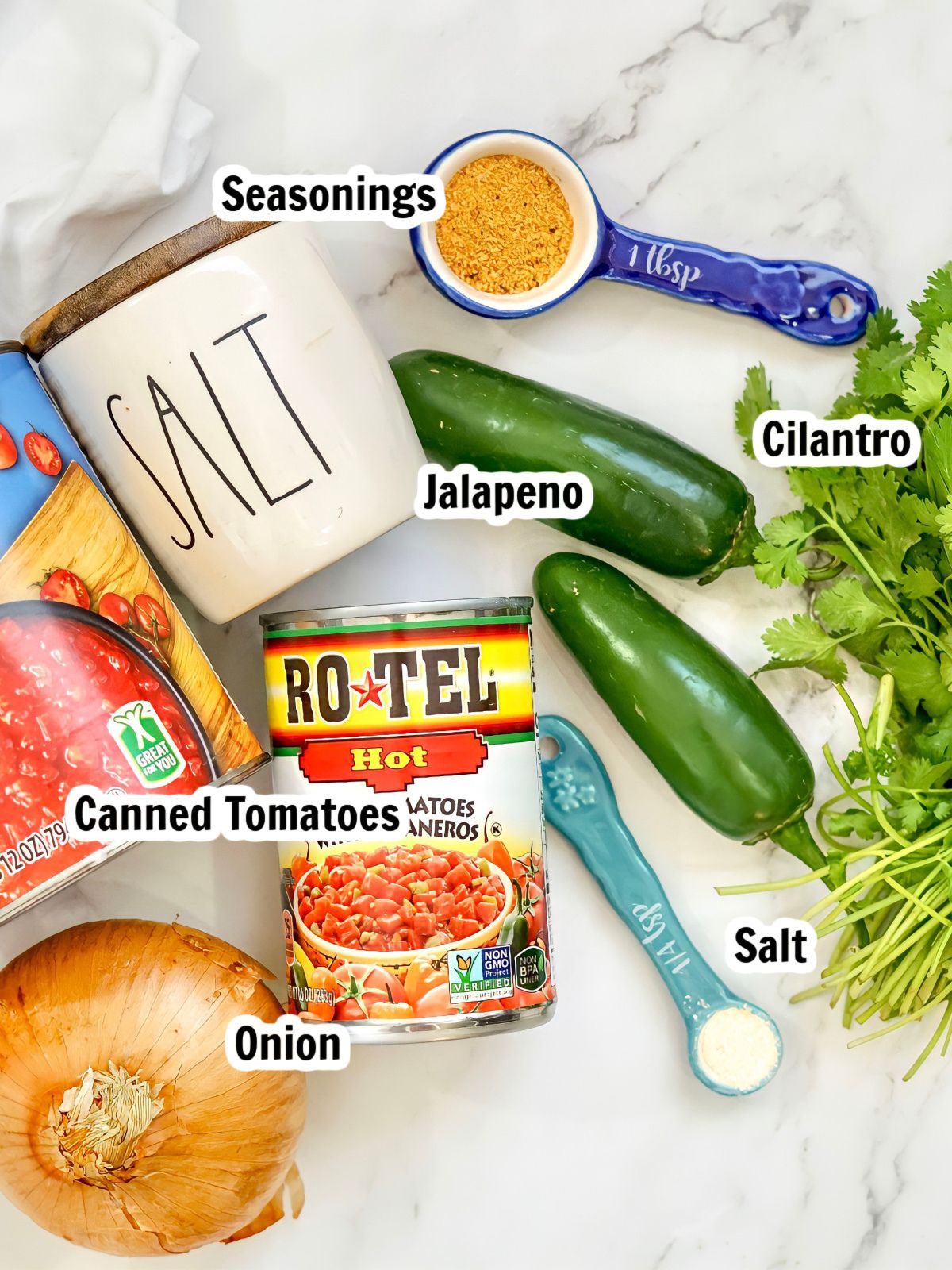 Step-by-Step Directions
Step 1: Add Ingredients to Food Processor
Combine all the ingredients in a food processor and pulse until you get the consistency you like.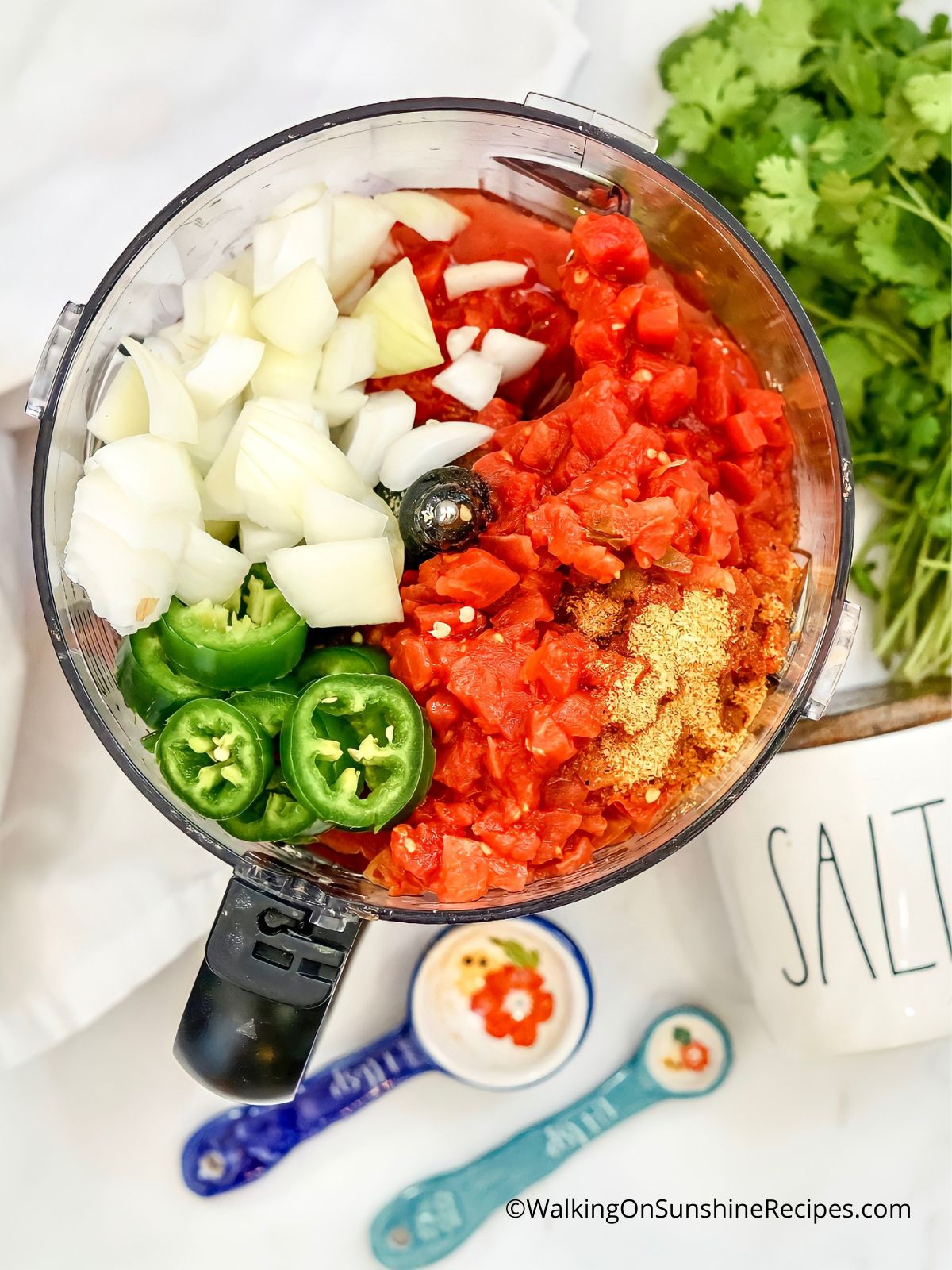 Step 2: Taste for Seasonings
Taste to make sure you have enough seasonings.
The first few times I made this recipe, I was very careful to leave the seeds and membranes from the jalapeno out. However, lately I like to add a few of the seeds to give the salsa a little more heat.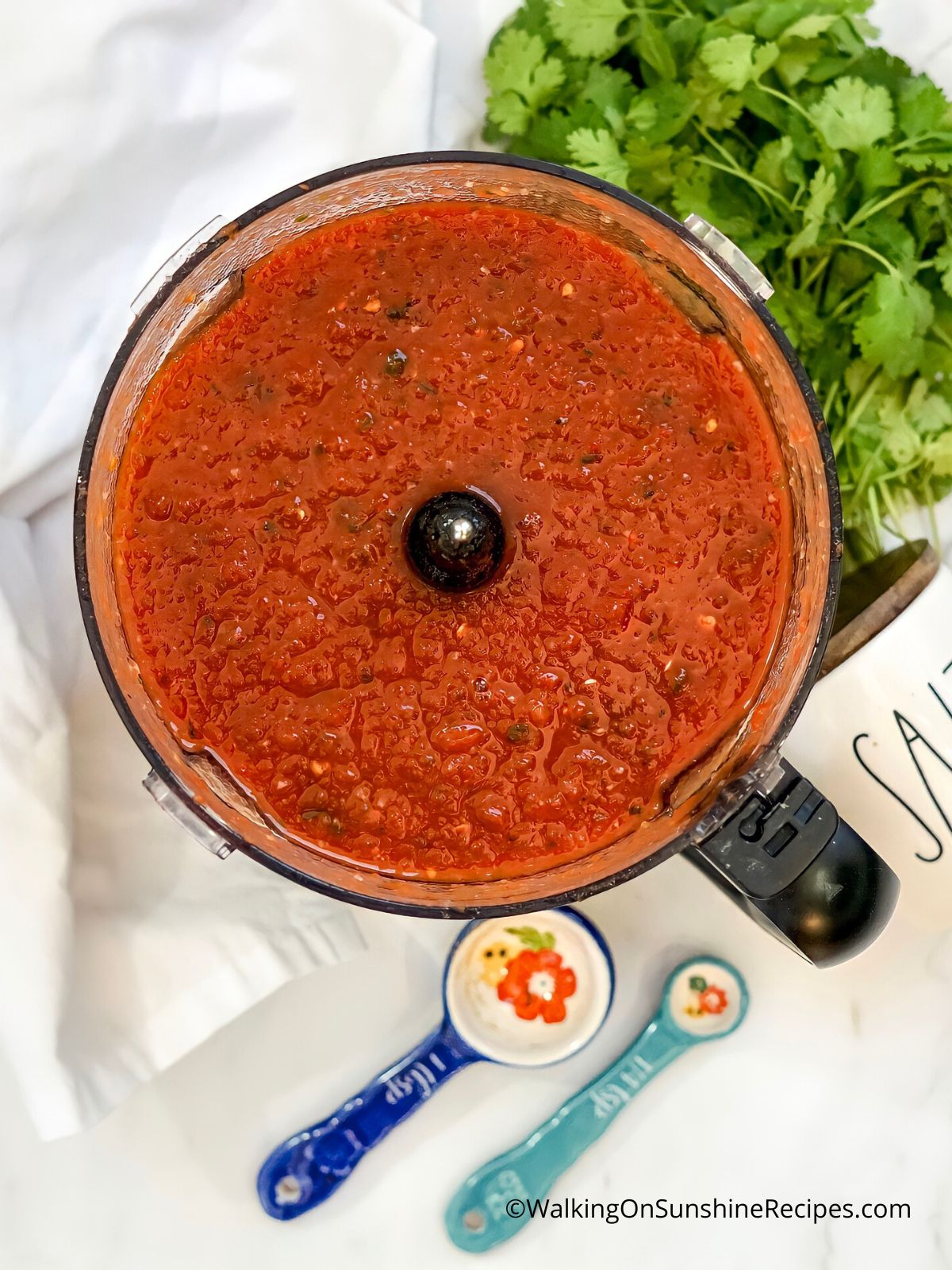 Serving Tips
Serve with plenty of chips and enjoy!
This salsa is also great if you want to serve it on top of grilled chicken.
You can also serve this homemade salsa recipe spooned over a few of my Chicken Cutlet Recipes, or even on top of a Chili Baked Potatoes.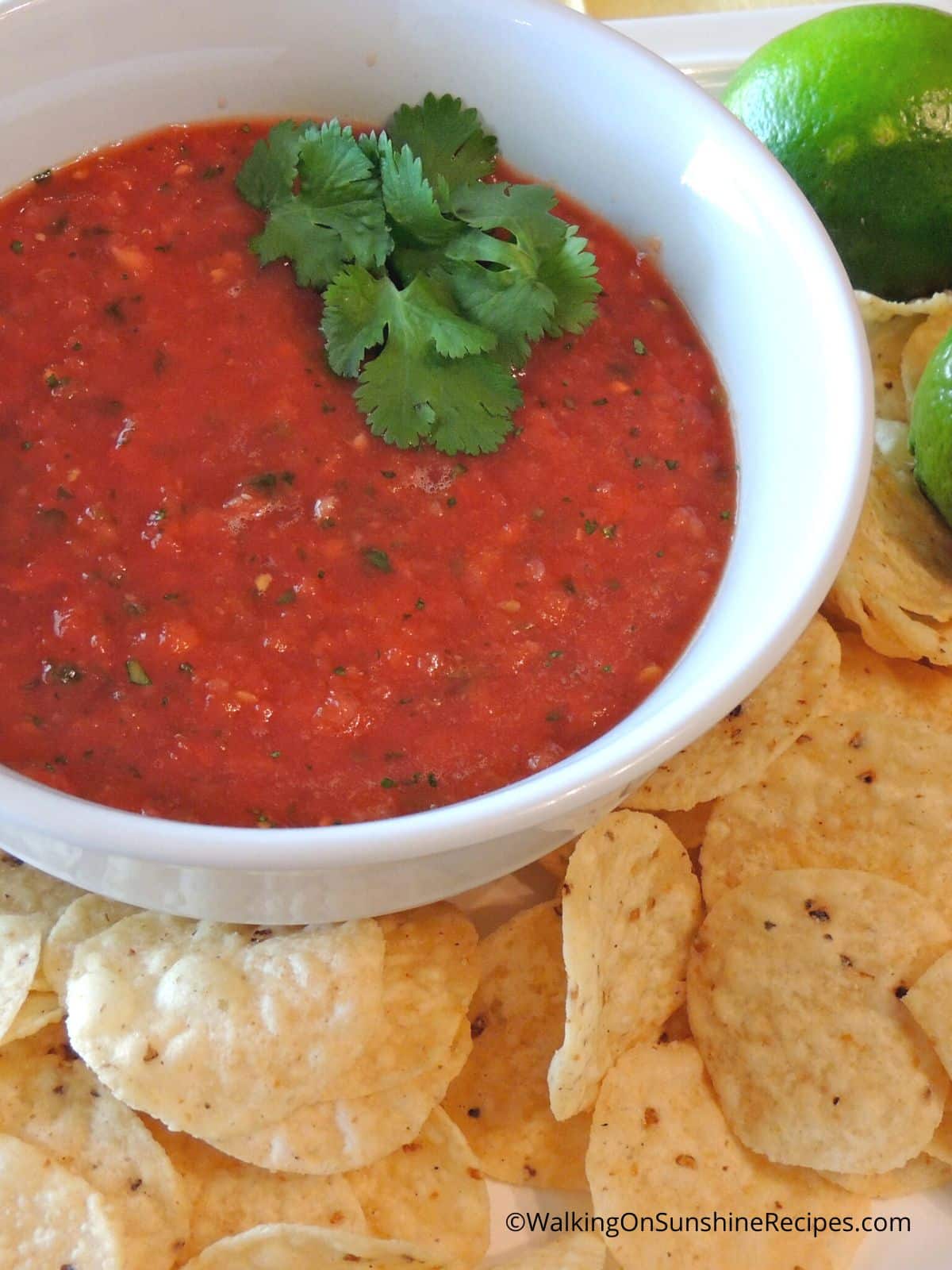 Storage Tips
Store any leftover homemade salsa in air-tight container in the refrigerator for up to two weeks.
Can you freeze homemade salsa?
Homemade salsa can be frozen for up to six months, and it will still retain its flavor and texture:
Pour it into an airtight container and store it in the freezer.
When you're ready to enjoy it, thaw the salsa in the refrigerator overnight and enjoy.
⭐Before You Begin! If you make this recipe, please leave a review and star rating. This helps my business thrive and continue providing FREE recipes.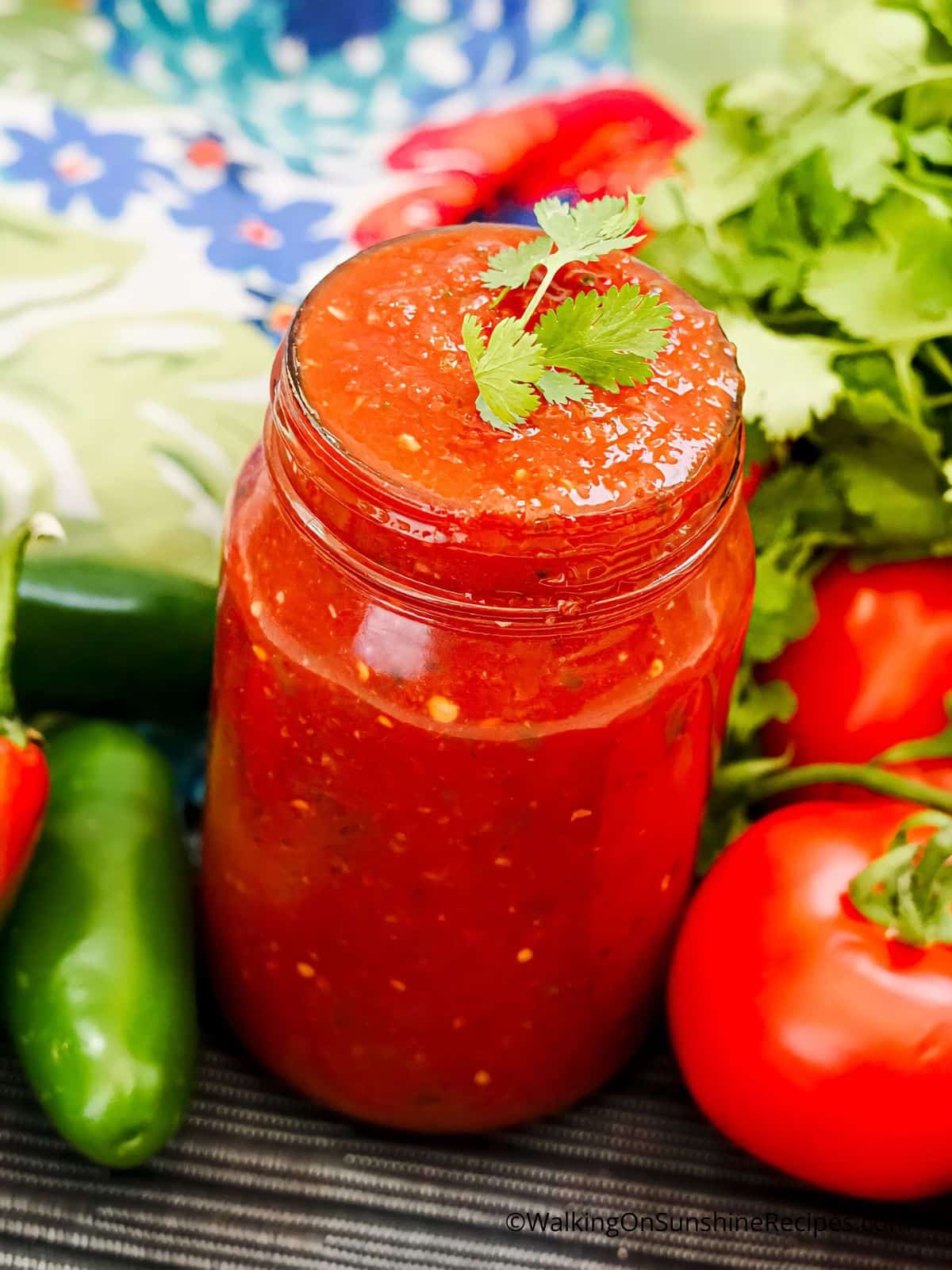 Yield: About 3 cups
Pioneer Woman Salsa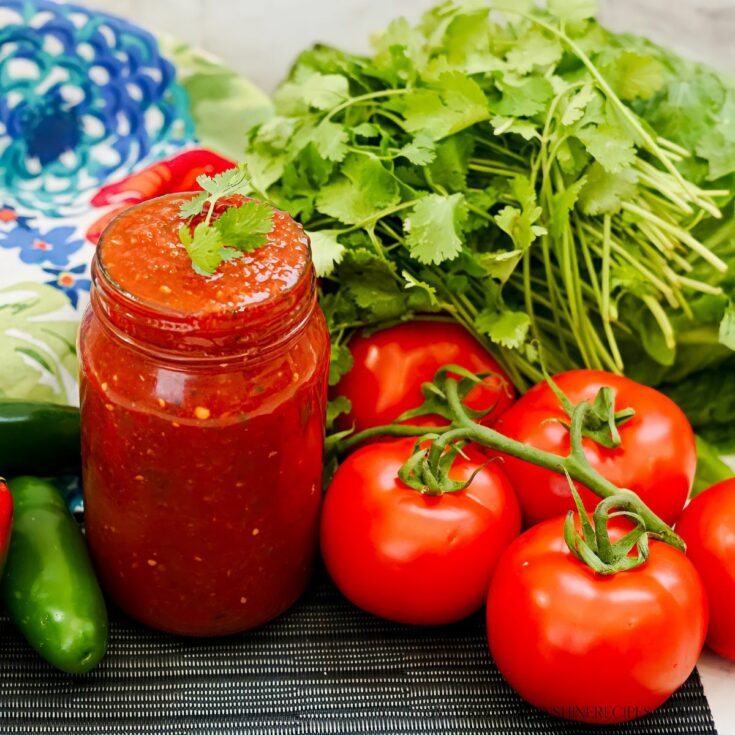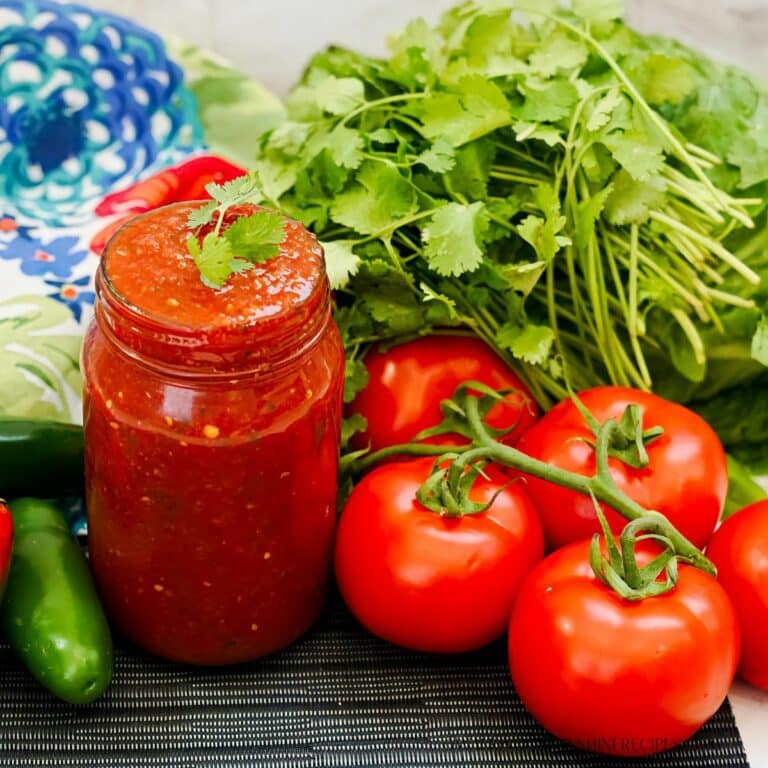 Homemade salsa is not only delicious, it's easy to make. You may never buy a jar again!
Ingredients
1 can 28 ounce size Whole Tomatoes; drained
2 cans 10 Ounce Rotel (Diced Tomatoes and Green Chilies)
¼ cup chopped onion
1 clove of garlic minced
1 whole jalapeno quartered and sliced
¼ teaspoon sugar
¼ teaspoon salt
¼ teaspoon ground cumin
½ cup cilantro
½ of a whole lime juiced
Instructions
Combine all the ingredients in a food processor and pulse until you get the consistency you like.
Taste to make sure you have enough seasonings. Season with more salt and pepper if needed.
Serve with tortilla chips.
Notes
Don't be surprised if you run out of chips!  So make sure you buy two bags when you plan on making this recipe. You can also serve this homemade salsa recipe spooned over a few of my Chicken Cutlet Recipes, or even on top of a Chili Baked Potatoes. 
Recommended Products
As an Amazon Associate and member of other affiliate programs, I earn from qualifying purchases.
Nutrition Information:
Yield:
12
Serving Size:
1
Amount Per Serving:
Calories:

25
Total Fat:

0g
Saturated Fat:

0g
Trans Fat:

0g
Unsaturated Fat:

0g
Cholesterol:

0mg
Sodium:

238mg
Carbohydrates:

6g
Fiber:

1g
Sugar:

2g
Protein:

1g
The nutrition information is calculated automatically. I cannot guarantee its accuracy. If this data is important to you, please verify with your trusted nutrition calculator.
This recipe has been updated since it first appeared in 2013 with new photos and a new printable recipe card that includes nutritional information. I hope you enjoy the updates as much as I enjoyed working on them!