Chicken Cutlet Recipes – family favorite chicken recipes that are ready fast. What's not to love about this versatile protein? If you're pressed for time and need help getting dinner on the table, look no further than these easy, delicious recipes I'm sharing with you today.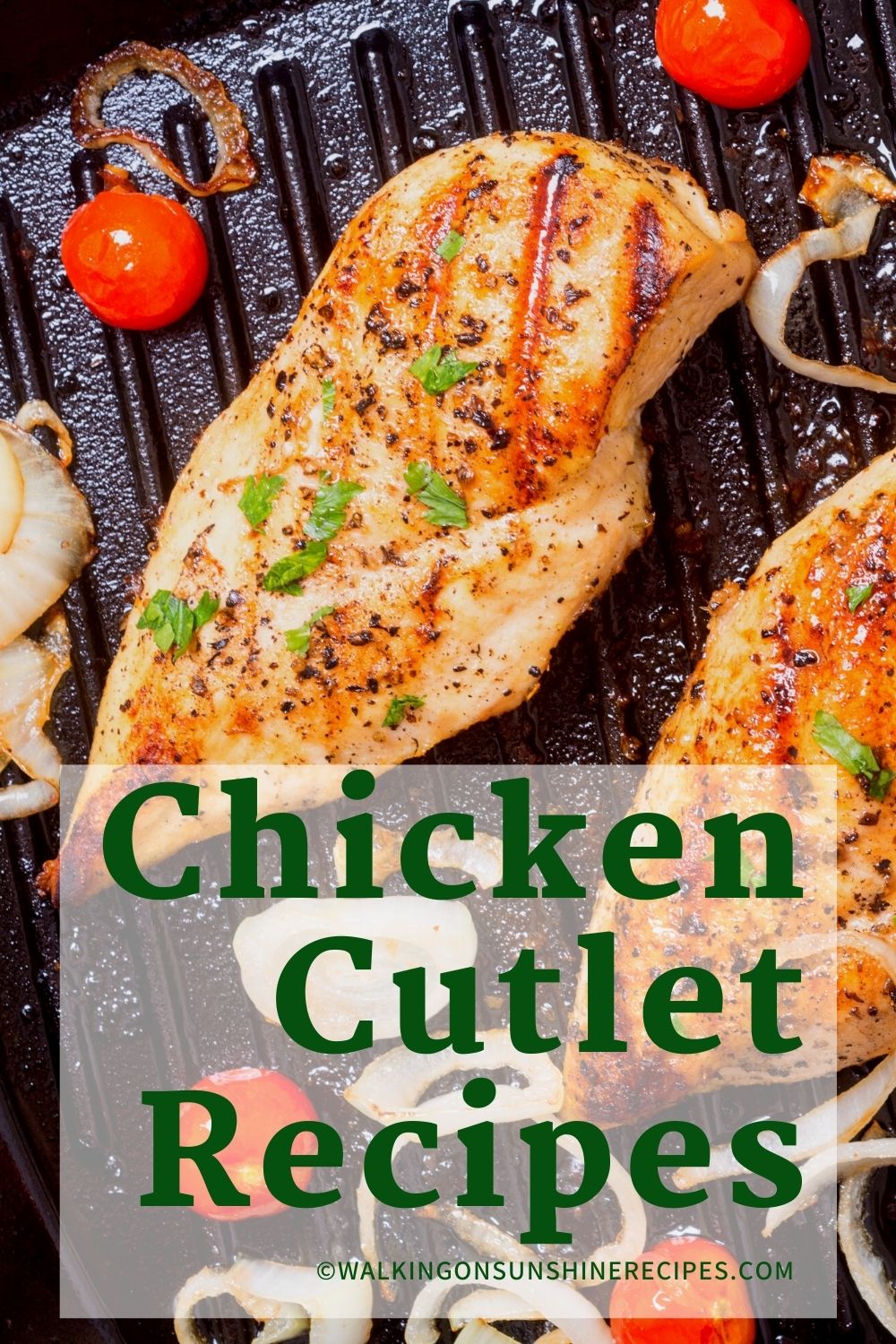 When I need to get dinner on the table fast, I always choose a recipe with chicken cutlets. They taste delicious and cook up fast. I love adding a chicken cutlet recipe at least twice to my Weekly Meal Plan.
Don't forget to check out my Baked Chicken Cutlet Recipes for more ideas on what to cook for dinner tonight.
What Part is a Chicken Cutlet?
Chicken cutlets are nothing more than boneless, skinless chicken breasts that have been sliced thin. Most often the cutlets are then pounded even thinner before cooking.
Chicken cutlets can be purchased in your grocery store, but they are pricier than boneless skinless chicken breasts. They're also very easy to prepare in your own kitchen.
How to Make Thin Chicken Cutlets
Place a boneless, skinless chicken breasts on a cutting board that's been lined with parchment paper. Using a sharp knife, slice the chicken breast down the side lengthwise cutting all the way through until until you have thin chicken cutlets.
Sometimes it helps to place the chicken breasts in the freezer for about 20 minutes before slicing.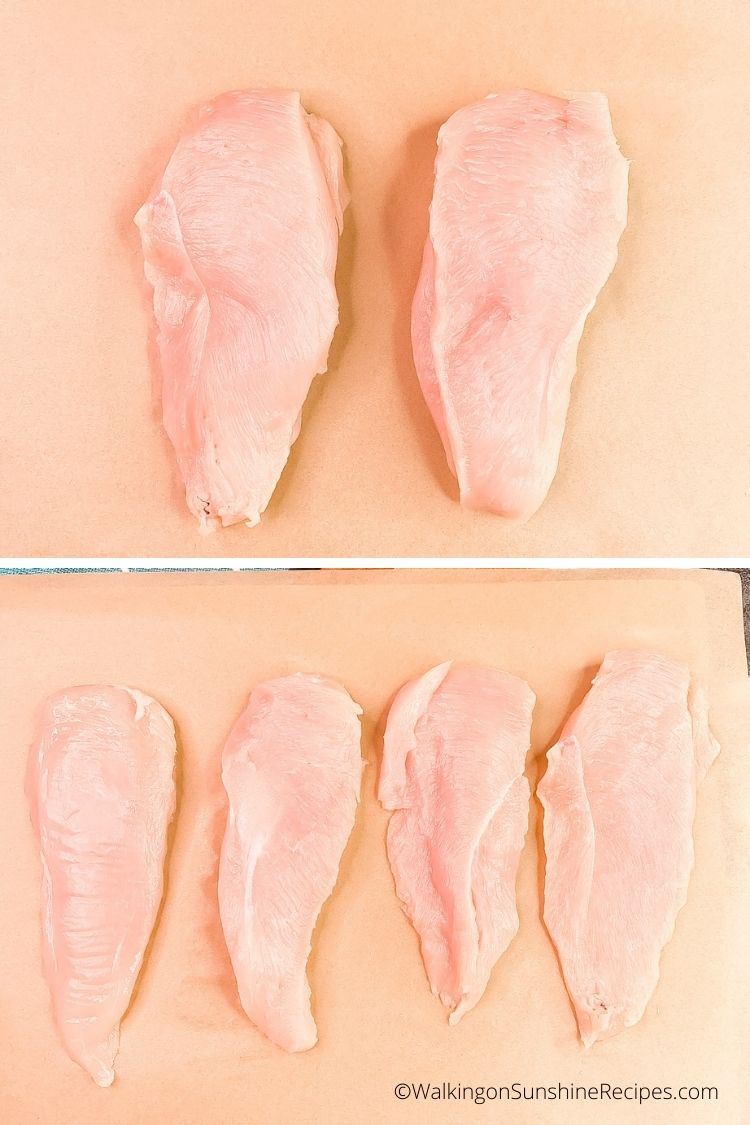 Helpful Kitchen Tools
Affiliate Disclosure: This post may contain affiliate links. As an Amazon Associate I earn from qualifying purchases. For more information, click here.
Here are a few of my favorite kitchen tools that I use when preparing chicken cutlet recipes.
Digital Instant Read Meat ThermometerMore Information
Meat Tenderizer, Heavy Duty Hammer MalletMore Information
The Pioneer Woman Baking DishMore Information
Stainless-Steel Breading TraysMore Information
4 Pieces Breading Trays SetMore Information
Ceramic Mixing Bowls for Kitchen,More Information
How many Calories in a Chicken Cutlet?
According to Eat This Much, there are 110 calories in a chicken cutlet.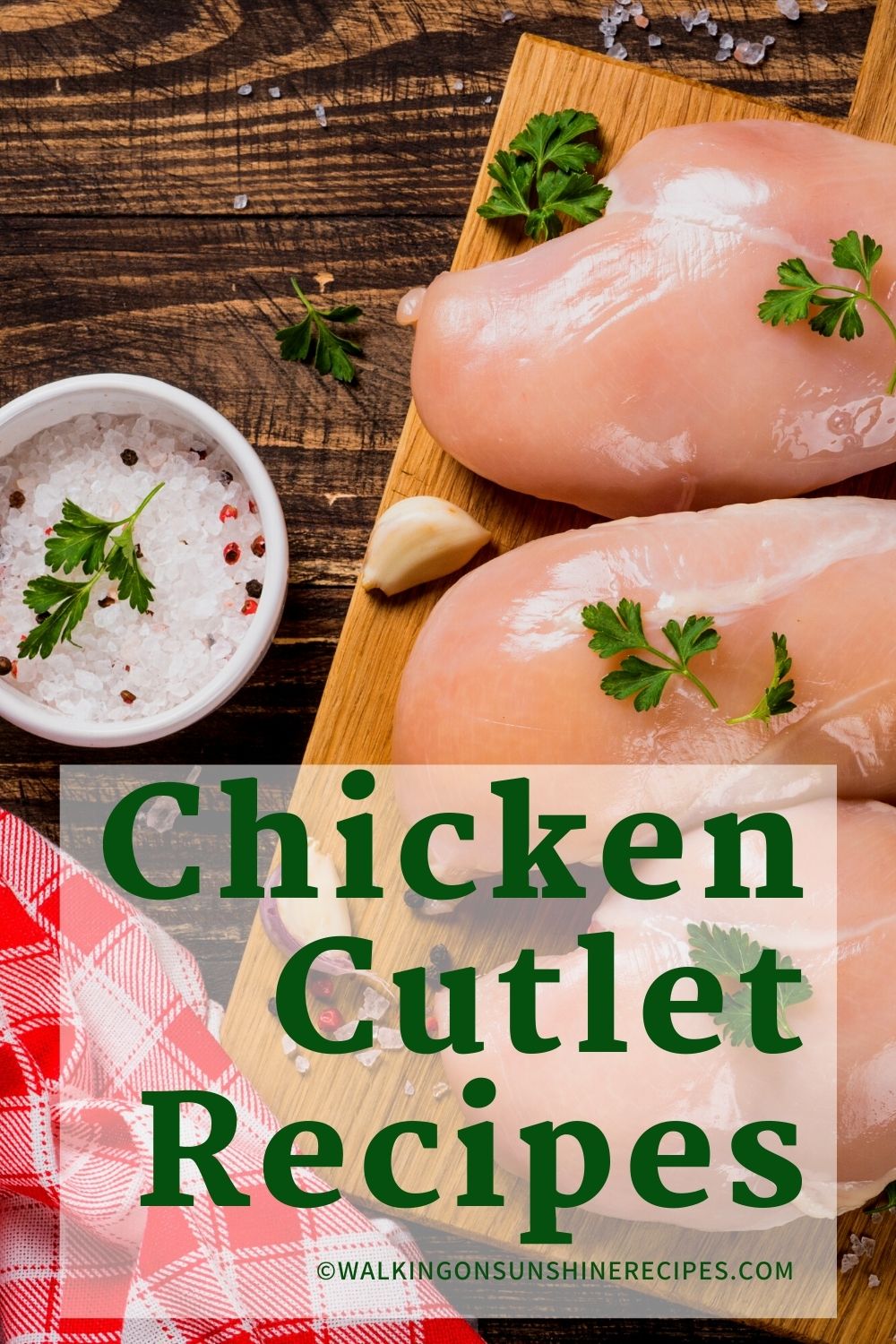 How Long to Bake Chicken Cutlets at 375?
Because a chicken cutlet is thin, they cook very fast. Most recipes call for the chicken to be cooked in a preheated 375 degree oven for 30 minutes…some even 20 minutes.
Always check to make sure the chicken has reached an internal temperature of 165 degrees using a digital meat thermometer.
Are Chicken Cutlets Italian?
Well, in my mind yes! But after a little research I found that the word cutlet originates from the French word côtelette. It is now found in most cuisines including, of course, Italian.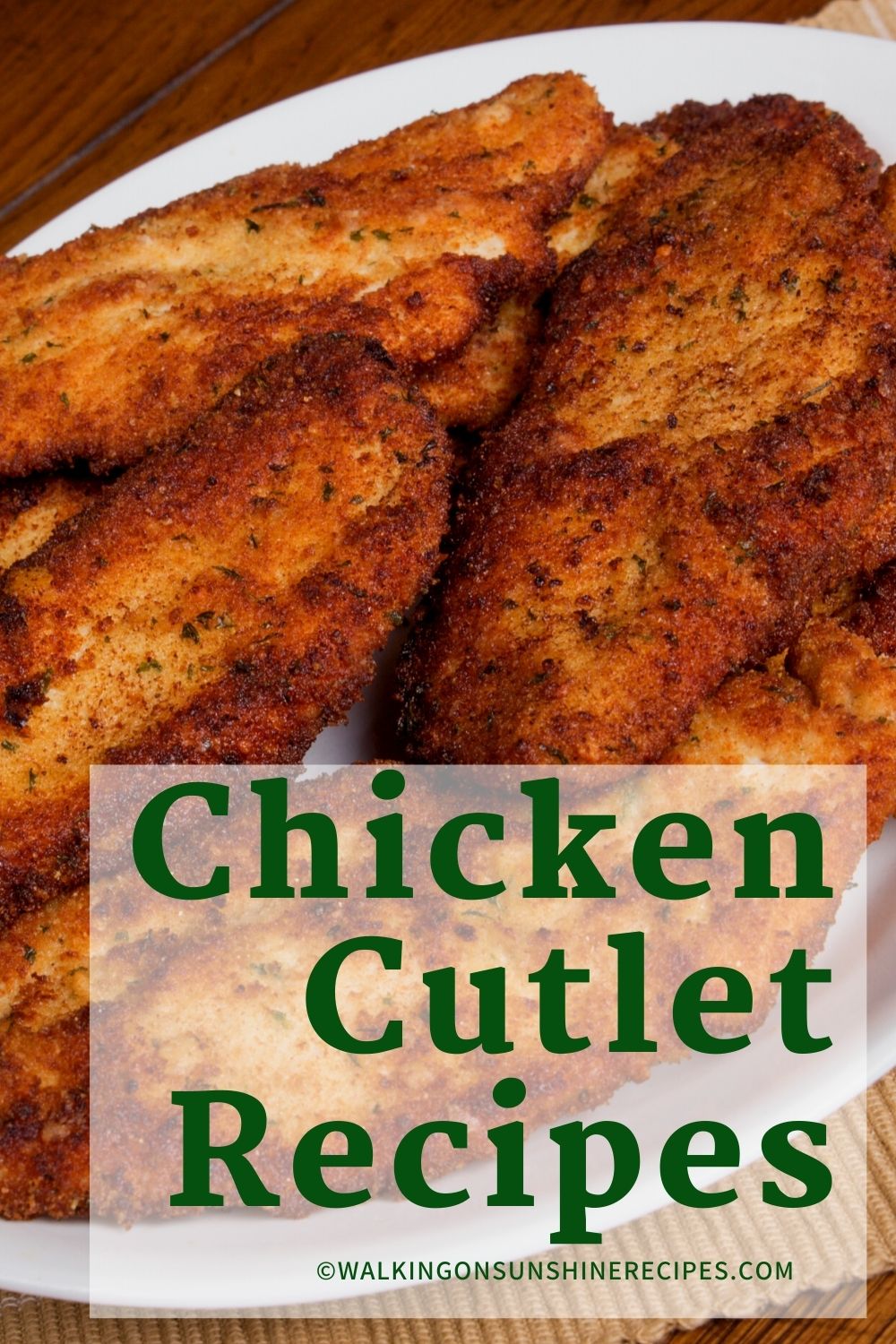 Favorite Chicken Cutlet Recipes
Italian Style Chicken Cutlets – pounded thin chicken breasts coated with eggs and then Italian seasoned breadcrumbs, fried and then baked until perfectly tender.
30 Minute Caprese Chicken Recipe – This is a unstuffed caprese chicken recipe that's ready in 30 minutes. Fresh tomato salad and mozzarella cheese on top of breaded chicken cutlets.
Chicken Parmesan – my easy recipe for Breaded Chicken Cutlets that are smothered in homemade marinara sauce topped with mozzarella cheese.
Dipping Sauce for Chicken Cutlets – This is a copycat recipe for Chick Fil A Sauce that's a really, really good accompaniment to any chicken recipe.
Chicken Cutlet Mayonnaise Recipe – only need 5 ingredients to make dinner tonight! We all love mayonnaise for sandwiches, but what about spread on top of thin sliced chicken cutlets?
Baked Chicken Cutlet Recipes – a great collection of recipes that are perfect for dinner any night of the week!
Stuffed Chicken Cutlets – pounded thin boneless, skinless chicken breasts rolled up with a savory bread stuffing. Then cooked in a delicious gravy till tender.
Chicken Cutlets in Cast Iron Skillet – crispy, thin chicken cutlets coated in crushed buttery crackers, garlic and Italian seasoning. Ready in 30 minutes and only 7 ingredients!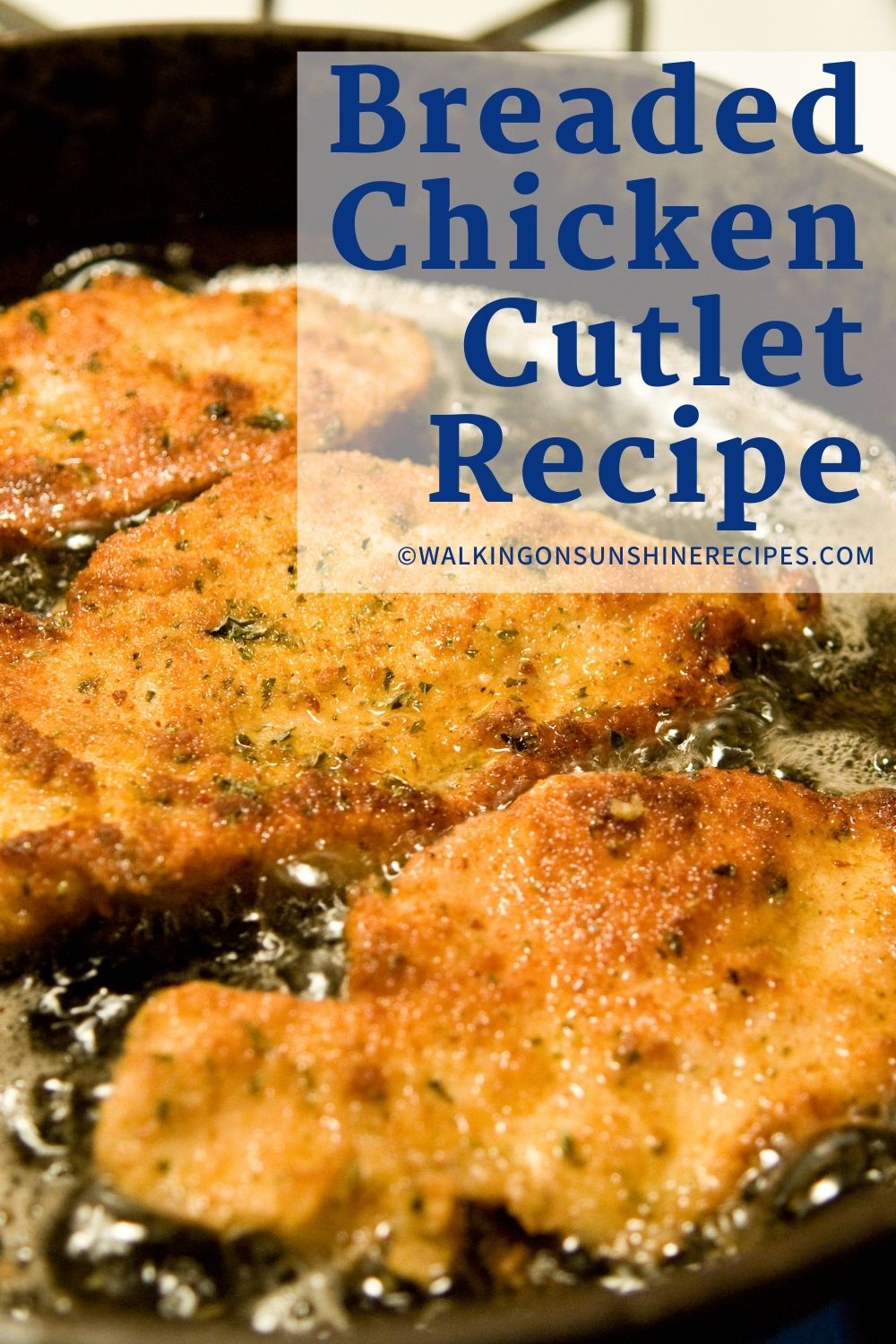 Side Dishes for Chicken Cutlets
Now that you've found a few delicious chicken cutlet recipes to make for dinner, what do you serve on the side? Check out a few of my family's favorites with my Side Dishes for Chicken Cutlets post.