Celebrate the flavors of the season with these delicious Puff Pastry Thanksgiving Desserts!
From classic pumpkin turnovers to delicious apple galettes, elevate your holiday feast with these sweet and buttery desserts that will have your family think you've become a French pastry chef!
Check out the full collection of Thanksgiving Dessert Ideas for more recipes to serve over the holidays!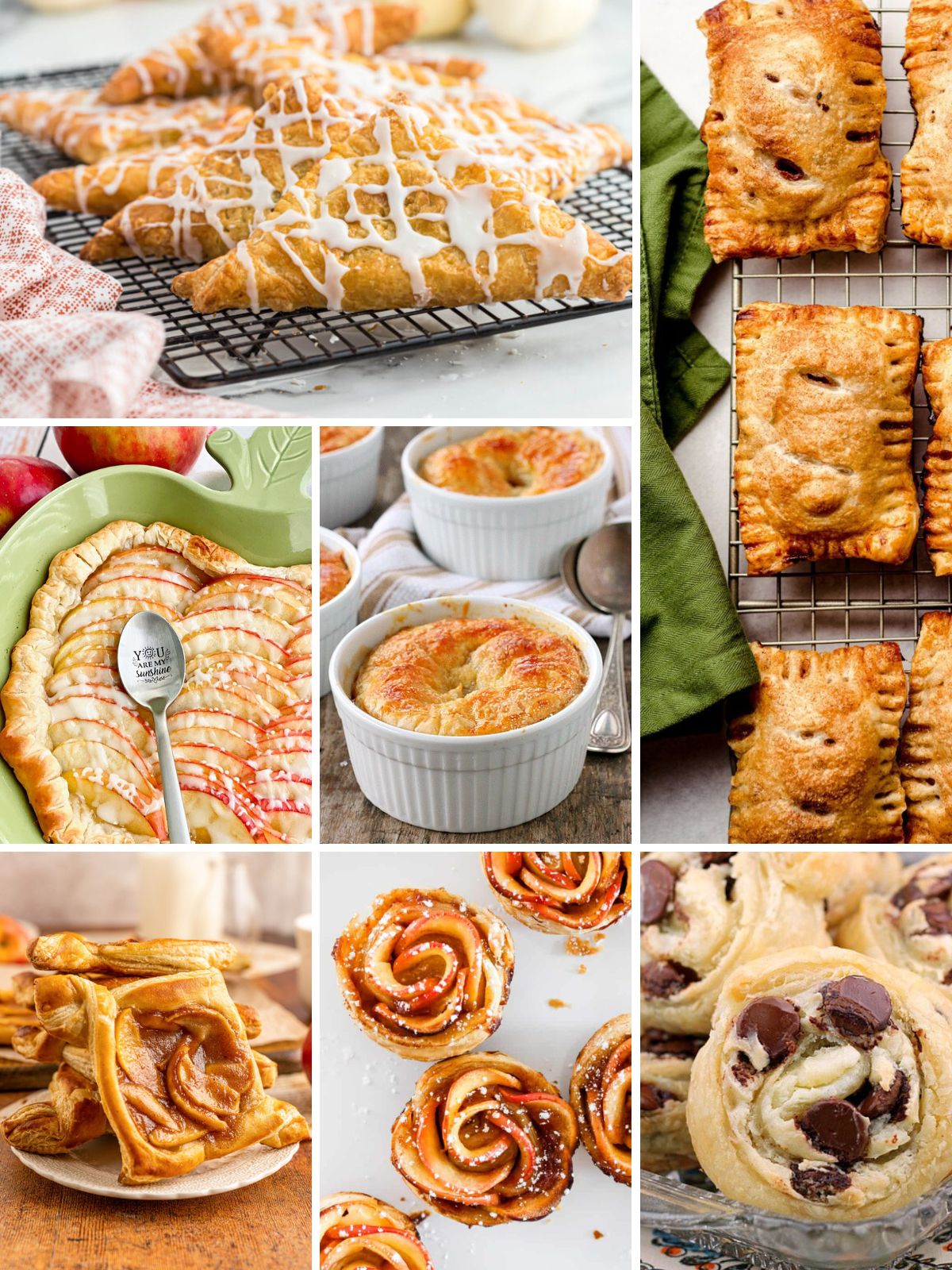 Whether you're hosting a Thanksgiving feast or looking to treat yourself and your loved ones to a special dessert, these pastries are sure to impress and leave a lasting impression.
Make sure you check out the NEW Place Cards available or my Thanksgiving Planner to help you set a GREAT table for Thanksgiving!
Looking for more easy desserts perfect for Thanksgiving? Try my collections of Diabetic Friendly Thanksgiving Desserts or Thanksgiving Desserts for Kids.
Table of Contents
📌Quick Tip: A sharp knife or pastry cutter helps to create clean and precise cuts without squishing the layers. This is especially important when making shapes or cutting slits for venting.
👩‍🍳How to Use Puff Pastry
Puff pastry is much easier to work with when it's chilled, so remember to thaw it in the refrigerator as directed on the package. You want it to be flexible without being overly soft or sticky, ensuring a smoother handling experience.
To prevent the puff pastry from sticking, simply sprinkle a light dusting of flour on your work surface. However, it's important to be mindful of using excessive amounts of flour as it can impact the final texture of your pastry.
When rolling out puff pastry, it's important to apply gentle and even pressure. The ultimate aim is to preserve the delicate layers and ensure consistent thickness throughout. Take your time and be patient, treating the process with care and precision.
🛒Helpful Kitchen Tools
Thanksgiving Dinner Party Utensil Holder PocketsMore Information
Thanksgiving Mini DishMore Information
Large Charcuterie Boards Set & Cheese PlatterMore Information
Thanksgiving Harvest TrayMore Information
Thanksgiving PlatesMore Information
📇Recipe Collection
⭐Before You Begin! If you make any of these recipes, please leave a review and star rating. This helps my business thrive and continue providing FREE recipes.
Puff Pastry Thanksgiving Desserts