Why not try one of these Thanksgiving desserts for kids and make somethinng special just for the kids this holiday season? This collection of 25 festive treats are sure to please everyone..kids and even the big kids!
While the turkey may be the star of the show, the dessert is often what people remember most about the meal. Most adults love the variety of pies being shared, but kids may not enjoy a piece of pumpkin pie.
Check out all the other Thanksgiving Dessert Ideas for even more delicious recipes.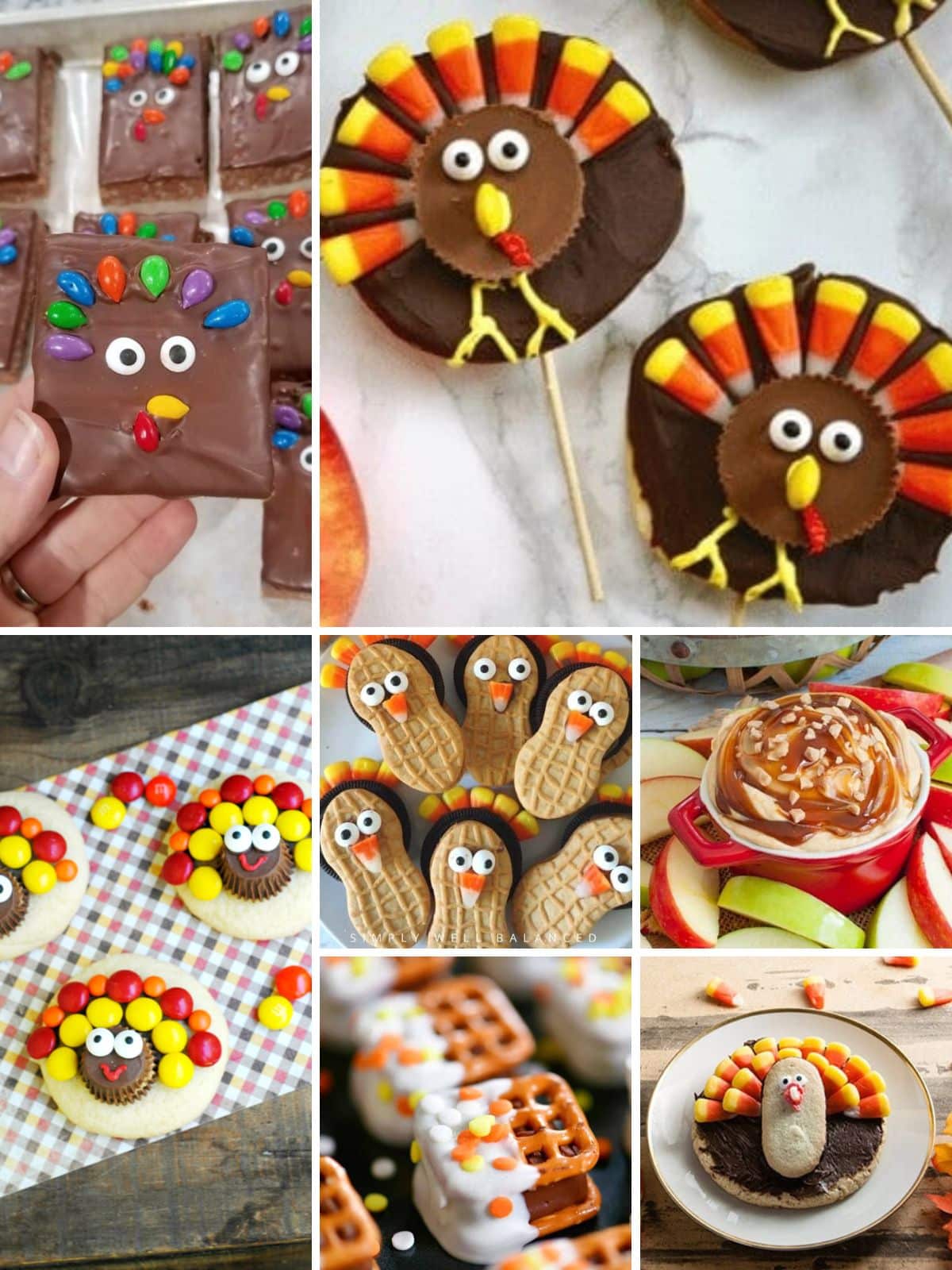 Every year, the same question arises: what to make for dessert on Thanksgiving? While most adults enjoy a piece of apple pie or pumpkin pie, kids want something fun.
Which is where this collection of 25 different FUN turkey dessert ideas comes into play. These are fun dessert options to make for the kids after the main course has been served.
One easy option is to make mini pumpkin pies or maybe apple hand pies. These bite-sized pies are perfect for little hands, and they can be made ahead of time so you don't have to worry about them on Thanksgiving day.
And if all else fails and you run out of time, bake a batch of our favorite Chocolate Peanut Butter Cupcakes and let the kids decorate them for fun. Whatever you choose, these Thanksgiving desserts for kids are sure to be a hit!
Table of Contents
Looking for more Easy Desserts for Kids? Try my collection of 21 Thanksgiving Turkey Treats, Thanksgiving Cookie Recipes or my Easy Pumpkin Desserts.
💭Turkey treats for school
It's that time of year again! The leaves are falling, the air is crisp, and Thanksgiving is just around the corner. And what better way to get into the holiday spirit than by treats?
Whether you're looking for something to take to a school party or just want to have a little fun in the kitchen, this collection of 25 turkey treats are sure to be a hit for any school parties your kids may need to supply a treat for during the holidays.
💭How to cut rice krispie treats into shapes?
Rice Krispie treats are a classic dessert that is loved by both kids and adults alike. They are simple to make and can be easily customized to suit any occasion or holiday.
If you want to add a little something extra to your next batch of Rice Krispie treats, try cutting them into shapes. You can use an assortment of cookie cutters to do this or you can use a sharp knife.
First, lightly grease the knife or cookie cutter with butter or cooking spray.
Then, press it into the Rice Krispie treat, being careful not to cut all the way through.
Gently remove the excess rice krispies and press the cutter down again.
Repeat this process until you have cut out all of the desired shapes.
Finally, enjoy your uniquely shaped Rice Krispie treats!
💭Thanksgiving candy treats
What would Thanksgiving be without some delicious candy treats? Whether you're snacking on turkey-shaped gummies or chocolate-covered pumpkin spice marshmallows, there's no doubt that candy plays a big role in making Thanksgiving special.
Let's not forget about everyone's favorite candy corn! There are so many ways to use candy corn in fun recipes besides just enjoying a handful of them.
And if you're feeling really ambitious, you can even try your hand at making homemade candy corn. So go ahead and indulge your sweet tooth this Thanksgiving – your taste buds will thank you!
🛒Helpful Kitchen Tools
This post contains affiliate links. That means that if you make a purchase after clicking on a link I may earn a small commission at no extra cost to you. For more information, click here.
More Information
More Information
More Information
More Information
More Information
More Information
More Information
⭐Before You Begin! If you make this recipe, please leave a review and star rating. This helps my business thrive and continue providing FREE recipes.
📋Featured Recipe Collection
Unlock this recipe by creating an account with GROW! It's easy and allows you to SAVE the recipes you love from my site into your own personalized account. What is Grow? It's another way for you to save the recipes you want to try from all your favorite food bloggers.
Thanksgiving Desserts for Kids