Any of these Savory Puff Pastry Recipes would be perfect for breakfast, lunch or even dinner. Add a simple salad of fresh greens or seasonal fruit and you have a complete meal. In just minutes you can have an elegant looking puff pastry recipe to serve to family and friends.
Included in this list of puff pastry recipes are taco pizza, asparagus tart, cheesy garlic bread, empanadas and even a recipe for chicken pot pie.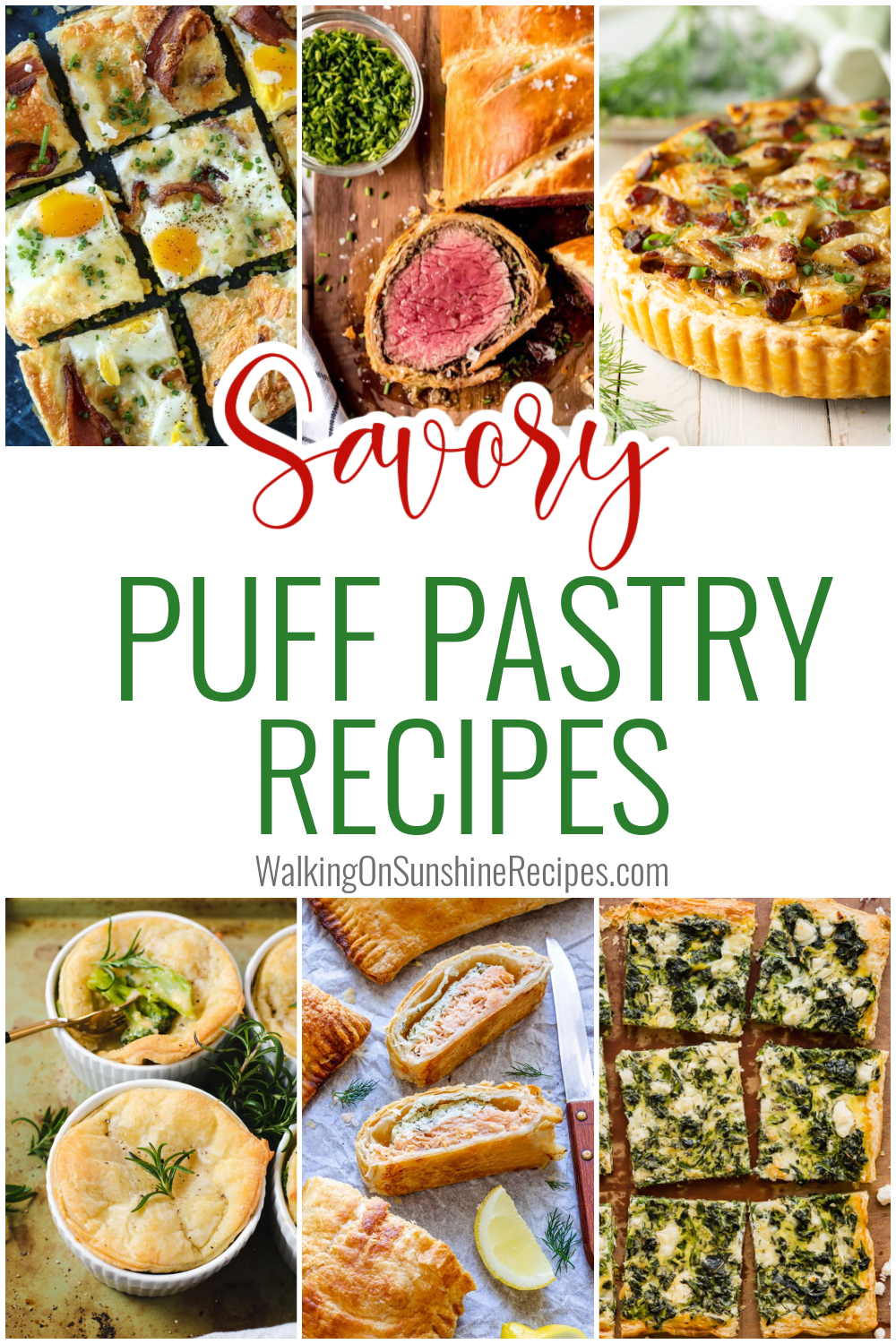 I always keep a box of frozen puff pastry in my freezer. It's a great way to be prepared for almost anything. Whether you need an easy snack to make to watch a movie with the family or want to take chicken pot pie up a notch for dinner.
You can even make a pizza using frozen puff pastry!
Check out my Easy Puff Pastry Recipes or Mini Puff Pastry Recipes if you're looking for more recipe collections uing this versatile frozen pastry.
Table of Contents
How to Thaw Frozen Puff Pastry Quickly
This actually happened to me yesterday and here's what I did:
The easiest way to defrost puff pastry quickly is to simply put the sheet on top of the counter.
Remove the puff pastry from the paper wrapping and cover in plastic wrap.
Place on a plate and watch closely. You do not want it to get too soft too quickly.
Once it gets soft enough to start unfolding you should be able to roll it out and use in the recipe.
Do not try to thaw puff pastry using the microwave.
Should you blind bake puff pastry before filling?
Blind baking refers to baking pastry or pie dough on it's own before you add the filling. Then you complete baking according to the recipe directions.
When a recipe calls for blind baking, you typically weigh down the dough if you are baking with traditional pastry dough...like for a pie.
However, if you're working with puff pastry, all you need to do is use a fork to poke holes to prevent the pastry from puffing up. The holes allow steam to escape.That way when you add the filling, the bottom of the pastry will not get soggy.
Helpful Kitchen Tools
This post contains affiliate links. That means that if you make a purchase after clicking on a link I may earn a small commission at no extra cost to you. For more information, click here.
More Information
More Information
More Information
More Information
⭐Before You Begin! If you make this recipe, please leave a review and star rating. This helps my business thrive and continue providing FREE recipes.
Savory Puff Pastry Recipes
Savory Puff Pastry Recipes inlude taco pizza, empanadas, quiche, asparagus tart, cheesy garlic bread and chicken pot pie.