All of the best Puff Pastry Recipes that are shared here on the blog can easily be found listed below. Did you know, you can use an entire sheet of frozen puff pastry to bake an easy dessert, or cut it into shapes for individual savory appetizers.
However you choose to use this miracle dough, the result gives you a recipe that's flaky and full of flavor. I always keep a package or two in my freezer and you will too after checking out these recipes.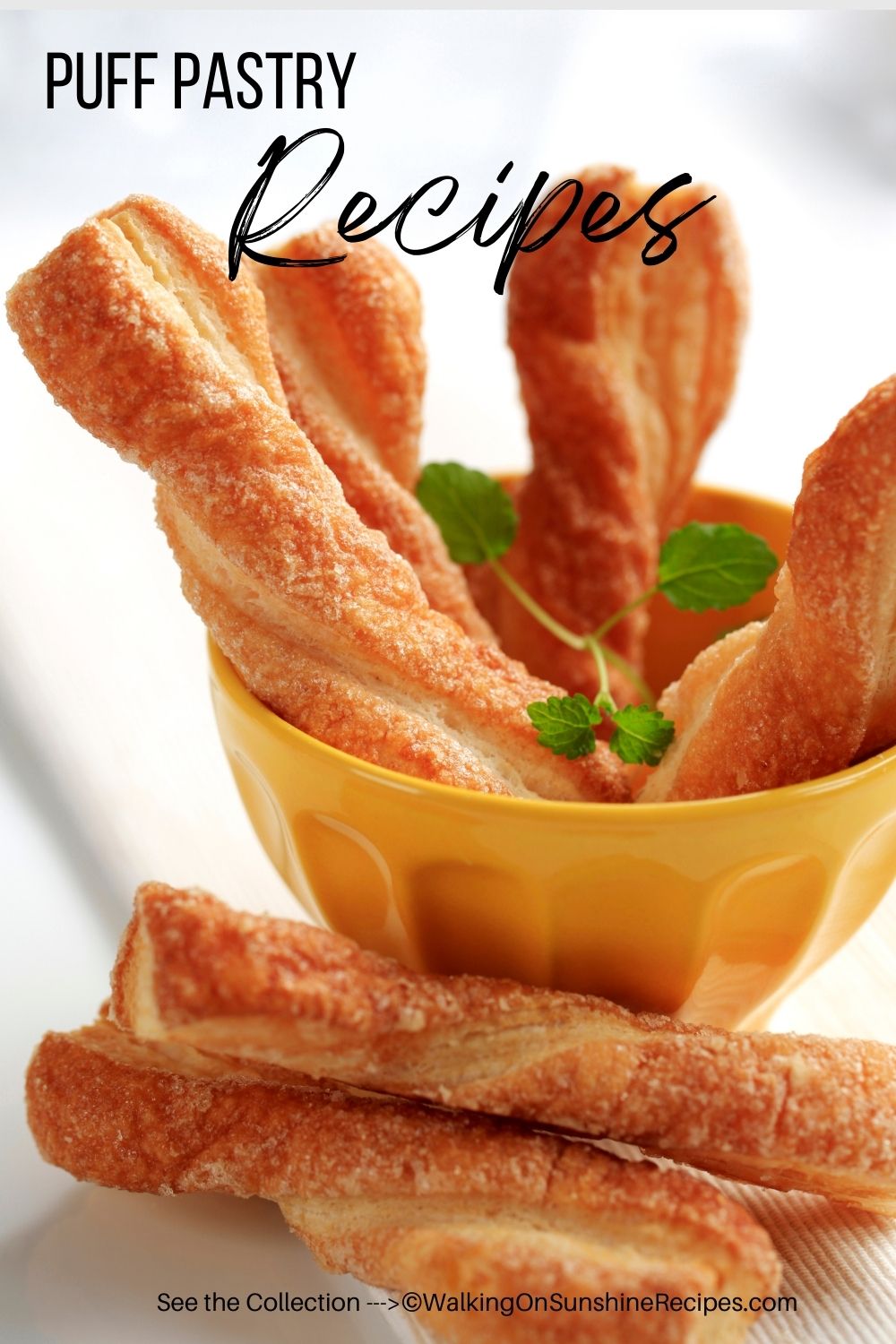 I'm not sure why people believe puff pastry recipes are difficult when in fact they're one of the easiest assortment of recipes like the ones featured on Walking on Sunshine Recipes.
If you've never worked with puff pastry, you're in for a real surprise at just how easy it is to create delicious recipes.
I hope by now you know that if it's something I can do, you can too! And I love to provide lots of step-by-step photos to help us both along the way.
Table of Contents
⭐Before You Begin! If you make any of these recipes, please leave a review and star rating. This helps my business thrive and continue providing FREE recipes.
Puff Pastry Appetizers
Create mouthwatering appetizers using a single sheet of puff pastry. These recipes will definitely impress your guests:
Easy Puff Pastry Desserts
While puff pastry desserts may appear to be difficult to prepare, they're really quite simple to make. They also make a huge impression on your guests when you serve one of these recipes to your guests. Check out these beautiful desserts:
Savory Puff Pastry Recipes
You can use puff pastry for savory recipes as well. Here are a few of my family's favorite:
Refrigerator Cinnamon Rolls eBookClick HERE for More Information
💡Recipe FAQ
Simply click the plus sign to read more about the questions you see below. If YOU have a question regarding this recipe, please let me know in the comment section.
How to defrost puff pastry sheets?
Thaw the dough in the refrigerator 3 to 4 hours before you need to use it. If you forget to remove the pastry from the freezer in time for your recipe, you can defrost it at room temperature for about 30 to 40 minutes.
Are you supposed to roll out puff pastry?
You should always roll out puff pastry to make sure the sheet is the same thickness before using for a recipe. Rolling out puff pastry also helps get rid of the fold lines that occur when you take it out of the package.
Can I leave puff pastry at room temperature?
Yes, you can leave puff pastry at room temperature for up to two hours. Make sure that the puff pastry stays cool while it's out at room temperature, or else it may start to lose its flaky texture as the butter melts.

How long does puff pastry last in the refrigerator?
Puff pastry can be stored in the refrigerator for up to one week. It is important to make sure it is wrapped tightly in plastic wrap or parchment paper before storing it in refrigerator.

🛒Helpful Kitchen Tools
This post contains affiliate links. That means that if you make a purchase after clicking on a link I may earn a small commission at no extra cost to you. For more information, click here.
More Information
More Information
More Information
More Information
More Information
More Information