Let's create a beautiful Thanksgiving Centerpiece to be the showcase of your table this holiday season.
After Halloween is over, what do you do with all the pumpkins? Not every pumpkin needs to be turned into a Jack O'Lantern. Let me show you how I make a beautiful "live" centerpiece for our Thanksgiving table.
Check out all the Easy Recipes for Thanksgiving to create the perfect holiday meal for your family.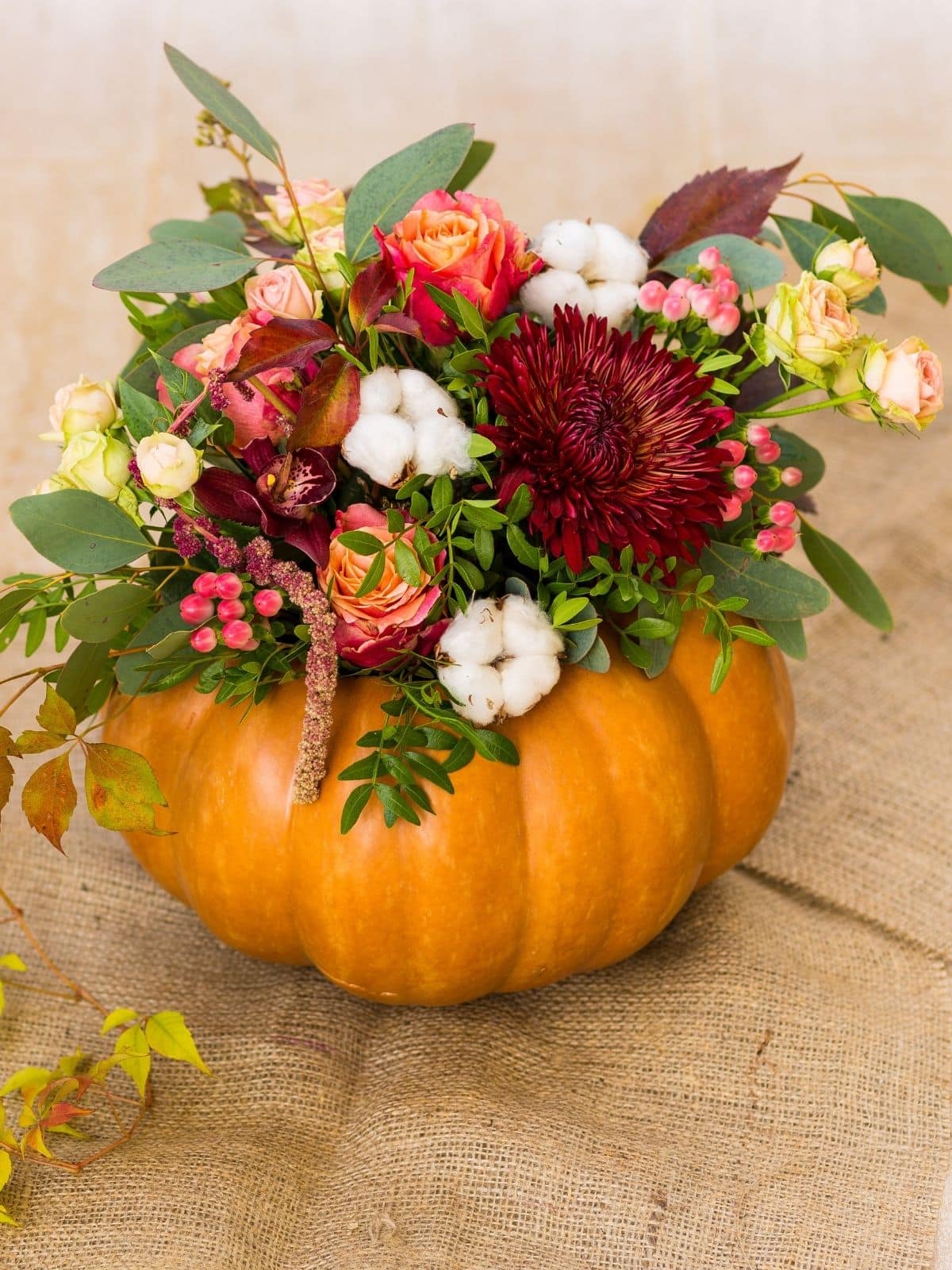 Before there was Pinterest or blogs my mother would create a pumpkin centerpiece every year for our Thanksgiving table. She would take a real pumpkin and hollow it out to use as a vase to hold flowers. Every year I looked forward to my mom creating her very own and very unique pumpkin vase.
Today I thought I would share a few photos showing you how easy it is to create a pumpkin vase. You can easily make one to put on your Thanksgiving table in a few weeks. All you need is a pumpkin, a jar and a few pretty flowers!
Table of Contents
📌This project is budget-friendly and very easy to make. You can easily customize this project with your favorite flowers to go with your home's décor. 
🛒Supplies Needed for a Thanksgiving Centerpiece
Pumpkin
Sharp knife
Vegetable peeler
Spoon - to scoop the pumpkin seeds out.
Small jar - to hold the flowers.
Assorted flowers
More Information
More Information
More Information
More Information
Step-by-Step Directions
Step 1: Using a sharp knife begin by cutting the top off of the pumpkin and then scooping out the seeds and inner flesh. I like to use the vegetable peeler to clean up the edges of the pumpkin after it's been carved. 
Step 2: Next you need to make sure the inside is really clean. You don't want any access seeds or pulp remaining in the pumpkin that can start going bad and begin to smell. That's the last thing you want...a smelly pumpkin while everyone is enjoying the Thanksgiving meal.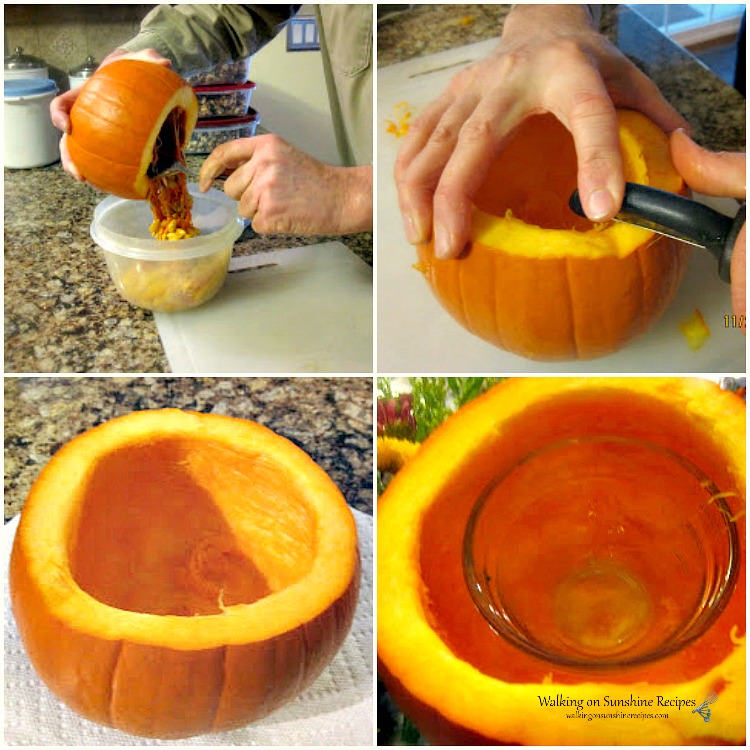 Find the Perfect Sized Jar
Step 3: Pumpkins are not "water tight" which means you need to find a small enough glass jar or container to fit inside the pumpkin to hold the flowers and water. Every year it takes a little searching through my cabinets to find the right sized jar or juice glass. 
Step 4: You also want to make sure the glass jar doesn't show. Make sure the flowers cover the container inside the pumpkin. I like to place the pumpkin centerpiece on the table and then take a seat and look. 
📌If you can see the glass jar while seated at the table, quickly rearrange the flowers making sure the container is covered by the flowers or greenery. 
Which Flowers are Best? 
This is really a personal decision, however, since it's Fall, I like to use fall-colored flowers. Mums, Goldenrod and Alyssum are all good choices. Don't forget to add some greenery as a filler to help round out the centerpiece. 
For the past few years I have been using a lot of seeded eucalyptus as filler in the centerpieces. Adding a few "fake" or even preserved colored leaves is really nice too. 
Tips for Creating a Thanksgiving Centerpiece
Every pumpkin is different. You may realize just how different they are once you start looking for the "perfect" pumpkin to create your centerpiece.
Try to find a pumpkin that can stand on it's own without tilting too much. If you have no choice, you can always trim away a little at the bottom to make it even.
Once a pumpkin is cut, it will begin to spoil, so it's best to do this project the day before Thanksgiving.
You can try to spray the soft flesh of the pumpkin with a bleach/water mixture to keep it fresh.
A flower frog also works great to hold the flowers inside the pumpkin.
Try a mixture of fall colored flowers to add to the pumpkin. Add a few sprigs of greenery as well that will act as fillers for the centerpiece.
Check the water level daily and add fresh water to the centerpiece as needed.
Here's an older photo from 2011 of one of my pumpkin centerpieces.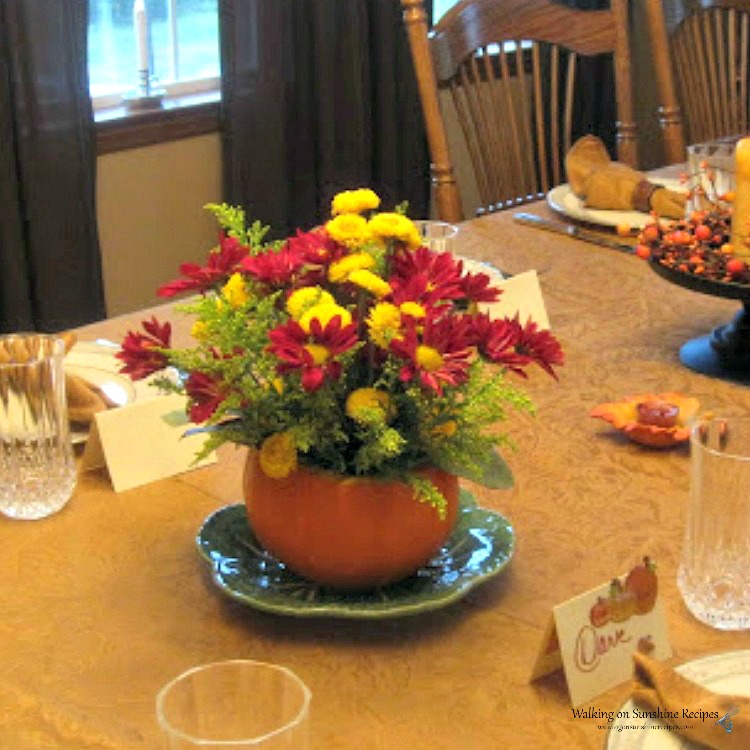 More Thanksgiving Ideas 
⭐Before You Begin! If you make this recipe, please leave a review and star rating. This helps my business thrive and continue providing FREE recipes.