Have you ever thought about installing a rain barrel? We installed a garden rain barrel a few years ago and it has been one of the best decisions we made for our garden. Here are some tips and benefits for installing one for your garden.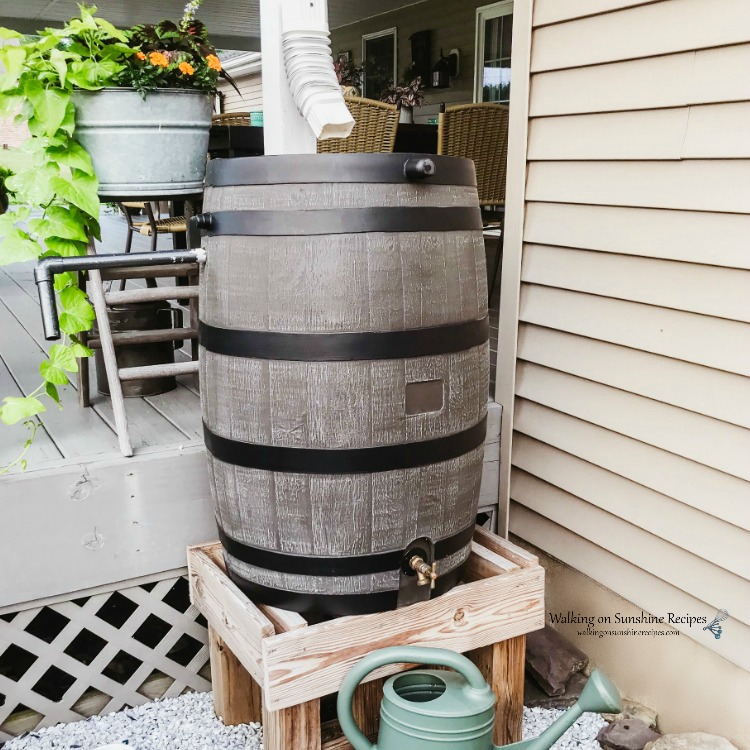 Here's an interesting fact for you: did you know that over 600 gallons of water can be harvested from only one inch of rain on a 1,000 square foot roof?
Rainwater can be used for many things around the garden. We use it mostly for watering our potted plants on the back porch as well as our vegetables.
I love using it to rinse off the vegetables as I harvest them from the garden. It's also a great place to rinse off our hands after working in the garden. I'm one of those gardeners that doesn't like using gloves. Rainwater is also great for rinsing off our garden tools as well as filling up wash buckets.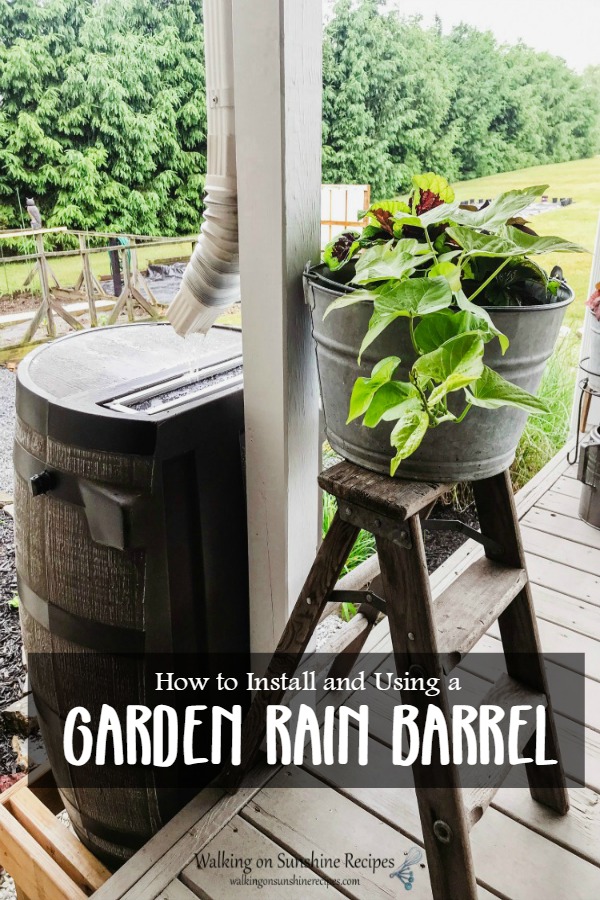 This post contains affiliate links. Your cost is the same, but I earn a commission when you shop through them. For more information, click here.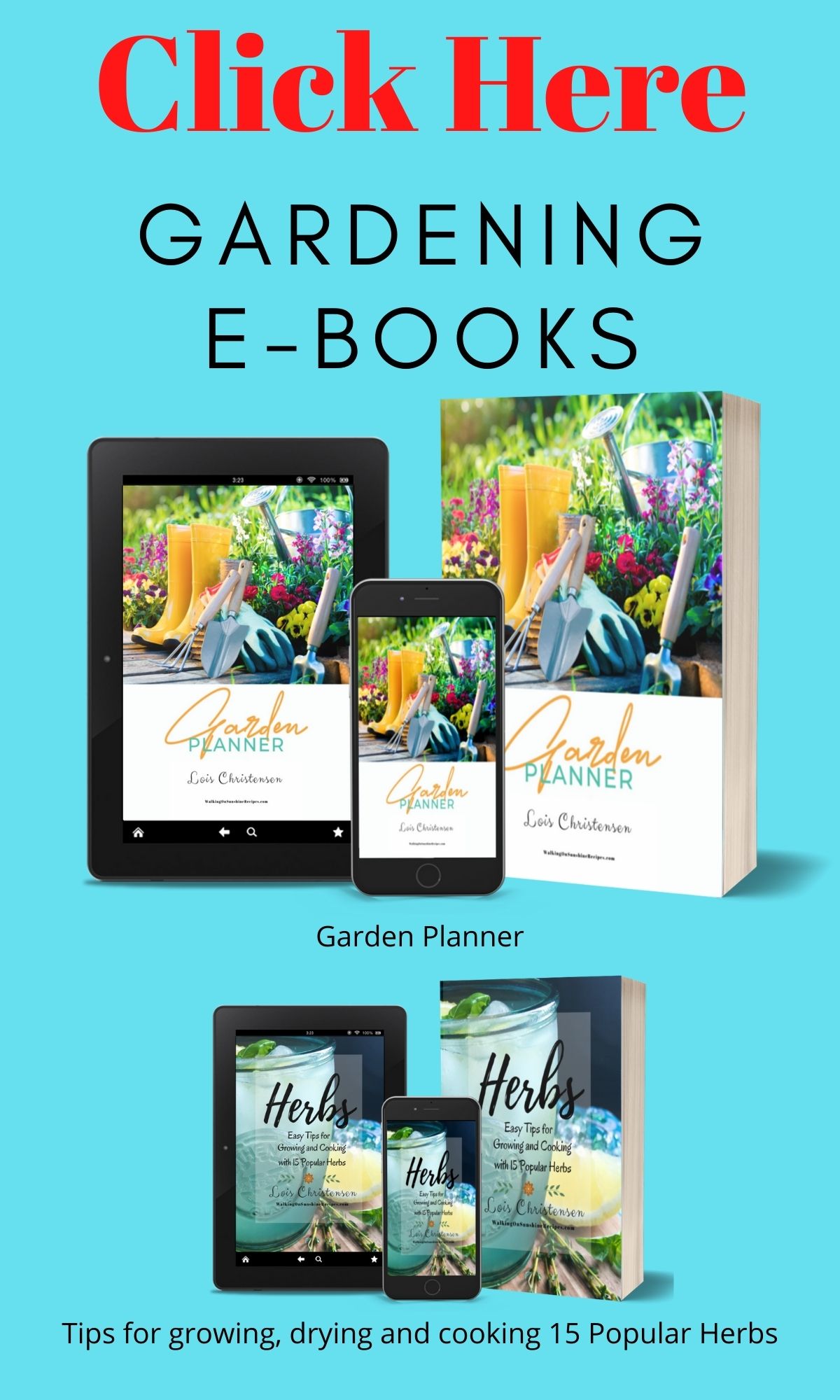 How to Install a Garden Rain Barrel
Step 1: Choose the Proper Location
In order for your garden rain barrel to work properly, it needs to be set up in the ideal location. For instance, setting one up in the corner of your house where your drain pipe runs down from the gutters is perfect.
However, that doesn't always work for some houses...like our house. We have two locations where the drain pipes run down from the gutters, but they are on either side of our garage doors, which just wasn't going to work.
In the first place, the rain barrel would block the garage doors. Secondly, the rain barrel would not be close to our garden...which is the whole point of installing one...to water the vegetables and flower pots.
We chose to put our rain barrel at the corner of our back porch. This location is perfect for us to water the plants on the back porch and to help us water the vegetable garden which is just on the other side of this photo.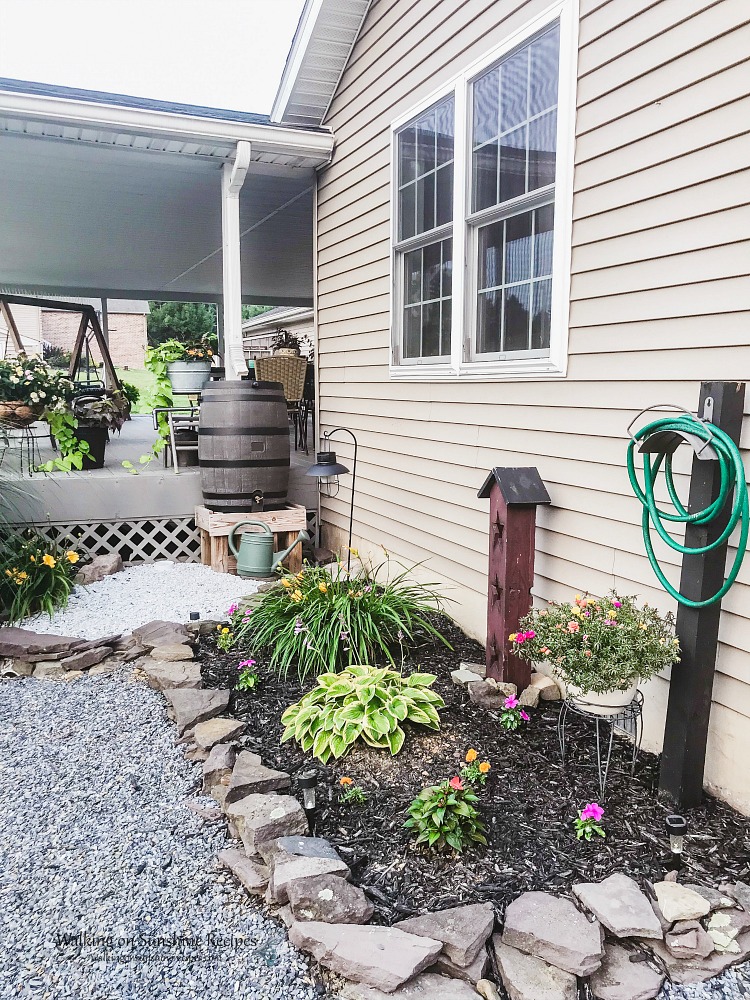 Step 2: Route the Drain Pipe into the Rain Barrel 
This step took careful measuring for my husband. Because of where we were installing the rain barrel, he chose to cut into the gutter above and add a downspout that led into the rain barrel.
Next, he installed an flexible downspout extension to the end of the regular metal down spout.
You could also install a rain barrel diverter kit but we felt this way was sufficient.
The rain barrel comes with the removable debris screen that the water drains through to keep the pebbles and other material out of the barrel.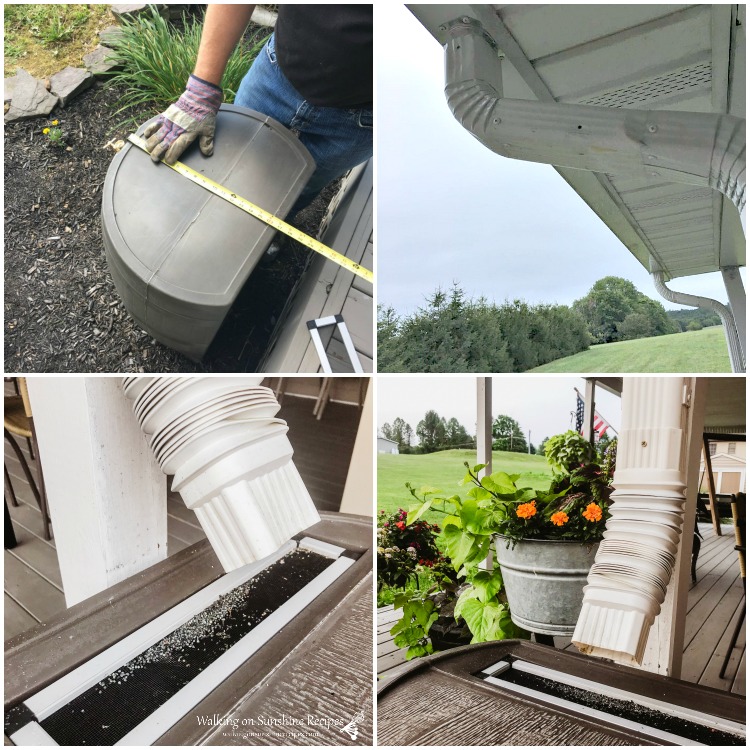 Step 3: Build a Strong Stand
This is a very important step! You need to make sure the stand is strong enough to hold a full rain barrel.
A rain barrel this size can easily weigh over 300 pounds!
Likewise, you also want to make sure the stand is at the proper height. Make sure you can fit a bucket or watering can under the spigot easily.
You do not want to go through all this work and then realize you can't fit a watering can underneath the spigot.
My husband chose to build our stand out of scrap lumber. You can easily use cement blocks if you don't want to build something.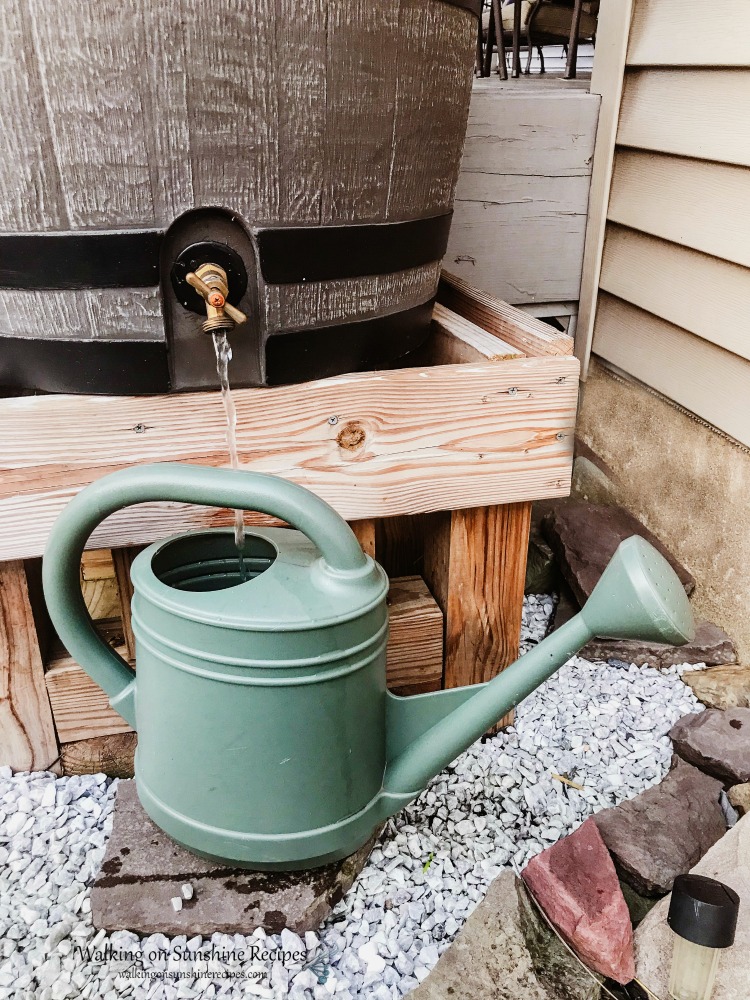 Step 4: What Happens when the Rain Barrel is Full? 
I was surprised to see how fast our rain barrel filled up after the first downpour we had in our area.
Most rain barrels have overflow valves near the top where the excess rain water will drain out when the barrel is full.
Our rain barrel actually has 3 separate ones. They allow the excess water to slowly drip out and down the sides of the rain barrel.
Since ours sits very close to the foundation of our house, my husband decided to install a pipe in the side of the rain barrel.
He then buried a drain directly under the pipe that allows the water to fall from the pipe into the drain and then directs the water away from the foundation of our house.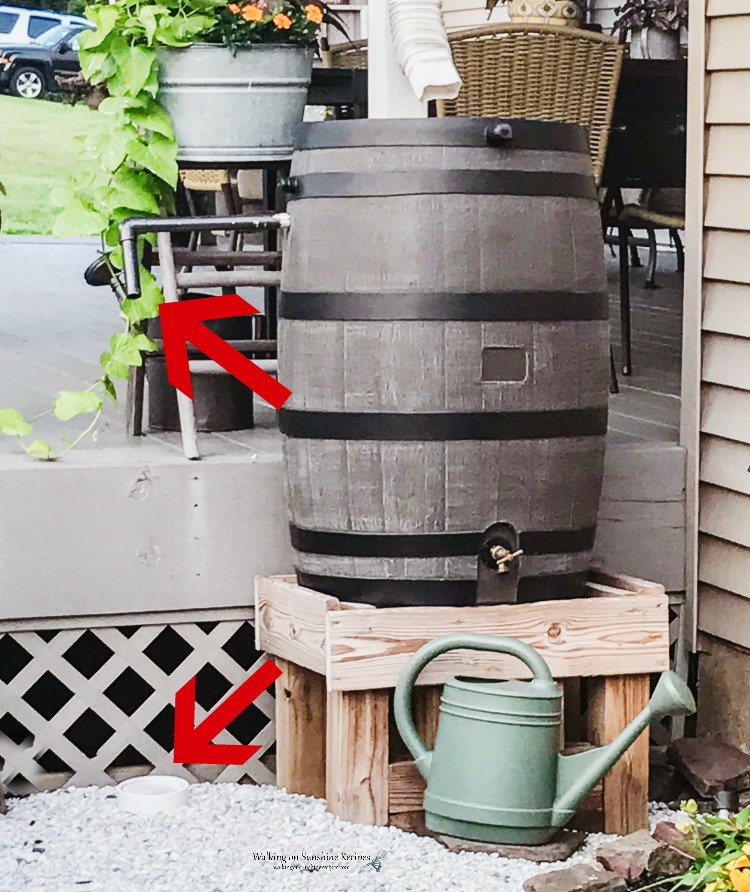 Step 5: How to Winterize your Rain Barrel
Winterizing your rain barrel depends on where you live.
If you live in a warmer climate, you may not need to do anything.
However, you definitely want to make sure you empty the rain barrel completely before the first freeze.
If you don't, the water inside will freeze.
Eventually there will no room for any more water and that could cause the rain barrel to crack.
My husband hooks up a hose to the spigot on the rain barrel and slowly allows it to drain. He keeps the hose attached to the rain barrel with the spigot open over the cold winter months. We have had no problems doing it this way.
Tips for Using a Garden Rain Barrel
There are lots of benefits of using a rain barrel. It's an excellent way to make use of the free water Mother Nature provides. Here are just a few that have worked for our home:
Tip 1: Conserve Water
In some areas, drought conditions result in restrictions on water use for things like watering your lawn. If you keep a rain barrel, you have access to a water source during the time you can't rely on getting it from your tap.
In addition, if you live in an area prone to drought, catching all the rain you can really makes a difference!
Tip 2: Lower Water Bill
We live in an area where we have our own well, so we don't have a monthly water bill. Our primary reason for installing one was to let Mother Nature help us water our flowers and vegetable gardens.
When it comes to lowering the cost of your water bill, every little bit counts. It's smart to use rain water to help you save money.
In comparison to using water from your kitchen sink or garden hose, you can save a lot of money by using the water collected naturally into a rain barrel!
Tip 3: Better for Plants
Your tap water tends to include substances other than water, including salt and fluoride compounds.
When poured over soil, these substances can linger and cause damage to a plant's root system.
By using rain water instead of tap water to water your plants, you help them maintain healthier roots. This in turn means they're more resistant to drought.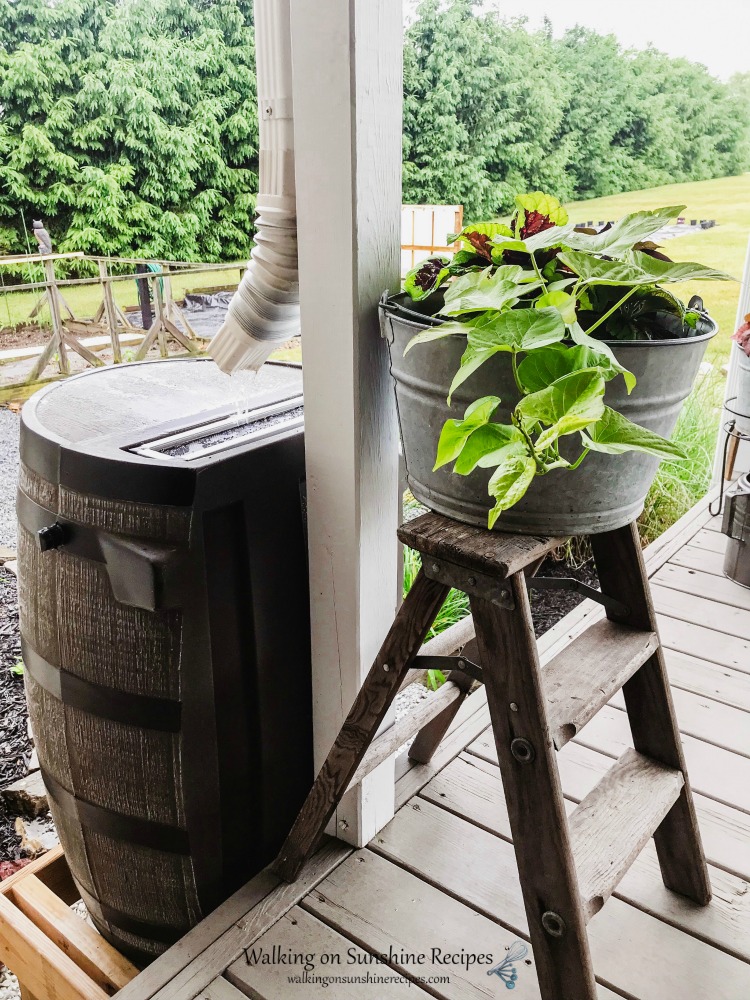 Important Rain Barrel Safety Tips
Check with your local township to make sure you're allowed to install a rain barrel. In some states, it's illegal to collect rain water, so do some research before starting your project.
Do not drink the water from the rain barrel. While it's safe and beneficial for flowers and vegetables, it's not recommended for drinking.
The same with cooking!
It's okay to rinse the dirt off of the vegetables, but always wash the vegetables again using the water from your kitchen faucet.
Make sure the rain barrel has a secure top to keep pets and children safe. Most pre-fabricated rain barrels are one complete piece with no lids or tops to worry about, but it's always good to be safe when young children are around.
More Garden Rain Barrel Ideas
More Beautiful Gardening Tips and Ideas:
To summarize, these are just a few reasons to consider installing a garden rain barrel. For the most part, the expense typically isn't that much. However, you will definitely be saving money at the same time while helping the environment in the process.

This post contains affiliate links. That means that if you make a purchase after clicking on a link I may earn a small commission at no extra cost to you. For more information, click here.
More Information
More Information
More Information
More Information
More Information