Growing tomatoes isn't hard!  You just need to follow a few easy tips to grow amazing tomatoes.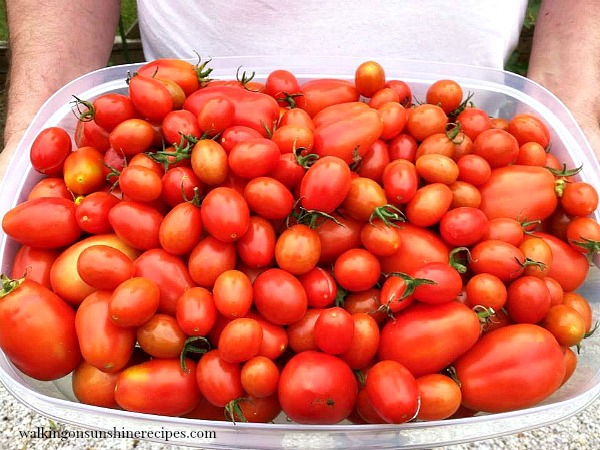 What are you favorite tomatoes to enjoy during the summer? Do you like cherry tomatoes or maybe grape tomatoes in a salad?  Or how about a slice of a delicious beefsteak tomatoes on a grilled hamburger?  One of my favorite ways to enjoy tomatoes is by making stuffed tomatoes using Italian plum tomatoes.
So whether you're growing your tomatoes in pots or in the ground, from seed or from plants purchased at the local garden center, this week's tip is all about how to grow amazing tomatoes.  And yes, that photo above is just one harvest from our garden last summer!
Once you have your tomato plants in the ground, there are a few things that you can do to make sure your plants produce beautiful fruit for you to enjoy this summer.  And if you "can" tomatoes, you'll be able to enjoy fresh tomatoes from your garden all year round.
Tips to Growing Amazing Tomatoes
It's okay to give your tomato plants some extra nutrients, but go easy on the fertilizer.  Too much will grow your plants into big green bushes with little fruit.  Not enough fertilizer will produce smaller fruit.  But what should you use to fertilize your plants?
Tomato plants love epsom salts.  And even if the plants don't have a need for them, adding epsom salts to your plants won't hurt them.  Add one or two tablespoons per planting hole to control blossom end rot.  Some gardeners will only use epsom salts in magnesium-deficient soils.
You can break up eggshells and toss them in the hole before you plant the tomato plants.  You can also soak eggshells in water for several days and use THAT water to water your plants.  This method works really well with tomatoes growing in pots or containers.  Eggshells are rich in calcium which helps control blossom end rot.  You can also bury a piece of chalk around the tomato plants to supply calcium.  Crushed eggshells work well to keep slugs away.
Pinch off the lower leaves to create a bare expanse of stem.  You can also bury the lower stem, leaves and all.  Either method works.  I know my husband loves to give our tomato plants a good "pruning" and expose the lower stem.  It does work!  We usually always have a great harvest every summer.
Some gardeners believe in remove the suckers and other gardeners don't.  So it really depends on what YOU like to do.  For our garden, we try very hard to remove the suckers because that's what we believe works for our tomatoes.  But we have friends who don't remove the suckers and they have amazing harvests every year.  You should always remove the suckers if you are growing your tomatoes in pots and containers.
We like to stake our tomato plants almost as soon as we get them in the ground.  That way we don't risk damaging the roots by trying to stake the plants as they are growing.  There are a number of ways you can stake your plants.  We have never had any success with using the metal cages most garden centers sell.  My husband has been making these box type cages for years now and they work really well.  And I've been after him to make new ones so I can take photos to show you how easy they are to put together.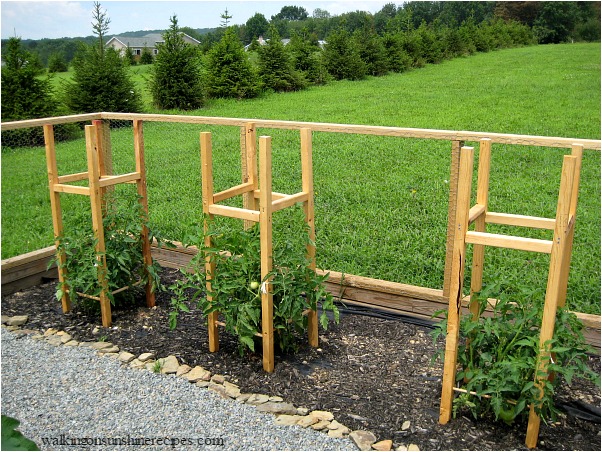 Tomato plants hate being sprayed from above, so put away the sprinkler.  Water the ROOT of each plant with the hose or a soaker hose.  They need deep root watering, not shallow watering.
So there you have it, 5 tips on how to grow amazing tomatoes this summer.  Do you have any tips that work for you?  I'd love to hear them!  Share with me in the comments or join me on Facebook page.