recipe that I found on Pinterest right before Christmas.
I always wondered how cookies like this were made
and was delighted when I found a recipe that looked so
simple and was so much fun to bake!
The next day I had to try another swirl cookie and found the following
recipe on Google in my quest to bake another FUN cookie.
This week's
Something Yummy for My Colonel's Tummy
is a FUN, EASY, vanilla and chocolate swirl cookie…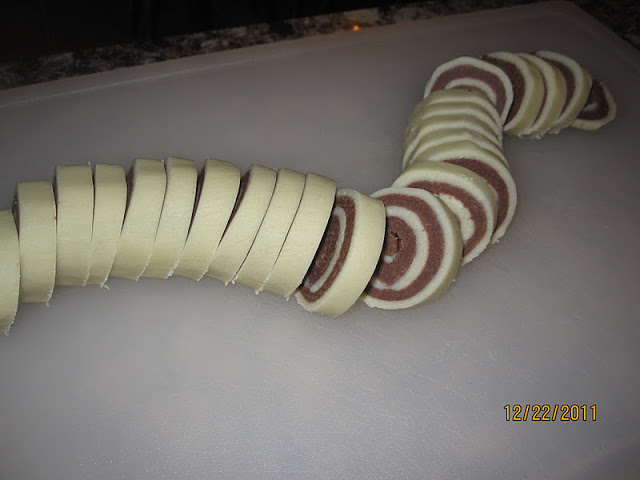 Ingredients
Makes about 4 dozen cookies.
1 1/2 cups butter softened (YES, 3 sticks)
1 cup confectioner's sugar
2/3 cup granulated sugar
1 Tablespoon vanilla
3 cups flour
1 teaspoon salt
1 teaspoon baking powder
1/4 cup unsweetened cocoa powder
Cream the butter until it's smooth.
Stir in the sugars and vanilla extract until they're evenly blended.
In a separate bowl, whisk together the flour, salt, and baking powder.
Add the dry ingredients to the creamed mixture one third at a time, stirring after each addition,
until the dough is evenly blended.
Divide the cookie dough in half.
Set aside half of the cookie dough…
Add the cocoa powder to the remaining dough and stir until it is fully incorporated…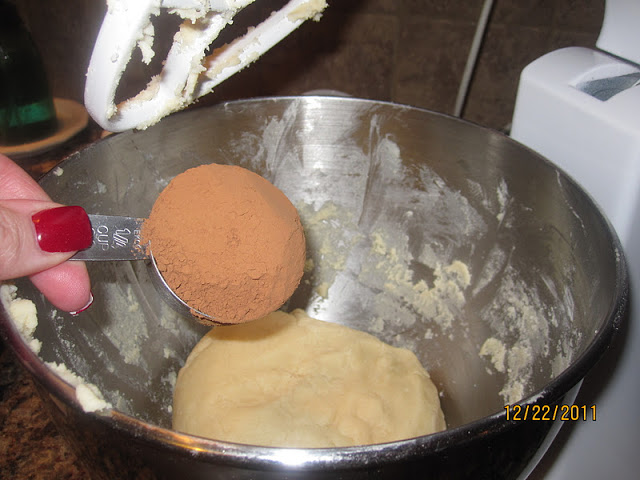 Divide the chocolate dough in half…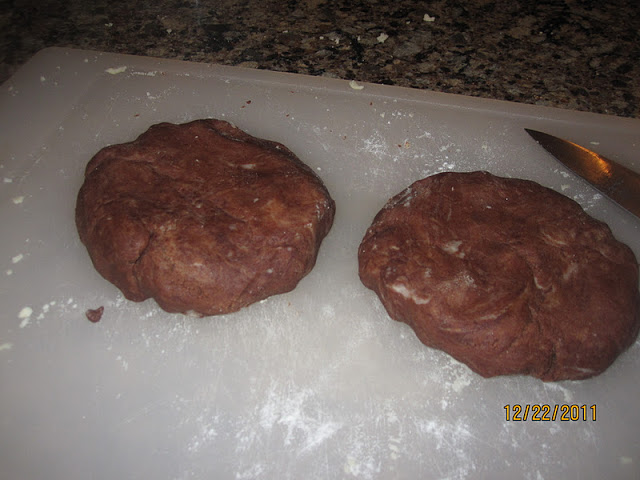 Place each half on a large piece of plastic wrap,
pat it into a 1/2-inch-thick square, and then wrap it in the plastic.
Repeat the process for the vanilla dough.
Refrigerate the 4 squares until firm, about 1 to 2 hours…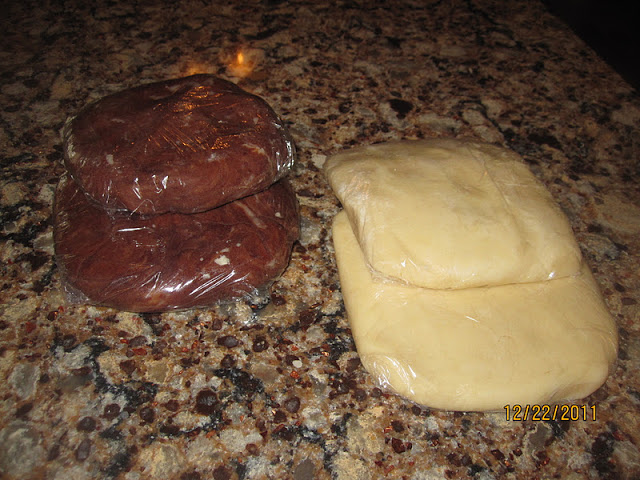 Unwrap one piece of the chilled vanilla dough, leaving it on the plastic.
Cover it with a second piece of plastic wrap, then roll it into a rectangle measuring about 9 by 7 inches.
If the dough gets too soft and difficult to roll, slide it onto a baking sheet
and refrigerate it until it's firm again, about 5 to 10 minutes.
Unwrap a piece of the chocolate dough, cover it with another piece of plastic,
and roll it into an 8- by 7-inch rectangle.
Remove the top piece of plastic wrap from both rolled doughs
and invert the chocolate dough on top of the vanilla dough,
lining up 3 sides and leaving about 1 inch of vanilla dough exposed on one side…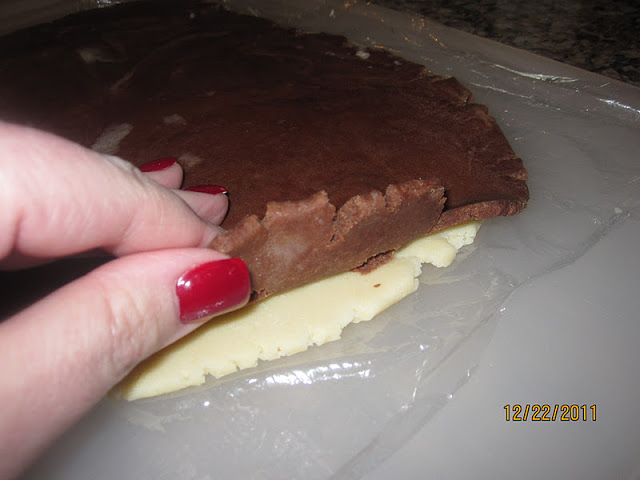 Starting at the opposite side, lift the vanilla dough by the plastic wrap
underneath it and snugly roll up both layers into a log,
peeling away the plastic wrap as you go.
See the cracks?
DON'T WORRY, just keep rolling…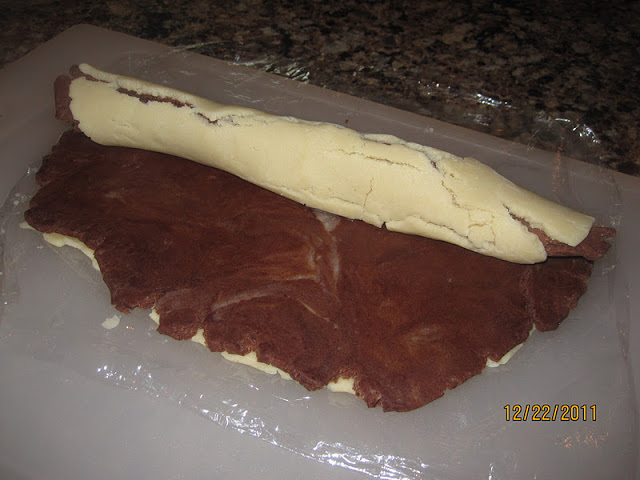 Wrap the log in the plastic and refrigerate it for at least 2 hours.
Repeat the process with the 2 other pieces of dough…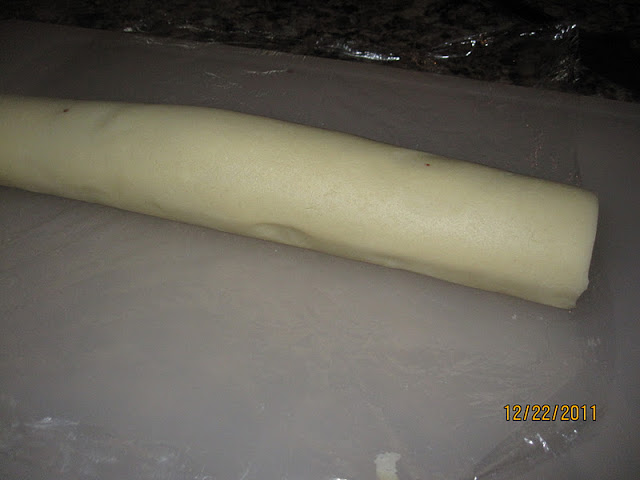 Heat the oven to 350º. Line your baking sheets with parchment paper.
Unwrap one of the logs and slice it into 1/4-inch-thick rounds…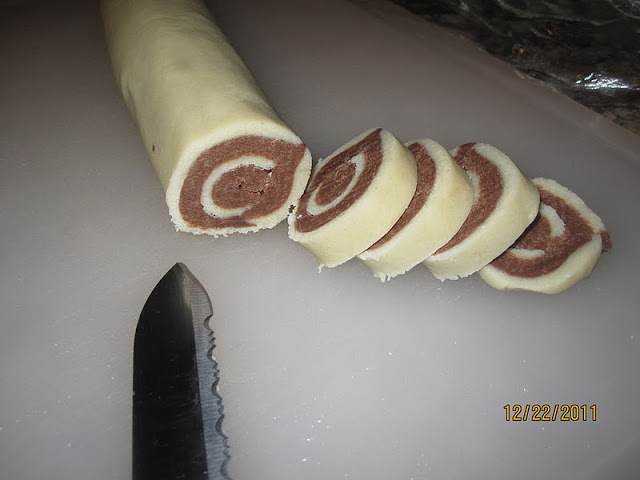 I was having fun with the dough…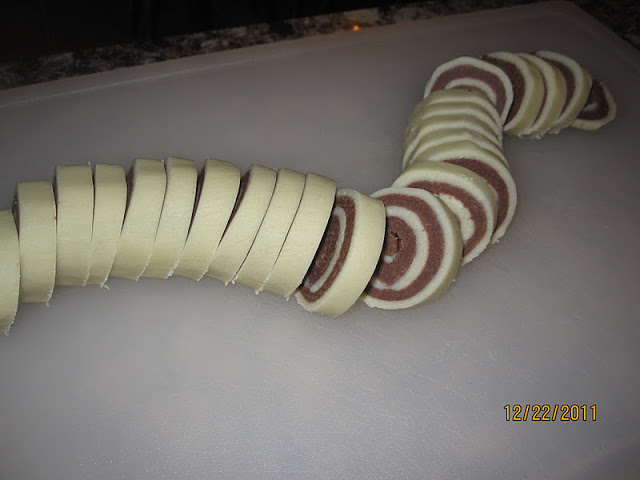 Arrange the slices on the parchment about 1 inch apart

and bake them for about 13 minutes.

When done, they'll still be a little soft to the touch.

The cookies will have a better texture if you don't let their edges brown.

PRETTY and DELICIOUS…

Baking swirl cookies is so much FUN!

I'm happy I learned over Christmas and made

two very different, yet DELICIOUS cookies for our

family to enjoy and to give as gifts to friends.

Enjoy your day!