The first thing that comes to my mind when celebrating the holidays are Christmas cookies. But lately we don't seem to have the time it takes to bake the elaborate cookies we grew up with so many years ago. Easy 3-Ingredient Christmas Cookies like the Oreo Cookie Truffles won't take long at all to bake. They will definitely get in you in the mood for Christmas.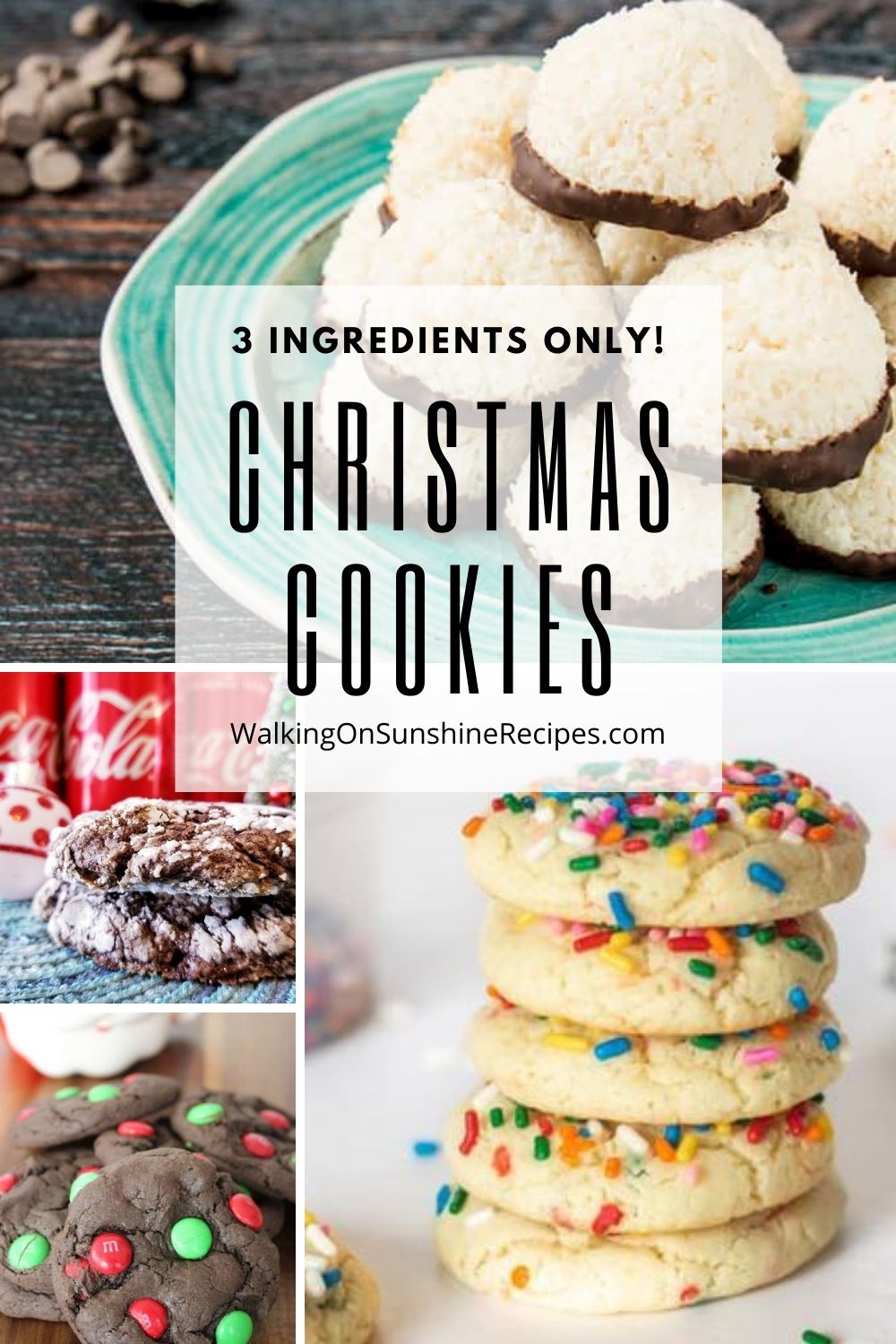 From family get-together's to holiday work parties, there are so many reasons to celebrate during the holiday season. And most of these parties require you to bring a dish or dessert to the event.
This year, take the stress off your holiday baking with the help of a few great recipes for 3-ingredient Christmas cookies. All these simple recipes are quick and easy ways to make sweet treats for all your holiday get-together's.
If you plan on giving any of these recipes as gifts, make sure you check out the Free Printable Recipe Cards or the printable Christmas Gift Tags. These are perfect for all your home baked gift giving this year.
Helpful Kitchen Tools
Affiliate Disclosure:  This post may contain affiliate links. As an Amazon Associate I earn from qualifying purchases. For more information, click here.
Here is everything you need to bake the best cookies!
3-Ingredient Christmas Cookies
Shortbread Cookies - One of my favorite Christmas cookie recipes, Shortbread Cookies. These are made in the shape of hearts, but you can easily use a different shaped cookie cutter. Make sure you dip them in melted chocolate!
Gingerbread Cookies - With the help of cake mix, you can make adorable gingerbread cookies. This easy recipe from The Country Chic Cottage is a great way to enjoy a classic holiday cookie.
Coconut Macaroons - Did you know you can make delicious macaroons using just three ingredients? Try this simple recipe for coconut macaroons from Little Sweet Baker. It's probably the easiest way to make this popular cookie during the holidays.
Peanut Butter Cookies - There's no flour in these easy three-ingredient peanut butter cookies from Our Crafty Mom. With just three pantry staples, you can whip up a delicious batch of cookies.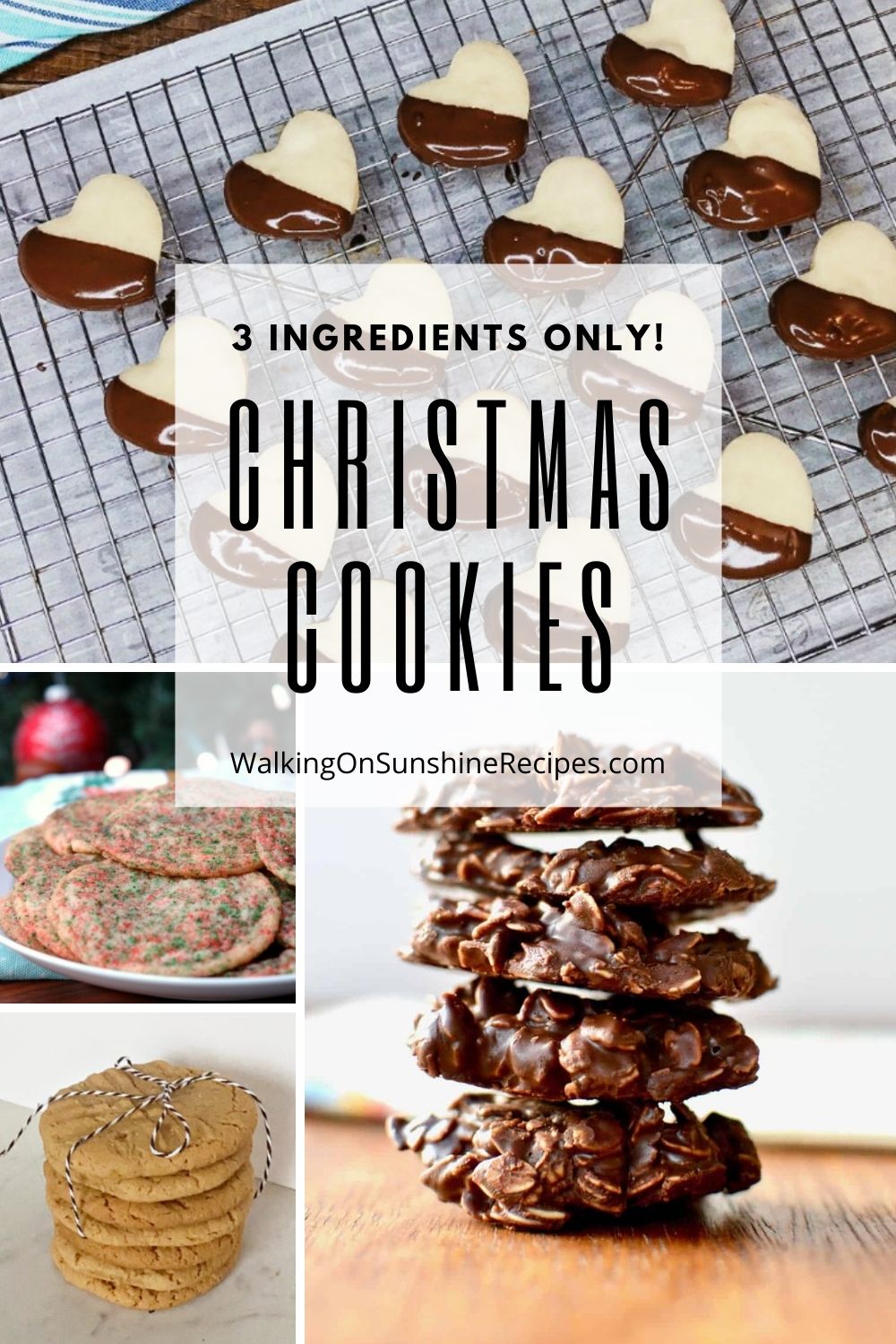 Almond Cookie Recipe - Mixing just three simple ingredients together, you can make a batch of beautiful Christmas cookies this year. This simple almond cookie recipe from A Baking Journey would make a delicious sweet treat for any holiday celebration.
Homemade Oreos - This simple recipe for homemade Oreos from Crave the Good. It's an easy way to make your favorite chocolate sandwich cookie from scratch.
Cake Mix Cookies
Coca Cola Cake Mix Cookies - Combine soda and cake mix to create a sweet treat from Two Kids and a Coupon. These Coca Cola cake mix cookies are an easy way to make a sweet snack without the need for multiple ingredients.
3 Ingredient Funfetti Cookies - Add a pop of color with these three-ingredient funfetti cookies are the answer! The sprinkles inside add festive colors to each bite.
Chocolate Cake Mix Cookies -Cake mix is a must-have ingredient when making easy cookies. Chocolate cake mix cookies from Baking Beauty, transforms cake mix into delicious cookies with just a handful of ingredients.
Lemon Cookies - If you enjoy lemon cookies, you'll love this easy three-ingredient cookie recipe! Use lemon cake mix to make your own batch of tart cookies using this recipe from Crayons and Cravings.
Christmas Cake Mix Cookies - With just two additional ingredients, you can transform cake mix into a cute batch of cookies. Mix in some Christmas sprinkles, you have adorable Christmas Funfetti cake mix cookies from The Stress Free Christmas.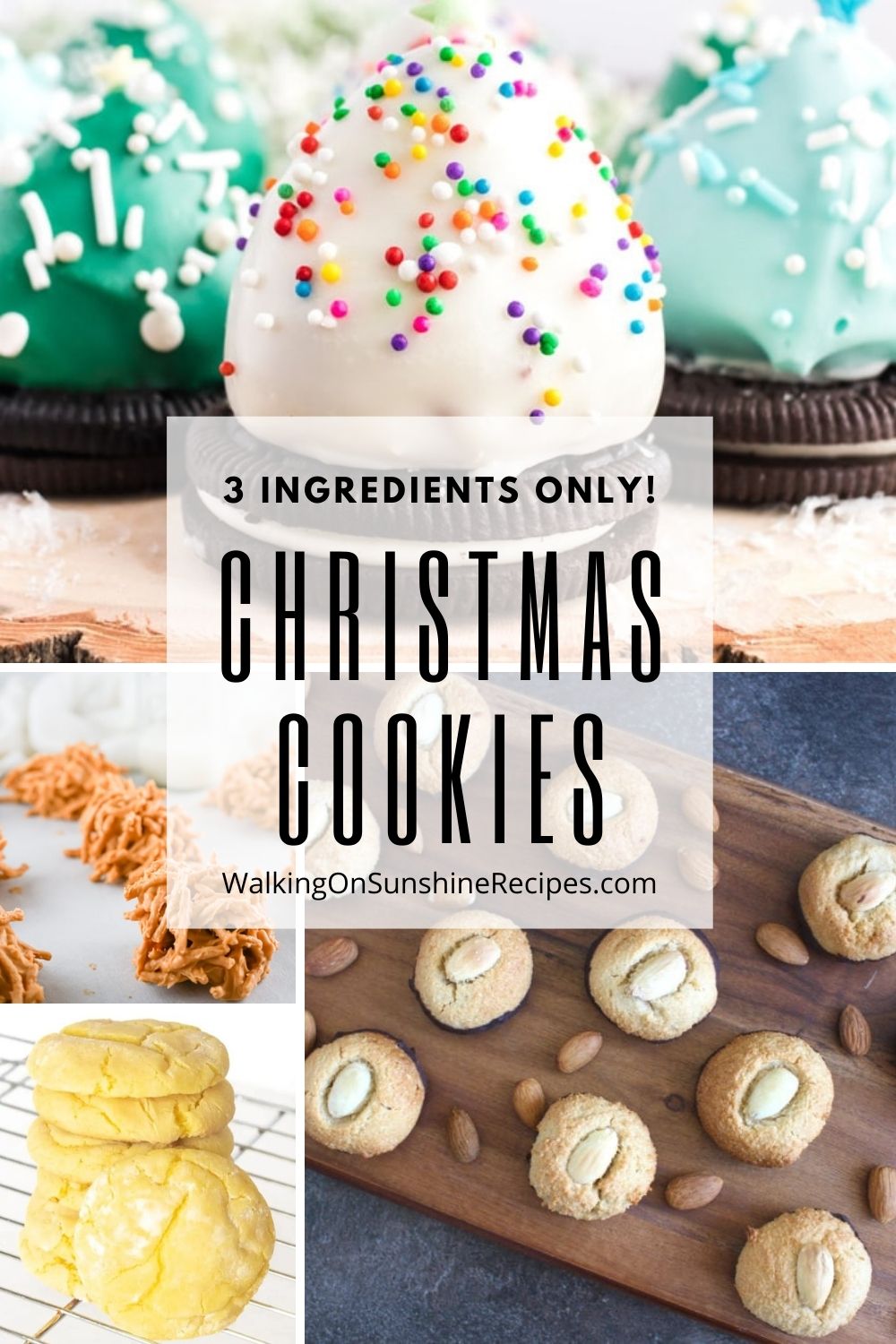 No-Bake Christmas Cookies
Strawberry Christmas Trees - Use chocolate covered strawberries and Oreo cookies to create an adorable Christmas cookie this year. These strawberry Christmas trees from Amanda's Cookin' are a fun cookie idea the whole family can make together.
Strawberry Truffles - All you need is chocolate, cream, and strawberries to create a delicious bite-sized treat. These strawberry truffles from Bacon is Magic is a delicious chocolate cookie with minimal ingredients.
No-Bake Butterscotch Haystacks - What's better than finding a delicious three ingredient cookie? How about a yummy two-ingredient cookie! To make these easy no-bake butterscotch haystacks from Life Begins with Dessert, you need just two simple ingredients.
Oreo Cookie Truffles - only 3 ingredients, well four if you count the fun sprinkles used to decorate.
No-Bake Chocolate Cookies - Make your own three-ingredient vegan cookies for no bake chocolate cookies from Vegan on Board. Combine dark chocolate, tahini and oats to create these easy cookies in a matter of minutes.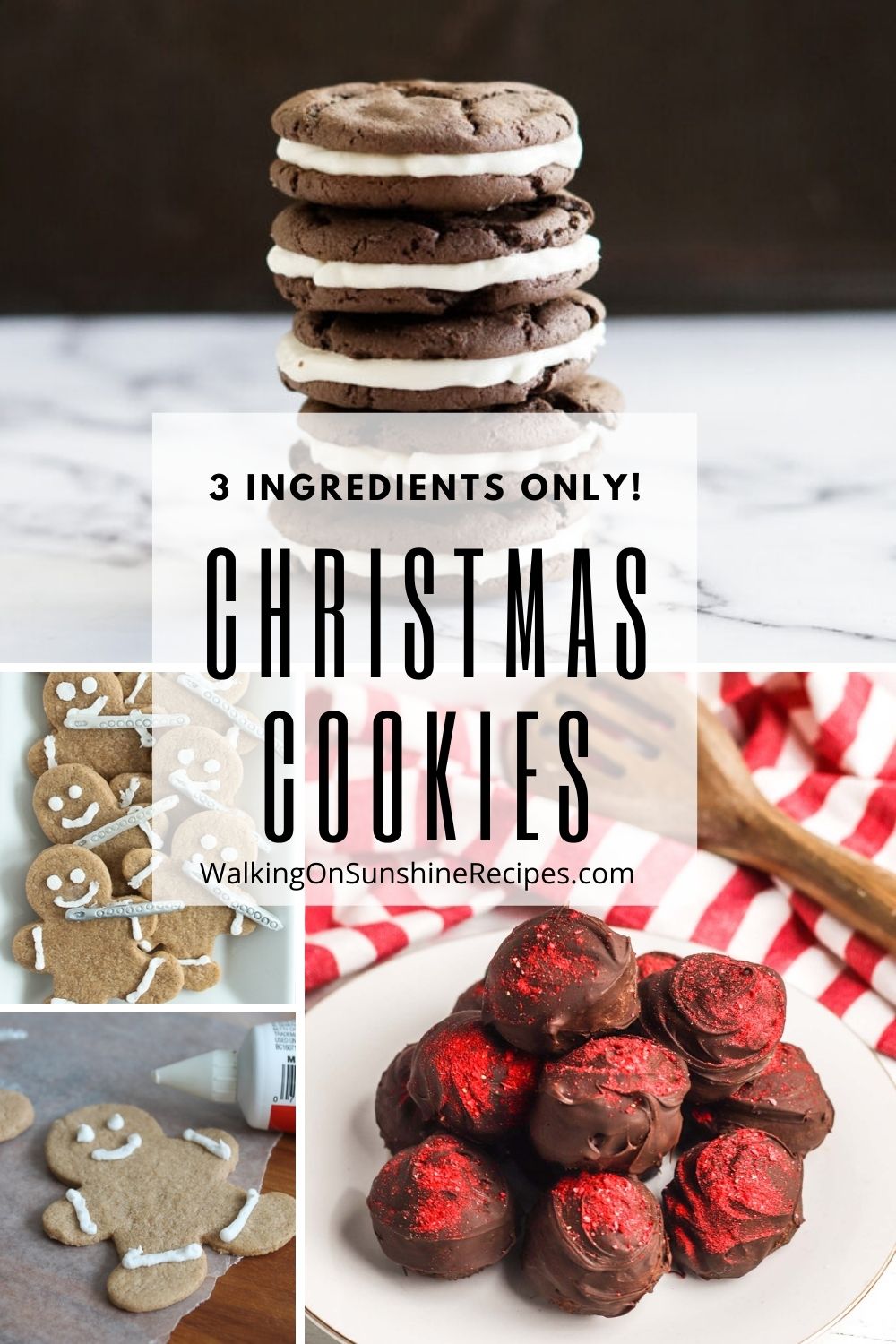 Ready for more great cookie recipes?
Affiliate Disclosure:  This post may contain affiliate links. As an Amazon Associate I earn from qualifying purchases. For more information, click here.
These cookie recipes will be great for hosting a cookie exchange. You can even use them to give cookies as gifts to neighbors. Or just bake for your own family. Check out my Amazon Christmas Shop for ideas on how to package food gifts.
Easy Tips for Packaging Christmas Cookies
Here are some great ideas for packaging the Christmas cookies to give as gifts to family, friends and neighbors.
More Information
More Information
More Information
More Information
More Information
More Information
Cookie Labels
More Information
More Information
More Information
More Information
More Information
More Information
More Information
More Information
More Information