I love eating tomatoes fresh from the garden.
I wait all summer for the tomatoes to get ripe enough
to make this delicious salad…
Tomatoes
Red Onion
Mozzarella Cheese
Italian Salad Dressing
Fresh chopped garlic
Fresh chopped basil and parsley
Directions:
Cut the tomatoes into chunks.
Slice the mozzarella cheese into bite sized pieces.
Slice the red onion into small sized pieces…using as much as you would like.
Toss all the ingredients into a bowl and add the Italian salad dressing to coat.
Season with salt and pepper.
Refrigerate for at least an hour before serving.
NOTE:  Feel free to as much chopped garlic as you would like.  I used about 1 teaspoon.   I added about 1 tablespoon of fresh chopped parsley and basil.  Use your judgement and your tastes!   
I know these tomatoes don't look too pretty,
but trust me, they're delicious…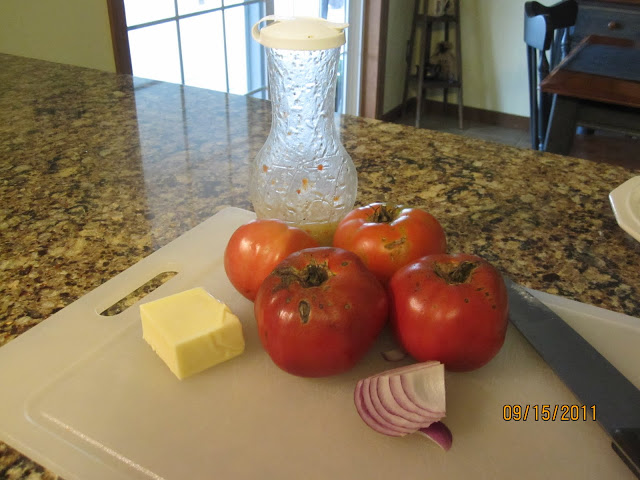 I always try to make enough so we can enjoy this salad for a few days.
Trust me, it stays fabulous in the refrigerator, even getting better.
But what if you want something different?