Summertime is the perfect time to enjoy delicious and healthy salads. Included in this recipe collection are some of our favorite summer salads.
Whether you are looking for a light side dish like corn fiesta salad or something more filling, like the loaded potato salad recipe, we have got you covered.
So get ready to heat up your kitchen with these tasty salad recipes! Then check out a few of our popular side dishes for chicken cutlets.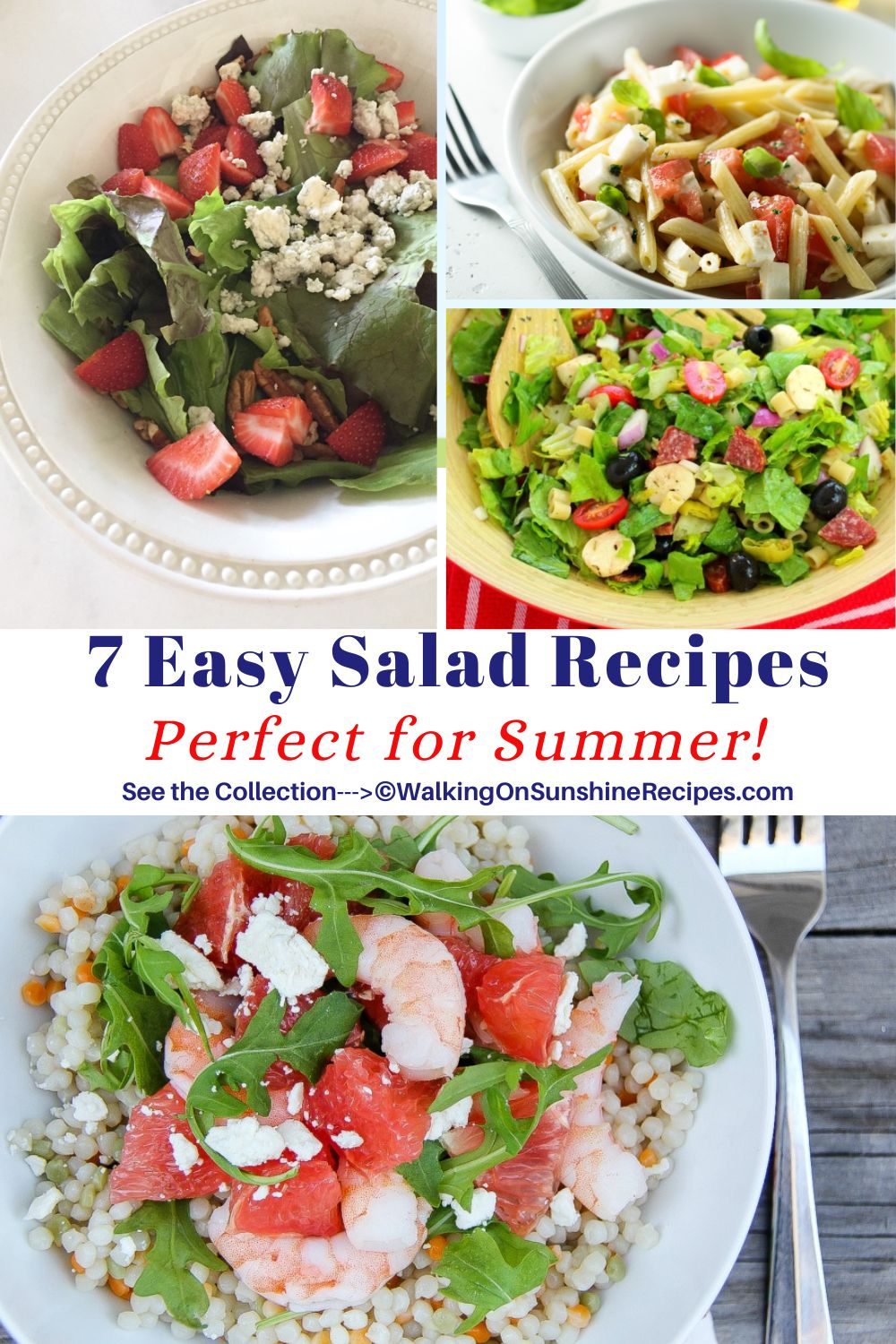 Looking for a summer salad recipe that is light, refreshing, and easy to make? Look no further than this collection of summer salad recipes! These recipes are perfect for any occasion, whether you are looking for a quick lunchtime meal or a fancy dinner party dish.
A few of these salads would be the perfect side dish to grilled chicken, steak or even as part of backyard barbecue party. They all feature a variety of different flavors and ingredients, so there is sure to be something to please everyone.
From traditional loaded potato salad to the classic Italian chopped salad, there really is something that features a variety of different flavors and ingredients. There is sure to be something to please everyone.
So what are you waiting for? Click on the photos below and give one of these summer salad recipes a try today! You won't be disappointed.
Table of Contents
Easy Ideas for Salads
What are some easy salads for parties? This is a great question, and one that I get asked all the time. The reality is that there are tons of different options when it comes to salads, and the best way to figure out what to make is to ask yourself a few questions.
First, what is the occasion? Is it a formal dinner party or a casual get-together?
Second, what is the guest list like? Are there any dietary restrictions that you need to accommodate?
And finally, what is your budget?
Once you have answers to these questions, you can start to narrow down your options. For example, if you're having a casual gathering, a simple green salad might be all you need. On the other hand, if you're hosting a more formal affair, you might want to consider something a bit more substantial, like a roasted vegetable salad or a quinoa tabbouleh.
Easy Salads for Parties
Salads are a staple of any party or potluck, but they can also be surprisingly easy to make. There are a few basic steps to follow to ensure that your salad is a hit with guests.
First, start with a base of fresh greens. Iceberg lettuce is a classic choice, but you can also experiment with other types of lettuce or greens such as spinach or kale.
Next, add some finely chopped vegetables for texture and flavor. Cucumbers, tomatoes, and onions are all good options.
Finally, top off your salad with a dressing of your choice. A simple vinaigrette made with olive oil and vinegar is always a crowd-pleaser, but you can also get creative with other flavors. If you're looking for something a little more unique, you could also try mixing in some fruit juice or using flavored oils. Light dressings are always a good choice for salads meant to be served as part of a larger meal.
Once you have assembled your ingredients, simply toss everything together and serve.
With these tips in mind, it's easy to whip up a delicious salad that will please even the pickiest of eaters.
How long can salad sit out?
A salad bar is a great way to serve a variety of foods at a buffet, but it can also be a source of foodborne illness if not managed properly. Here are a few tips for keeping salads safe on your party buffet table:
Start with clean utensils and prep surfaces.
Chop vegetables and fruits ahead of time and store them in the refrigerator until you're ready to assemble the salads.
Keep cooked meats and eggs chilled until you're ready to add them to the salads.
Don't forget to wash your hands thoroughly before and after handling food.
Once the salads are assembled, keep them refrigerated until they're ready to be served. If you're using mayonnaise or other creamy dressings, make sure to keep them well chilled, too.
If you follow these simple tips, you can enjoy your salad bar without worrying about food poisoning.
Looking for more Salad Dressing Recipes? Try this Homemade Balsamic Vinegrette Recipe or my Homemade Italian Salad Dressing Recipe.
Helpful Kitchen Tools
This post contains affiliate links. That means that if you make a purchase after clicking on a link I may earn a small commission at no extra cost to you. For more information, click here.
Toss and Chop Salad TongsMore Information
Salad Spinner and ChopperMore Information
Salad Dressing Mixer BottleMore Information
8 Pack Glass Food Storage ContainersMore Information
Salad Bowls, Wooden Salad BowlsMore Information
This recipe has been updated since it first appeared in 2018 with new photos and new information. I hope you enjoy the updates as much as I enjoyed working on them!