Baking a cake is easier than ever before, thanks to the modern magic of the air fryer. Included in this collection of 12 Air Fryer Cake Recipes are cheesecakes, fruit filled cakes and traditional cake mix recipes.
From prepping your batter to perfecting your technique, we'll show you everything you need to know to create delicious cakes that will impress your family and friends.
Get ready to dive headfirst into the world of air fryer cake baking and discover a new way to make your favorite desserts!
Check out all the other Air Fryer Desserts for even more delicious recipes.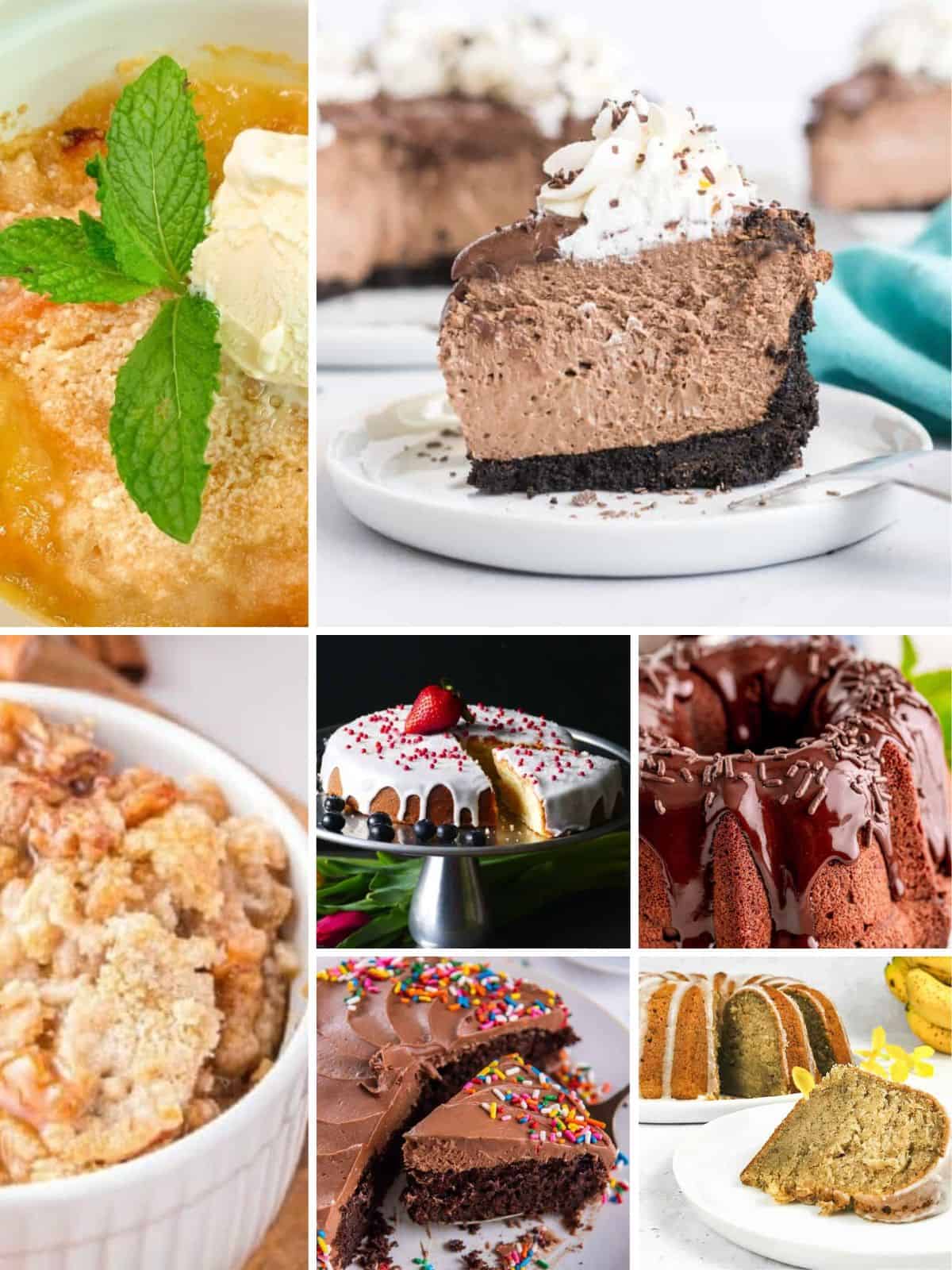 Using an air fryer to bake a cake has become increasingly popular because of several advantages it offers. Air fryers use hot, circulating air to evenly distribute heat, creating a crispy exterior on the cake while keeping the inside moist and fluffy.
Air fryers are significantly faster than traditional ovens, which means that baking a cake in an air fryer requires less time and energy, making it more efficient.
Since air fryers are compact and portable, it makes them ideal for small kitchens or cooking areas with limited space. Using an air fryer to bake a cake is convenient, energy-efficient, and produces great results every time; not to mention a delicious way to create dessert!
Looking for more Air Fryer Recipes? Try my Air Fryer Apple Recipes, Air Fryer S'mores and my Easy Air Fryer Desserts.
[ez-toc]
📋What type of cake works best in air fryers?
Don't let its small size fool you! This handy kitchen gadget can be a game-changer when it comes to making tasty cakes that are perfectly cooked every time.
Sponge cakes or angel food cakes work best in air fryers compared to dense cakes such as chocolate or pound cakes. The light batter of sponge cakes or angel food cakes works better with the hot, circulating air in the air fryer, resulting in a delicate and fluffy cake.
Denser cakes may not rise as well or cook evenly. However, with a bit of experimentation, you can adapt different cake recipes to work in an air fryer.
🌟What are some tips for ensuring even cooking in an air fryer?
Ensuring even cooking in an air fryer is crucial to getting the best results possible. Here are some tips to help you achieve this:
Don't overload the air fryer basket: Be sure to leave enough space for the hot air to circulate around the food. Overcrowding it can lead to uneven cooking.
Use a baking pan or basket that fits properly: Make sure that the pan or basket you are using is the appropriate size for the air fryer. Using one that's too small or too big can result in uneven cooking.
Preheat the air fryer: Preheating the air fryer can help ensure even cooking by getting it up to temperature before you add your food.
Monitor the cooking time: Check on your food periodically while it cooks to make sure it's cooking evenly. Depending on the food, you may need to adjust the temperature or cooking time.
📌Quick Tip: An important tip to keep in mind when baking cakes in the air fryer is to avoid opening the air fryer basket too frequently while the cake is cooking. Opening the basket frequently can lead to inconsistent temperatures and uneven baking.
🥣What are some common problems that I could encounter when baking cakes in an air fryer?
There are problems that anyone can encounter when using the air fryer to bake a cake. You should make sure you select the right recipe. Try not to overload the air fryer basket. And lastly check the cake frequently while it is baking!
Also keep in mind the following:
The size of the air fryer basket may limit the size of the cake you can bake.
Secondly, the hot circulating air can cause the cake to rise and then collapse due to pressure changes.
The texture can become uneven if there are hot spots or if the cake is not cooked long enough.
Without proper greasing, the cake may stick to the air fryer basket or have a greasy bottom.
💡Recipe FAQ
Simply click the plus sign to read more about the questions you see below. If YOU have a question regarding this recipe, please let me know in the comment section.
Can you bake a cake in an air fryer?
Yes, you can definitely bake a cake in an air fryer! It might sound unconventional, but air fryers are actually great for baking small cakes. The hot, circulating air in the air fryer cooks the cake evenly, creating a crispy outside and a moist and fluffy inside.

What's the suggested baking time for cakes in an air fryer?
The suggested baking time for cakes in an air fryer depends on the recipe, the size of the air fryer, and the wattage of the appliance. As a general rule, baking a cake in an air fryer takes about 15-25 minutes at 320-350°F. You should keep an eye on the cake as it bakes. A cake is done when a toothpick inserted into the center comes out clean.

Air Fryer Recipes for BeginnersMore Information
🛒Helpful Kitchen Tools
Silicone Muffin Pan for 3QT-5QT Air Fryer,2 Pcs Cupcake Tray Baking Mold,Reusable Non-stick Air Fryer Baking Pan,Air Fryer Accessories
HYTK 4 Cup Muffin Pan 2 Pcs (8.5 X 7.48 Inch) Air Fryer Small Oven Cupcake Baking Pan Non Stick No Toxic Bakeware
UPware Melamine Batter Bowl with Pour Spout, Handle and Non-Slip Base, Grip Handle for Easy Mix and Pour, Home Essentials Cooking and Baking Tools, Batter Bowl (4.3 qt, Latte Blue)
3 Pcs Cake Tester Needle Stainless Steel Cake Testing Probe Cake Tester for Baking,Home Bakery Muffin Bread Skewer Cake Testing Stick
📇Recipe Collection
⭐Before You Begin! If you make any of these recipes, please leave a review and star rating. This helps my business thrive and continue providing FREE recipes.