A delicious dessert of apple crisp made prettier by baking and serving in individual baking dishes.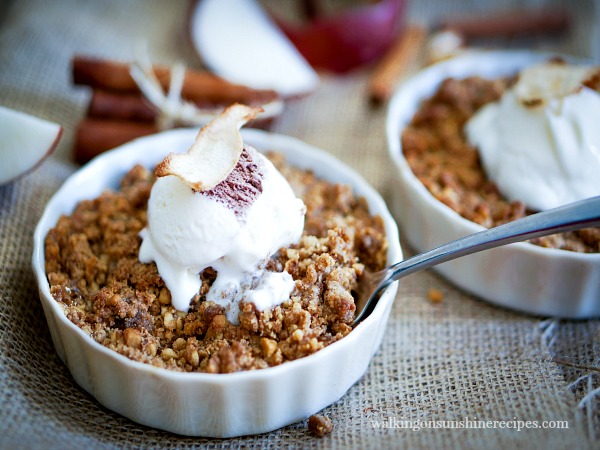 Who doesn't love apple crisp?
There's just something about pulling an apple crisp dessert from the oven that just fills the house with the amazing smells of fall.
The apples are soft and tender and the streusel topping is crisp and perfect. It's an easy dessert that should be topped with fresh made whipped cream or better yet, vanilla ice cream, and you have the most delicious dessert you can serve to your family and friends.
This post contains affiliate links. Your cost is the same, but I earn a commission when you shop through them. Your purchase helps support this site and the fun things I share. For more information, click here.
Apple Crisp Recipe
When making your apple crisp recipe, try using locally grown apples, if you can. Golden Delicious, Granny Smith and even Braeburn hold their shape as they bake. You can even add a few blueberries or cranberries into the mixture for added flavor.
I usually make apple crisp in a regular 8X10 baking dish and then serve it in individual bowls. How much fun is it to bake the apple crisp in individual baking dishes! I think these would be really nice as dessert for when family and friends are visiting.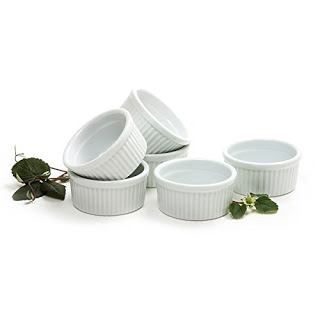 Or these
red ones
would look pretty for Fall.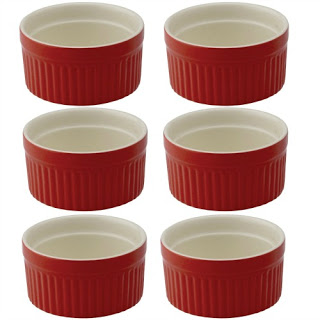 You can prepare these individual apple crisps ahead of time and bake them in the oven just as you're sitting down to dinner. The house will smell wonderful and your guests will be waiting with their mouths watering for you to pull the individual dishes out of the oven for dessert. A dessert like this calls for fresh whipped cream, although a can would do if that's all you have, or better yet, a scoop of vanilla ice cream.

print recipe
Apple Crisp
prep time: 20 MINScook time: 20 MINStotal time: 40 mins
Apple crisp is a dessert consisting of baked chopped apples, topped with a crisp streusel crust. A delicious dessert made prettier by baking and serving in individual baking dishes or you can bake it in a larger baking dish to serve family style.
INGREDIENTS:
6 apples, peeled, cored and sliced
1/2 cup light brown sugar, packed
1/2 teaspoon ground cinnamon
1/2 teaspoon ground nutmeg
1/3 cup all-purpose flour
1/3 cup granulated sugar
1/3 cup rolled oats
4 Tablespoons cold butter (1/2 stick); cut into pieces
1/2 cups chopped walnuts or pecans; if desired
INSTRUCTIONS:
In a bowl, combine the brown sugar, cinnamon and nutmeg.
Add the apples and toss to combine.
Add the butter and flour to a different bowl.
Using a pastry blender, or two forks, cut the butter into the flour until the mixture is crumbly.
Add the sugar, oats and chopped nuts.
Place the apples in an 8X10 baking dish, that has been coated with cooking spray.
Sprinkle the flour,sugar,oats mixture evenly on top of the apples.
Bake in a preheated 365 degree oven for 20 minutes or until the apples are cooked through.
Cool slightly before serving and don't forget to top with homemade whipped cream or vanilla ice cream.
.recipe-inner{max-width:620px;border:6px double #009BFF;padding:20px;background:#f2f2f2;margin: 40px auto;font-family:Lato, sans-serif;}#recipe .info{font-size:13px;text-transform:capitalize;border-bottom:2px solid #000;padding-bottom:7px;margin-bottom:20px}#recipe .info span{margin-top:-6px}#recipe .info span:first-child{margin-right:30px}#printbutton{color:#fff;float:right;background:#555;padding:5px;border-radius:3px;cursor:pointer}#recipe .time{text-transform:uppercase;font-size:12px;text-align:center;background:#fff;padding:15px 0;margin-bottom:20px}#recipe .time span:not(:last-child){margin-right:12px}#recipe .time span:not(:last-child):after{content:";display:inline-block;height:10px;width:1px;background:#000;vertical-align:middle;margin-left:12px}#recipe .summary{line-height:1.7;font-style:italic}.ingredients{line-height:1.7}.ingredients h3,.instructions h3{font-size:22px !important;margin-bottom:0;color:#000}.ingredients ul{margin-top:5px}.instructions li{margin-bottom:15px !important;line-height:1.6}#recipe .instructions{margin-top: 30px;}#recipe .instructions ol{padding-left:39px;margin-top:6px;}.posturl{border-top:1px solid #ccc;padding-top:10px;}.ing-section{padding-left:20px;margin: 10px 0;}.ing-section > span{font-weight:700}#recipe .image{text-align:center;margin-bottom:25px}#recipe .image img{max-width:100%}#recipe .recipe-name{line-height:1.6;text-transform:uppercase;margin-top:0;letter-spacing:1px;text-align:center;margin-bottom:20px}#recipe .time{border-top:1px dashed #000;border-bottom:1px dashed #000;border-right:0;border-left:0}#recipe .summary{margin-bottom:30px}#recipe .summary:after{content:";display:block;width:50px;height:2px;background:#000;margin:auto;margin-top:10px}#recipe .instructions{margin-top:30px}#recipe .instructions ol{padding-left:39px;margin-top:6px}function printDiv(a){var b=document.getElementById(a);newWin=window.open(",'printwin');var c=newWin.document.createElement('style');c.innerHTML='html{font-family:sans-serif}img{display:none;}#printbutton{visibility:hidden;display:none;}.info{text-align:center;text-transform:capitalize}.recipe-name{text-align:center}.info span{margin-right:20px}.time{text-align:center;padding:10px;border-top:1px dashed #000;border-bottom:1px dashed #000;}.time span{margin-right:20px}';newWin.document.getElementsByTagName('head')[0].appendChild(c);newWin.document.getElementsByTagName('body')[0].innerHTML = b.innerHTML;newWin.print();newWin.close()}