Included in this collection of apple desserts with crescent rolls are Upside Down Apple Cinnamon Roll Cake, Apple Danish and Apple Dumplings.
A few of these recipes use crescent rolls as pie dough! These sweet and tasty treats are perfect for any occasion, and they're so simple to make.
Check out my full list of Apple Dessert Recipes for even more tasty apple treats.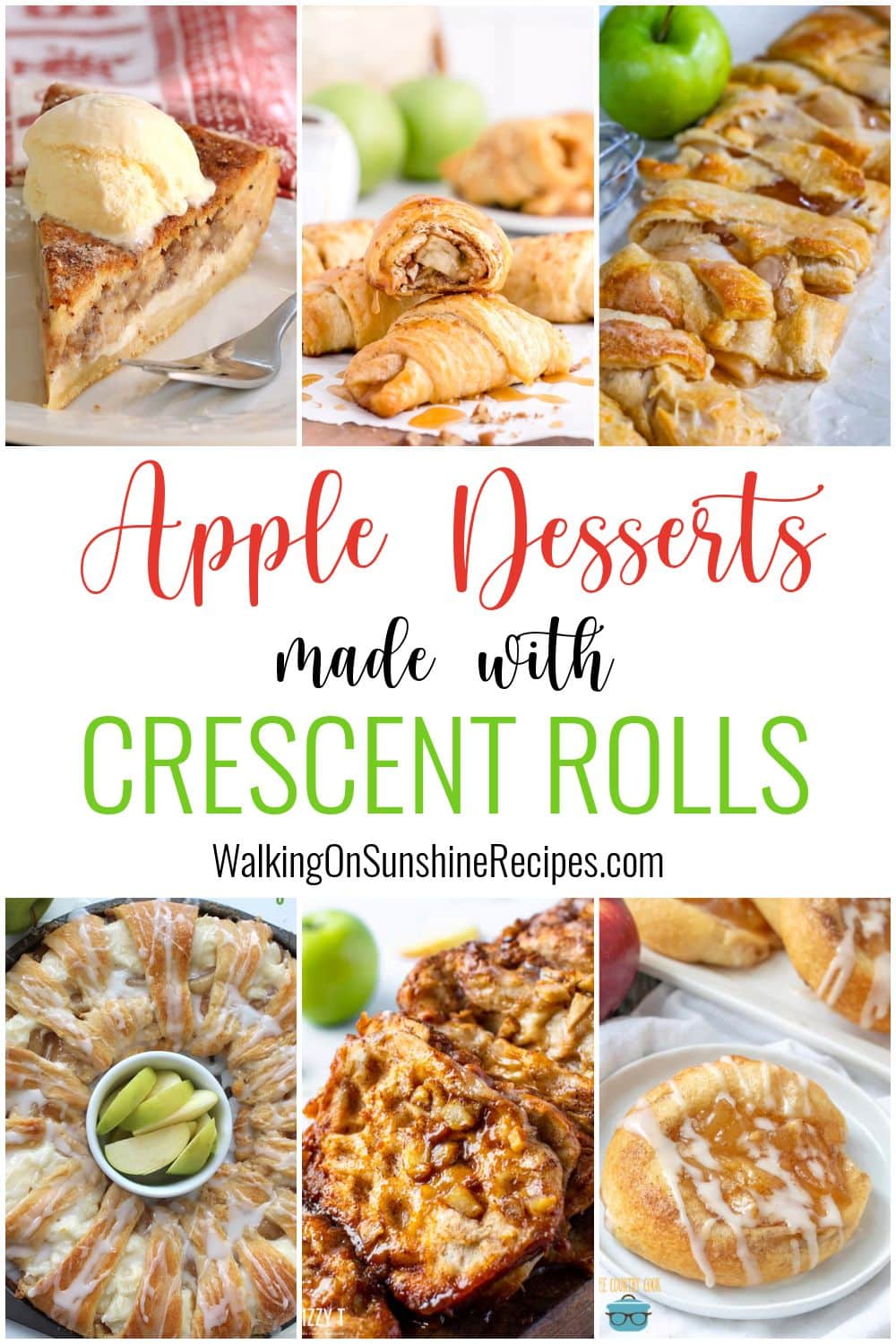 Crescent rolls can be used in everything from breakfast strudels to chicken pot pies. However, today we're getting into the spirit of Fall and filling them with apples.
The most easiest recipe is to fill crescent rolls with thinly sliced apples, cinnamon sugar, nuts and a little bit of butter. Or you can get creative and experiment with your favorite fillings.
With a little effort, you can bake delicious apple desserts that are sure to be a hit with your family and friends.
Looking for more easy dessert recipes featuring apples and refrigerator rolls? Try my Apple Danish Recipe, Pillsbury Cinnamon Rolls with Apples or my Cream Cheese Crescent Rolls.
Table of Contents
How to make Pillsbury Crescent Rolls Better
Pillsbury Crescent Rolls are a type of dough that is often used in savory dishes, such as pigs in a blanket or pizza pockets. However, they can also be used to make sweet and decadent desserts.
For example, crescent rolls can be filled with fruit preserves or chocolate chips and then baked until golden brown. They can also be rolled into a log, filled with a cream cheese filling, and then sliced and served like a piece of cake.
My favorite dessert recipe using crescent rolls and apples is Apple Dumplings. It was one of the first dessert recipes shared on the site and it's delicious!
Tips for Baking Crescent Rolls
The Pillsbury crescent roll is a versatile ingredient that can be used in a variety of sweet and savory dishes. When baking with crescent rolls, it is important to follow these tips:
Try not to overload the crescent roll dough with filling. Otherwise, the rolls may not bake evenly or may become too heavy and dense.
For best results, fill the rolls just before baking; otherwise the dough could get mushy and not bake properly.
Brush them with a beaten egg or milk for a golden, crispy crust.
Apple Pie Filling
Don't feel that you have to only use fresh apples when baking with crescent rolls. You can also make tasty desserts using apple pie filling.
Apple pie filling is a type of dessert that typically consists of apples, sugar, spices, and flour. The apples are usually peeled and diced before being simmered in a sugar syrup. Once the apples are soft, they are combined with the flour and spices to create a thick filling.
This filling is a popular choice for both pies and other types of desserts, such as tarts, danishes and crumbles. It can also be used as a topping for ice cream or yogurt.
Comstock Apple Pie Filling & Topping,More Information
Amish Apple Pie FillingMore Information
Lucky Leaf Lite AppleMore Information
Helpful Kitchen Tools
This post contains affiliate links. That means that if you make a purchase after clicking on a link I may earn a small commission at no extra cost to you. For more information, click here.
3 Pieces Wooden Tart Tamper SetMore Information
2-Pack Cooling Racks for Baking, StainlessMore Information
Ceramic Thankful and Blessed Coffee MugMore Information
12-Piece Melamine DinnerwareMore Information
📇Featured Recipe Collection
⭐Before You Begin! If you make this recipe, please leave a review and star rating. This helps my business thrive and continue providing FREE recipes.
Apple Desserts with Crescent Rolls