Are you tired of spending hours making a treat that takes forever to prepare? Then get ready to check out this collection of 26 Apple Desserts with Puff Pastry!
These recipes blend the heavenly sweetness of apples with the delicate flakiness of puff pastry. They definitely won't last long on the dessert table. You might even find it impossible to resist having just one!
Check out all my other puff pastry recipes for even more deliciousness!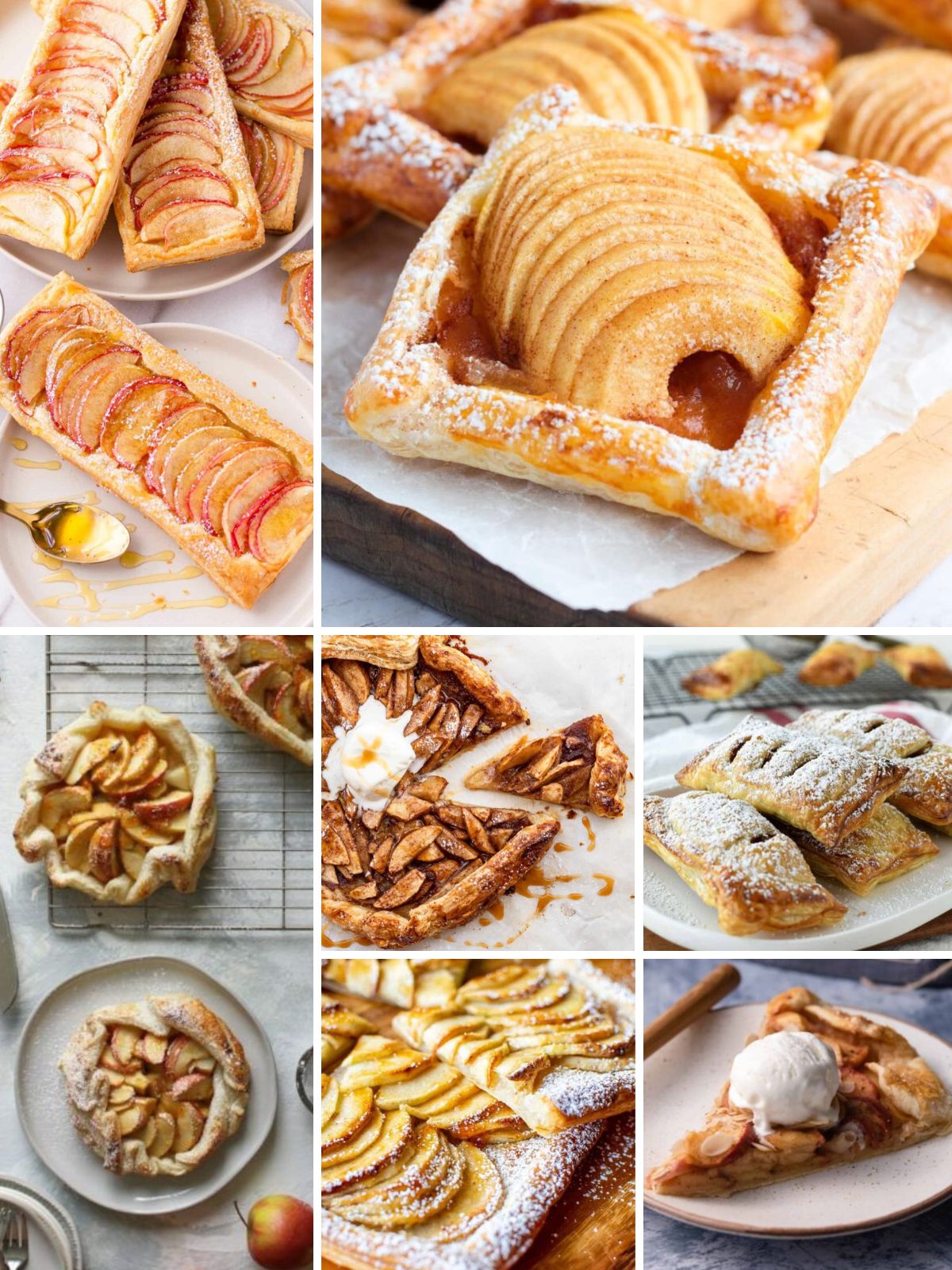 Puff pastry dough, with its light, flaky layers and buttery taste, is a perfect match for naturally sweet and slightly tart apples.
When baked, the flavors of the apple intensify, and the texture becomes irresistibly soft, creating a truly delightful filling.
Looking for more Easy Dessert Recipes using puff pastry? Try my Lemon Cream Cheese Puff Pastry Braid, Raspberry Cream Cheese Danishes, and even my Blueberry Cream Cheese Puff Pastry.
Table of Contents
👩‍🍳Recipe Notes
When it comes to desserts, nothing beats the classics like apple turnovers, apple tarts, and apple strudels. These timeless treats all use puff pastry!
You'll be amazed at how it enhances the natural sweetness and comforting flavors of apples.
When working with puff pastry, it's important to keep the butter layers cold for that perfect flakiness. Remember to handle the dough while it's still chilled to achieve the best results.
When rolling out the puff pastry, lightly dust your work surface with flour to prevent sticking. But be careful not to use too much flour, as it can impact the texture and rise of the pastry.
If you love baking with apples, check out my full Apple Dessert Recipes list. I know you'll find more delicious desserts to bake for your family!
Thanksgiving Planner with Recipes and MORE!
📌Quick Tip: Don't worry if your initial try with puff pastry isn't perfect. With practice and the tips mentioned above, you'll soon be whipping up delicious and impressive puff pastry creations in no time.
💡Recipe FAQ
Simply click the plus sign to read more about the questions you see below.
If YOU have a question regarding this recipe, please let me know in the comment section!
Can I re-roll puff pastry scraps?
You can re-roll the puff pastry scraps, but you need to be gentle when handling the scraps to avoid compressing the layers.
Can I freeze unbaked puff pastry for later use?
Wrap any unbaked puff pastry tightly with either plastic wrap or parchment paper to prevent freezer burn and maintain its freshness. Then place the wrapped puff pastry inside a plastic freezer-safe bag.
🛒Helpful Kitchen Tools
Creative Co-Op Stoneware Batter Bowl, Set of 4 Sizes, Multicolor Measuring Cups, Multi
Nesting Measuring Cups | Set of 3 Stackable Ceramic Cups
Stainless Steel Rolling Pin Dough Roller 17" x 2" with 4 Removable Adjustable Thickness Ring and Non-Slip Silicone Pastry Mat
Mixing Bowls, Ceramic Mixing Bowls
📇Recipe Collection
⭐Before You Begin! If you make any of these recipes, please leave a review and star rating. This helps my business thrive and continue providing FREE recipes.
Apple Desserts with Puff Pastry
Check out this collection of Apple Desserts with Puff Pastry that blend the sweetness of apples with the delicate flakiness of puff pastry.