You are going to really impress your family and friends this holiday season with this Apple Cream Cheese Puff Pastry Braid with delicious cream cheese filling.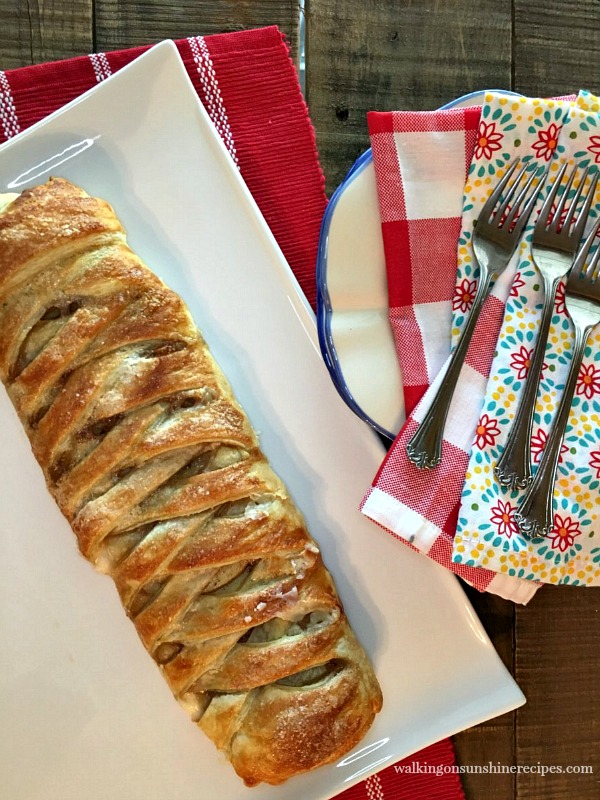 Every now and then you find a dessert that is so delicious you can't believe just how easy it is as well. That's the case with today's recipe for Apple Cream Cheese Puff Pastry Braid.
It sure is a long title for a recipe, right? But I had to get everything that's in the recipe into the title. It's just that delicious.
I made this recipe a few times recently. The first time was when our son was home from college a few weeks ago and we had family over for dinner. I made the recipe in the morning and couldn't help myself but had to cut a little piece off the end to try it. It was amazing.
But like every time when I make a recipe for company, I never get to take photos that are "worthy of the blog." So I had to make the recipe again and pay attention to all the steps to get the proper photos. I think they turned out great, but you'll never know how delicious this is until you make the recipe yourself.
Best Apples to use for Baking
My favorite apple to use for baking is Golden Delicious, but Baldwin, Cortland, Northern Spy and Idareds all hold their shape well during cooking and taste delicious in different recipes. A good tip is to mix a few different apples in recipes to come up with the flavor you and your family like best.
For more info on the best apples to use for baking and eating, check out my article I wrote on Apples a few years ago.
I encourage you to buy some puff pastry this weekend and make this recipe! I'm going to make it for Thanksgiving again…yes, along with the apple pie, we will have this Apple Cream Cheese Caramel Braid.
Ingredients
Make sure you print out the recipe below and save it for later!
For Puff Pastry:
1 sheet puff pastry; defrosted
Caramel sauce
Egg White
Sugar for sprinkling
For Apple Filling:
2 large apples
1/2 cup brown sugar
Cinnamon
For Cream Cheese Filling:
8 ounces cream cheese
1/2 cup white sugar
1 teaspoon vanilla
Directions
Spread the cream cheese down the middle of the puff pastry. Make sure you put the puff pastry on parchment paper so you can easily lift it on to the baking pan and then off the baking pan after it's baked. I even like to roll out the puff pastry while it's on the parchment paper.
Layer the apples on top of the cream cheese mixture. Be neat!
How to Create the Braid
Now the part of the recipe that some people think is difficult. I hope the photos show just how easy it is to cut the slices in the puff pastry and then to braid the puff pastry.
Start placing each sliced section over the top of the apples and cream cheese to form the braid. Tuck in or fold over the top first and then start braiding. It's really just crisscrossing the puff pastry strips.
Tuck the bottom end in as well and then brush the whole puff pastry braid with the egg white.
How to Bake the Braid
Bake in a preheated 425 degree oven for 20 to 25 minutes.
It looks so pretty, right? Puff pastry really is so easy to work with!
Just before serving, drizzle the caramel sauce on top. The caramel sauce really was the finishing touch. Try not to skip this step.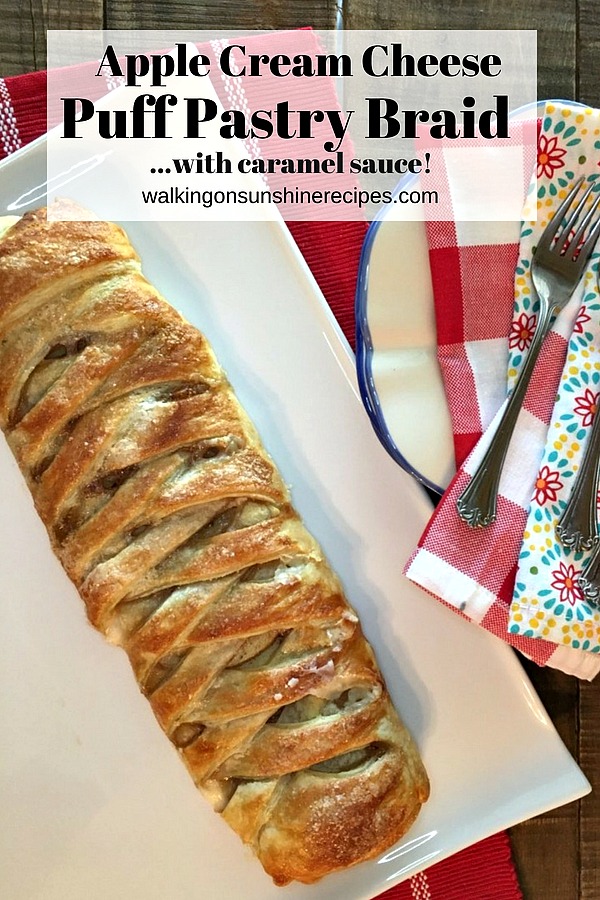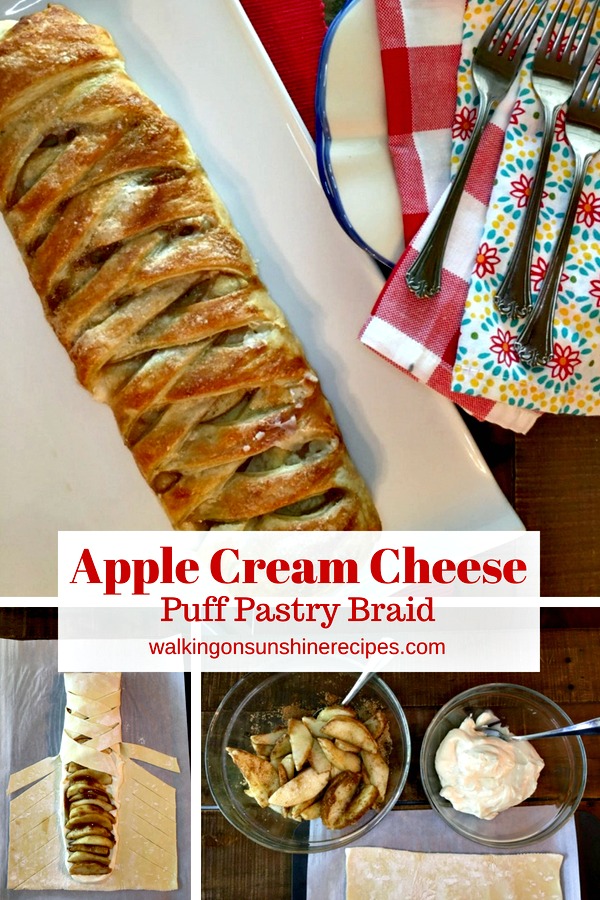 More Information
More Information
More Information
More Information
More Information
More Information
More Information
More Information