When it comes to putting together the dessert menu for Thanksgiving, apple pie is always at the top of the list! This collection of apple pie recipes features pies that are classic and delicious.
So if you're looking for an amazing apple pie recipe that will have your family and friends raving, then look no further than the collection below.
Check out my full list of apple dessert recipes that are perfect all year long!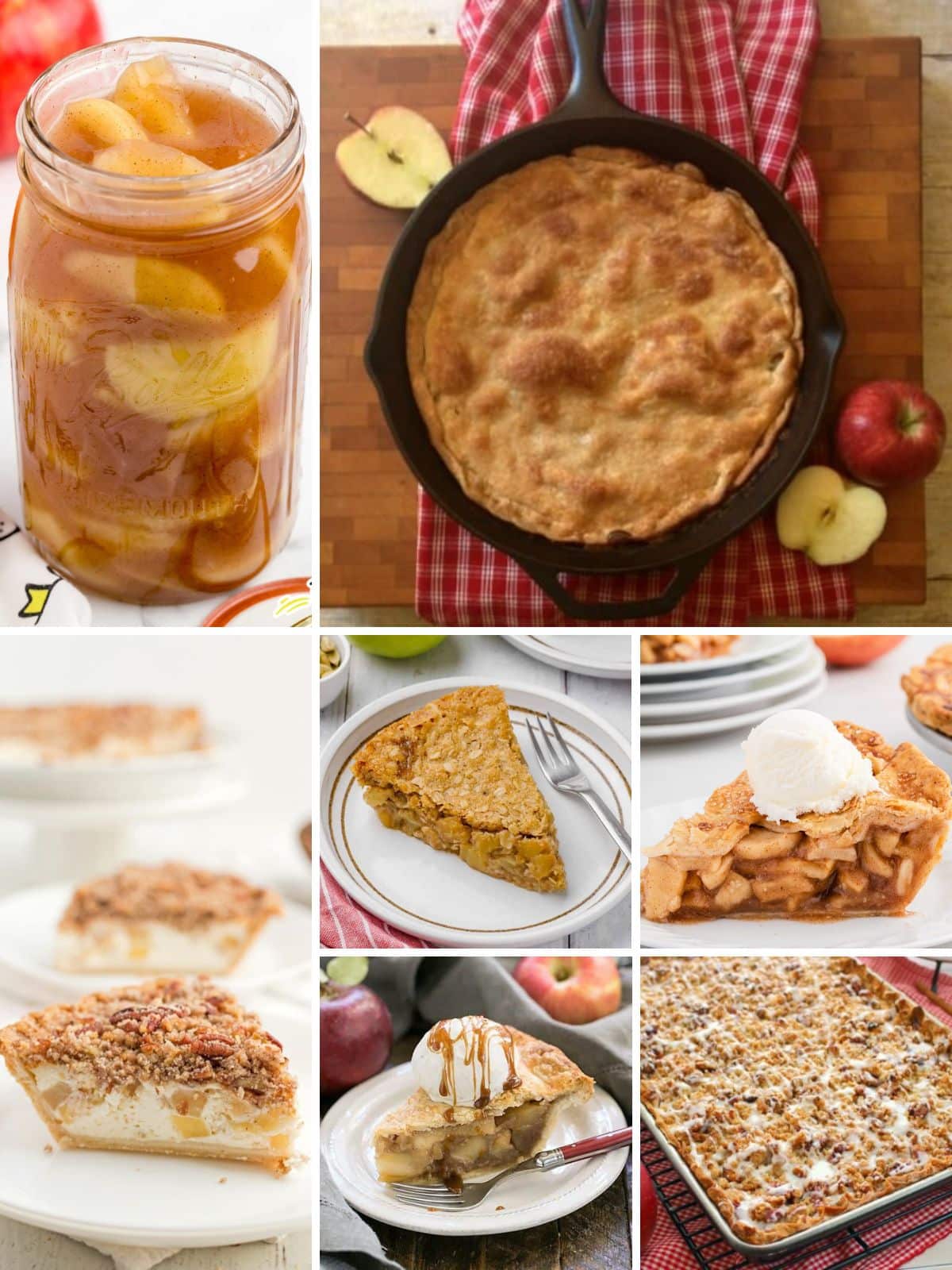 Apple pie is the perfect dessert for Thanksgiving! It's an easy recipe to follow and produces a delicious, traditional pie that your whole family will love. The flaky crust and sweet, tart filling are a perfect combination, and the cinnamon and sugar topping brings it all together.
Best of all, you can make the pie ahead of time, so you can relax and enjoy the holiday with your loved ones. My mom likes to prepare the apple pie a week or so before Thanksgiving and freeze it. Then she puts the apple pie in the oven when we sit down for the main Thanksgiving meal and it's served warm from the oven for dessert.
Table of Contents
Tips for making Homemade Pie Dough
Making your own pie dough may seem like a lot of work, but it's actually quite simple. And the end result is amazing! Nothing tastes as good as homemade...especially for Thanksgiving. Here are a few tips to help you get started:
First, be sure to chill your ingredients before you begin. This will help to prevent the dough from sticking to your hands and make it easier to work with.
Second, when flouring your work surface, use a light hand. Too much flour will make the dough tough.
Third, roll the dough out from the center, using even pressure. Be sure to rotating the dough often so that it doesn't stick to the surface.
Lastly, don't worry if the dough isn't perfect - imperfections can add charm to your pies. With a little practice, you'll be able to make homemade pie dough that's both delicious and impressive.
Apple Pie Ideas
While the classic apple pie is always a favorite, there are many ways to vary this classic dessert. For example, adding a layer of cheddar cheese to the crust adds a delicious sharpness, while including a hint of rosemary in the filling compliments the sweetness of the apples.
Another option is to add a streusel topping made with oats, brown sugar, and cinnamon like I do with my Apple Crumb Pie. Or for a truly indulgent treat, top your pie with a scoop of vanilla ice cream.
Whatever variations you choose, remember that the key to a perfect apple pie is to use fresh, crisp apples. A mix of Granny Smith and Honeycrisp apples will give you the ideal balance of tart and sweet. So experiment with different flavors and toppings to find your perfect apple pie recipe.
Looking for more easy dessert recipes? Try my recipe for Apple Dump Cake, Pumpkin Apple Dump Cake or my Puff Pastry Apple Tart.
Tried any of my recipes? Let me know in the comments!
Apple Pie Recipes for Thanksgiving
I'm featuring the very best apple pie recipes and desserts that your friends are family are going to love. Get ready to find something mouth-watering and delicious!
This recipe has been updated since it first appeared in 2018 with new photos and new information. I hope you enjoy the updates as much as I enjoyed working on them!