Blueberry Muffins with Crumb Topping recipe and freezing tips!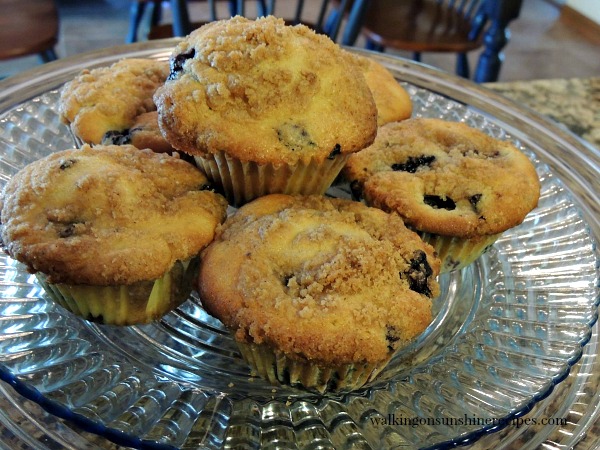 Today I'm going to share with you one of my favorite muffin recipes...Blueberry Muffins with a streusel crumb topping. Oh my, these are so good!
My favorite "summer" fruit.Growing up there was a family in our church that had a
small garden behind their home in Jamaica, NY. Every summer they would invite us, the pastor's family, over to spend some time picking berries and other vegetables. I never picked anything other than blueberries.
They're still my favorite. One of the things I've learned over the years is that you can freeze blueberries to use all year long in a variety of different recipes.
Blueberry Muffins with Crumb Topping
Blueberry Freezing Tips
Place blueberries on a tray in your freezer until frozen...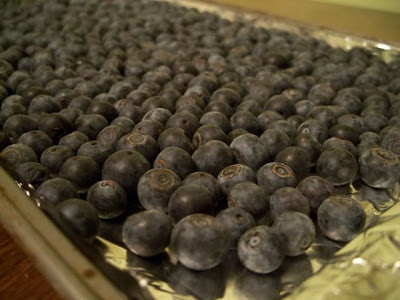 Once frozen, transfer to baggies and enjoy throughout the year.
Blueberry Muffin Recipe
Ingredients:
2 ½ cups flour
2 teaspoons baking powder
½ teaspoon baking soda
½ teaspoon salt
12 Tablespoons (1 ½ sticks) unsalted butter at room temperature
1 ½ cups sugar
3 large eggs, at room temperature
1 ½ teaspoons pure vanilla extract
8 ounces sour cream
¼ cup milk
3 cups fresh blueberries, stems removed
Streusel Topping Ingredients:
½ cup flour
1 teaspoon ground cinnamon
½ cup firmly packed light brown sugar
4 tablespoons (½ stick) unsalted butter, slightly softened and cut into pieces
Prepare the topping:
In a medium bowl, stir together the flour, cinnamon, and brown sugar.
Add the butter pieces and combine the mixture with a fork until the topping resembles coarse crumbs. Set aside.
Prepare the muffins:
With an electric mixer fitted with a paddle attachment, cream the butter and sugar
until light and fluffy, about 5 minutes.
At low speed, beat one egg in at a time, then add vanilla, sour cream, and milk until combined.
Add ⅓ of dry ingredients at a time and beat until just combined.
With a spatula, evenly fold blueberries into batter.
Scoop batter into muffin pans and fill each cup to the top.
Sprinkle topping evenly over batter.
Bake for 30 to 35 minutes in a 350 degree oven,
until a cake tester or wooden skewer comes out clean...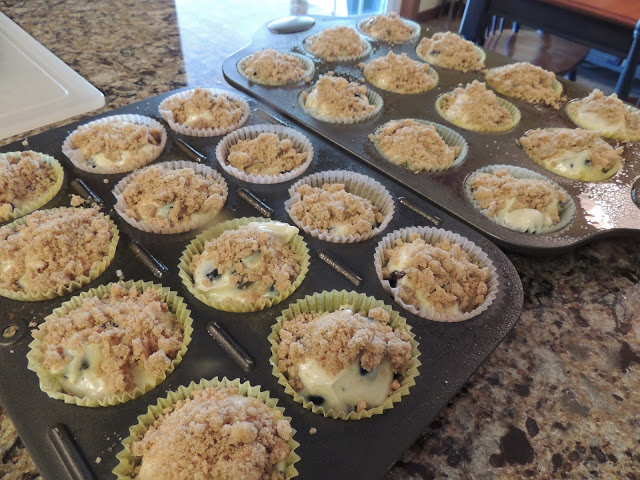 Another way we enjoy blueberries is in pancakes.
Ingredients:
Combine the dry ingredients together:1 ¼ cup flour
2 Tablespoons sugar
2 teaspoons baking powder
¾ teaspoon saltCombine the wet ingredients together:
1 egg
1 ⅓ cup milk
3 Tablespoons oil
Mix together the wet and dry ingredients together.
Using a ⅓ sized measuring cup, drop the batter onto a hot griddle that
has been coated in butter.
Add a few blueberries to the pancake.
Allow to cook for a minute or until bubbles begin to form on the pancake.
Flip and continue to bake another minute until pancake is set.
Enjoy with hot butter and syrup.
AND I always use blueberries when making my
Fruit Tart Recipe.