If you're looking for something different to make for breakfast when family and friends are visiting, look no further than a tube of refrigerator dough. Today I'm sharing with you 14 different breakfast ideas with crescent roll dough.
You are going to be surprised at how many crescent roll recipes you can create. They're not just for dinner!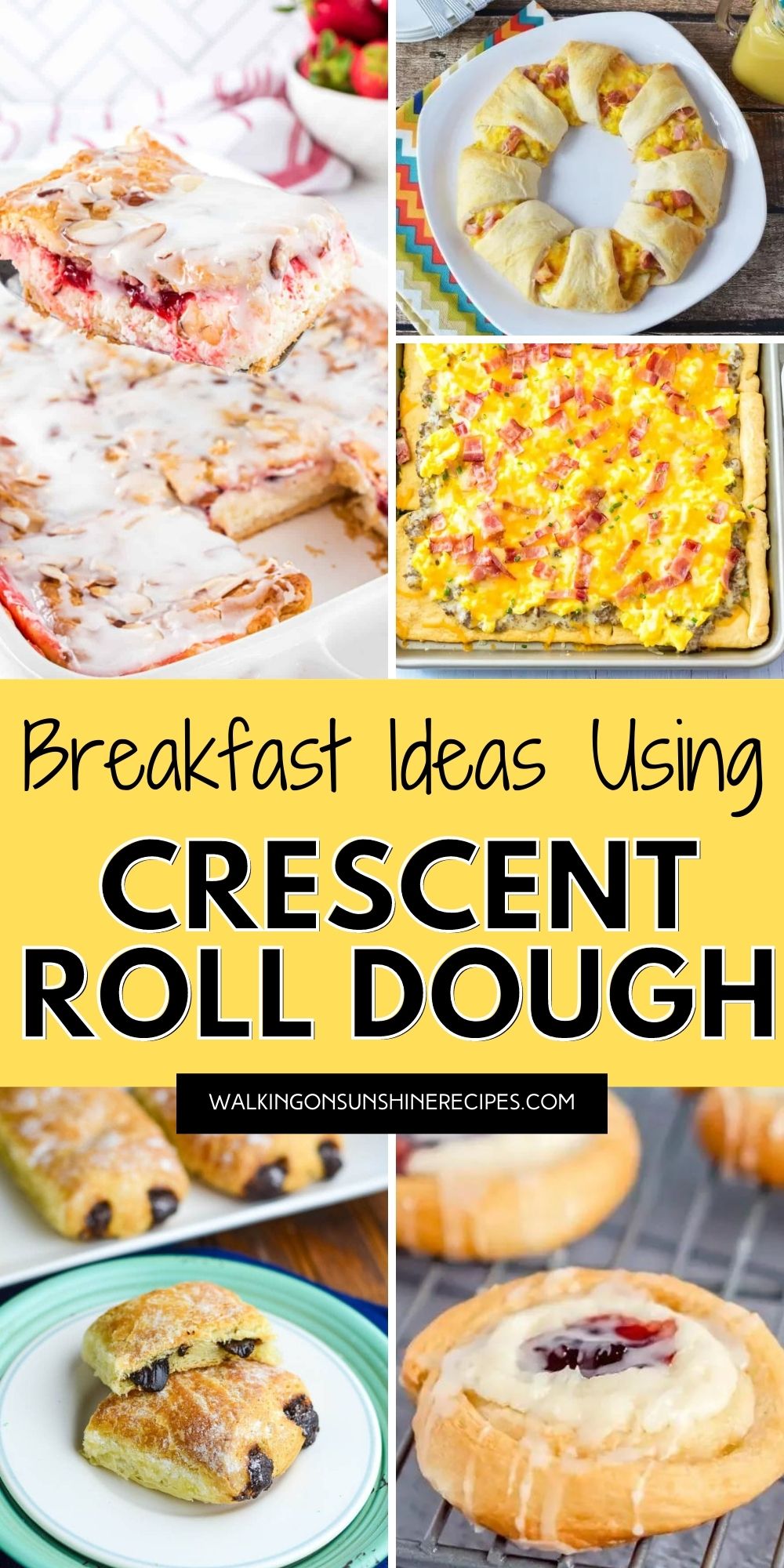 They say breakfast is the most important meal of the day. But who wants to slave over a hot stove making a big meal every morning?
That's why I love finding shortcuts in the kitchen to help cut down on my morning prep work! Using premade crescent roll dough is one of my favorite baking hacks.
Quick Filling Breakfast
With these simple breakfast ideas with crescent roll dough, you can prepare freshly baked pastries and casseroles for your family each morning with just a few minutes of prep work.
Using refrigerator dough in recipes is a great way to create something delicious other than just baking them like the directions say on the can.
You can create savory and sweet recipes when you "pop" open a can of crescent rolls. Let's think outside of the box and create exciting, delicious breakfast recipes.
Recipe Variations
For most of these recipes featured here, you could substitute puff pastry. Just remember that once the dough is baked it will be flakier than using crescent rolls.
You could also use crescent roll sheet dough. Which is great for making pizza with crescent rolls or a fruit tart.
How to Unroll Crescent Rolls
Open the tube of crescent rolls by peeling away from the tab right under the top of the can. Find the perforated edge of the dough and gently roll the cylinder of dough flat.
You can either proceed according to the recipe or separate the dough into 8 triangles.
Fill the dough according to the recipe.
Then roll up the triangles starting at the wide end.
Place on an ungreased cookie sheet or a cookie sheet lined with parchment paper.
Shape the rolled dough triangles into the crescent or "half moon" shape before baking.
Helpful Kitchen Tools
This post contains affiliate links. That means that if you make a purchase after clicking on a link I may earn a small commission at no extra cost to you. For more information, click here.
More Information
More Information
More Information
More Information
More Information
Frequently Asked Recipe Questions
Can I use crescent roll dough instead of puff pastry?
If you have puff pastry on hand and the recipe calls for puff pastry, you should use puff pastry. Crescent roll dough is a good substitute but it will not have the flaky layers or puff up like puff pastry.
⭐Before You Begin! If you make this recipe, please leave a review and star rating. This helps my business thrive and continue providing FREE recipes.
Breakfast Ideas with Crescent Roll Dough
Today I'm sharing with you breakfast ideas with crescent roll dough. There's so much more to refrigerator dough than a side dish for dinner.