Another fun Mason Jar Mix Idea is this Christmas Pancake Mix in a Jar. It's easy to put together and makes an impressive gift. All you need to do is add milk and eggs and you'll have soft, fluffy pancakes made with the ingredients from a jar.
Free printable gift tags with directions so your family and friends can have breakfast ready to go on Christmas morning.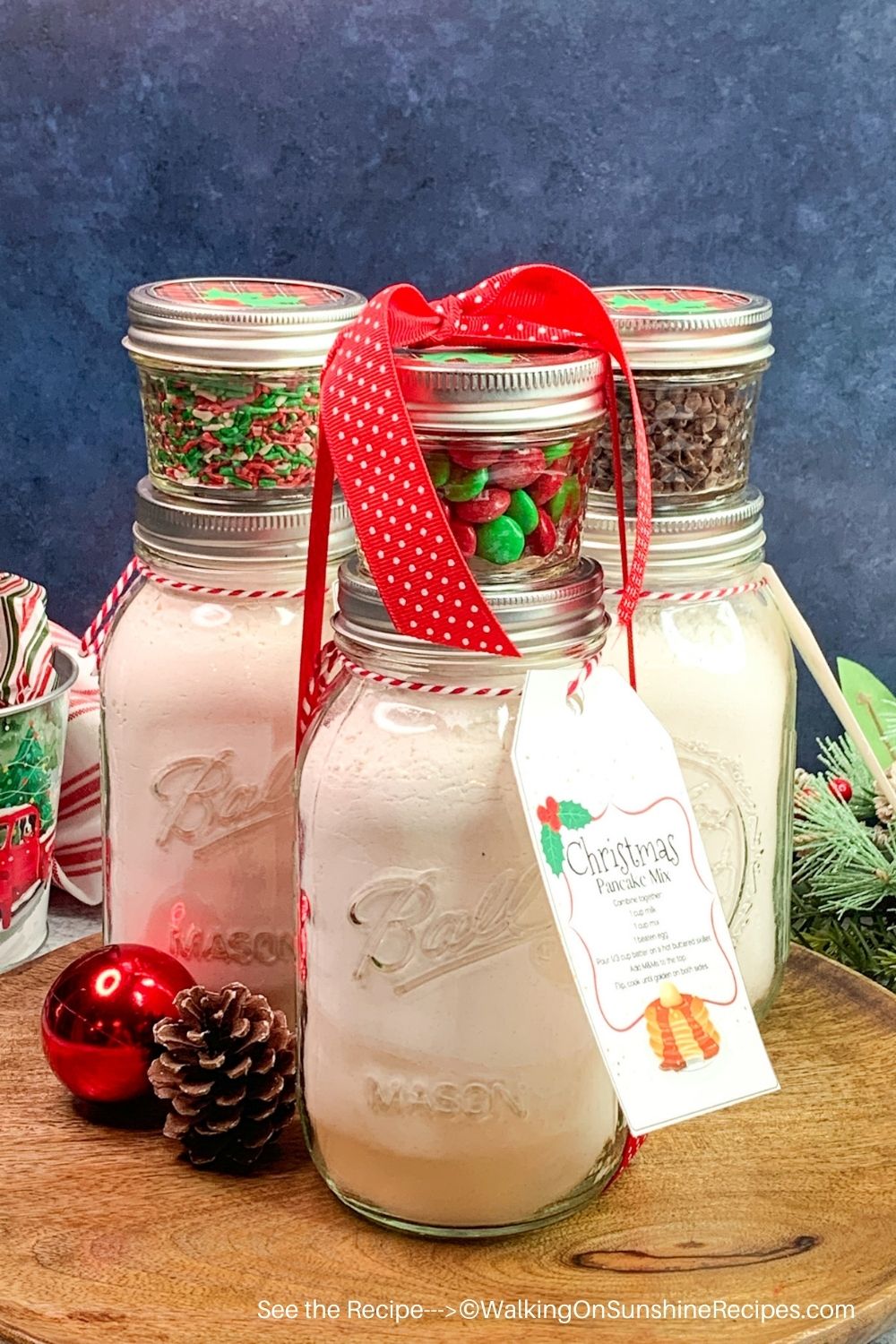 During the holidays I'm always looking for different ways to gift family and friends with FOOD. Maybe it's the Italian in me? This year let's give the gift of Christmas Breakfast and help make someone's life a little easier on Christmas morning.
All they have to do is add milk and eggs with the pancake mixture from the mason jar and within minutes they'll have light and fluffy pancakes ready to serve their family.
This was inspired by my Bulk Pancake Mix recipe from a few years ago. And I thought wouldn't it be fun to create a gift for Christmas Pancake Mix in a Jar recipe to give to family and friends.
If you're looking for a Homemade Waffle Mix recipe, try my new Waffle Mix in a Jar.
Table of Contents
Christmas Treats for Gifts
How could you make this breakfast gift even better? Why not tie a whisk on with the label? You could place the mason jar inside a beautiful stoneware mixing bowl.
Or you could purchase a nice size container of pure maple syrup to go along with the mason jar pancake mix.
A few years ago I made Freezer Friendly Homemade Cinnamon Rolls and gave them as gifts to family and friends. I made printable labels with directions for baking along with the homemade frosting.
All the recipients had to do was remove the cinnamon rolls from the freezer the night before they wanted to serve them and follow the easy directions on the labels.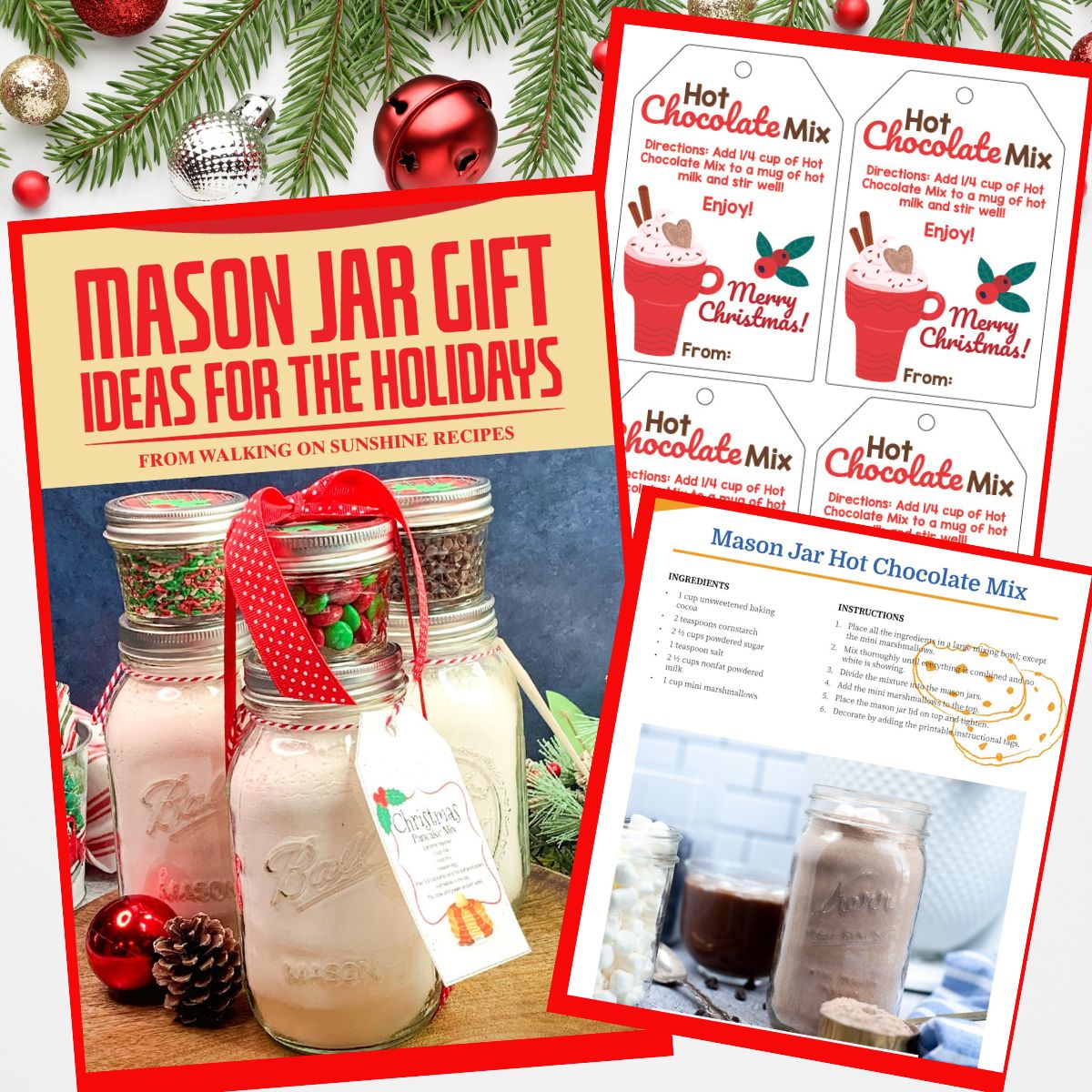 Helpful Kitchen Tools
This post contains affiliate links. That means that if you make a purchase after clicking on a link I may earn a small commission at no extra cost to you. For more information, click here.
More Information
More Information
More Information
More Information
More Information
More Information
Main Ingredients Needed
This is an overview of the ingredients and instructions. Be sure to see the recipe card below for exact quantities, detailed instructions and special notes.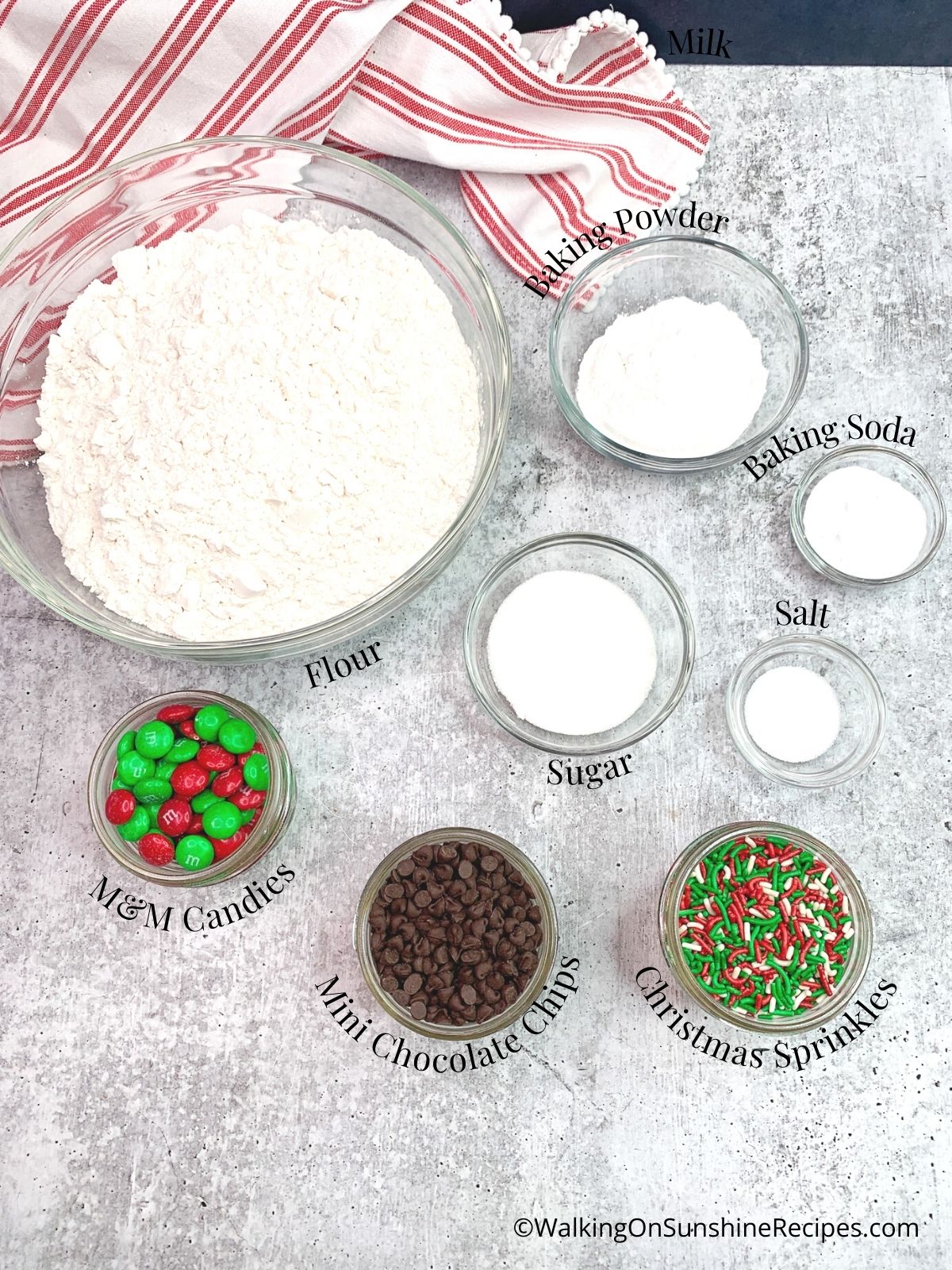 Quick Tip: Each cup of pancake mix will yield about 4-6 pancakes depending on size. Quart size mason jars hold approximately 4 cups of bulk pancake mix.
Instructions
Step 1 | Prepare the Dry Mix
Measure everything into a large batter bowl or a mixing bowl.
Then add to the large mason jar using a wide mouth canning funnel.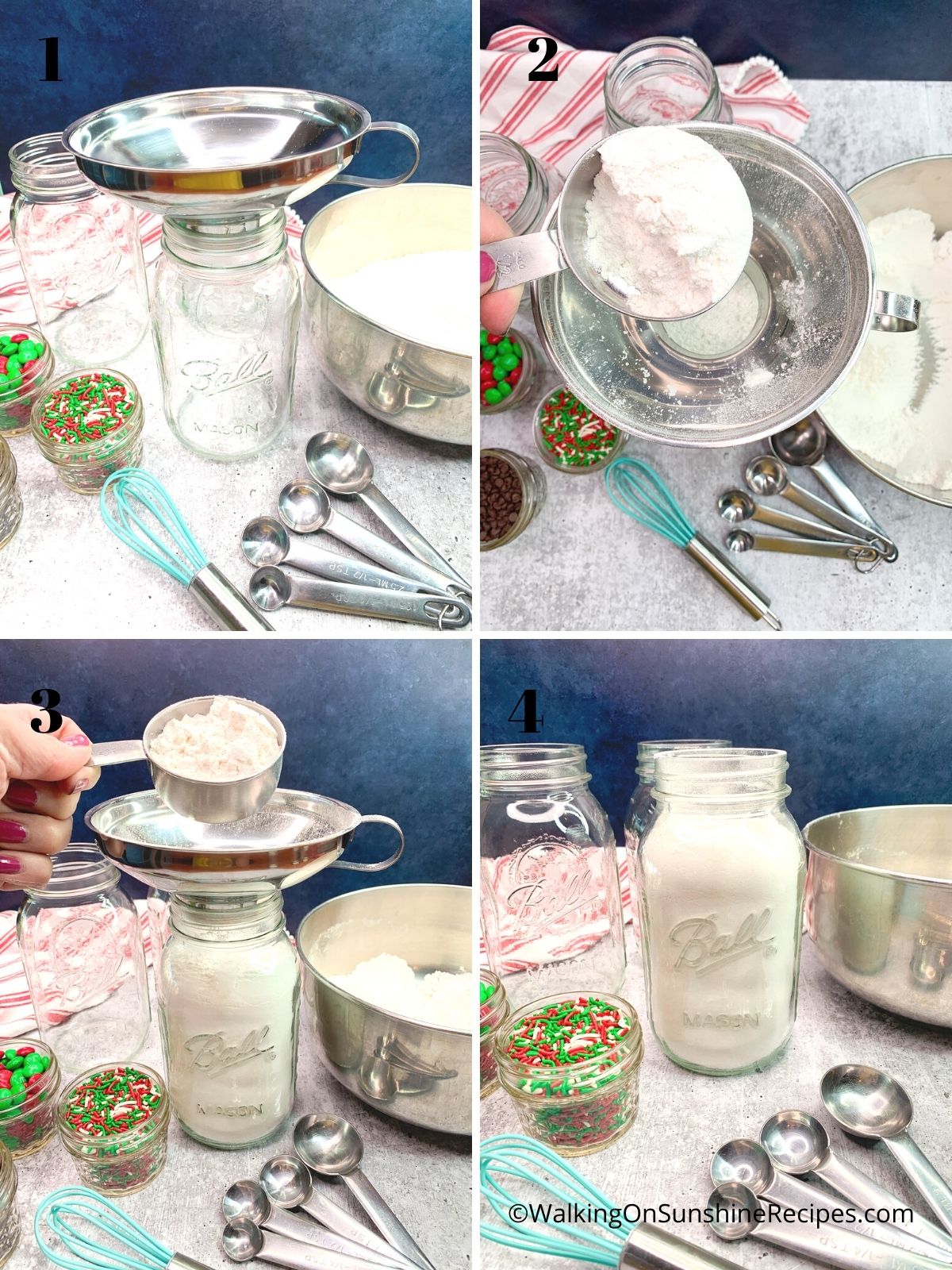 Step 2 | Prepare the Stir-In's
Next add the fun stir-in's for the pancakes. For this step, you're going to use small mason jars.
Fill them with sprinkles, M&Ms or mini chocolate chips.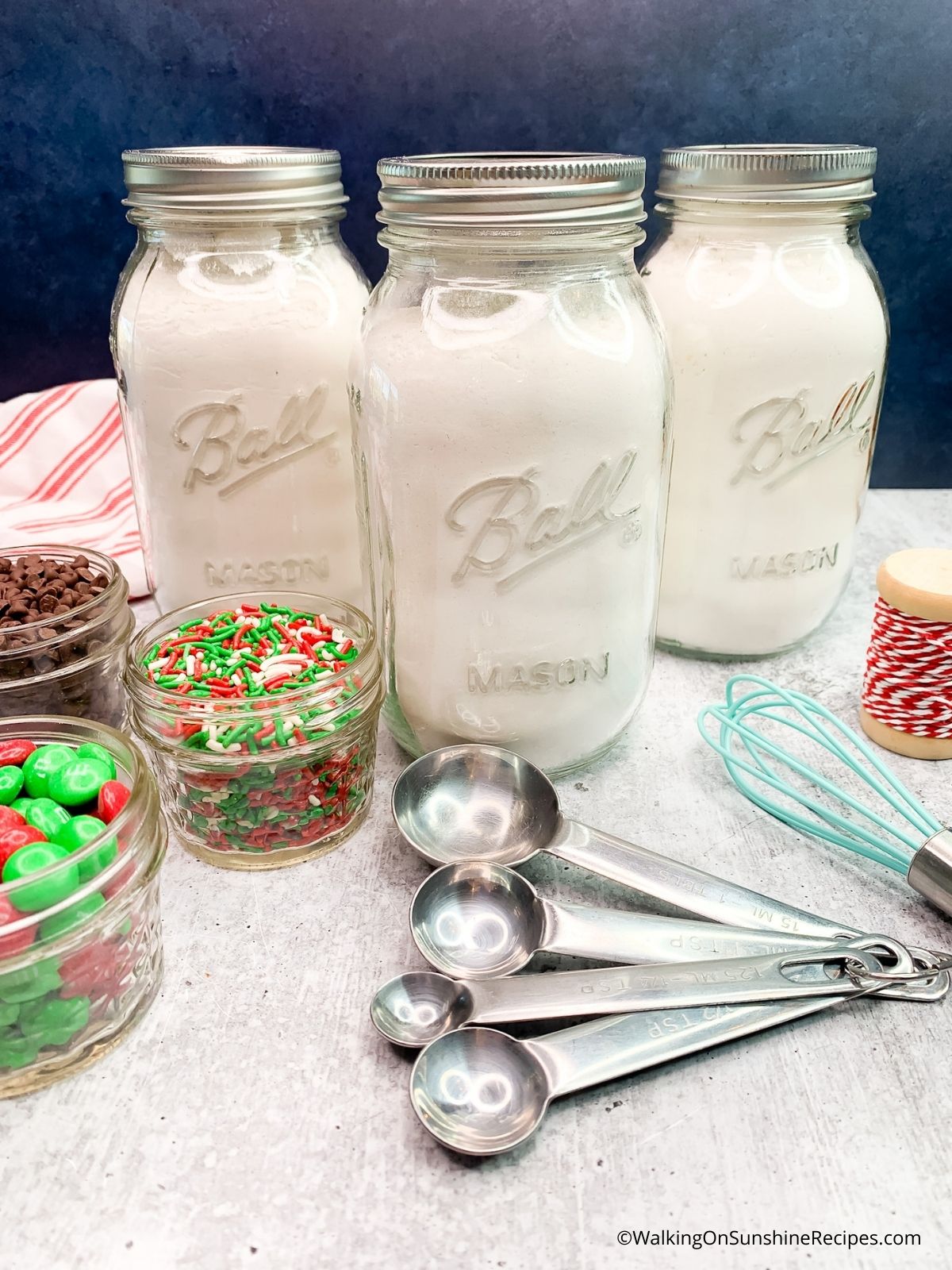 Step 3 | Print the Tags
Print out the tags and attach to the mason jar.
Attach the gift tag with pretty ribbon around the neck of the mason jar.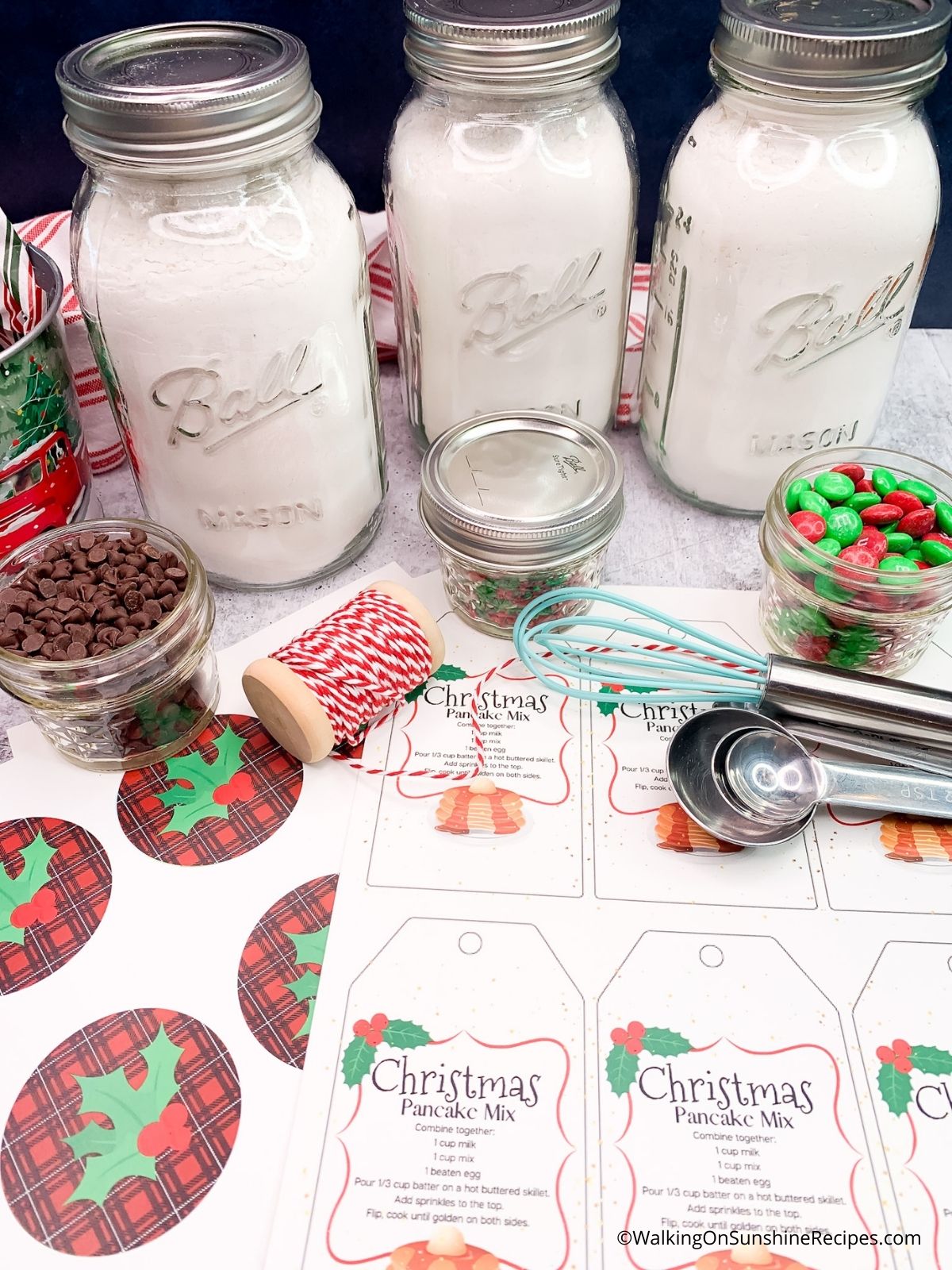 Step 4 | Attach the Mason Jars Together
Add either sticky tape or mounting sticky dots to the bottom of the small mason jar.
Place the smaller mason jar on top of the quart size mason jar.
Then using larger ribbon, tie both mason jars together.
Please note, the jars may come apart, so please handle them with care when carrying.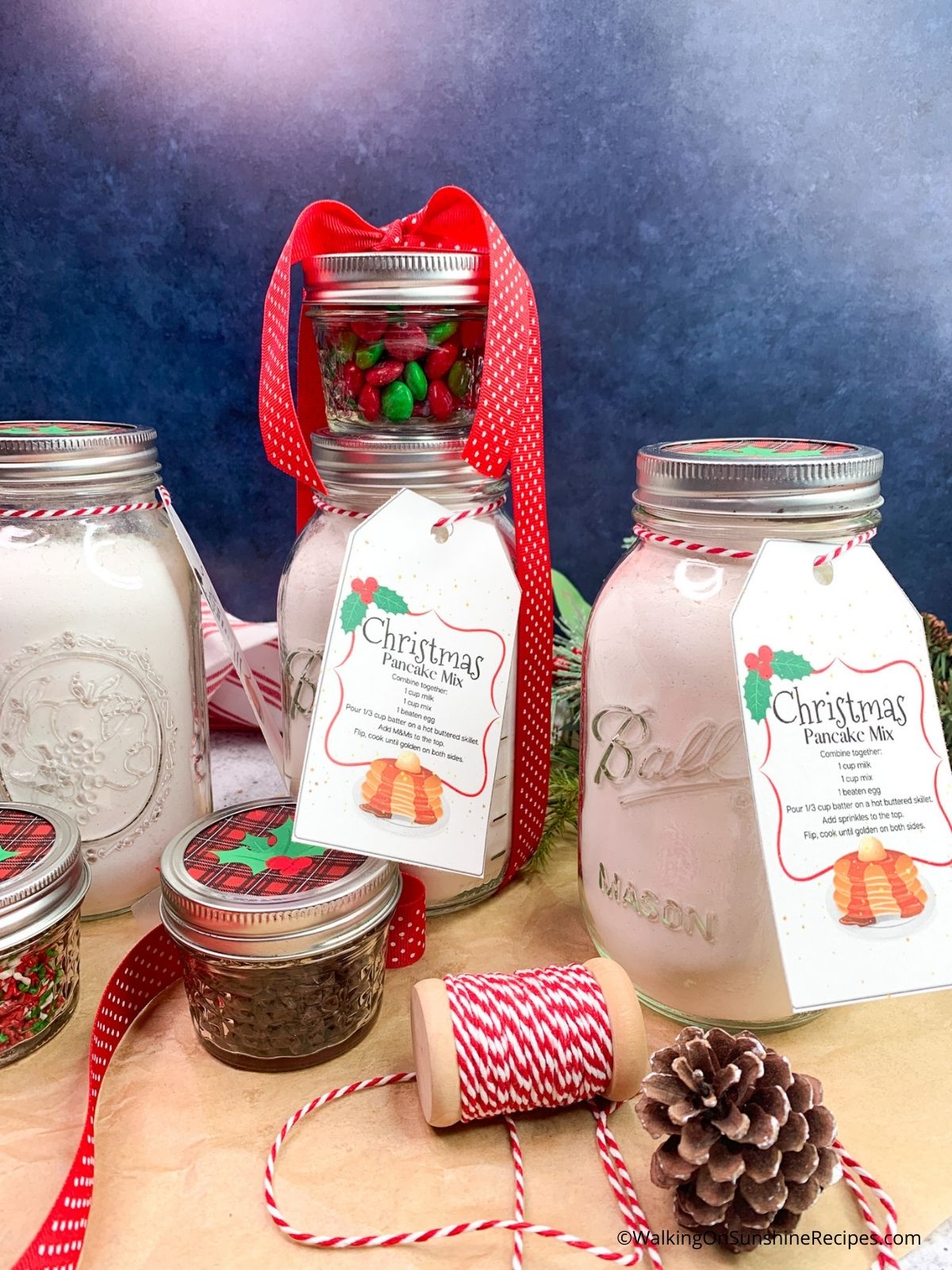 Step 5 | How to Prepare Pancakes using the Bulk Mix
Add one cup of pancake mix to a mixing bowl.
Then add one cup of milk that's already been combined with one egg.
Add ⅓ cup of batter to a hot griddle that's been either sprayed with non-stick cooking spray or coated with butter.
Cook until both sides are golden brown and delicious!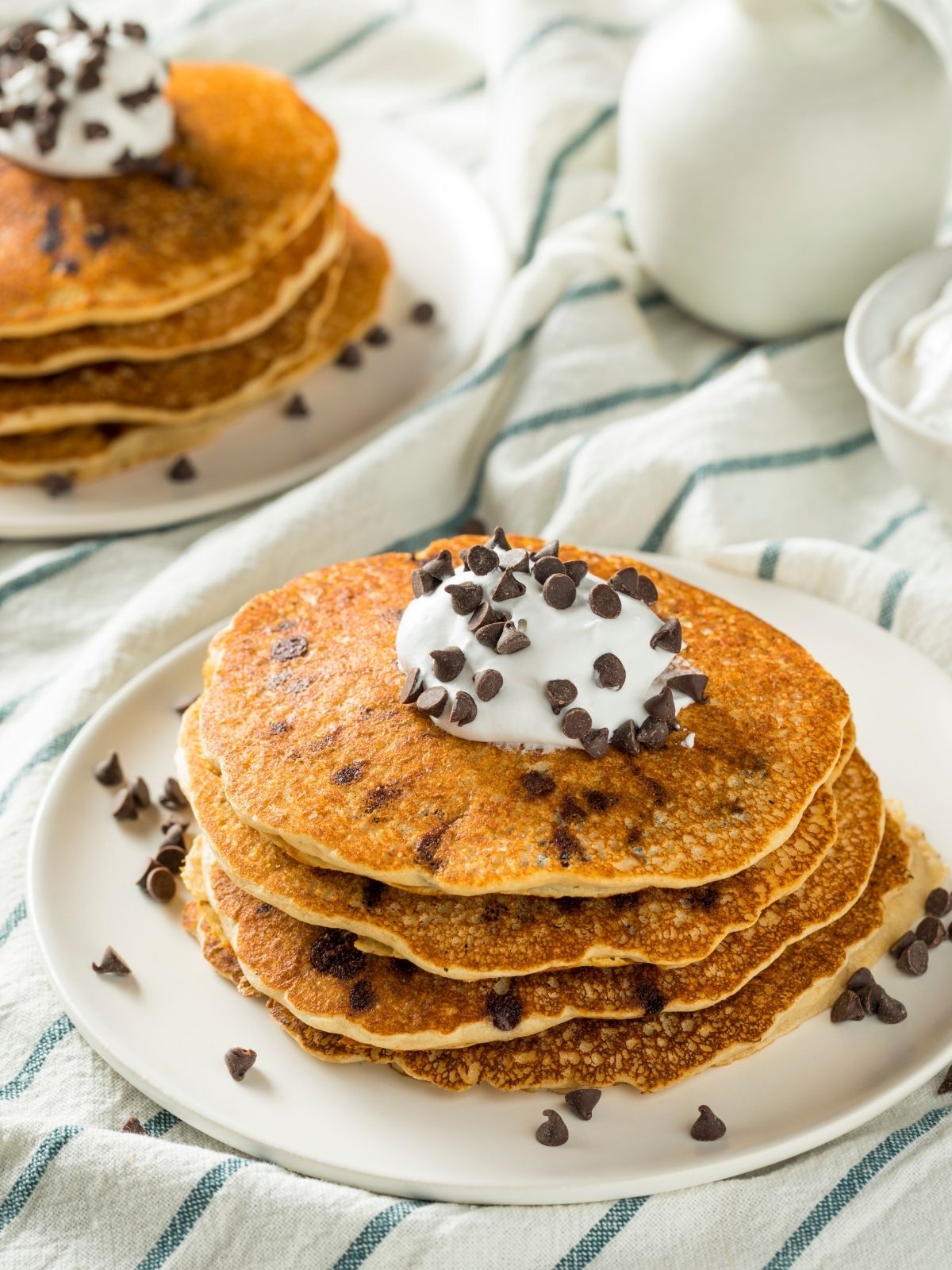 ⭐Before You Begin! If you make this recipe, please leave a review and star rating. This helps my business thrive and continue providing FREE recipes.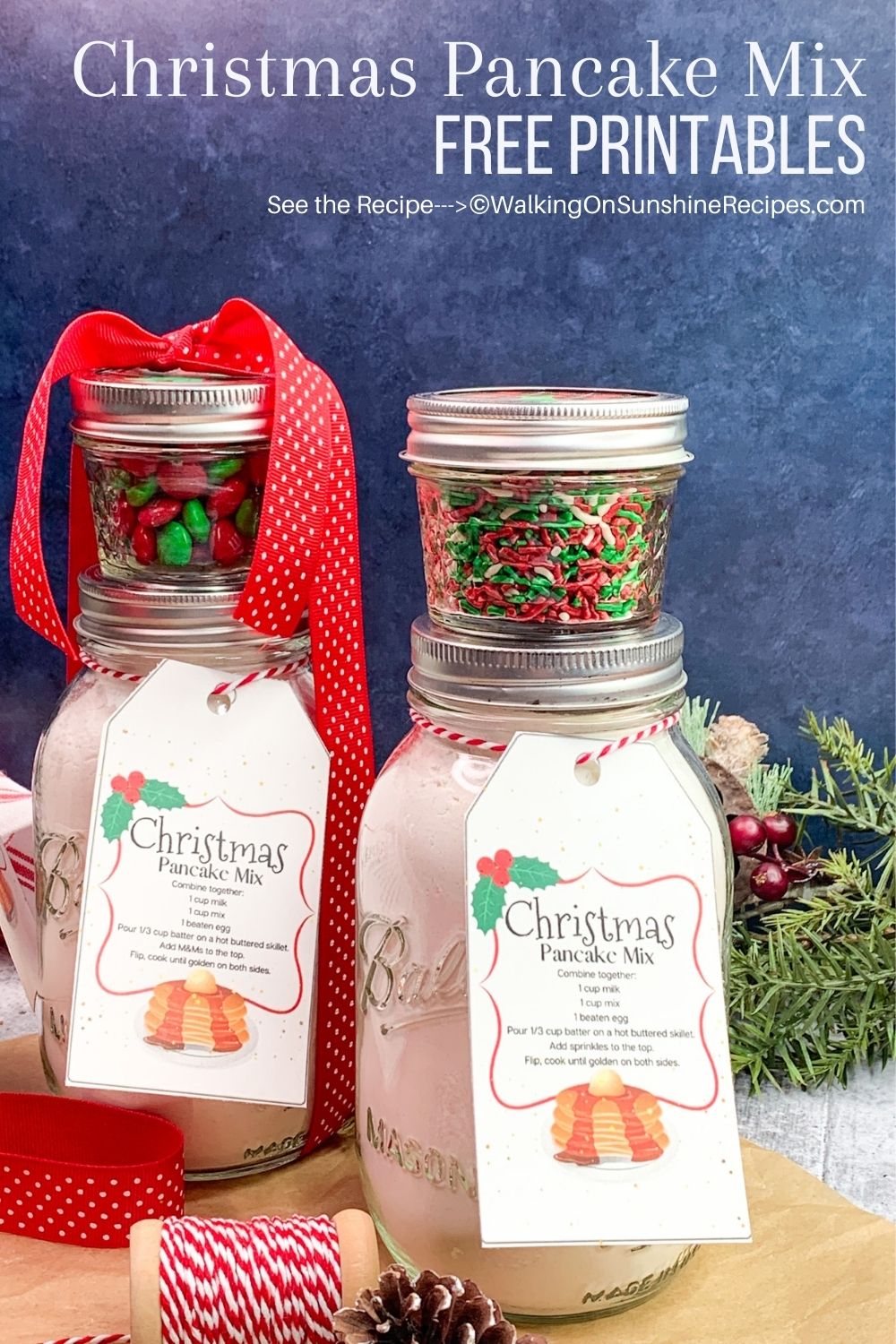 Recipe Variations
Maple Syrup- instead of candies or chocolate chips, you could give them a small mason jar filled with pure maple syrup.
Fruit- you could also make a homemade blueberry sauce or mixed berry compote to put in the smaller mason jars.
See my recipe for Homemade Blueberry Sauce and Mixed Berry Compote.
Storage Tips
Store any leftovers in an airtight container in the refrigerator for up to 5 days.
Leftover pancakes can be reheated in the microwave.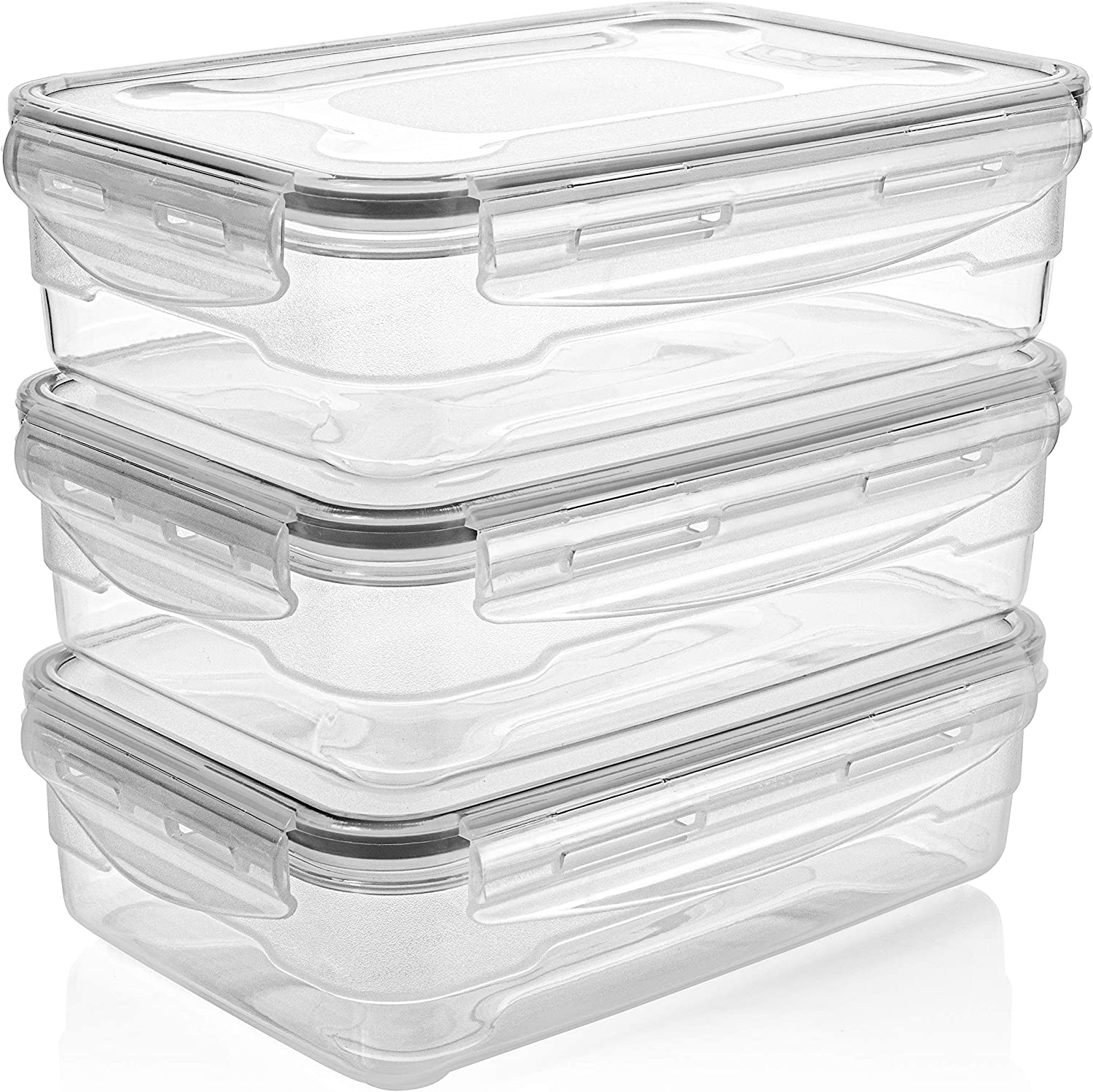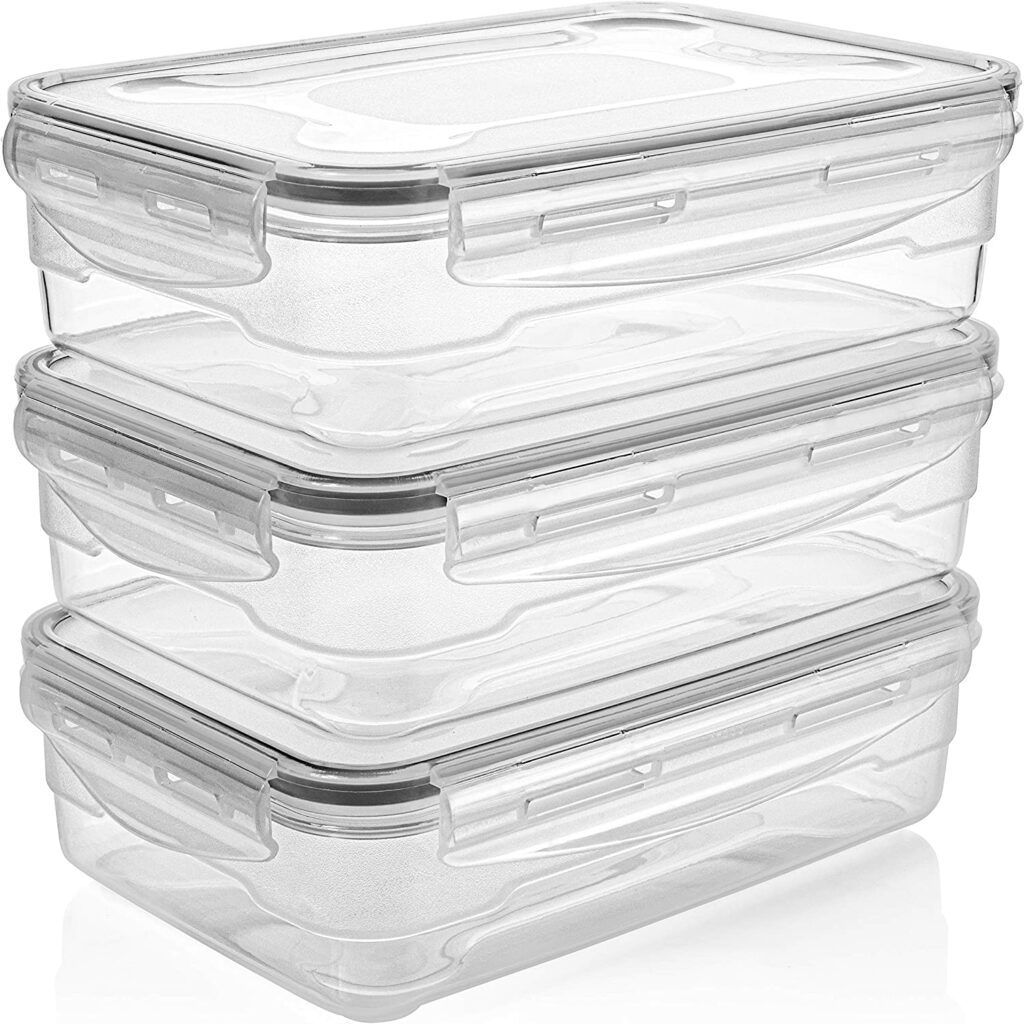 Air-Tight Storage Containers: these air-tight storage containers that help keep food fresh for longer. Use them to store fresh baked goods, cookies, fruit and vegetables, left overs, and more. The silicone lids lock to close to ensure an air tight seal. The stackable, multi-size design makes these containers easy to store. They're perfectly sized for the fridge, freezer, or cupboard.
Freezing Tips:
These pancakes even freeze well! So if you happen to have leftovers, lay them flat on a baking tray lined with parchment baking sheets and place in the freezer to "flash freeze" for about 30 minutes or so.
Next, remove them from the baking tray and place the frozen pancakes in a freezer safe bag. You then have pancakes for busy mornings that you can easily reheat in the microwave.
How to Print the Labels
Once you download the gift tags, you'll be able to print out the labels to use when you make your own Pancake Mix as a Gift or just to use for your own kitchen.
I recommend printing the labels on card stock paper for the gift tags. Regular printer paper will be fine for the baking instructions.
Cut out the gift tags and attach them using using red and white twine. You now have a great hostess gift ready for all your holiday gift-giving needs.
Yield: 1 Mason Jar with 4 cups of pancake mix.
Christmas Pancake Mix in a Jar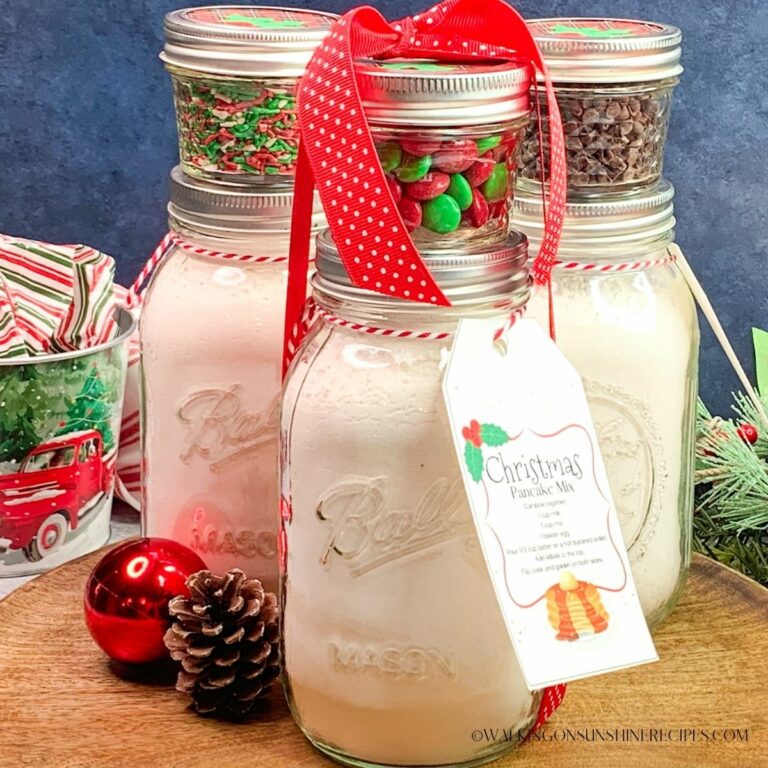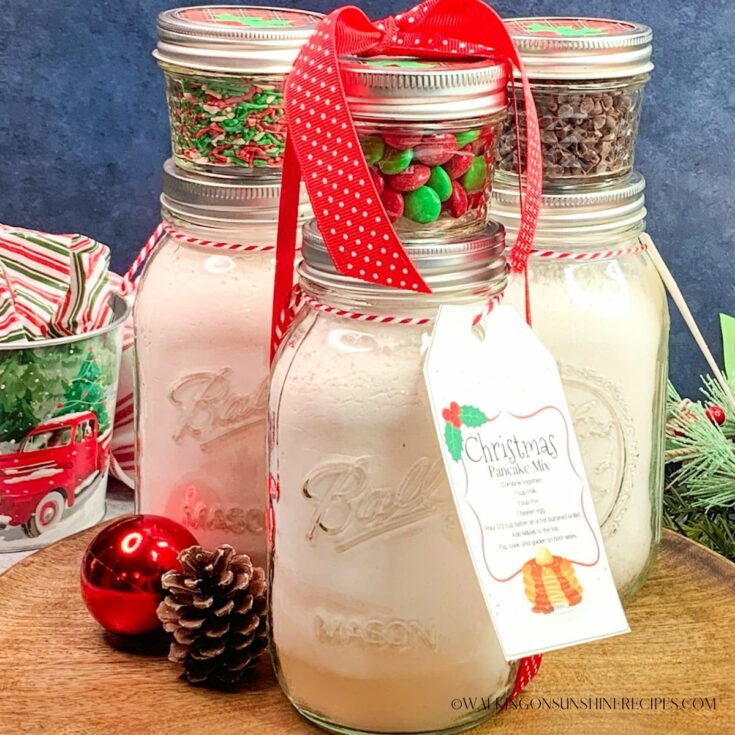 Christmas Pancake Mix in a Jar is easy to put together. Free printable gift tags with directions to make light, fluffy pancakes.
Ingredients
4 cups all purpose flour
3 tablespoons baking powder
1 ½ tablespoon sugar
2 teaspoons baking soda
1 teaspoon salt
½ cup mini chocolate chips
Instructions
Instructions for the Bulk Pancake Mix:
Combine all the ingredients together in a large mixing bowl.
Add the ingredients to a 32 ounce size mason jar.
Add the mini chocolate chips to a 4 ounce mason jar.
Print out gift tags and add to the jars.
Attach the jars together using ribbon.
To Make Pancakes:
Shake the pancake mix in the jar before measuring. You want to make sure all the ingredients are properly distributed and haven't settled before making the pancakes.
Combine 1 cup pancake mix, 1 egg and 1 cup milk together in a mixing bowl.
Whisk together until smooth, but being careful not to overmix.
Heat a griddle and grease with butter.
Using a ⅓ cup measuring spoon, pour the batter on the hot griddle.
Sprinkle the tops of the pancakes with the chocolate chips.
Cook until bubbles appear.
Flip and continue cooking another minute or until the bottom side is golden brown.
Serve immediately.



Notes
This recipe is enouth to make one 32 ounce size mason jar to use as one gift.
Other stir-in's pictured are red and green M&Ms and Christmas sprinkles.
Nutrition Information:
Yield:
24
Serving Size:
1
Amount Per Serving:
Calories:

97
Total Fat:

1g
Saturated Fat:

1g
Trans Fat:

0g
Unsaturated Fat:

1g
Cholesterol:

0mg
Sodium:

377mg
Carbohydrates:

19g
Fiber:

1g
Sugar:

3g
Protein:

2g
The nutrition information is calculated automatically. I cannot guarantee its accuracy. If this data is important to you, please verify with your trusted nutrition calculator.