Freezer Friendly Cinnamon Rolls are another one of our Best Cinnamon Roll Recipes to make and give as gifts to family and friends over the holidays.
Let me show you how you can put together the perfect homemade gift from your kitchen with this easy recipe and printable labels.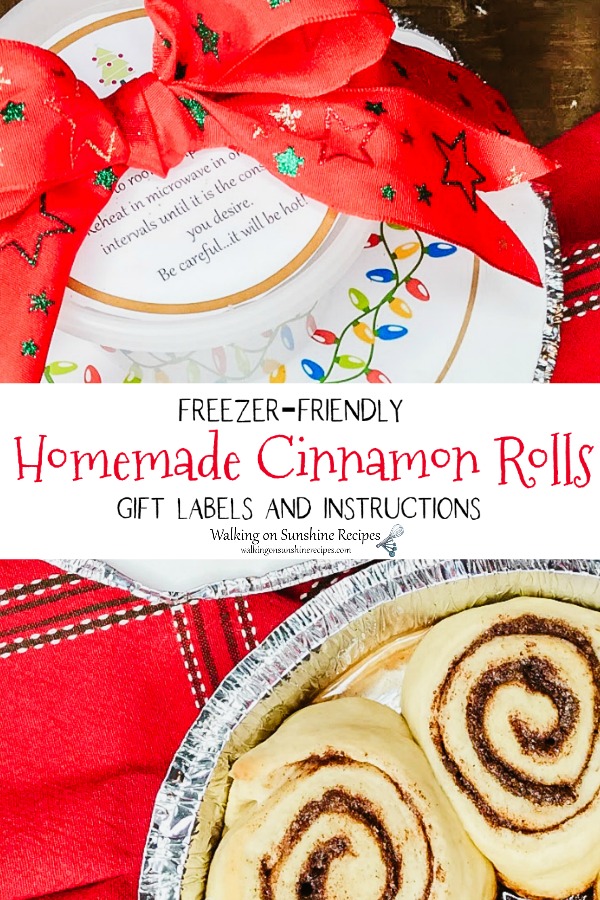 One of the best gifts we can give to family and friends is something homemade from our kitchens. Everyone seems to love giving plates full of homemade cookies or candy, but have you ever given anyone homemade cinnamon rolls?
A few years ago I wanted to give a few special people a Christmas Breakfast Recipe they could enjoy on Christmas morning. I knew they would love fresh cinnamon rolls warm from the oven, but how was I going to give them fresh baked cinnamon rolls on Christmas morning?
Table of Contents
Can you Freeze Cinnamon Rolls?
Instead of trying to deliver fresh made cinnamon rolls, I made up a few batches of my favorite Homemade Cinnamon Rolls recipe and froze them. That's right I gave my friends frozen cinnamon rolls with frozen homemade cream cheese frosting that they could bake when they wanted to.
To make this gift work, I knew I had to be creative and give them directions on how to defrost, bake and then add the frosting to the cinnamon rolls.
That's where this post comes in. I made printable gift labels that have the directions needed to enjoy delicious homemade cinnamon rolls.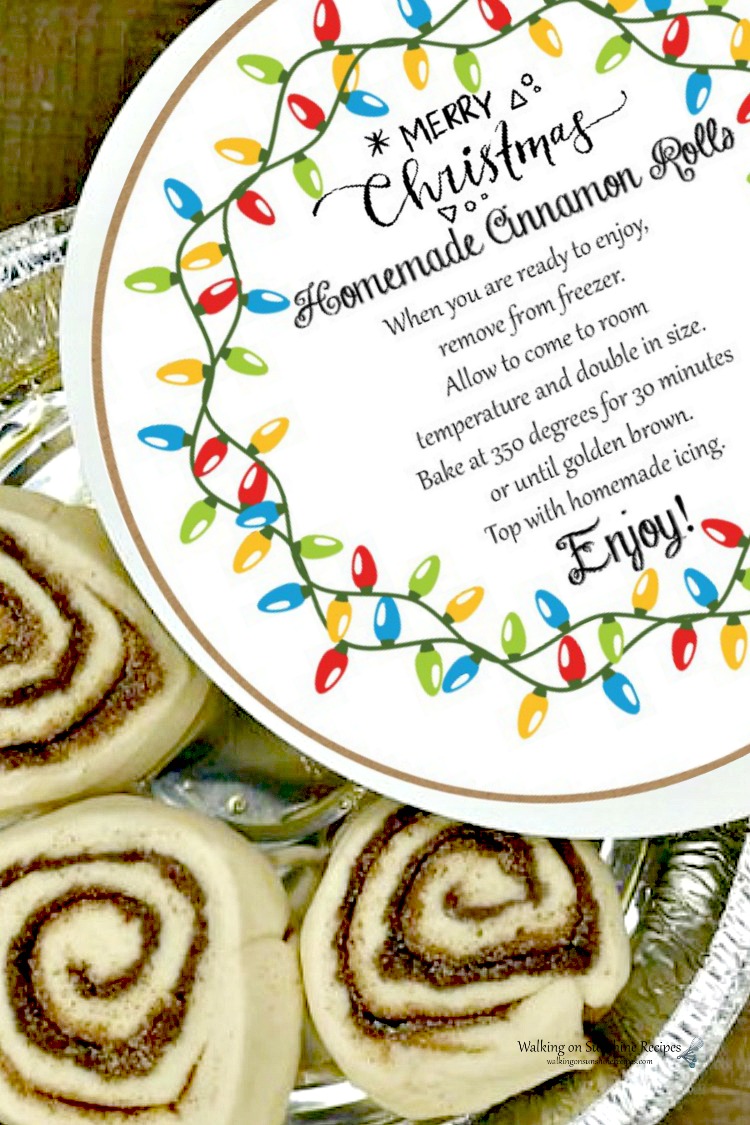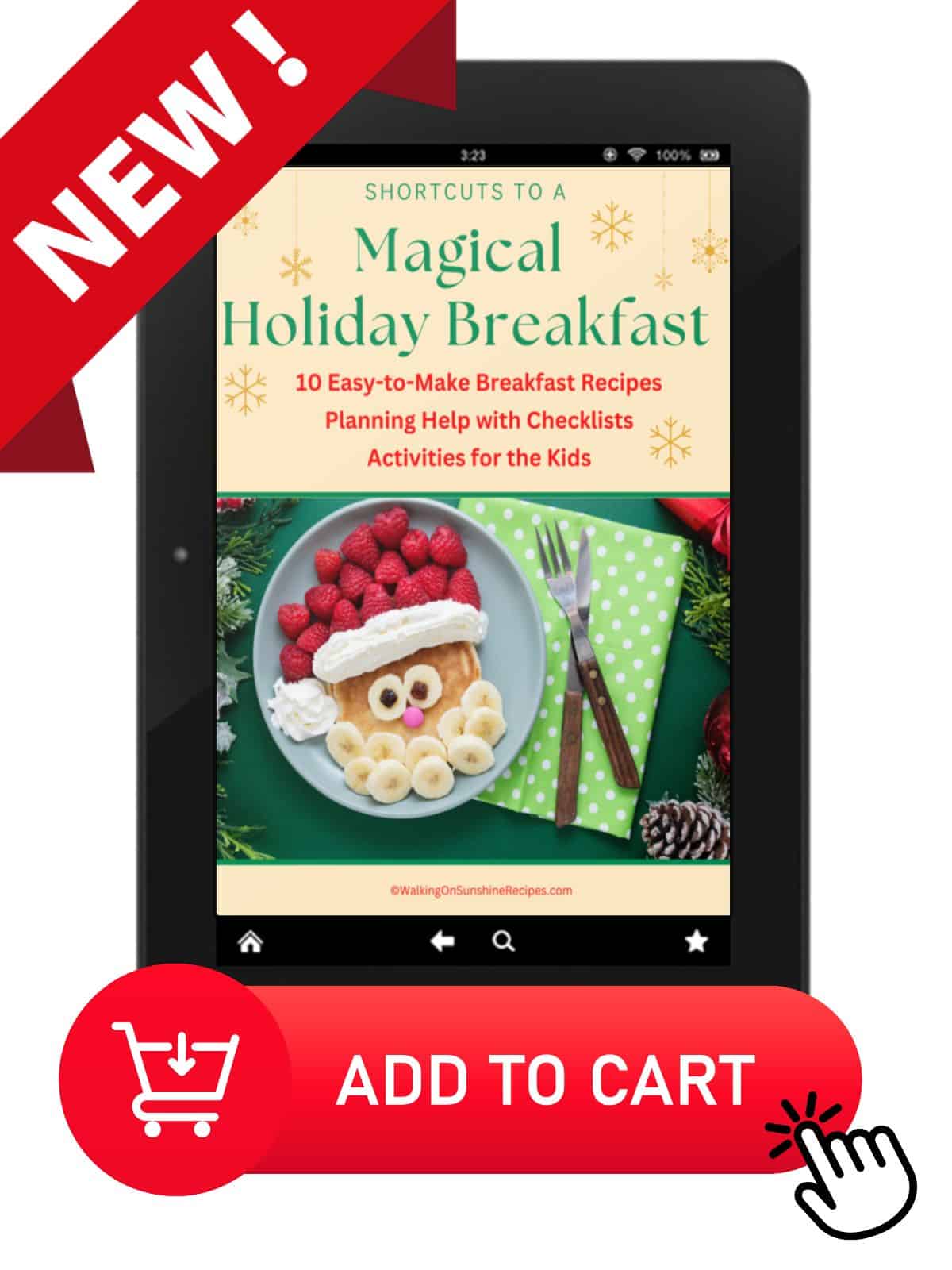 Helpful Tools Needed
Affiliate Disclosure: This post may contain affiliate links. As an Amazon Associate I earn from qualifying purchases. For more information, click here.
14 Pack 9 Inch Takeout Pans Aluminum PanMore Information
Christmas RibbonMore Information
100 Pack Brown Kraft Paper Christmas Gift Tags,More Information
Deli Food Storage Containers with Lids, 16 OunceMore Information
How to Freeze Cinnamon Rolls
Let me show you how to freeze cinnamon rollsi and give as gifts to family and friends!
Follow the instructions to make Homemade Cinnamon Rolls only do not bake them. Instead follow these simple steps to freeze the cinnamon rolls: 
Once you have the cinnamon rolls sliced, place them on a baking sheet that's been lined with parchment paper. Place the baking sheet in the freezer to flash freeze the rolls. This should take about an hour or two.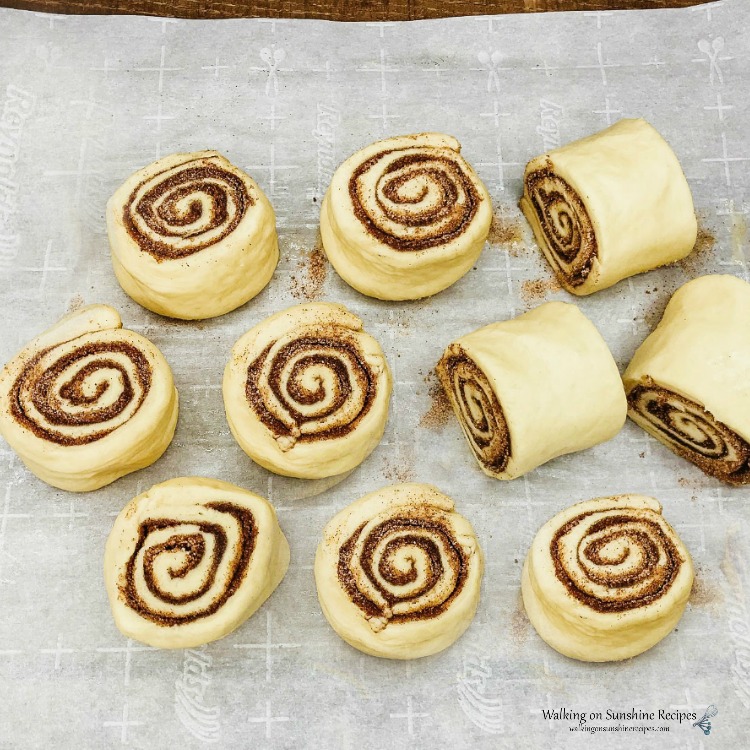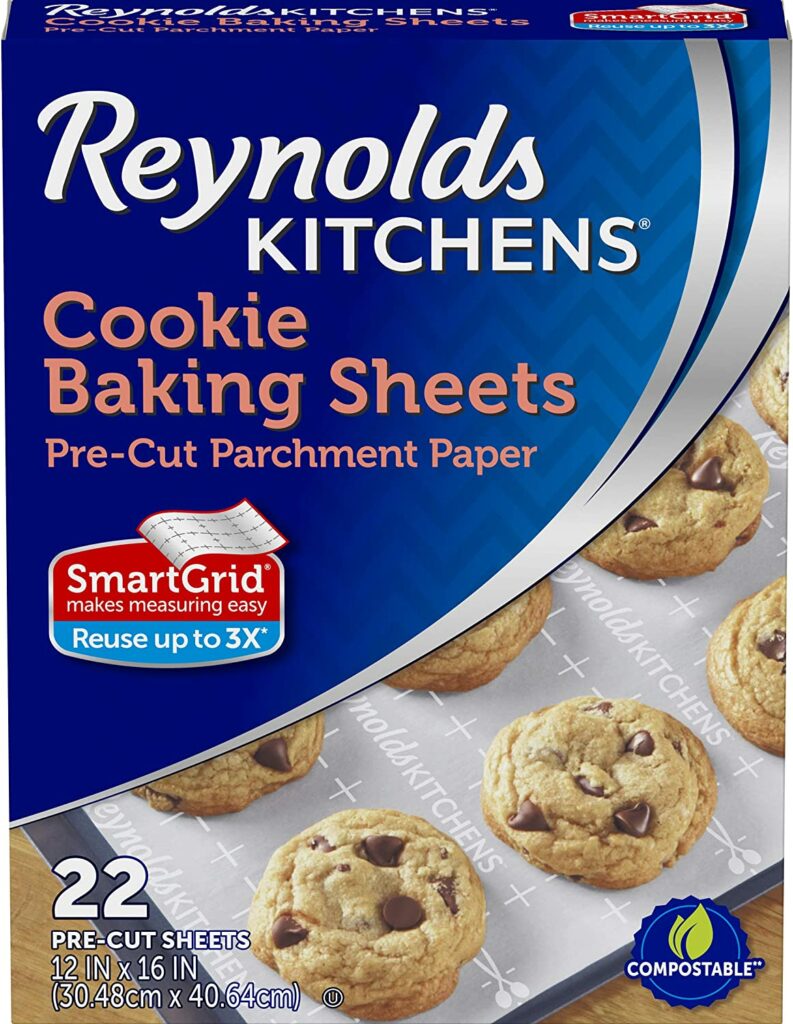 Parchment Baking Sheets: Ensure your cookies are precisely spaced and bake evenly without sticking or breaking. Pre-cut to 12" x 16" sheets, they make your prep, baking and clean-up a breeze. Use them to roll-out dough, line baking sheets, decorate cookies and even wrap your finished creations for a beautiful gift.
How to Store Cinnamon Rolls
Once the rolls are solid, remove them from the baking tray and place in a freezer safe plastic bag. Then place the bag in the freezer until you're ready to give your gift.
Prepare the frosting according to the directions in the recipe. Place the frosting in a small air-tight container, label and add to the freezer as well.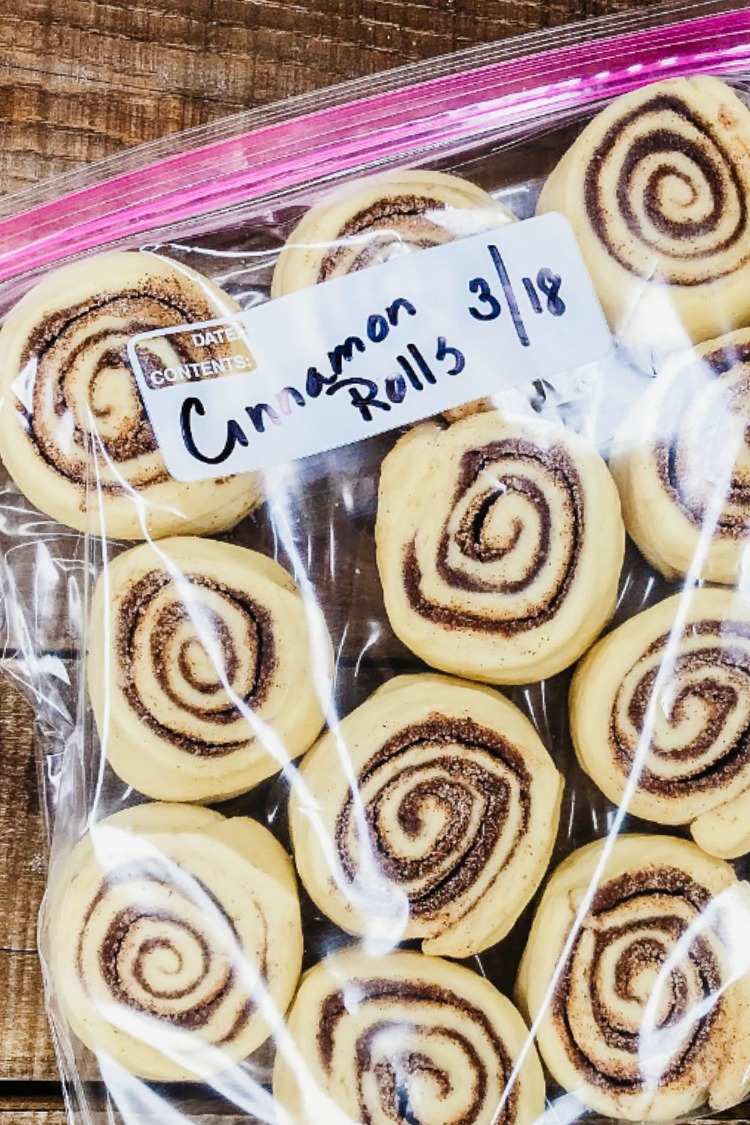 Cinnamon Rolls Gift Box
You can easily print the labels from the WOS Shop. I don't think it's necessary to use card stock or heavier paper for this project; regular printer paper will be fine.
Once both printables are downloaded, you'll be able to print them out using whichever print program you have for your computer or phone. Cut out the labels and adhere to the tops of the containers for the cinnamon rolls and the homemade icing.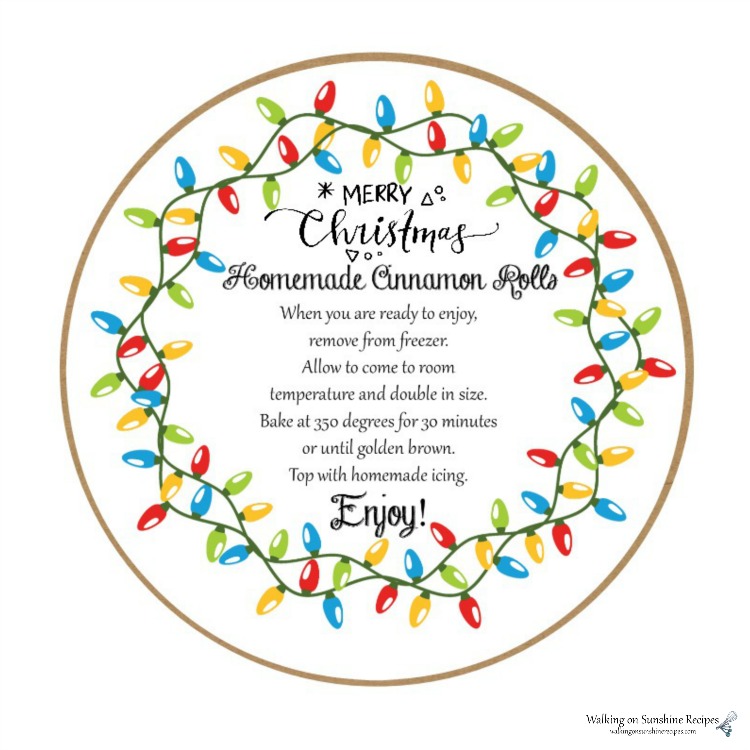 Homemade Cinnamon RoLLS Labels for GiftsMore Information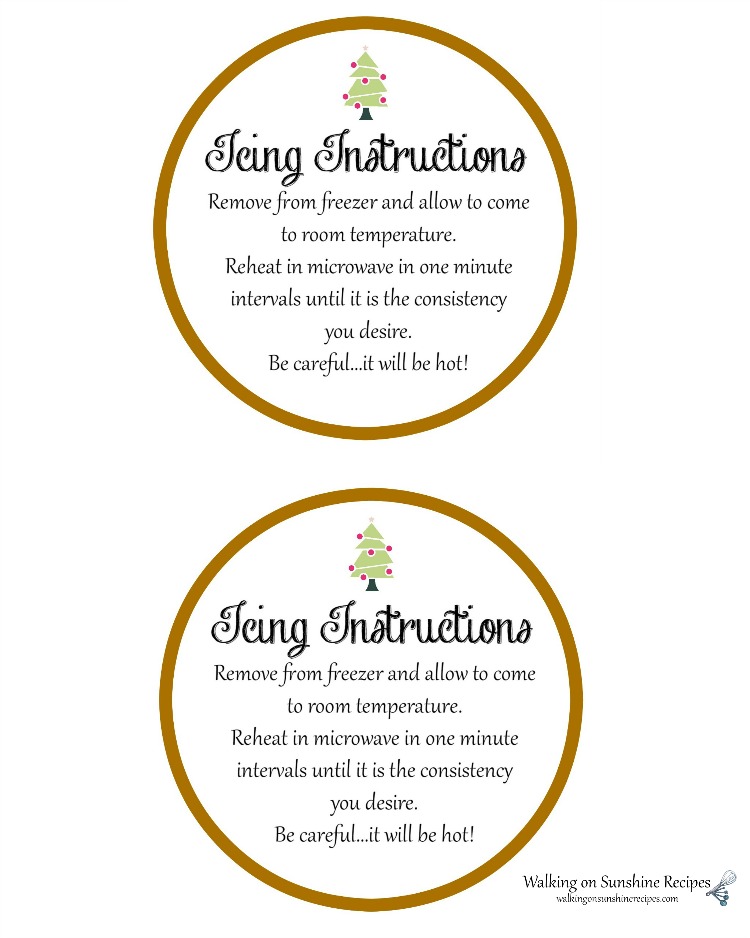 Homemade Cinnamon Roll FROSTING Labels for GiftsMore Information
How to Package Cinnamon Rolls
Because you need to give this gift frozen, you need to package it up right before you're ready to deliver the gift to the recipient. Here's how to do it:
When you're ready to give the homemade cinnamon rolls as a gift, remove the rolls and frosting from the freezer.
Place a few of the rolls in one of the aluminum pans with lids.
Then add the printed labels to the top of the pans.
Stack the two containers on top of each other and use a pretty holiday ribbon to tie the gift together.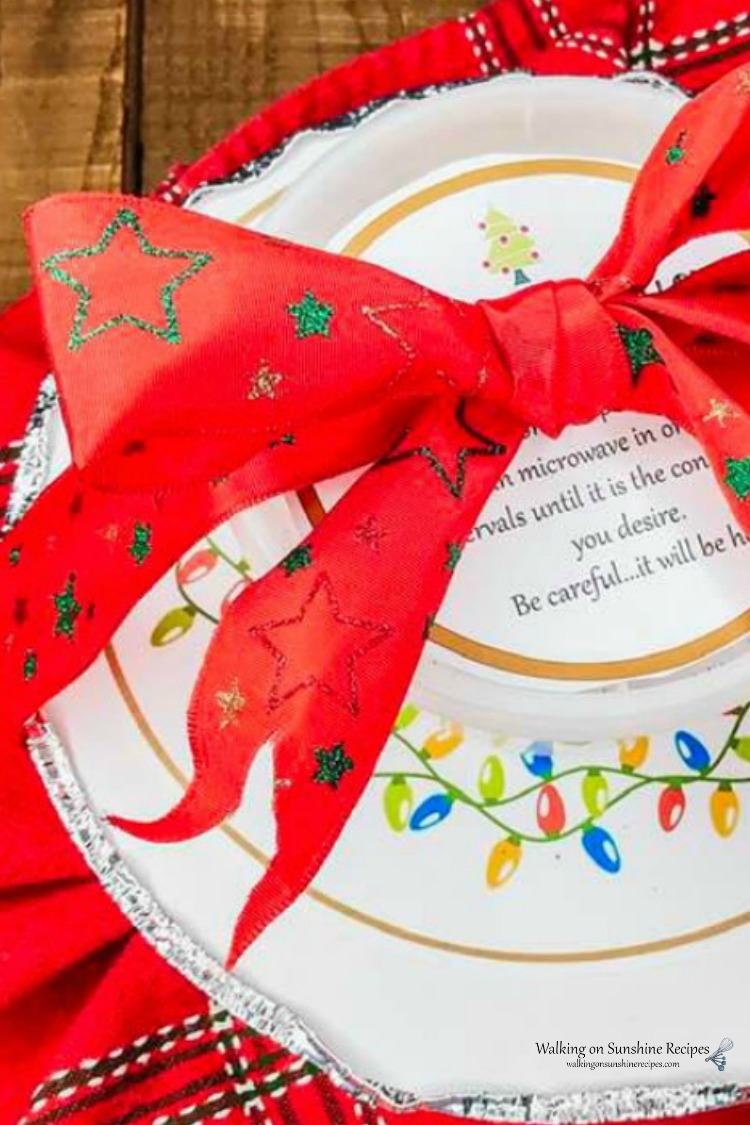 Baking Frozen Cinnamon Rolls
When your friends are ready to enjoy the cinnamon rolls, all they need to do is follow the directions typed out on the printable labels:
Remove the aluminum pan and the frosting container from the freezer the night before to defrost in the refrigerator.
Take them out of the refrigerator about 30 minutes before baking to come to room temperature.
Bake as directed on the label.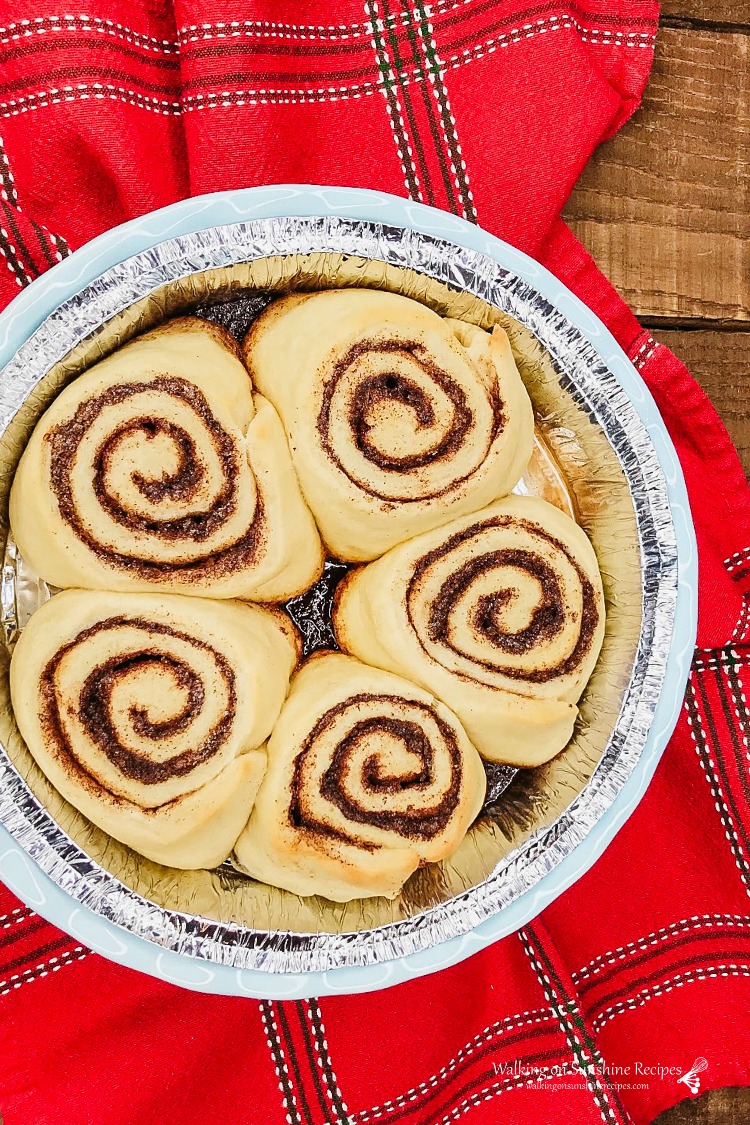 Do you Heat up Cinnamon Roll Icing?
Follow the directions on the printed label to heat up the frosting and spread it on top of the cinnamon rolls:
Remove the frosting container from the refrigerator while the cinnamon rolls are baking.
After the cinnamon rolls have baked, allow them to cool for 15 minutes before pouring the glaze on top. If you add the glaze too soon, it will melt.
If the icing is still frozen, you can heat up cinnamon roll icing using the microwave. But be careful! Do it in 30 second intervals or the icing might turn to liquid.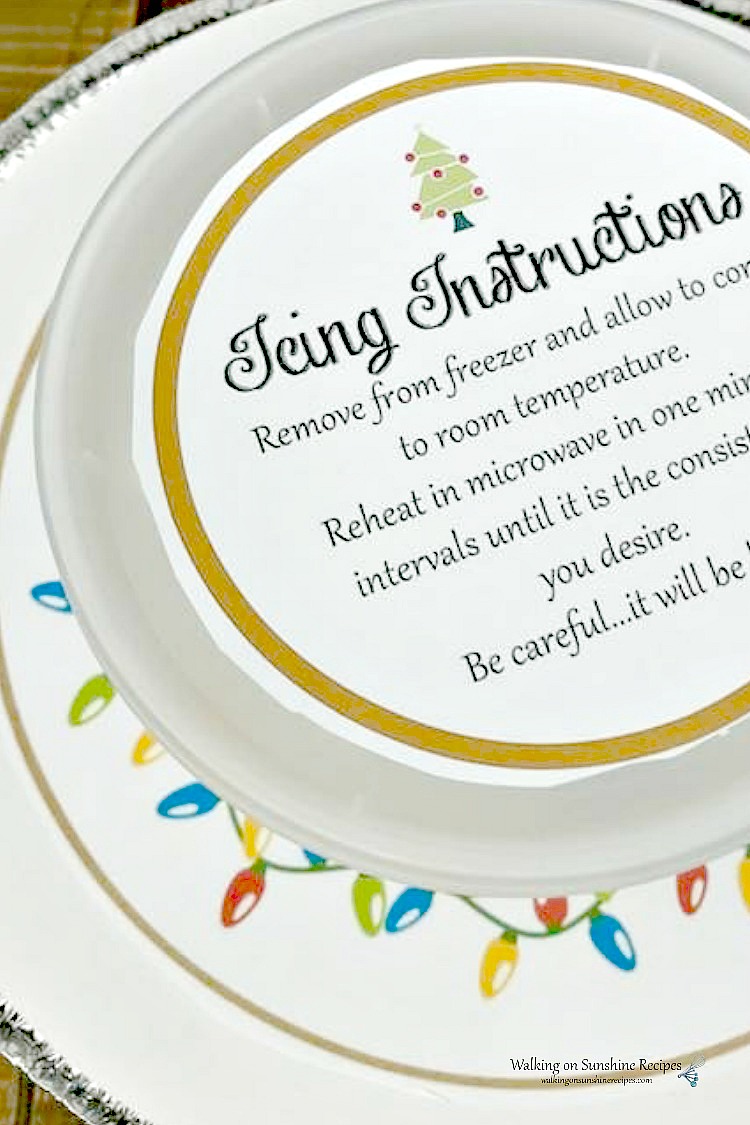 Did you make this recipe and give it as a gift? Leave a comment and let me know!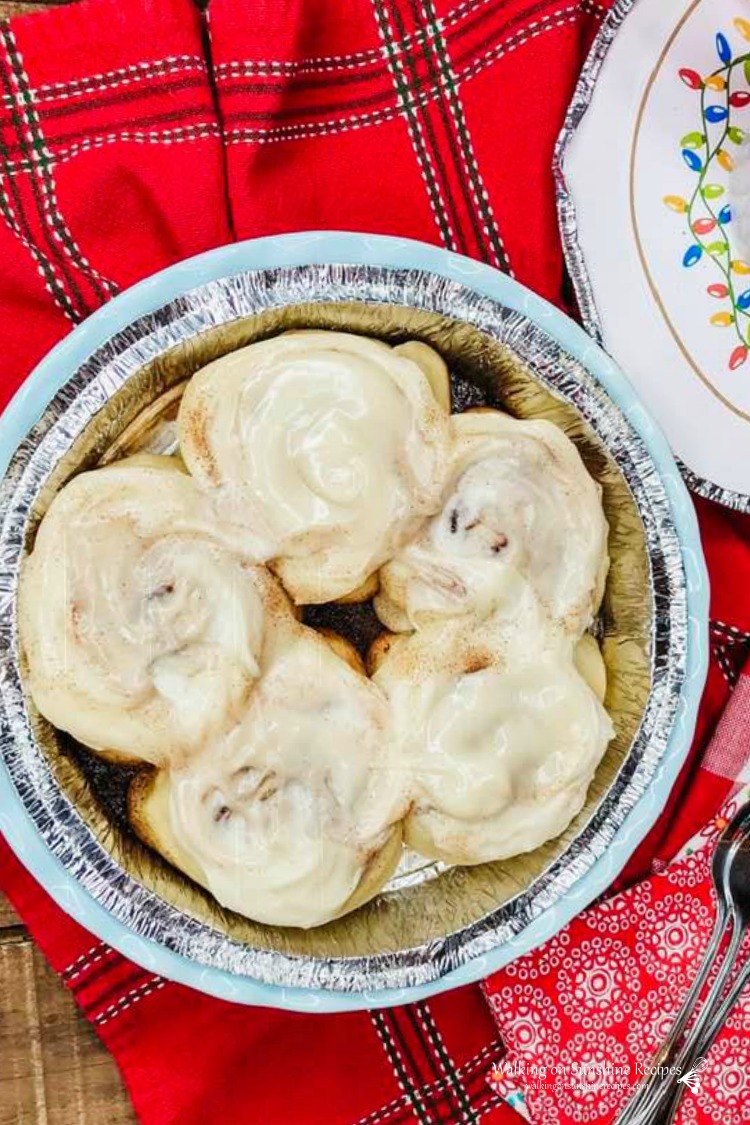 Looking for MORE Cinnamon Roll Breakfast Ideas?
More Information
More Information
More Information
More Information
More Information
More Information