What says Christmas more than candy canes? One way to bring the holiday spirit into your home is by baking these Christmas tree candy cane brownies!
This Christmas snack is a fun and festive recipe to make with your kids for the holidays. They make great gifts for teachers, neighbors or grandparents.
They are made with boxed brownies, candy canes and sprinkles, and are sure to get everyone in the holiday spirit.
Check out all the other Easy Desserts that you can make for the holidays!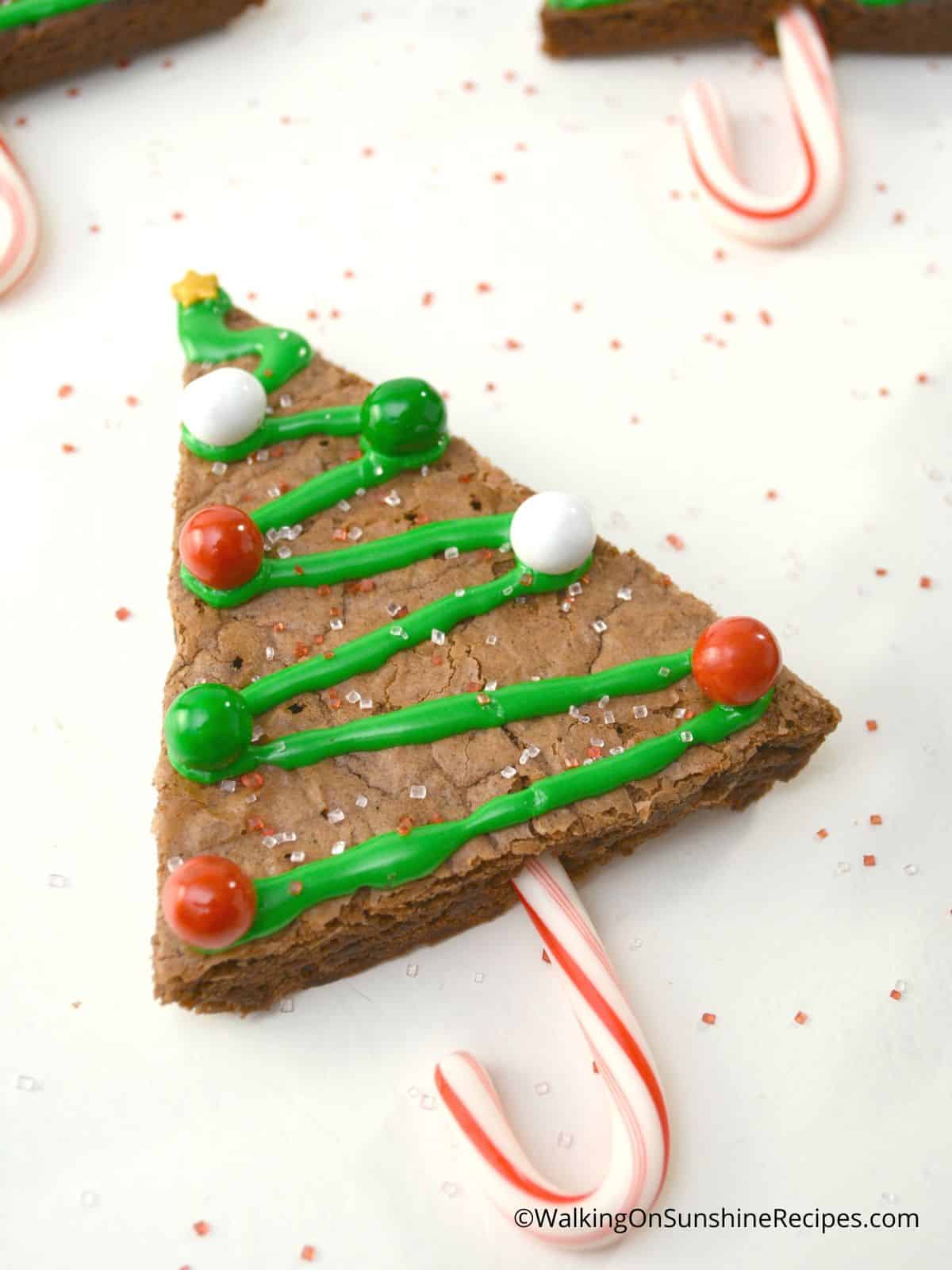 Christmas will be here before we know it! Here's another fun treat for the family. The kids are going to enjoy eating these fun candy cane Christmas trees and they'll also enjoy helping you make them.
I love creating Christmas snacks that kids can get in the kitchen to help you. They're creating memories while they help you bake something delicious.
If you're looking for more fun treats for the kids, try a few of my Reindeer Desserts that are very popular at this time of year as well.
Table of Contents
Looking for more Christmas Snack Recipes and Ideas? Check out my Christmas Snack Mix, Reindeer Cakes or my collection of Santa Reindeer Treats.
💭Christmas Snacks
Christmas is a time for indulgence, and what could be more indulgent than a rich, chocolatey brownie? Boxed brownie mix is a quick and easy way to make holiday treats or Reindeer Christmas Treats that will satisfy any sweet tooth.
Simply bake the brownies according to the package directions, then let them cool completely. Once cooled, cut the brownies into tree shapes using a sharp knife or a small cookie cutter.
Place the brownie on a sheet of wax paper, then frost with green frosting. Decorate with sprinkles and candy canes, then let the brownies set until the frosting is firm.
💭How to cut brownies into triangles with a knife
You can use your favorite homemade brownie recipe or you can grab a box of brownie mix, which is what I did with this recipe.
But how do you cut the brownies into triangles to look like a Christmas tree?
One of the simplest ways to cut brownies into Christmas trees is to start with baked, cooled brownies. Then cut the brownies into rectangles, then cut each rectangle diagonally into two triangles.
Place the triangles on a plate or platter, point side up, and decorate with frosting and sprinkles as desired. If you're feeling especially festive, you can even add a candy star to the top of each tree.
Mason Jar Gifts for the HolidaysClick HERE for More Information
💭How to cut brownies into triangles using a cookie cutter
For something a little different, you can also use a cookie cutter to cut out tree shapes from rolled-out brownie dough. Simply bake the brownies according to recipe instructions, then use a cookie cutter to cut out trees and transfer them to a wire rack to cool.
Once they're cooled, you can decorate them as desired. No matter which method you choose, christmas-tree shaped brownies are sure to be a hit!
3 Piece Christmas Cookie CuttersMore Information
Christmas tree Cookie CutterMore Information
💭Tips for Making Brownies
Here's a few tips to help you make these really cute treats:
Use a plastic knife to cut the brownies - that way you'll get a nice clean cut and no crumbs.
A serrated knife works great too.
Use shorter thicker candy canes if you want the brownies to look more like tree stumps or tree trunks.
Use mini candy canes if you want to give the kids a "handle" to hold the brownies while they're eating them.
Main Ingredients Needed
Betty Crocker Fudge Brownie MixMore Information
Betty Crocker Cookie Icing, GreenMore Information
Holiday Mix 6 cell SprinklesMore Information
Christmas sprinklesMore Information
NCS Gold Stars Edible SprinklesMore Information
Step-by-Step Directions
Step 1 | Bake the brownies
Once the brownies are done baking, set them aside to cool completely.
Using a plastic knife, cut your brownies into tree shaped triangles.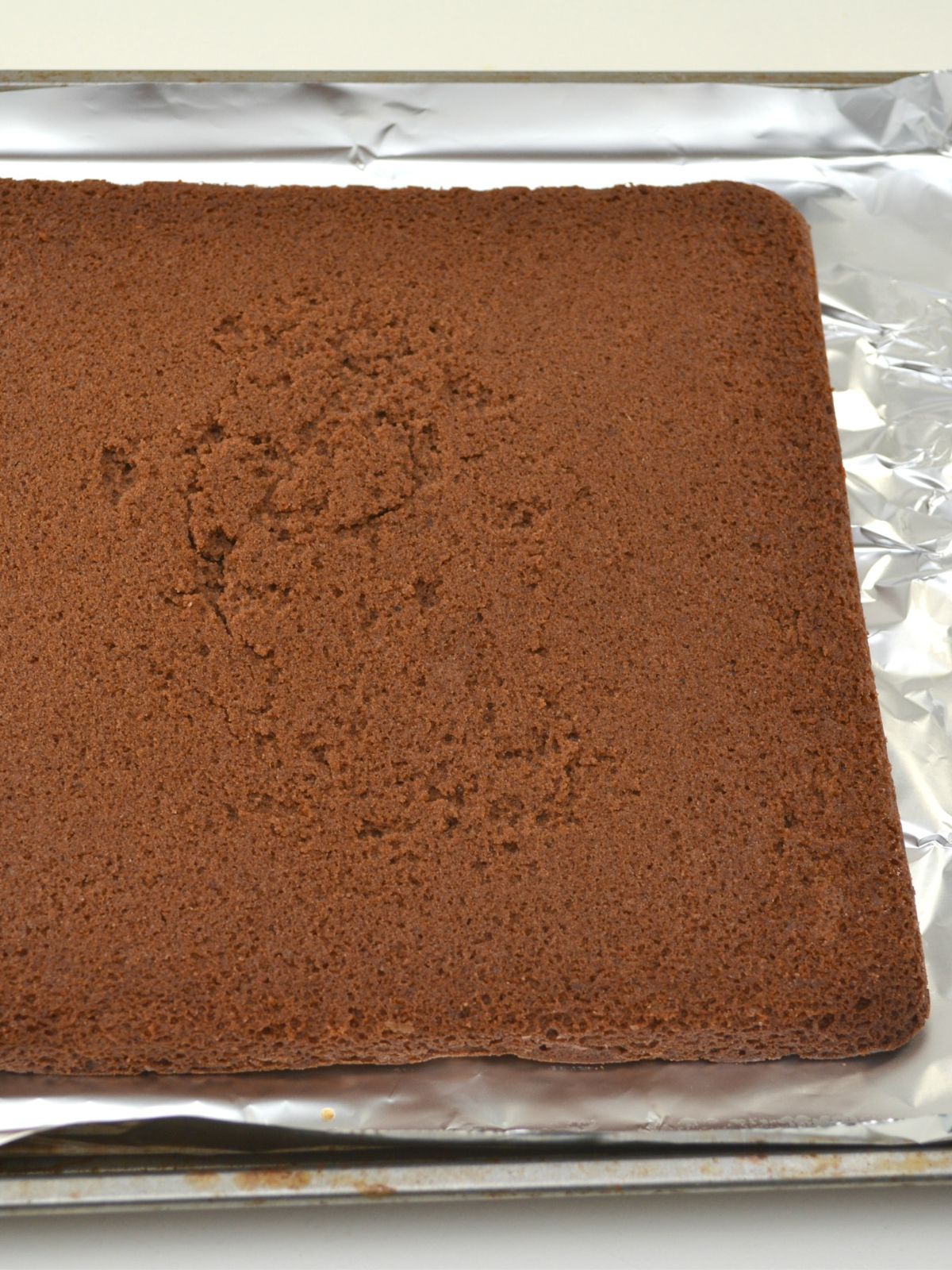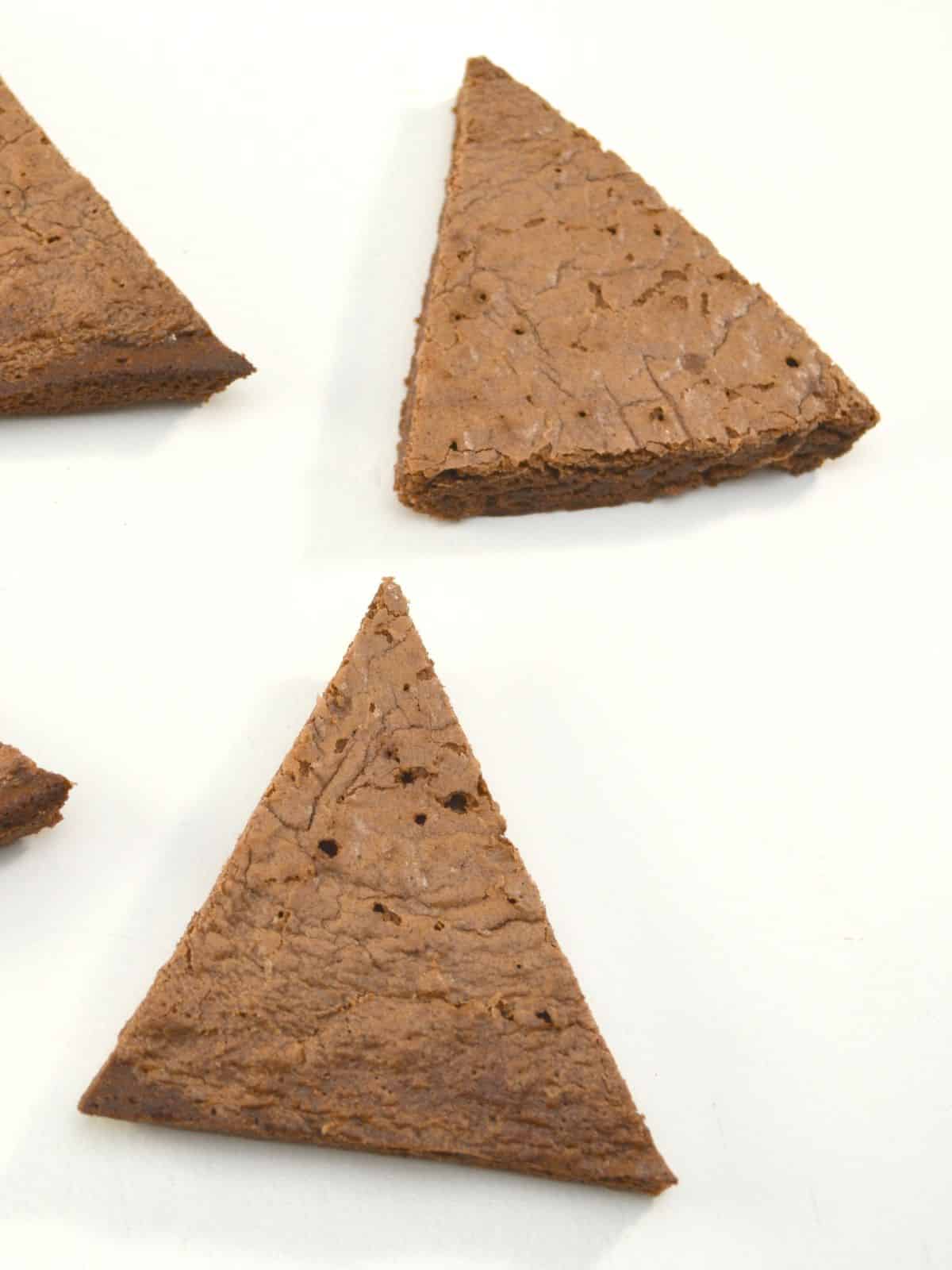 Step 2 | Decorate the Candy Cane Brownies
Now comes the fun part! Grab some green colored icing and add squiggly lines to the tops of the brownies.
Push the straight end of a mini candy cane into the bottom of each brownie tree with the curved end sticking out. You can use candy cane "sticks" if you want a thicker tree stump.
Place a star shaped cake sprinkle on the top of each brownie Christmas tree and decorate the trees with holiday colored candy pieces.
Add colorful sprinkles to complete the look of your decorated Christmas Tree Brownies.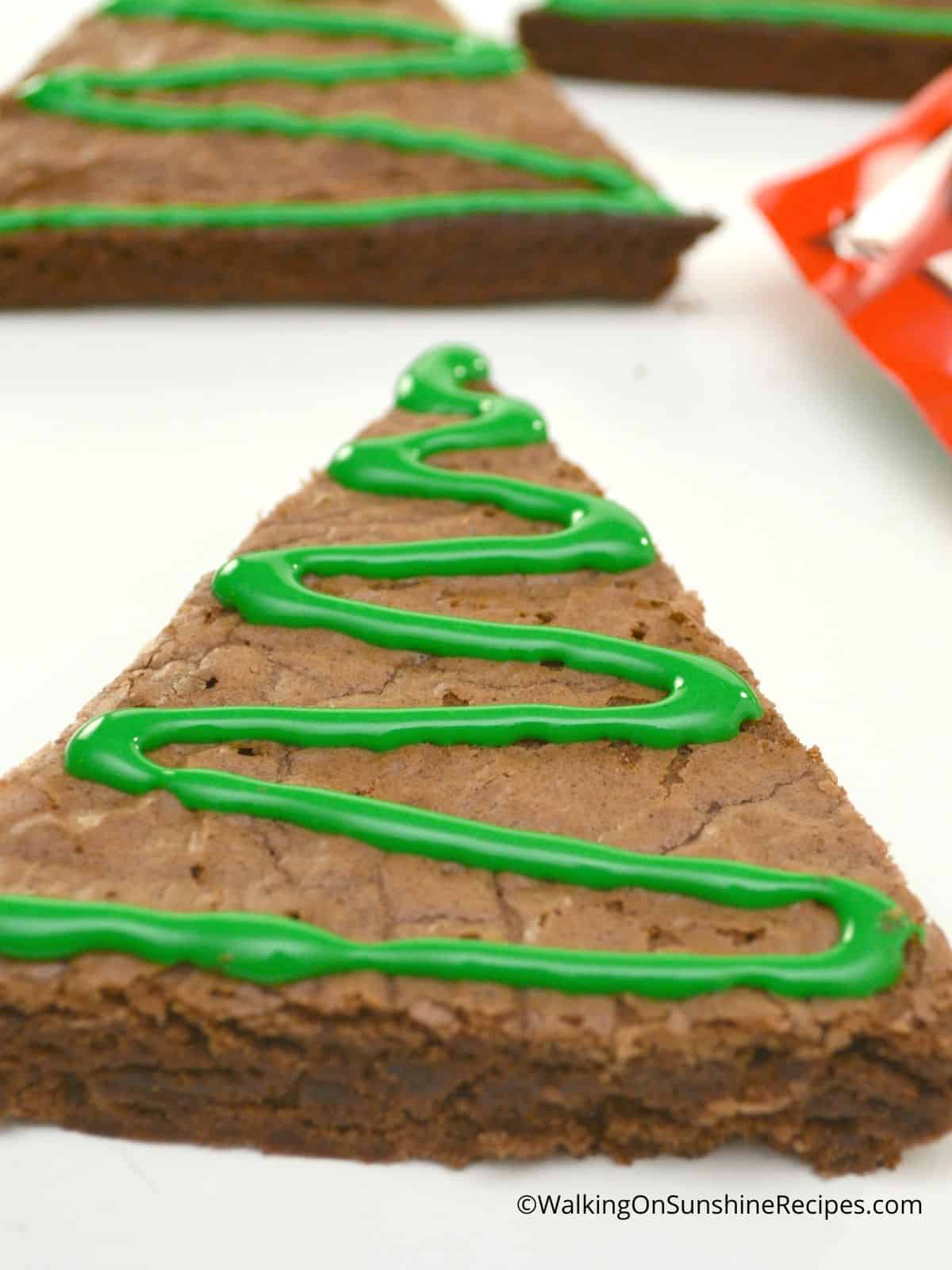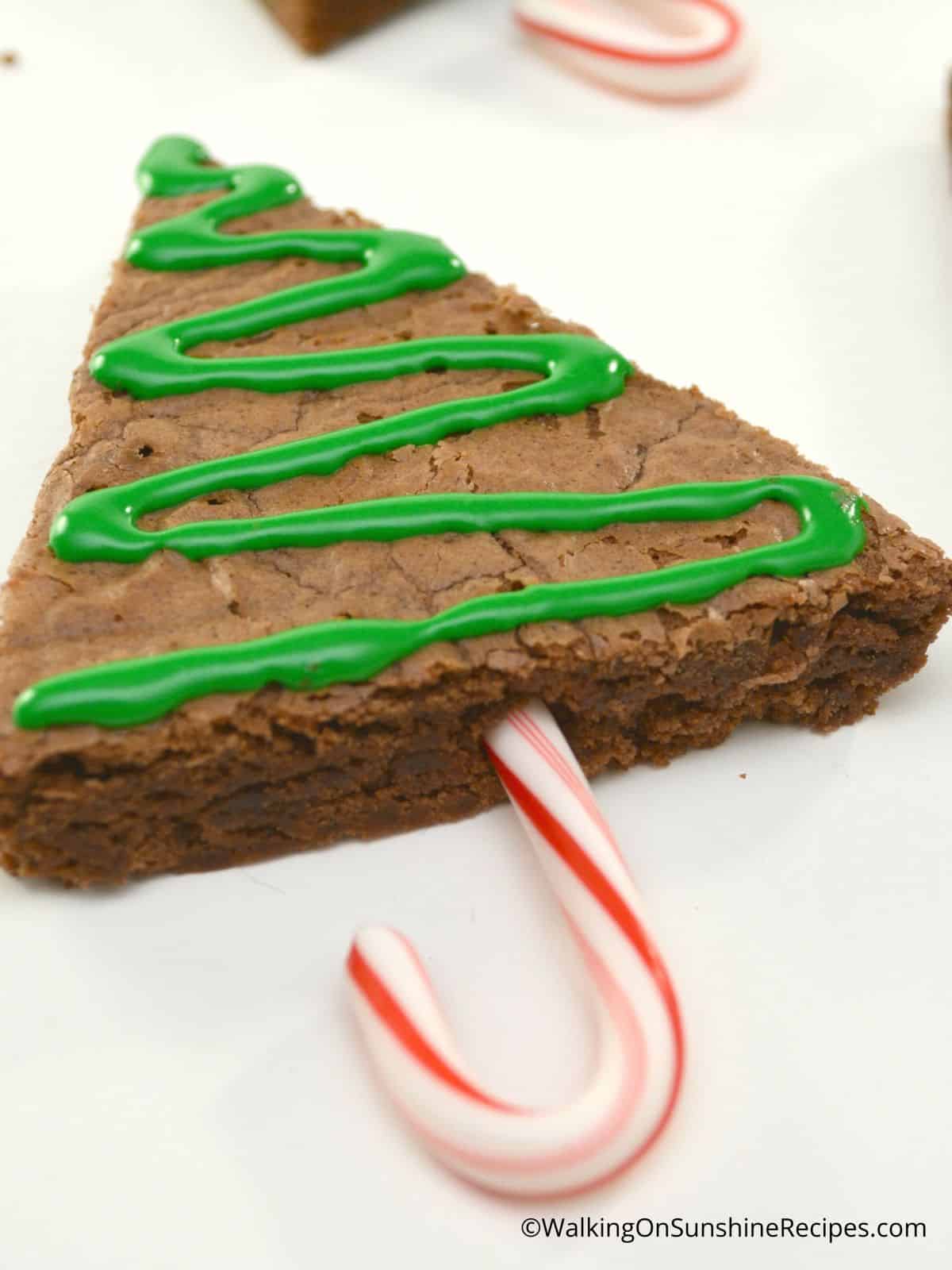 ⭐Before You Begin! If you make this recipe, please leave a review and star rating. This helps my business thrive and continue providing FREE recipes.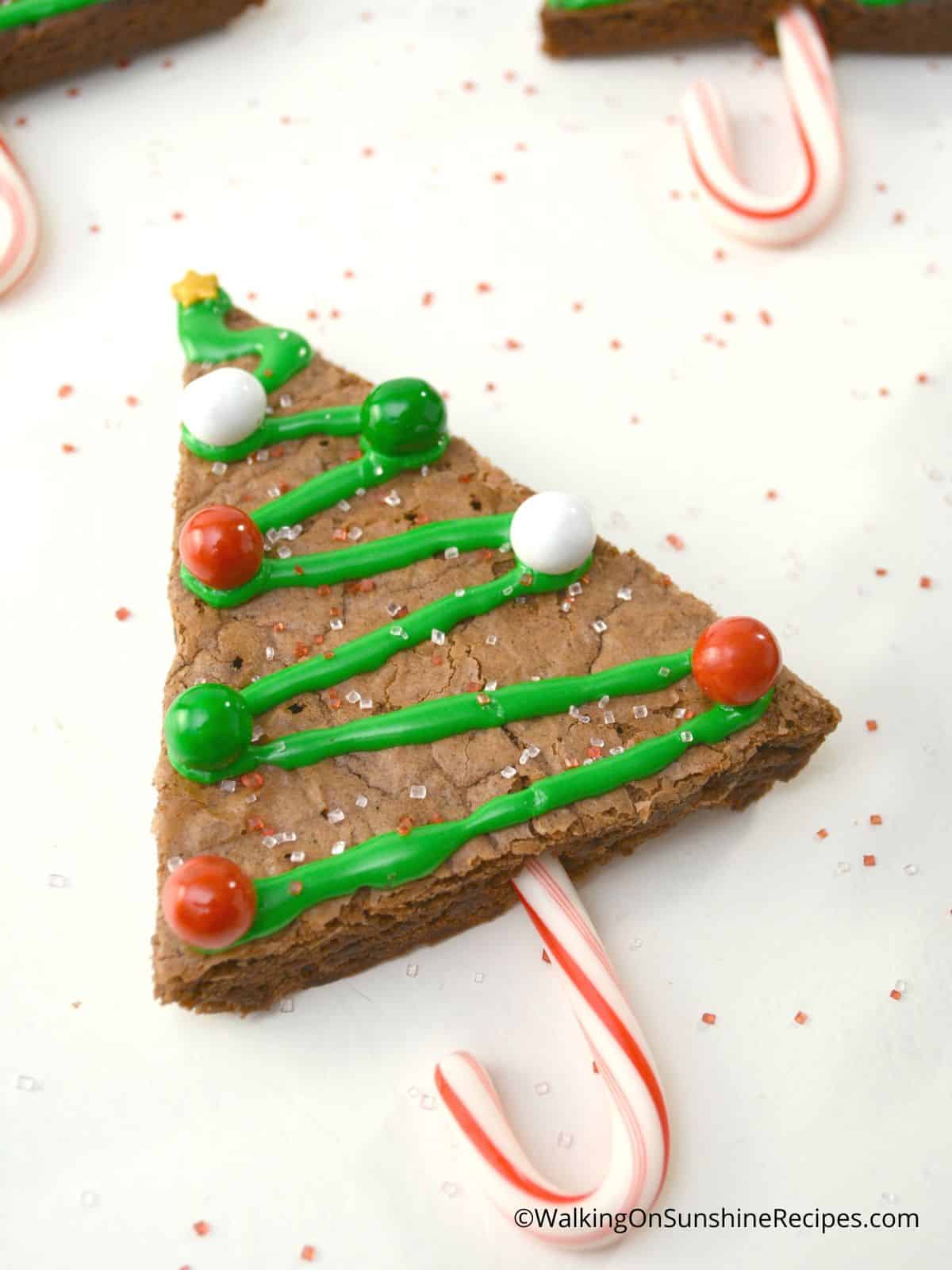 💭Storage Tips
Boxed brownies are a convenient way to enjoy this classic dessert without having to bake them from scratch. However, if you're not careful, they can quickly become dry and crumbly.
To keep your boxed brownies fresh and moist, start by storing them in a cool, dry place.
Ideally, they should be stored in an airtight container or wrapped tightly in plastic wrap. If the brownies are exposed to too much air, they will become hard and dry.
You can also try putting them in the refrigerator or freezer for extra protection. Just be sure to bring them back to room temperature before serving, as cold brownies can be very dense and hard to bite into.
💭How to pack brownies for gifts
One of the best things about brownies is that they are easy to package as gifts.
For example, boxed brownies can be wrapped in cellophane and tied with a bow.
If you want to get creative, you can cut the brownies into shape with cookie cutters.
Another option is to make brownie pops by inserting sticks into the brownies and dipping them in chocolate.
Whatever packaging you choose, make sure to include a note with your name so that the recipient can thank you for their delicious gift!
Check out my other recipe for Reindeer Brownies.
💭Give Baked Goodies as Christmas Gifts
Yield: 12 brownies depending on the size of triangle you cut.
Christmas Tree Candy Cane Brownies - The Perfect Last Minute Treat!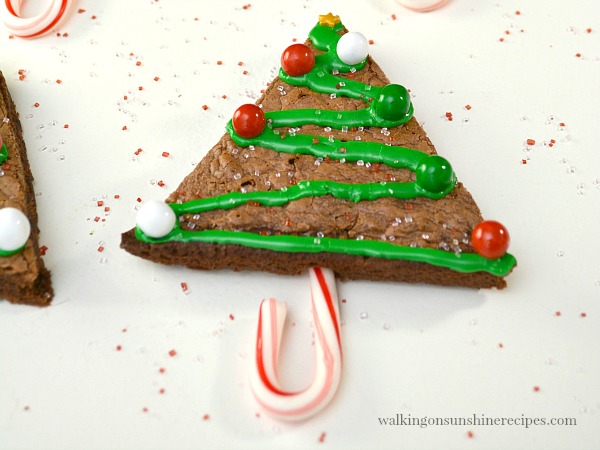 The perfect addition to any holiday gathering are these adorable Christmas Tree Brownies with candy canes as the trunks!
Ingredients
Brownie mix of your choice
Green decorator's icing
Holiday Candy Pieces
Star cake sprinkles - for the top of the tree
Holiday colored crystal sprinkles
Mini candy canes
Instructions
Begin by preparing your brownies in a square pan according to the package instructions. If you want to make them thicker, you can pour two batches of batter into a single pan and cook a bit longer. Be sure to spray your pan well so that the brownies will come out once cooled.
Once the brownies are done baking, set them aside to cool completely.
Turn the brownies over onto a sheet pan so that they come out smoothly.
Cut your brownies into tree shaped triangles.
Use the green decorator's icing to create green garland in a zigzag pattern across the front of each brownie tree, beginning at the bottom and working toward the top..
Push the straight end of a mini candy cane into the bottom of each brownie tree with the curved end sticking out.
Place a star shaped cake sprinkle on the top of each brownie Christmas tree and decorate the trees with holiday colored candy pieces.
Finish your brownie Christmas trees by adding some holiday colored crystal sprinkles.
Recommended Products
As an Amazon Associate and member of other affiliate programs, I earn from qualifying purchases.
Nutrition Information:
Yield:
12
Serving Size:
1
Amount Per Serving:
Calories:

54
Total Fat:

2g
Saturated Fat:

0g
Trans Fat:

0g
Unsaturated Fat:

2g
Cholesterol:

4mg
Sodium:

28mg
Carbohydrates:

9g
Fiber:

0g
Sugar:

6g
Protein:

0g
The nutrition information is calculated automatically. I cannot guarantee its accuracy. If this data is important to you, please verify with your trusted nutrition calculator.
This recipe has been updated since it first appeared in 2017 with new photos, information and a new printable recipe card that includes nutritional information. I hope you enjoy the updates as much as I enjoyed working on them!