12 Days of Christmas Celebration continues with 15 adorable Santa's Reindeer Treats featured on the blog today!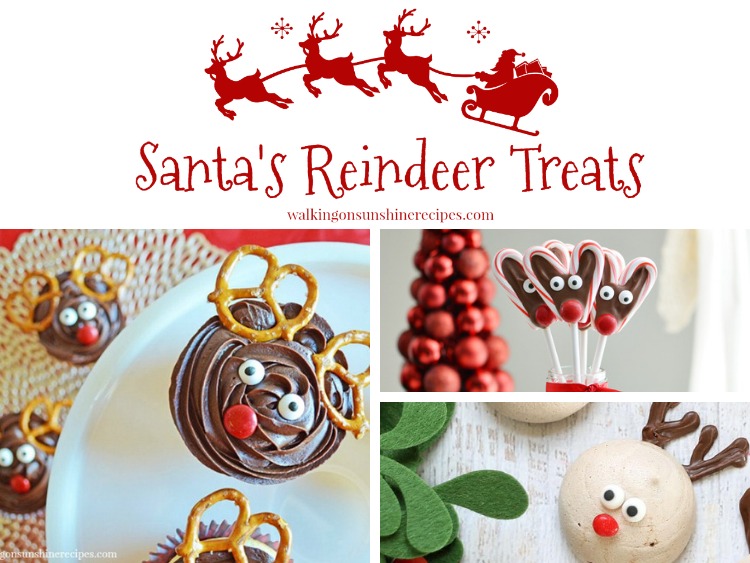 Santa's Reindeer Treats
Today's 12 Days of Christmas Celebration is all about these incredibly cute Santa's Reindeer Treats!
What is that I hear? Santa's reindeer! Well they might not be dancing on our roof tops just yet, but they will be flying through the night sky before we know it! Are your little ones obsessed with everything Rudolph and friend's? I know mine are.
We ALWAYS have to be sure to leave Rudolph and his friends a treat, but this year I was on the hunt for reindeer treats for the kiddos. Boy did I hit the mother load of reindeer treats! Everything from Candy Cane Reindeer Pops to Rudolph cupcakes. This list of Santa's Reindeer Treats is sure to put a smile on your little ones face.
Christmas Treats for Parties
Are you in charge of this years Christmas classroom party? Have no fear I've got you covered. Some of these treats are super easy to pull off, but you will have all the other classroom moms thinking you spent hours in the kitchen. It can be out secret!

What are some of your favorite Christmas treats? Which one of these treats do you plan to pull off for the kiddos? Tell me below!
Also, be sure to share this list with your friends that you know need a little inspiration for Christmas this year. Be sure to keep and eye out on the blog for more great holiday treats as our 12 Days of Christmas Celebration continues tomorrow!
Santa's Reindeer Treats
There are 15 treats included today. All you need to do is locate the title below that goes along with the photo of the reindeer treat you like! Easy, right? Click on the title for more information and to get the recipe.