Christmas is just around the corner, and that means it's time to start thinking about what to leave out for Santa on Christmas Eve. This collection of 15 Santa Reindeer Treats are sure to put a smile on everyone's face!
These recipes are easy enough for kids to help with, and they're sure to please Saint Nick! Try out one of these recipes this year and see how excited your kids are when they wake up on Christmas morning and find a special snack waiting for them from Santa!
Check out all the other Reindeer Desserts for even more delicious holiday treats for Santa!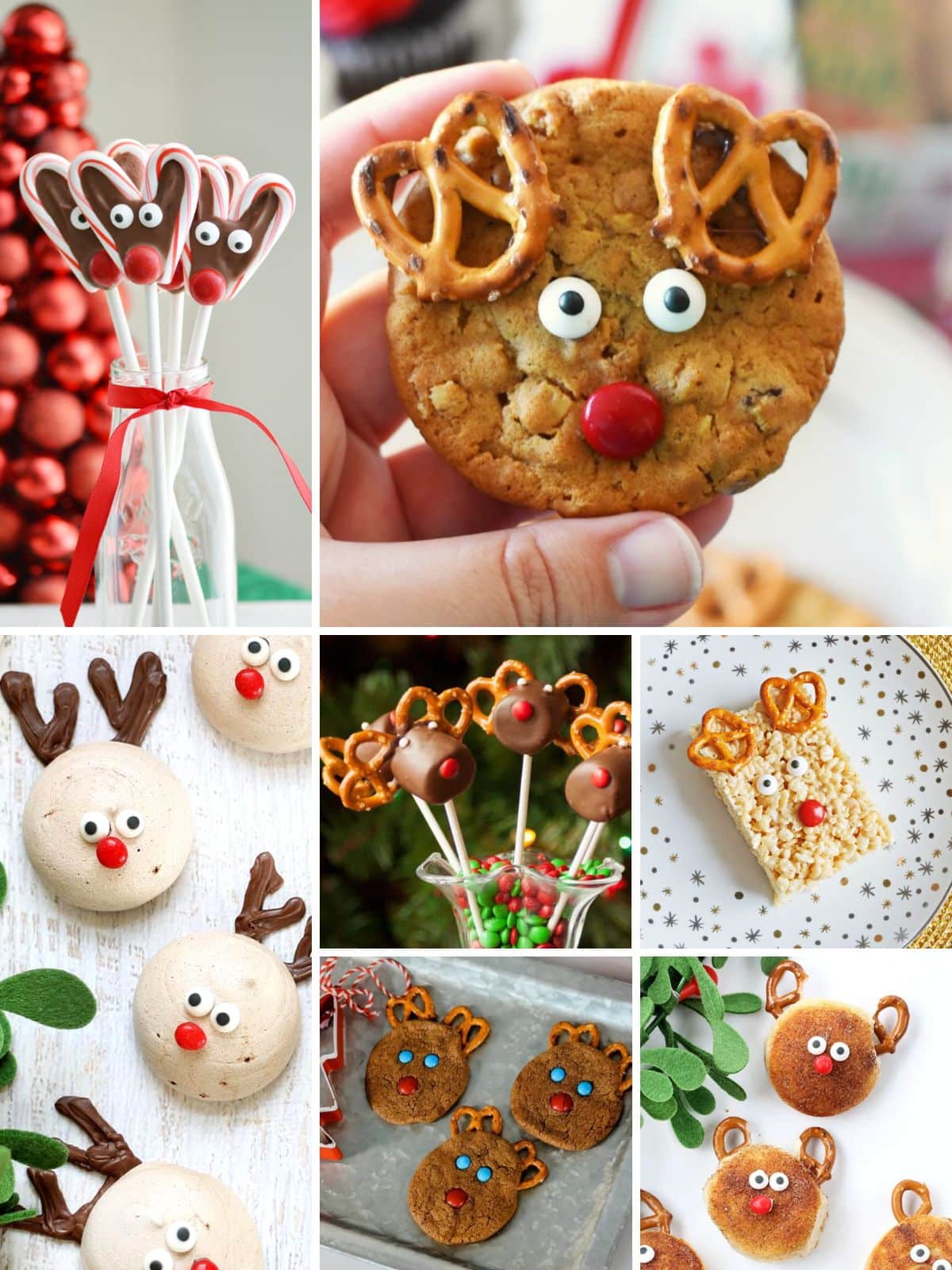 What is that I hear? Santa's reindeer! Well they might not be dancing on our roof tops just yet, but they will be flying through the night sky before we know it!
This year, why not make something delicious and leave out a plate of Christmas Cookies for Santa on Christmas Eve?
There are lots of different, easy cookie recipes, Reindeer Treats and snack recipes you can try included in this collection, and your kids will love getting involved in the process. Plus, it's a great way to get them excited about Christmas.
Table of Contents
Looking for more Easy Desserts for the holidays? Try my Reindeer Cupcake Ideas, Reindeer Oreo Truffles or my Reindeer Hershey Kiss Pretzels.
💭Treats for Santa's Reindeer
The tradition of leaving cookies and milk out for Santa on Christmas Eve is a long-standing one that has been enjoyed by children around the world. The custom likely has its roots in the idea of providing a snack for Santa as he makes his rounds on Christmas Eve delivering presents to good boys and girls.
Over the years, the tradition has evolved to include leaving out yummy cookies and milk specifically for Santa. Many families leave out a plate of cookies and a glass of milk on Christmas Eve, often alongside a note thanking Santa for his gifts.
Some families even go to the trouble of creating fun placemats for Santa with spots for the cookies and milk. Cute ideas!
For many children, this is an exciting part of Christmas Eve, as they eagerly await Santa's arrival and hope to catch a glimpse of him as he enjoys their tasty treats.
Regardless of its origins, the tradition of leaving cookies and milk out for Santa on Christmas Eve is one that is sure to continue for many years to come.
Shortcuts to a Magical Holiday BreakfastMore Information
💭What are Santa's reindeer favorite treats
Santa's reindeer are known for being able to fly around the world in a single night. But what gives them the energy to do this?
According to Santa, it's their favorite treats: candy canes and carrots. The candy canes give the reindeer a sugary boost that helps them fly faster. While the carrots provide them with essential nutrients that help them stay strong.
Of course, Santa always makes sure to leave some extra treats for the reindeer just in case they need a little pick-me-up during their long journey.
There are 15 treats included today. I hope you'll be able to find something new to make with your kids because Christmas is all about creating memories!
🛒Helpful Kitchen Tools
Cookies and Milk for Santa PlateMore Information
Santa's Christmas Cookie SetMore Information
Christmas Santa Cookies TrayMore Information
⭐Before You Begin! If you make this recipe, please leave a review and star rating. This helps my business thrive and continue providing FREE recipes.
15 Santa Reindeer Treats
This list of Santa Reindeer Treats is sure to put a smile on your little ones face.
This recipe has been updated since it first appeared in 2018. I hope you enjoy the updates as much as I enjoyed working on them!