Make something easy and delicious for brunch with this collection of cream cheese puff pastry recipes. Puff pastry recipes always turn out warm, buttery and flaky and ready to enjoy fast.
Included in this list are everyone's favorite savory and sweet recipes like Nutella Turnovers, Chocolate Raspberry Turnovers and Pinwheels with Bacon, Cream Cheese and Cheddar.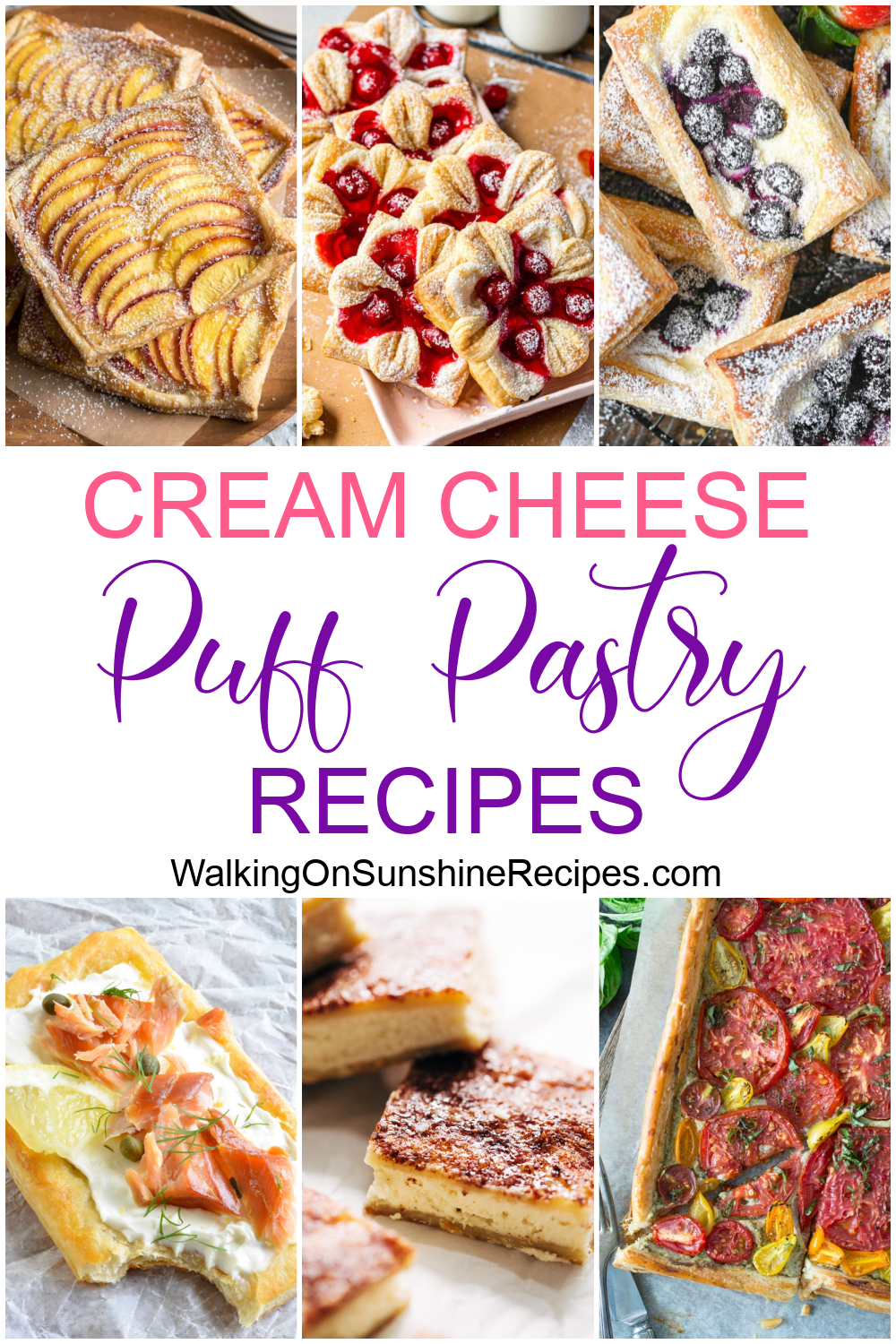 Ever since I was a little girl, I have loved danish...especially the ones filled with sweetened cream cheese. Back then the only danish we had was from the German bakery on Jamaica Avenue in Queens, NY.
Fast forward way too many years and I can now create delicious sweet and savory pastries using sheets of light, crispy puff pastry.
This collection was inspired by my Sweet Puff Pastry Recipes and my Dessert Puff Pastry Recipes.
Table of Contents
How to Use Puff Pastry Sheets
Puff pastry sheets are really very easy to use. You can use them bake a tart or individual pastries like my Puff Pastry Cream Cheese. I've even used pastry sheets to bake Puff Pastry Christmas Cookies that are dipped in melted chocolate and fun sprinkles.
Most recipes bake at 425°F for about 10 to 12 minutes or until the pastry starts to puff up and turn golden brown. Some recipes call for prebaking like my Zucchini Puff Pastry Tart. For those recipes, you'll have to prick the surface of the dough so it doesn't puff up too much during the prebaking.
Tips for making Puff Pastry Cream Cheese Danish
Here are a few baking tips so your danish come out perfect every time:
Be careful when adding the sweetened cream cheese to the puff pastry. Don't overfill the puff pastry as it might overflow when baking.
Leave a small border around the edge of the puff pastry will help the filling stay in place.
You can add canned fruit on top of the cream cheese filling either before or after baking.
Fresh fruit should be added after baking like I do with my Puff Pastry with Cream Cheese and Fruit recipe.
Helpful Kitchen Tools
This post contains affiliate links. As an Amazon Associate, I earn from qualifying purchases. For more information, click here.
More Information
More Information
More Information
More Information
⭐Before You Begin! If you make this recipe, please leave a review and star rating. This helps my business thrive and continue providing FREE recipes.
Cream Cheese Puff Pastry Recipes