While sweet puff pastry recipes may appear to be difficult to prepare, today I'm sharing 17 that are surprisingly simple to prepare. All you really need to know how to do is roll, stuff, twi
This collection of puff pastry recipes includes croissants, turnovers, donuts, cookies and my favorite Napoleons. Most of them require very little effort but produce delicious desserts.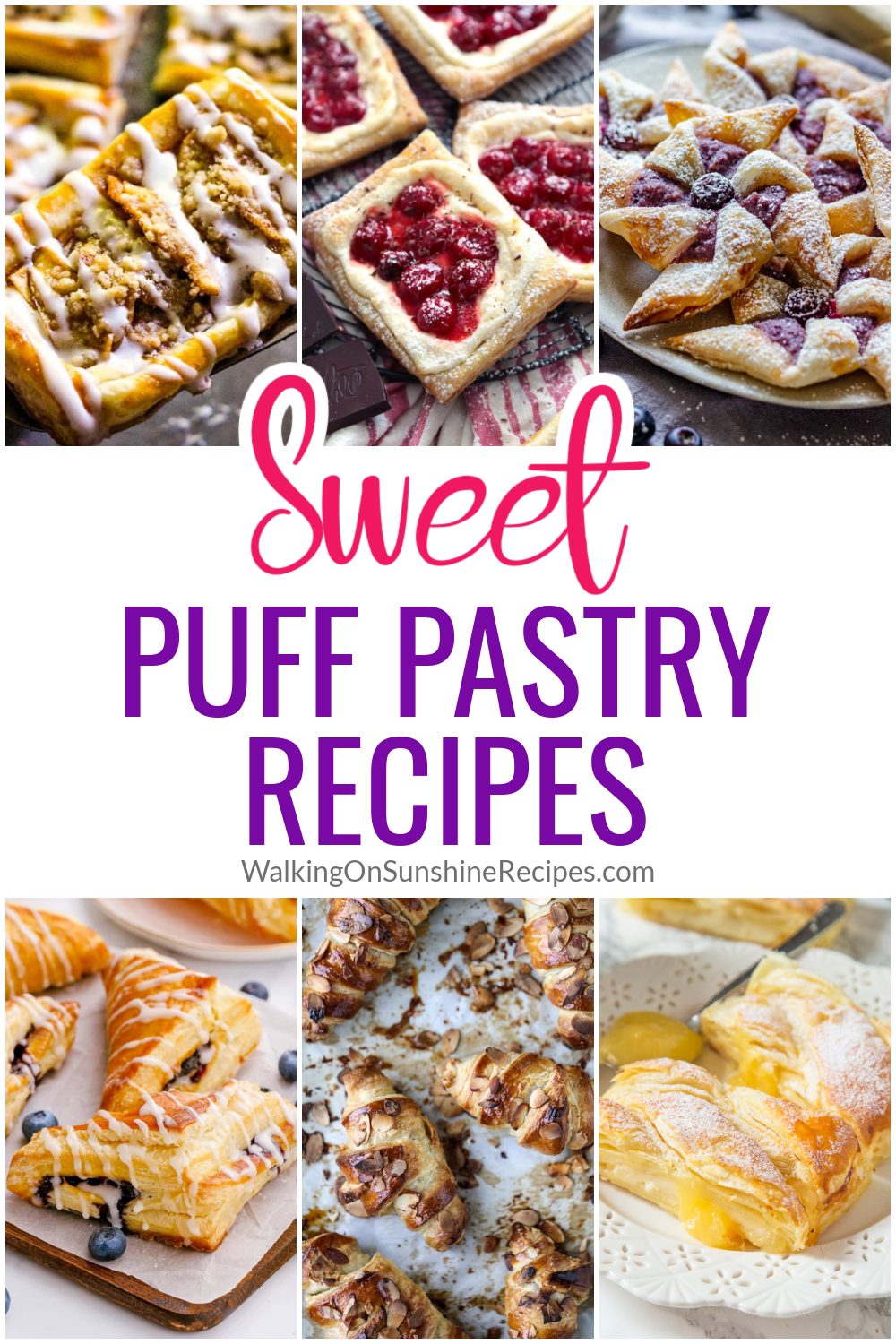 They are so many ways you can use puff pastry. You can use it for sweet recipes, savory recipes, appetizers and even entrees.
Some people think the only way to create these beautiful desserts is to make homemade puff pastry, when in fact most homecooks use the ready-to-go frozen puff pastry you can find in your local grocery store.
A few of our favorite easy desserts made with puff pastry are Puff Pastry Christmas Cookies, Puff Pastry Valentine's Day Hearts and Puff Pastry Apple Tart.
Table of Contents
Tips for Baking with Puff Pastry
There's one golden rule that everyone who bakin sweet puff pastry recipes needs to know is to keep the dough cold. While you're preparing the dessert and the dough starts to get warm, place it on a baking tray and put it back in the refrigerator or even the freezer to chill it again.
Keeping the dough cold will help keep the butter in those layers of dough. When you bake the pastry, the butter will melt more slowly which will help the layers of dough puff up so beautifully.
Should you chill puff pastry before baking?
Puff pastry should be at room temperature while preparing the recipe, but chilled before baking. Place the recipe in the refrigerator for about 30 minutes to chill the dough and then continuing with the baking process.
Helpful Kitchen Tools
This post contains affiliate links. As an Amazon Associate, I earn from qualifying purchases. For more information, click here.
More Information
More Information
More Information
More Information
⭐Before You Begin! If you make this recipe, please leave a review and star rating. This helps my business thrive and continue providing FREE recipes.
Sweet Puff Pastry Recipes