Crescent rolls might seem like an odd ingredient for desserts, but trust me, they work! In this post, I'll show you a few recipes for desserts with crescent rolls that are creative and delicious.
Whether you're looking for a quick and easy dessert or something a little more special, these recipes will satisfy your sweet tooth. They can be used to create all sorts of sweet treats, from simple cinnamon rolls to blueberry turnovers and so much more!
Don't forget to check out all the other crescent roll recipes that are just as yummy as this collection.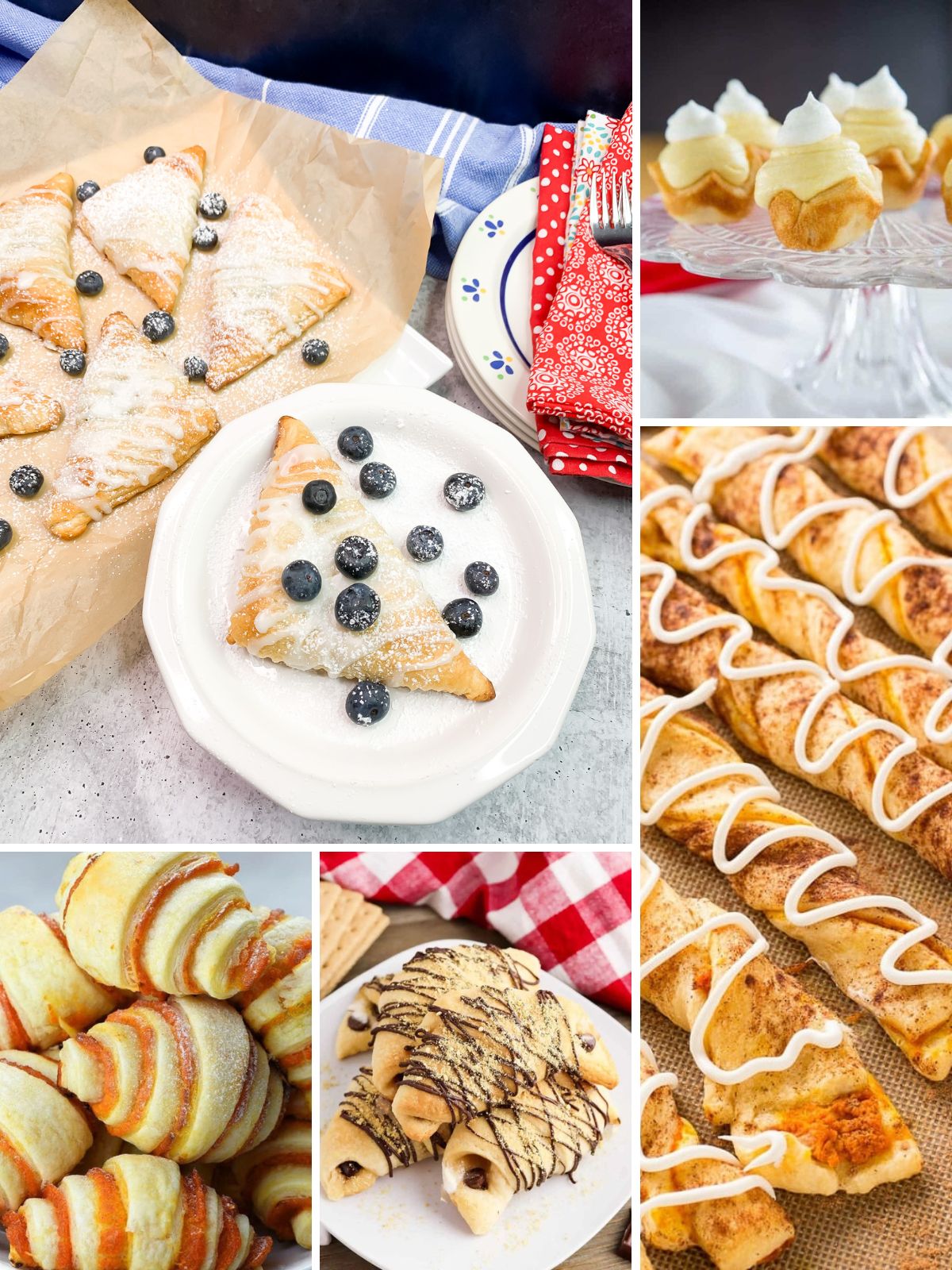 Let me help you transform that pack of refrigerator dough at the back of your refrigerator into something delicious with this collection of crescent roll desserts.
Crescent roll dough is a type of pre-made pastry dough that is often used for making croissants, blueberry turnovers, and other sweet or savory dishes like my crescent roll ham and cheese bake. The dough is made from flour, water, butter, sugar, and yeast, and it typically comes in a can or tube.
While crescent roll dough is convenient for busy cooks, it can also be used to make a variety of other dishes. For example, the dough can be formed into individual rolls and topped with cinnamon and sugar. It can also be used to make pizza crust, calzones, or even baked chicken pot pie.
With a little imagination, the possibilities are endless. So next time you're at the grocery store, pick up a can of crescent roll dough and get creative in the kitchen.
Looking for more Easy Desserts that use crescent rolls? Try my Pumpkin Pie Crescent Rolls, Apple Dumplings or my Fruit Tart.
Table of Contents
Can I use Pillsbury crescent rolls for puff pastry?
Pillsbury crescent rolls can be used as a quick and easy substitute for puff pastry. While the texture will not be quite the same, the crescent rolls will still create a flaky and light crust.
For best results, roll out the crescent rolls into a large rectangle before using them to line a pie dish or tart pan. Be sure to press the seams together well so that they do not come apart during baking. Once filled and baked, the crescent rolls will puff up slightly, creating a delicious and impressive pastry.
Tips for Baking with Crescent Rolls
Crescent roll dough is a versatile ingredient that can be used in all sorts of recipes. Here are some tips for using it:
When baking crescent rolls, brush the dough with an egg wash before baking to help them brown.
To make cream puffs, fill crescent rolls with whipped cream or custard and bake until golden brown.
Crescent rolls can also be filled with savory ingredients like chicken and broccoli for a quick and easy dinner.
Try using crescent rolls to make mini pizzas by topping them with sauce and your favorite toppings.
With these tips, you can use crescent roll dough to create all sorts of delicious recipes. So get creative and see what you can come up with!
Helpful Kitchen Tools
This post contains affiliate links. That means that if you make a purchase after clicking on a link I may earn a small commission at no extra cost to you. For more information, click here.
More Information
More Information
More Information
More Information
Tried any of these recipes? Let me know in the comments!
Desserts with Crescent Rolls
Included in this collection of desserts with crescent rolls are simple cinnamon rolls, s'mores, pumpkin twists, blueberry turnovers and more!