Easter Table Settings and ideas for setting a pretty table are being shared today!  Tulips, daffodils, baskets, decorations, centerpieces and napkin ring holders are all being featured to help us all set a pretty table for Easter Sunday dinner.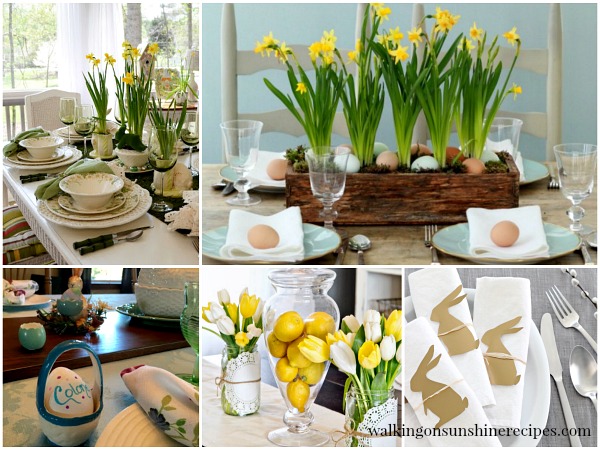 It's never too early to start thinking about Easter Table Settings for Easter Sunday!
If you've been following my blog for any amount of time, you'll know that the answer for me is yes! I do love a pretty table.  After all, we eat with our eyes first!,p>
Easter is late this year and that's really okay with me. I'm hoping the weather will finally cooperate and warm up for Easter Sunday.
When I get ready to entertain my family and friends for Easter I always check out what my blogging friends are doing and of course Pinterest.  There are so many great ideas for Easter Table Settings!
It's very easy for me and for you to incorporate some of these great ideas into what works for your home. Here is a great collection of Easter Table Setting ideas that can easily be incorporated into your decorating for Easter this year.
There's ideas for tablescapes, decorations, centerpieces and napkin ring holders!
Here's what our table looked like last year. I like the jellybeans in the glass jars a lot!  And I still love the egg place card holders I created.  They were an easy and inexpensive project.
Inspiration for Easter Tablescapes