Easy and Delicious Smithfield BBQ Ribs recipe are one of my son's favorite meals!  They're easy to make because they cook up nice and tender in the crock pot and then get placed on the grill for all the yummy barbecue goodness!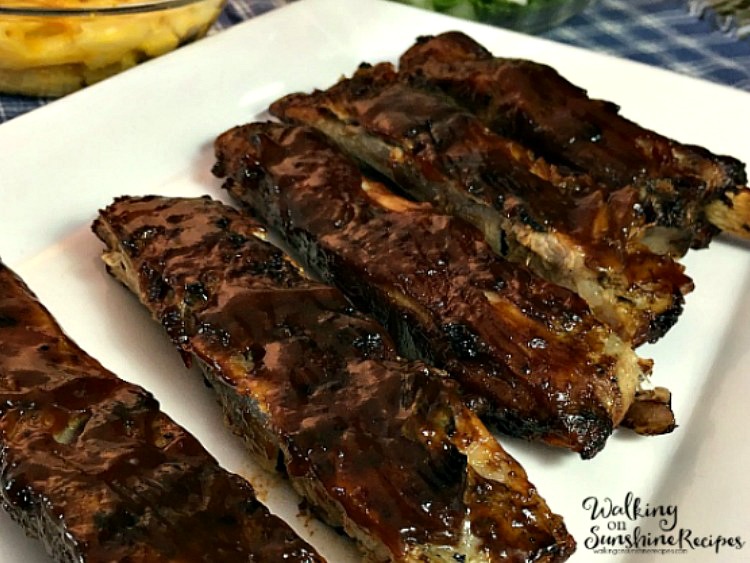 Smithfield BBQ Ribs Recipe
My son, Michael's, favorite meal is BBQ Ribs.  I love this recipe I created using Smithfield BBQ Ribs because it's easy and makes a great homecoming meal for my son!
Does your child have a favorite meal? That one meal you know they love more than anything? My son, Michael, does.  He loves BBQ ribs and I love making them for him. These ribs are delicious and unlike some recipes, this recipe isn't hard to make. These ribs start out in the slow cooker and you finish them on the grill. How easy is that?
This shop has been compensated by Collective Bias, Inc. and its advertiser. All opinions are mine alone. 
Our son just finished his freshman year at Liberty University and I wanted to make him a special meal to celebrate the great year he had.
Michael on his first day of classes last fall.
About a week before Michael came home I went to Walmart to purchase the ribs.  Yes, Walmart.  Walmart carries Smithfield® pork ribs and they're delicious.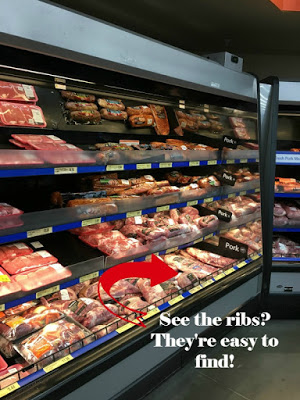 Smithfield® Ribs are extra-tender and juicy and are your secret weapon for making great ribs on the grill!  There's no need to be afraid that the ribs are going to be tough or tasteless!  I'm going to share with you my secret to having ribs turn out tender and juicy every time!
I always cook my ribs FIRST in the slow cooker the day before and then finish them up on the grill right before dinner. AND I always use a can of soda while the ribs are cooking in the slow cooker.  Smithfield®  Ribs are a perfect, easy meal solution for any night of the week!
Cook the Ribs in the Slow Cooker
I like to cook my ribs in the slow cooker FIRST.  Then when they're cooked and tender, put them on the grill to get that great barbecue taste and grill marks.
Now, I know they don't look that good right now.  But just wait until you add the BBQ sauce and then finish cooking them on the grill.
They'll be amazing…trust me!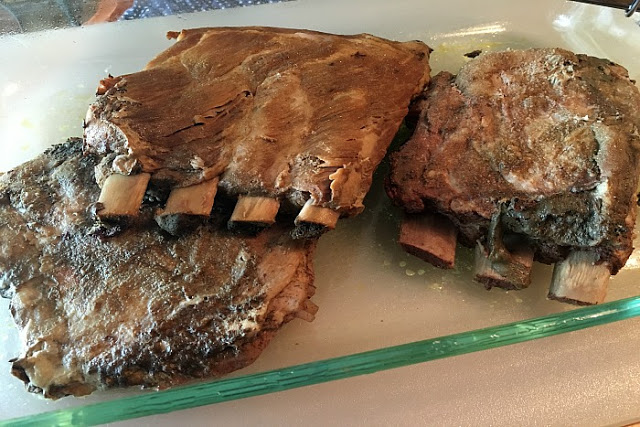 Select your favorite BBQ sauce to use.  I always like to use a sweet flavored one.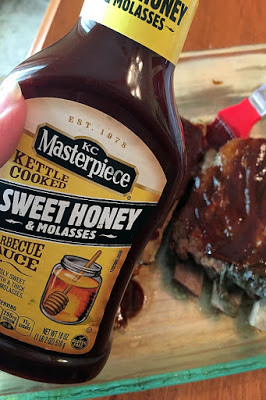 Finish Cooking the Ribs on the Grill
We had plans to go to the lake we live near for a barbecue but it rained all day. Just as we were getting ready to put the ribs on our little portable grill, the sun came out.  Grilling the ribs on charcoal gives the ribs a really great taste too.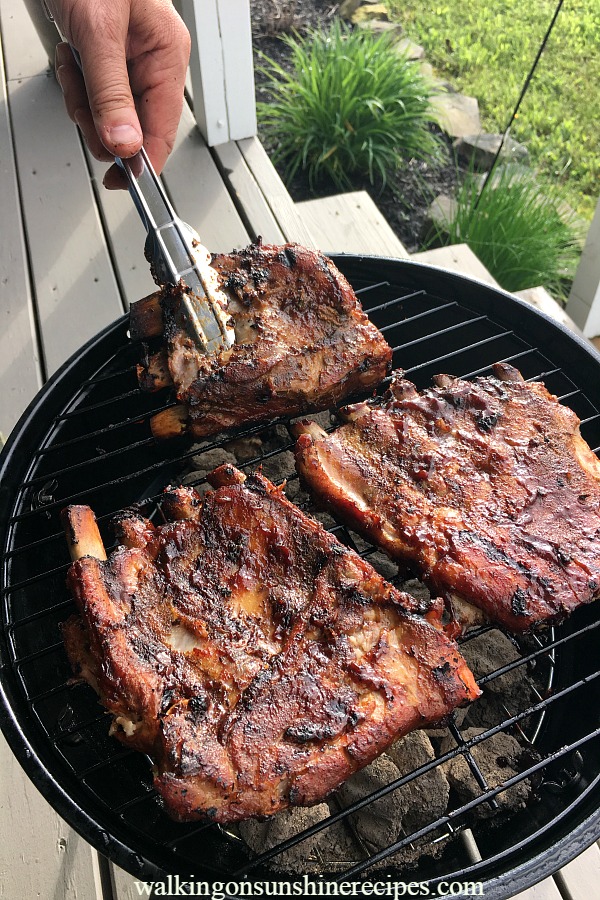 Michael enjoyed his plate of ribs, along with macaroni and cheese and a big tossed salad.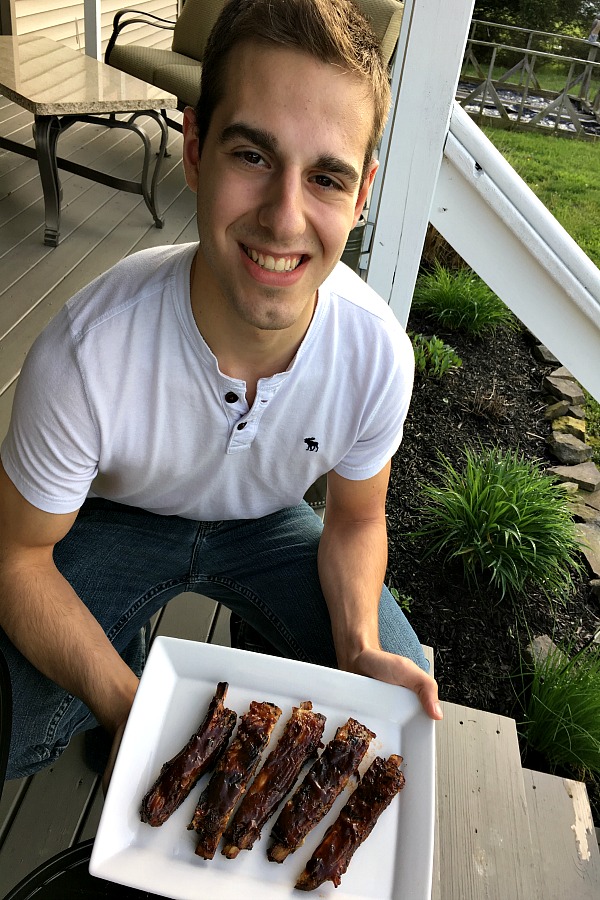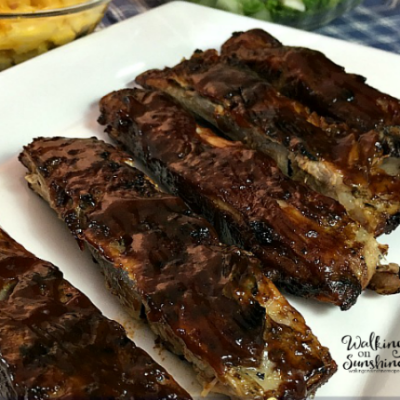 Crock Pot BBQ Ribs
Crock Pot BBQ Ribs are easy tender and delicious. They start off cooking in the crock pot and then finish up on the grill to get all that barbecue yumminess!
Ingredients
1 to 2

tbsp

seasoned salt or your favorite BBQ rub

1

can

cola or ginger ale

1

package Smithfield® Extra Tender Ribs

BBQ sauce
Instructions
Sprinkle the seasoned salt or your favorite BBQ rub all over the ribs.

Place the ribs in the slow cooker.

Empty the can of soda on top of the ribs.

Cook on low 6 hours or on high 4 hours or until the ribs are fork tender.

The ribs can now be refrigerated overnight before finishing cooking on the grill.

Before placing the ribs on the grill, baste with your favorite BBQ sauce and grill for about 8 to ten minutes on each side.

Grill until warmed through and slightly charred.