What could be more festive than Easy Christmas Cookies as to give as Gifts this holiday season? With a little bit of planning and preparation, you can create the perfect cookies for your loved ones.
From classic favorites like sugar cookies and gingerbread men to creative recipes like chocolate thumbprint shortbread and chocolate peanut butter cookies, there's a recipe for everyone on your list. Your friends and family will love receiving these delicious gifts.
Check out all the other Christmas Cookies to bake for your family this holiday season.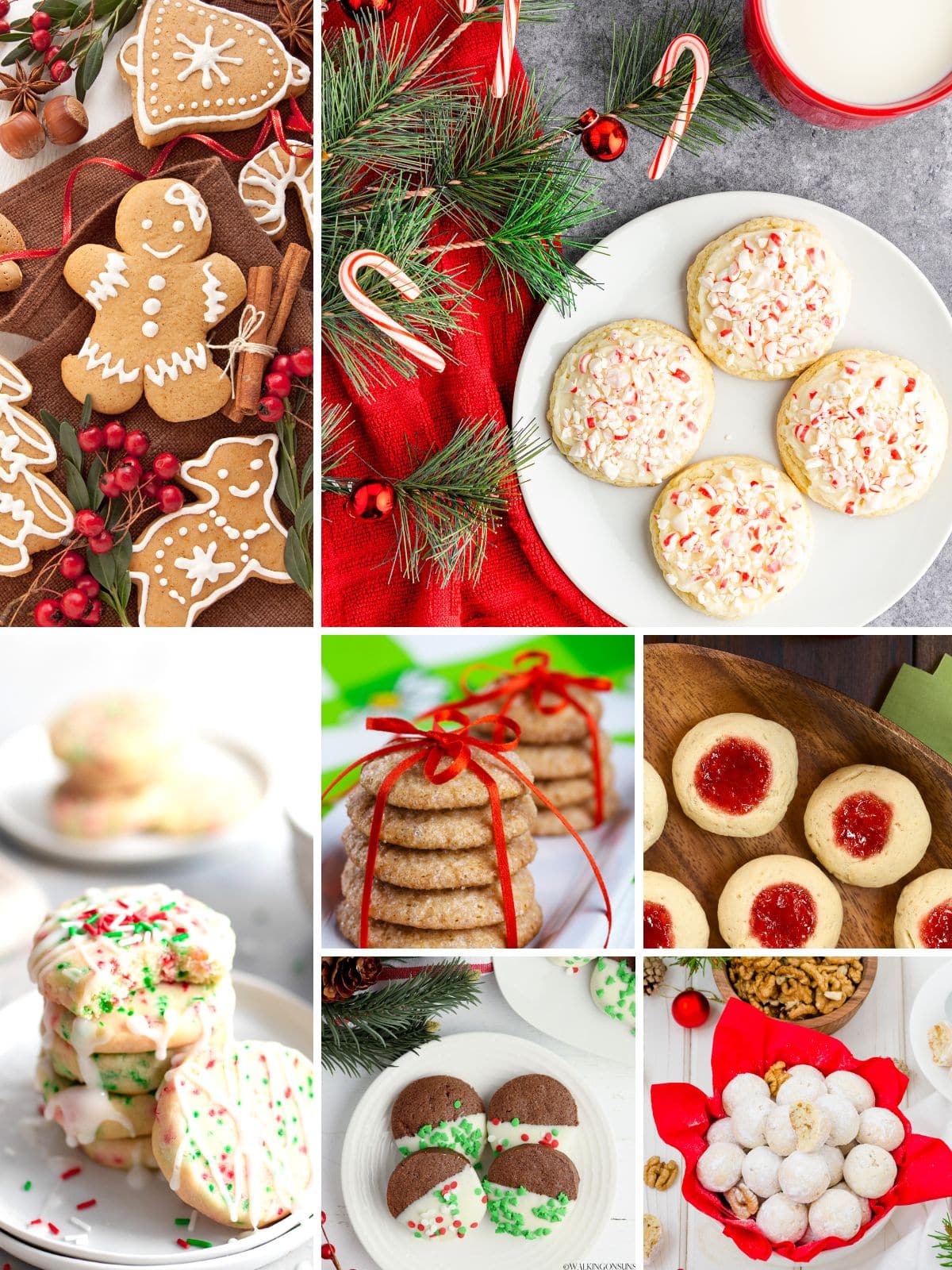 Christmas cookies are a tradition that dates back centuries. While the origins of the Christmas cookie are disputed, there is no doubt that these tasty treats have become a beloved part of the holiday season.
Cookies are a must-have for Christmas, and this year we have the perfect recipes to give as gifts! These cookies are all easy to make and taste delicious.
Easy tips on packaging up the cookies to give as gifts are included as well. You can find a few different gift labels and tags available in the WOS Christmas Shop.
Most of these recipes will make a great addition to any Christmas Cookie Exchange Party you might be hosting or attending!
Table of Contents
Looking for more Easy Desserts and Christmas Cookies? Try my Chocolate Christmas Cookies, Reindeer Desserts or my Christmas Refrigerator Cookies.
💭Cookies for Christmas gifts
Christmas cookies make great gifts for friends, family, and neighbors. They can also be donated to charity bake sales or given to people in need during the holiday season.
Whether you are baking Christmas cookies for gifts or for your own enjoyment, there are many delicious recipes to choose from.
💭Best Christmas cookies for gifts
There are nearly as many recipes for Christmas cookies as there are families, but some recipes are more popular than others. Here are a few of the best Christmas cookies for gifts:
Sugar cookies - These classic cookies can be decorated to suit any taste, like my Candy Cane Sugar Cookies, making them a great choice for personalized gifts.
Gingerbread cookies - These festive cookies are perfect for friends and family who enjoy the flavor of ginger. Try my Gingersnap Cookies!
Chocolate chip cookies - Who doesn't love a chocolate chip cookie? Try these Refrigerator Cookies that filled with chocolate chips and are sure to please anyone on your list.
No matter what kind of Christmas cookie you choose, be sure to bake with love. After all, that's what makes Christmas cookies so special.
💭What to bake for Christmas gifts?
Christmas cookies are a classic holiday treat, but if you're looking for something a little different to bake this year, there are plenty of other options.
Christmas cakes like my Reindeer Cupcake Cake and pies are always welcome gifts, and there are endless variations on both. For something a little lighter, try Christmas muffins or scones.
If you're short on time, you can put together a few Christmas Reindeer Treats that are quick and easy and always a hit. Whatever you choose to bake, your friends and family are sure to appreciate the thoughtfulness of a homemade gift.
🛒Tips on packaging
This post contains affiliate links. That means that if you make a purchase after clicking on a link I may earn a small commission at no extra cost to you. For more information, click here.
If you're planning on giving away cookies this year, there are a few things to keep in mind when it comes to packaging:
First, make sure the cookies are completely cooled before packing them up. Otherwise, they could stick together or get smushed.
It's also a good idea to separate different kinds of cookies so that they don't get mixed up.
Christmas cookies come in all shapes and sizes, so be sure to use packaging that will accommodate your particular treats.
Christmas cookies can be delicate, so it's important to choose a box or container that will protect them from breaking. You'll also want to make sure the container is airtight, to prevent the cookies from drying out.
If you're packaging a large number of cookies, consider using multiple smaller boxes or bags instead of one large one.
And finally, don't forget to include a festive label or decoration! A little effort goes a long way when it comes to Christmas cookie gifts.
More Information
More Information
More Information
More Information
More Information
More Information
⭐Before You Begin! If you make this recipe, please leave a review and star rating. This helps my business thrive and continue providing FREE recipes.
📋Featured Recipe Collection
26 Easy Christmas Cookies to Give as Gifts
26 Easy Christmas Cookies to give as Gifts featuring classic sugar cookies, gingerbread men, peanut butter and chocolate thumbprint cookies.