You are going to love how easy it is to prepare French Onion Soup at home with this recipe!
French Onion Soup
French Onion Soup is one of my favorite soup recipes! My husband and I actually love ordering French Onion Soup whenever we go out to eat and are in the mood for soup.  I always thought it was just a "restaurant ordering" type of soup.
A lot of people think this soup is difficult to make but it's really not. I never knew it could be so EASY to make! Today I'm sharing with you this amazing recipe for Easy French Onion Soup with a VIDEO.
It makes a great accompaniment with grilled cheese sandwiches or it's a great meal all on it's own.  AND it freezes beautifully.  On a busy day, I take a container of this soup out of the freezer, toast some bread for croutons and dinner is ready.
Note:  Traditional French Onion Soup recipes use Gruyere cheese or provolone cheese.  I've usually use Mozzarella cheese.  It's really up to you to decide which cheese you like best.  Also, most recipes for French Onion Soup  call for some sort of alcohol to be added.  I never add alcohol to this recipe and the flavor is still amazing.
How to Make French Onion Soup
Look how thin the mandoline slices the onions.  They're perfect! Make sure you check out the Shop my Kitchen below for all the tools I use in this recipe.
Onions have cooked for about 30 minutes and are deep golden brown.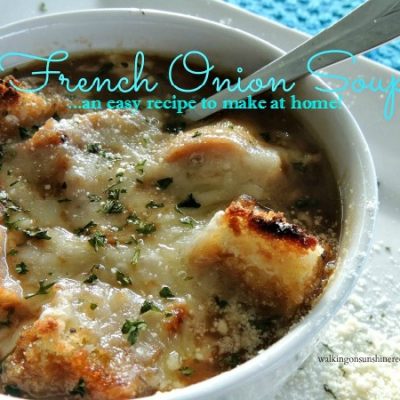 French Onion Soup
A delicious recipe for French Onion Soup that will make you wonder why you only have it when you're dining out in a restaurant. The recipe is easy and it freezes well for leftovers.
Ingredients
5

cups

of thinly sliced yellow onions

4

tbsp

butter

1

bay leaf

8

cups

beef broth

3

tbsp

flour

1

tsp

sugar

Salt and pepper

Homemade croutons - made from either French or Italian bread

Mozzarella cheese

Parmesan cheese
Instructions
In a large stock pot, melt the butter and add the sliced onions.

After a few minutes of cooking, add the sugar and continue to cook the onions slowly, stirring frequently, for about 30 minutes; until they turn a deep golden brown.

Add the flour and cook for another few minutes.

Add the beef broth, bay leaf and allow the soup to simmer for another 30 minutes.

Taste the soup and see if it needs any salt or pepper. I always wait till the end to season as the broth can add enough saltiness.

Remove the bay leaf.

Cut the French or Italian bread into cubes and toast them in the oven for a few minutes until they are browned.

Spoon the soup into an oven-safe bowl and top with the homemade croutons.

Top with the homemade croutons.

Top with the mozzarella cheese.

Place the bowls of soup under the broiler for a few minutes or until the cheese is melted. Sprinkle Parmesan cheese on top before serving.
Recipe Notes
Traditionally, Gruyere cheese is used for French Onion Soup.  I have used Swiss cheese, Mozzarella cheese and Provolone cheese.  All work fine.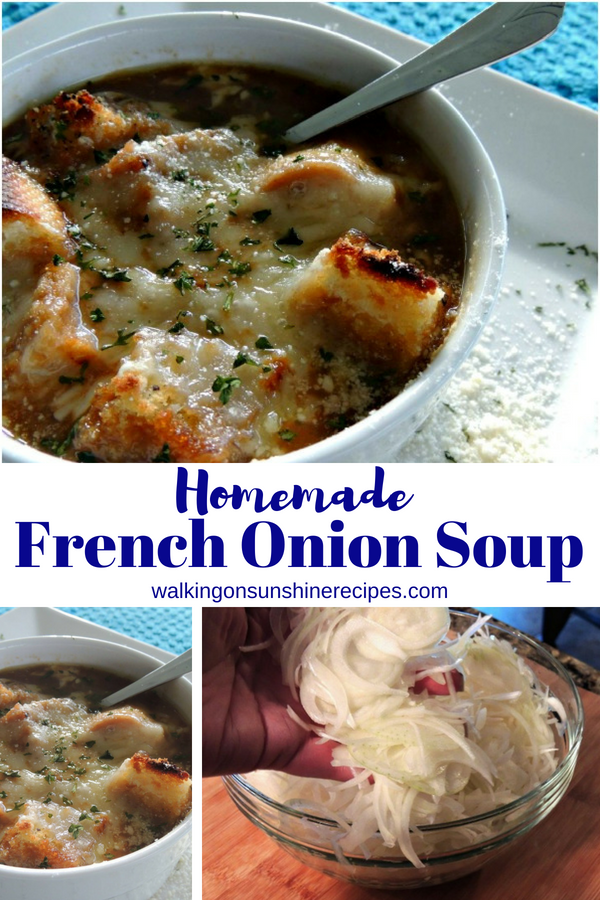 This post contains affiliate links. Your cost is the same, but I earn a commission when you shop through them. For more information, click here.
More Information
More Information
More Information
More Information
More Information
More Information
More Information
More Information