This recipe for Potato Soup is way better than Panera Bread's recipe…really!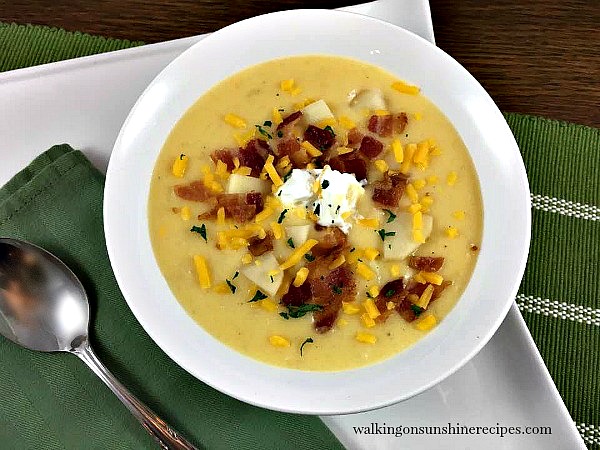 My family loves soup for dinner. Does yours?
If you've been reading my blog for any amount of time or following along with me on Facebook, you'll see that for dinner I post frequently that we're having soup.
I finally was able to get a good photo of this delicious recipe for potato soup that I originally posted a few years ago. If you like the potato soup from Panera, you're going to love this recipe. However, it's much better than Panera!
Potato Soup Recipe
Step-by-Step EASY Instructions
This is an easy recipe too. You can have dinner on the table quick! It freezes pretty well too; if you have leftovers. You can make grilled cheese sandwiches to go with the soup or a salad but most of the time the soup is enough for us.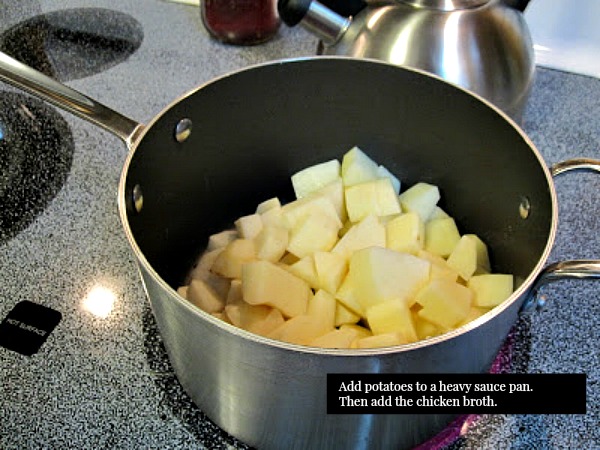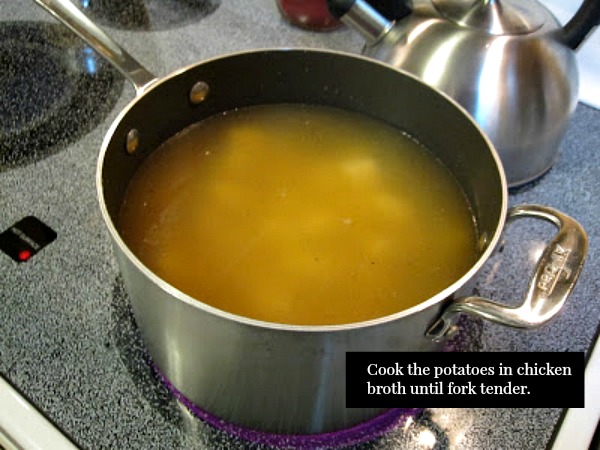 Using a potato masher, mash the potatoes after they have become fork tender. Be careful to leave some of the potatoes chunky. You're not making mashed potatoes for dinner. You want some chunks of potato in your soup.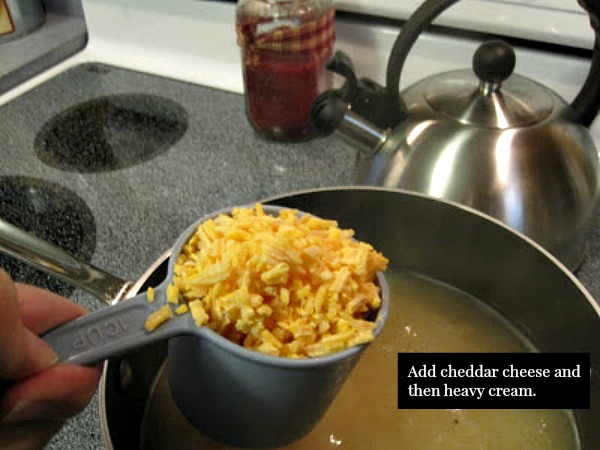 Add your favorite toppings, and dinner is served!
.recipe-inner{max-width:620px;border:6px double #009BFF;padding:20px;background:#f2f2f2;margin:40px auto;font-family:Lato,sans-serif}#recipe .info{font-size:13px;text-transform:capitalize;border-bottom:2px solid #000;padding-bottom:7px;margin-bottom:20px}#recipe .info:after{content:";display:table;width:0;height:0;clear:both}#recipe .info span{margin-top:-6px}#recipe .info .yield{margin-right:30px}#printbutton{color:#fff;float:right;background:#555;padding:5px;border-radius:3px;cursor:pointer}#recipe .time{text-transform:uppercase;font-size:12px;text-align:center;background:#fff;padding:15px 0;margin:20px 0}#recipe .time span:not(:last-child){margin-right:12px}#recipe .time span:not(:last-child):after{content:";display:inline-block;height:10px;width:1px;background:#000;vertical-align:middle;margin-left:12px}#recipe .summary{line-height:1.7;font-style:italic}.ingredients,.instructions{line-height:1.7}#recipe .recipe-name{font-size:18px!important;color:#000}ul.ingsContent{list-style-type:disc!important}ol.ingsContent{list-style-type:decimal!important}.ing-section{margin-top:10px}.instructions li{margin-bottom:15px!important;line-height:1.6}#recipe .instructions{margin-top:30px}#recipe .ingsContent{padding:0 0 0 40px !important;margin:0!important}#recipe .posturl{border-top:1px solid #ccc;padding-top:10px}strong.subTitle{margin-left:15px;font-weight:700!important}.subTitle ~ .ingsContent{padding-left:50px!important}.recipe-credit{font-size:13px;border-top:1px solid #ccc;padding:10px;text-align:center;background:#fff;margin:-20px;margin-top:15px}.recipe-credit a{color:blue;text-decoration:none}.recipe-credit a:hover{text-decoration:underline}#recipe .copyright-statement{font-size:13px;font-style:italic;border-top:1px solid #ccc;margin-top:15px;padding-top:15px;line-height:1.6}@media only screen and (max-width: 550px){strong.subTitle{margin-left:0!important}.ingsContent{padding:0!important}.subTitle ~ .ingsContent{padding:0!important}}#recipe .image{text-align:center;margin-bottom:25px}#recipe .image img{max-width:100%}#recipe .recipe-name{font-size:20px !important;line-height:1.6;text-transform:uppercase;margin-top:0;letter-spacing:1px;text-align:center;margin-bottom:20px}#recipe .time{border-top:1px dashed #000;border-bottom:1px dashed #000;border-right:0;border-left:0}#recipe .summary{margin-bottom:30px}#recipe .summary:after{content:";display:block;width:50px;height:2px;background:#000;margin:auto;margin-top:10px}#recipe .instructions{margin-top:30px}#recipe .instructions ol{padding-left:39px;margin-top:6px}function printDiv(a){var b=document.getElementById(a);newWin=window.open(",'printwin');var c=newWin.document.createElement('style');c.innerHTML='html{font-family:sans-serif}img{display:none;}#printbutton,.recipe-credit{visibility:hidden;display:none;}.info{text-align:center;text-transform:capitalize}.recipe-name{text-align:center}.info span{margin-right:20px}.time{text-align:center;padding:10px;border-top:1px dashed #000;border-bottom:1px dashed #000;}.time span{margin-right:20px}';newWin.document.getElementsByTagName('head')[0].appendChild(c);newWin.document.getElementsByTagName('body')[0].innerHTML = b.innerHTML;newWin.print();newWin.close()}