Sandwich style white bread dipped in a mixture of beaten eggs, milk and cinnamon, cooked and served with plenty of butter and maple syrup make this Freezer French Toast perfectly delicious!
Freezing tips and how to reheat frozen French toast included so you can enjoy this easy recipe on busy mornings during the week.
Check out all the other Breakfast Ideas for even more delicious recipes!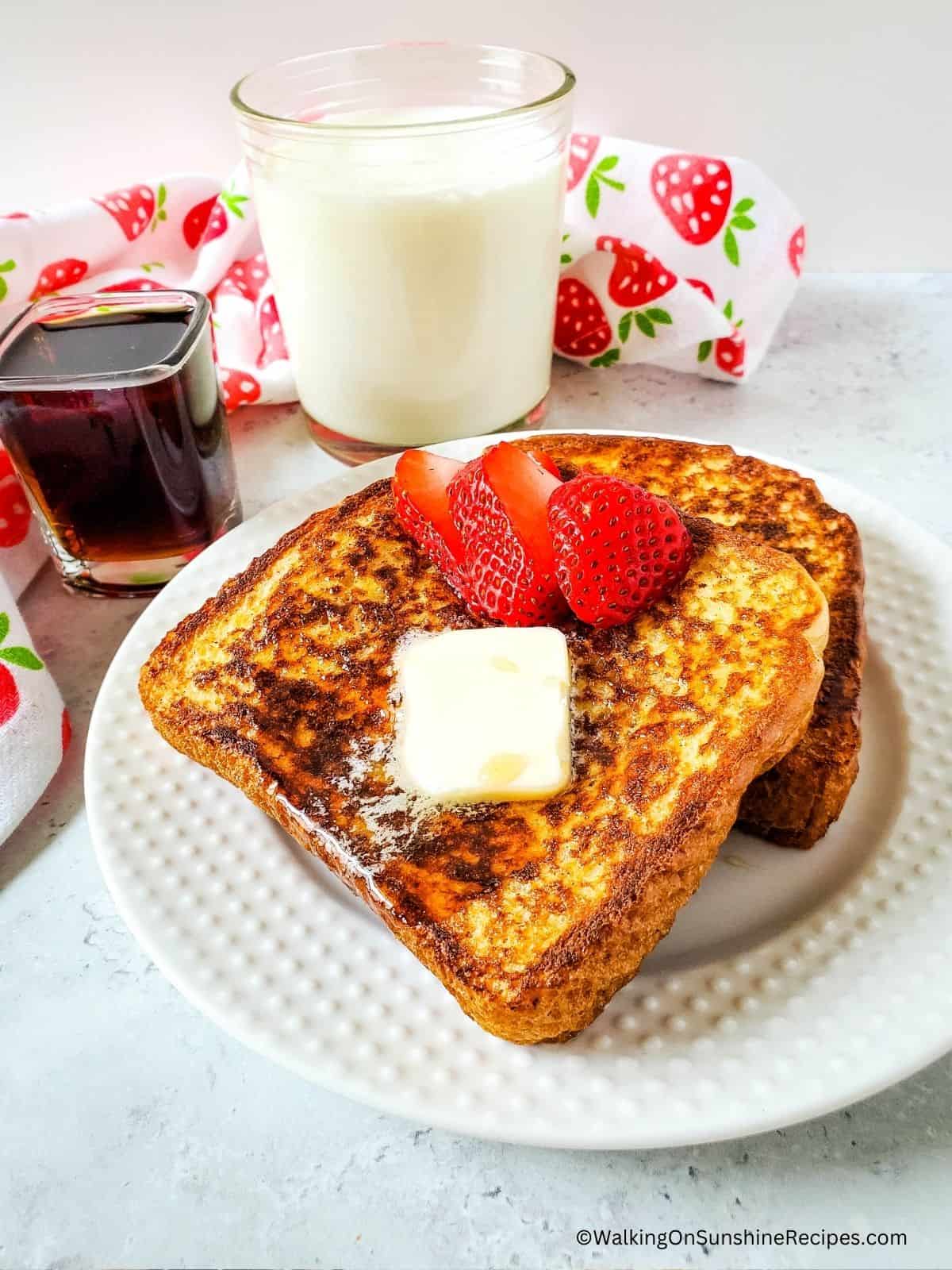 This classic recipe takes simple pantry ingredients like bread, eggs, milk, and cinnamon to create a deliciously golden breakfast recipe.
With its crispy exterior and soft, custard-like center, French toast offers a delightful combination of textures and flavors that make it a family favorite recipe.
Top the freshly cooked slices with a drizzle of maple syrup, a dusting of powdered sugar, or a dollop of fresh fruit!
Looking for more breakfast recipes? Try my Texas Toast French Toast Casserole, or my Overnight French Toast Casserole.
Table of Contents
Can you Freeze French Toast?
However, sometimes it can be a lot of work to get French Toast on the table, especially when you're trying to get everyone ready and out the door to school, work or even church on Sunday mornings.
I also like to make extra freezer French toast to use on busy mornings. All we need to do is pull a few slices from the freezer, reheat in the microwave and breakfast is ready!
If you want to take this recipe up a notch, try my Cinnamon Roll French Toast Recipe which is the perfect combination of French toast and cinnamon rolls in one easy recipe.
Good Morning Sunshine Breakfast eBookClick HERE for More Information
Frozen French Toast
French Toast is usually a Saturday breakfast for our family. However, I always try to make extra so I can freeze the leftovers to use during the week.
This freezer French toast recipe was very helpful when my children were younger. They loved a warm breakfast before school; especially my son!
Helpful Kitchen Tools
This post contains affiliate links. That means that if you make a purchase after clicking on a link I may earn a small commission at no extra cost to you. For more information, click here.
Presto 07061 22-inch Electric GriddleMore Information
Melamine Plates,More Information
Porcelain Baking Dish, 13 x 9More Information
Butter Dish with Steel Knife, PorcelainMore Information
Ingredients
This is an overview of the ingredients and instructions. Be sure to see the recipe card below for exact quantities, detailed instructions and special notes.
Sliced White Bread - I like to use "cheap" sandwich bread. You know the kind of sandwich bread you can get for around $1.00? In my opinion, this makes the best French Toast.
Eggs
Milk - I have made this recipe with whole, 2% and even skim milk. I prefer using whole milk.
Cooking oil spray or butter
Cinnamon - you can even cinnamon/sugar mixture.
Maple Syrup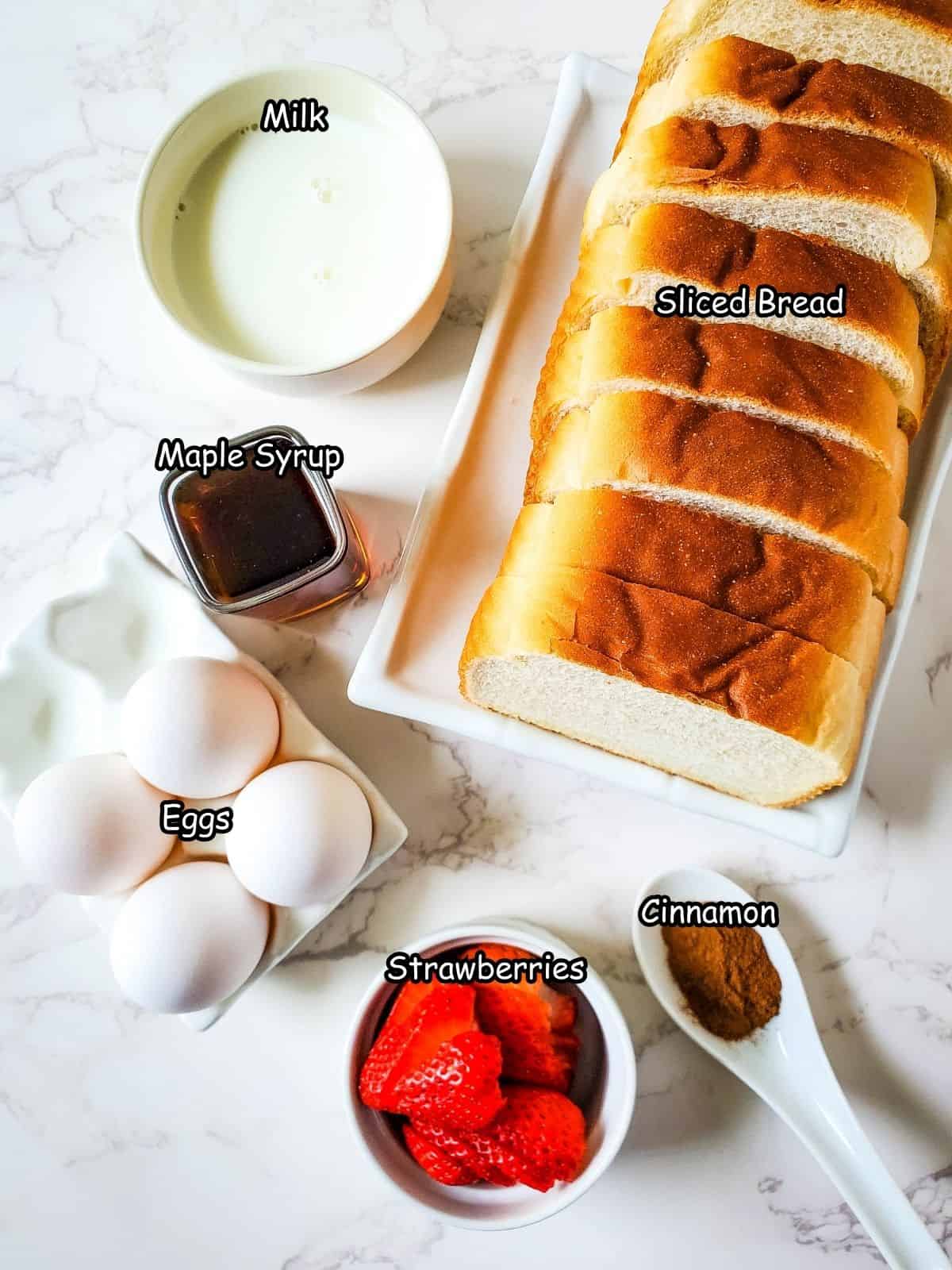 Step-by-Step Directions
Step 1: Mix together the eggs, milk and cinnamon.
Step 2: Dip the slices of white bread into the egg mixture.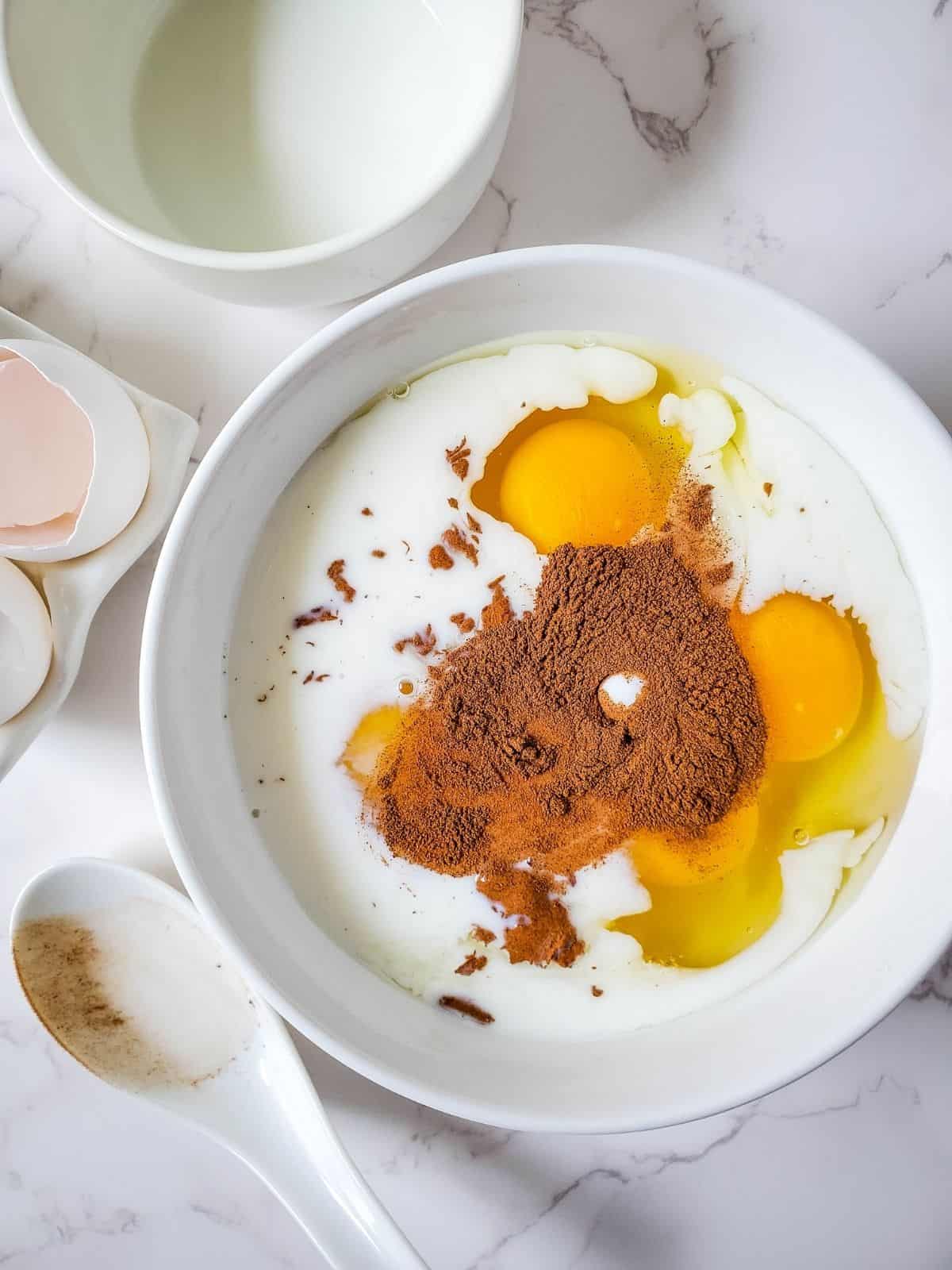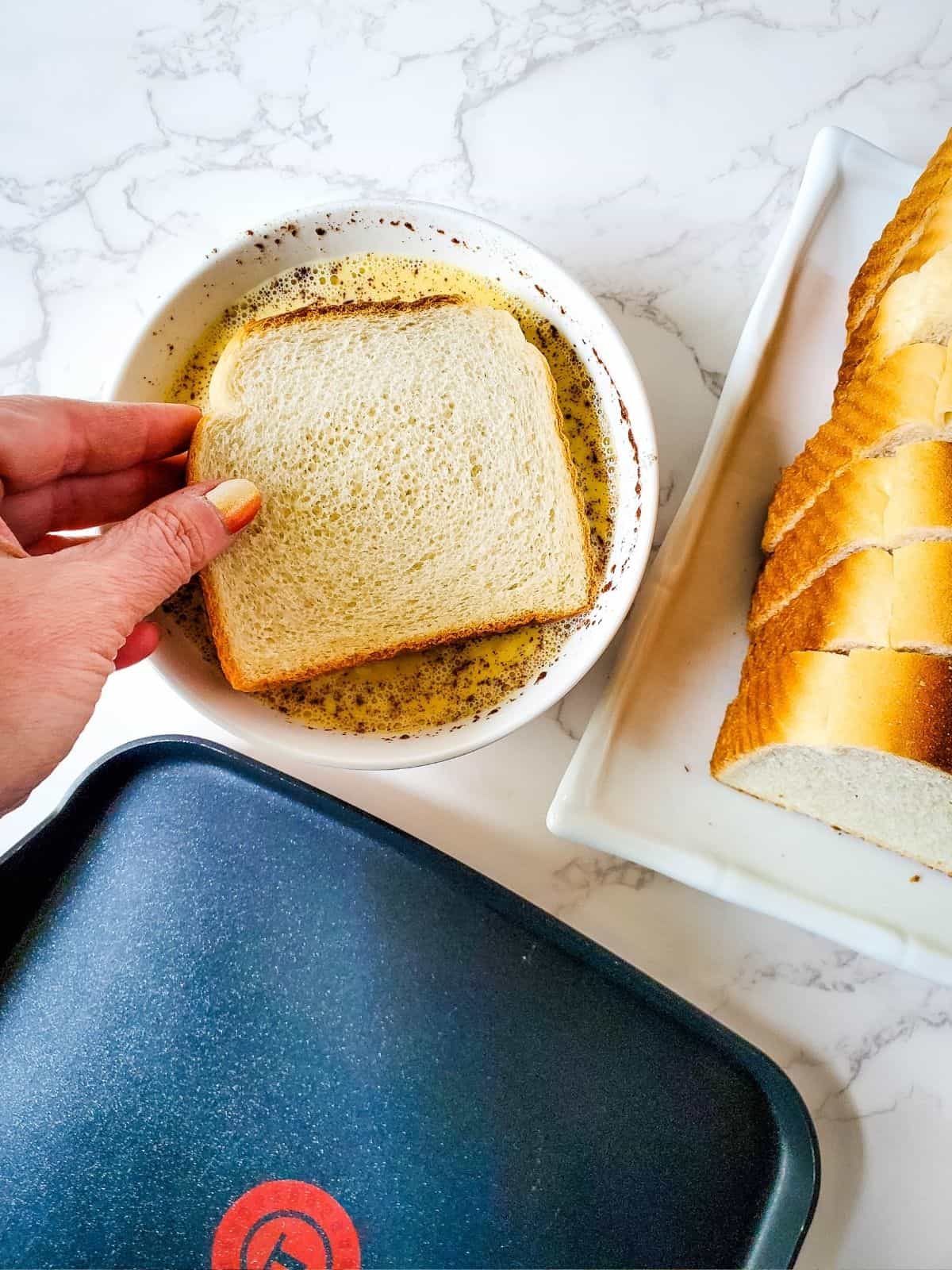 Step 3: Place the slices of bread onto a hot electric skillet or stove top griddle that's been brushed in melted butter.
Step 4: Flip and cook the other side.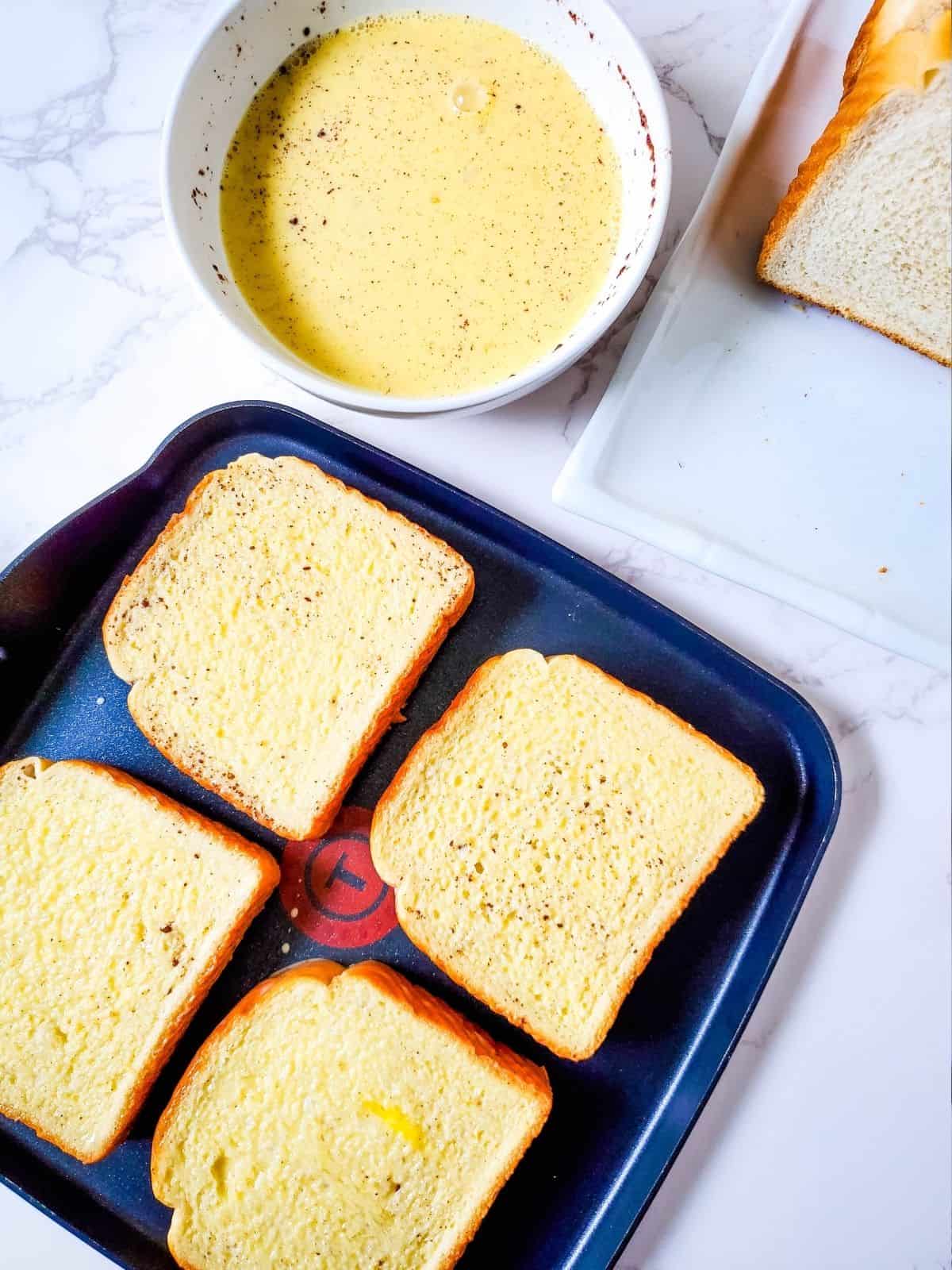 ⭐Before You Begin! If you make this recipe, please leave a review and star rating. This helps my business thrive and continue providing FREE recipes.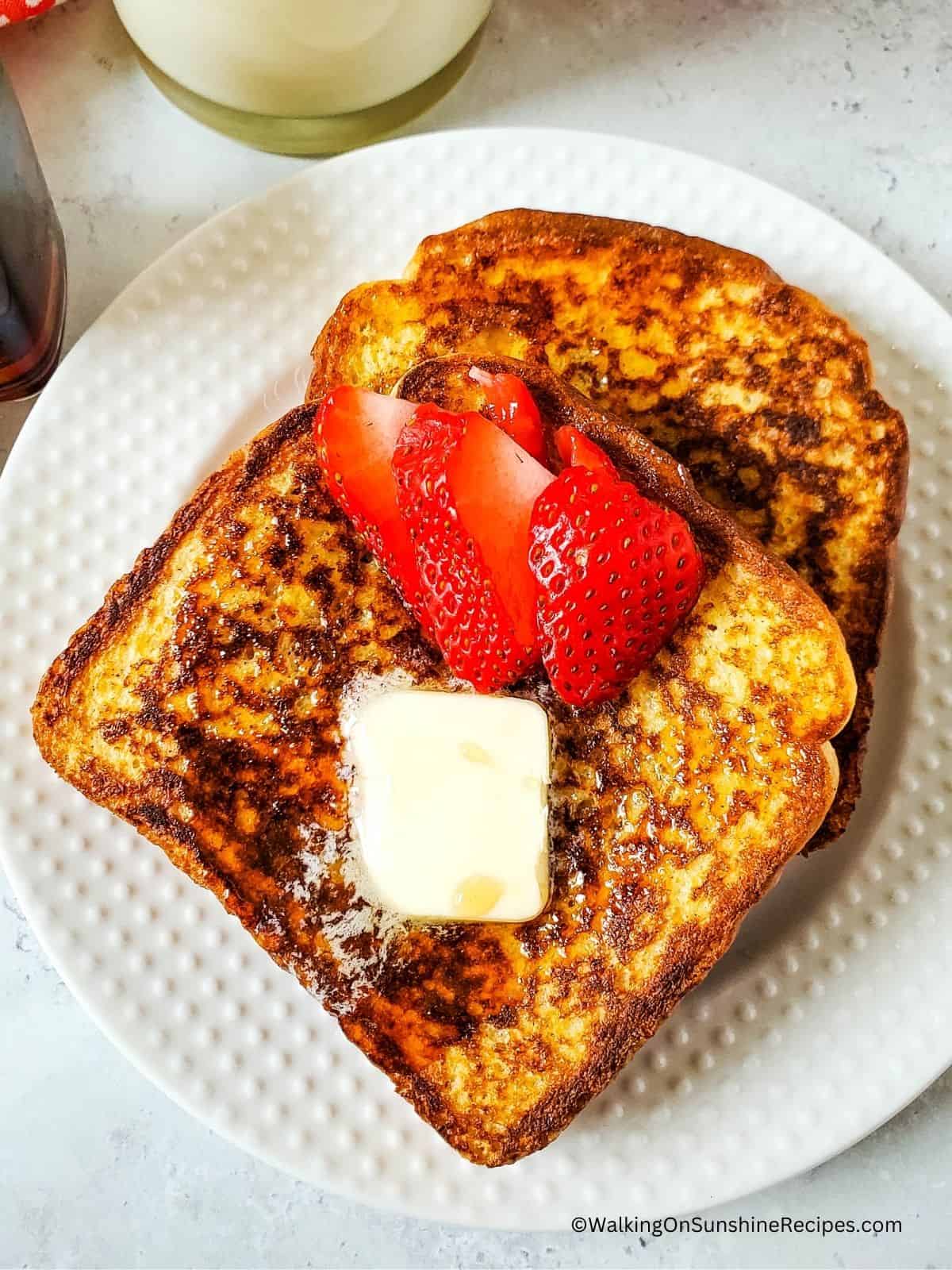 🥣Serving Tips
Serve the French toast immediately with a little butter and, of course, maple syrup.
We like our syrup warmed in the microwave for a few minutes.
Another delicious way is to serve the French toast with either Homemade Strawberry Sauce or Homemade Blueberry Sauce.
🍶Storage Tips
Place the leftover French toast in an airtight container or wrap it tightly in plastic wrap.
Then, store it in the refrigerator. It will stay fresh for up to 2-3 days.
❄️Freezing Tips
Lay your leftover French Toast in a single layer on a baking sheet that's been covered in either waxed paper, parchment paper or even aluminum foil.
Next, place the tray in the freezer.
Leave the tray in the freezer for about 30 to 40 minutes.
Remove the FROZEN French Toast slices and place in a freezer safe bag.
🔁 Thawing and Reheating Tips
The next time you're having a busy morning, just pull a few slices out of the freezer and heat up in the microwave.
You can also reheat the frozen bread slices in the toaster or on a baking sheet placed in a preheated 350 degree oven.
Serve as usual with butter and syrup.
Once you prepare freezer French toast this way, you'll see how easy it is to reheat and prepare for breakfast on busy mornings. Even the kids can help themselves to breakfast!
💡Recipe FAQ
Simply click the plus sign to read more about the questions you see below. If YOU have a question regarding this recipe, please let me know in the comment section.
Can you make French toast with frozen bread?
I would avoid using frozen bread. Using frozen bread combined with the egg and milk mixture, will result in soggy French toast. Instead, take the frozen bread out of the freezer and let it defrost overnight in the refrigerator. If you forget, no worries - simply remove the frozen slices from the loaf and let them defrost quickly on the countertop while you prepare the rest of the ingredients. Within 20 to 30 minutes, the slices will be ready to use. Follow these steps for delicious, non-soggy French Toast every time.
What to do with leftover French toast batter?
If you have leftover French toast batter, I would use the rest of it on sliced bread and then freeze the leftover cooked French toast slices. You could also use the leftover batter and create a bread pudding by soaking chunks of bread in the batter, and bake until golden and set. You can add ingredients like raisins, chocolate chips, or nuts for extra flavor.
How to reheat French toast in microwave?
Place a serving of French toast on a microwave-safe plate and cover reheat for approximately 30 seconds, pausing every 15 seconds to avoid burning. You can also cover the serving with a damp paper towel to help retain moisture.
🌟Try these recipes next...
📇Recipe Card
Yield: 2 slices - 6 servings
Classic Freezer French Toast Recipe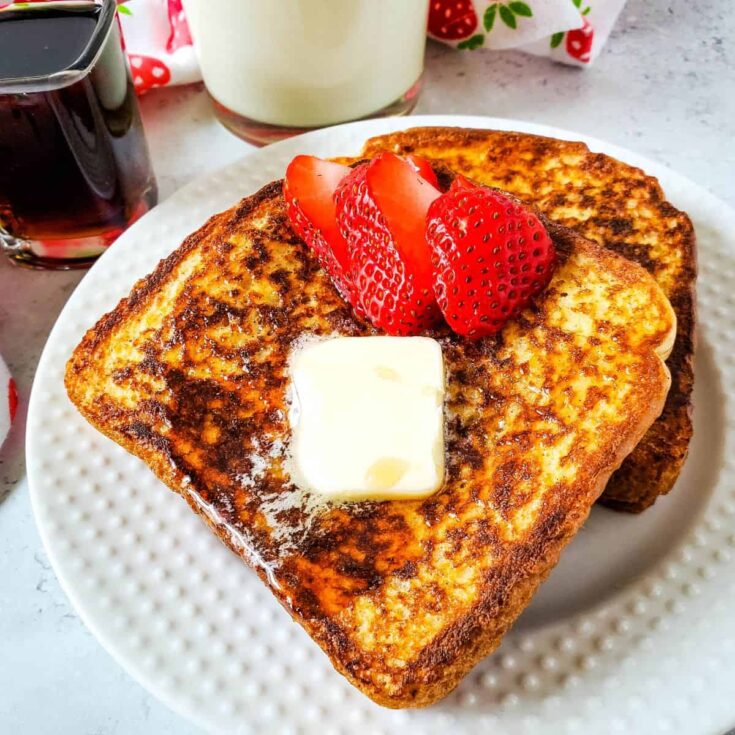 Freezer French Toast - classic recipe with freezing tips and how to reheat frozen french toast for busy mornings.
Ingredients
12 slices bread - I like to use white sandwich bread
6 eggs
1 cup milk
2 tablespoons cinnamon
Cooking oil spray or butter for the griddle
Instructions
Preheat a frying pan or electric skillet.
Break the eggs into a bowl.
Add the milk and cinnamon to the eggs and beat together.
Grease the pan or griddle with the cooking spray or butter.
Dip a slice of bread into the egg mixture and flip it to coat the other side.
Place the battered bread on the griddle and cook until it's lightly golden brown.
Flip and cook the other side.
Repeat until you use all the bread.
Notes
How to Freeze French Toast:
Lay the French toast on a baking sheet that's been lined with parchment paper.
Place the baking sheet in the freezer for about 30 minutes or until the French toast is frozen.
Remove the slices from the tray and place in a freezer-safe container or plastic bag.
Reheat Frozen French Toast
You can reheat French toast in the microwave a minute or two.
You can lay the frozen slices on a baking sheet and reheat in a preheated 350 degree oven until the slices are heated through.
It also reheats well in the toaster while still frozen just like the store bought kind.
Recommended Products
As an Amazon Associate and member of other affiliate programs, I earn from qualifying purchases.
Nutrition Information:
Yield:
6
Serving Size:
2 slices
Amount Per Serving:
Calories:

317
Total Fat:

12g
Saturated Fat:

4g
Trans Fat:

0g
Unsaturated Fat:

7g
Cholesterol:

194mg
Sodium:

440mg
Carbohydrates:

38g
Fiber:

3g
Sugar:

6g
Protein:

14g
The nutrition information is calculated automatically. I cannot guarantee its accuracy. If this data is important to you, please verify with your trusted nutrition calculator.
freezer-french-toast/