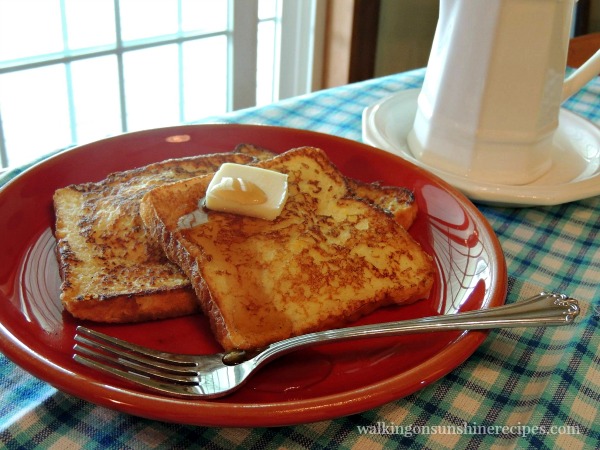 One of my favorite breakfasts to enjoy is French Toast.
but just good old-fashioned bread dipped in an egg mixture and sprinkled with
some cinnamon/sugar topped with warm syrup.
(And maybe a little bit of butter)
I like to make extra to freeze so on busy mornings all we need to do is pull a few slices
of already made French Toast from the freezer and breakfast is ready1

Not only do I enjoy French Toast, but my family does as well.
But sometimes it can be a lot of work to get French Toast on the table,
especially when you're trying to get everyone ready and out the door to school,
work or even church.
French Toast is usually a Saturday breakfast for our family.
And most of the time, I mix together too much egg mixture and have in the past
dumped it down the drain.
NOT ANYMORE!
I go ahead and make EXTRA French Toast and freeze the extra slices for busy mornings.
Lay your leftover French Toast in a single layer on a baking sheet and place the tray in the freezer.
Leave the tray in the freezer for about 30 to 40 minutes.
Remove the FROZEN French Toast slices and place in a freezer safe bag.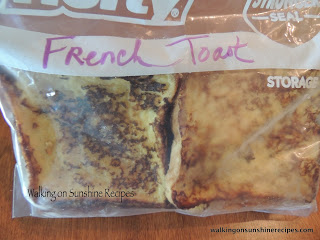 The next time you're having a busy morning, just pull a few slices
out of the freezer and heat up in the microwave.
Delicious.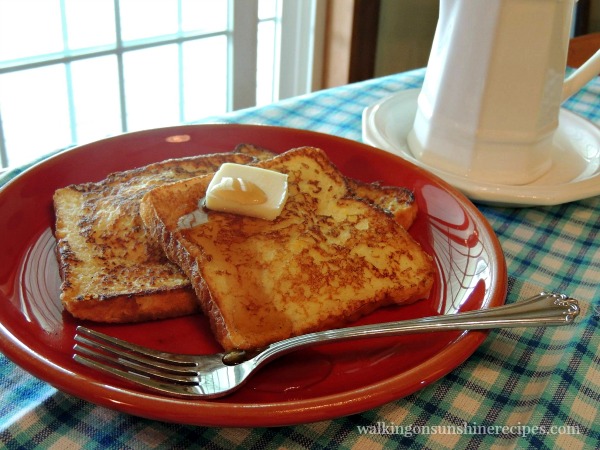 My Recipe for Old-Fashioned French Toast
6 to 8 slices of sandwich style bread (nothing fancy)
Combine the eggs and milk together.
Dip the bread slices into the egg and milk mixture one at a time
and place each slice on a hot griddle greased with melted butter.
Sprinkle the bread with the cinnamon/sugar mixture before flipping
and continue cooking until both sides have a nice golden brown color.
Feel free to add powdered sugar to the top of your cooked French Toast.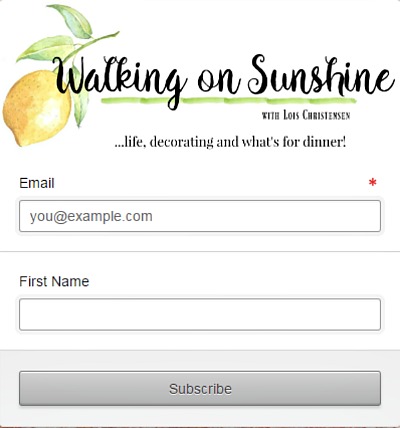 Find What You Need at Amazon!
amzn_assoc_placement = "adunit0";
amzn_assoc_search_bar = "true";
amzn_assoc_tracking_id = "walkonsunscre-20";
amzn_assoc_ad_mode = "manual";
amzn_assoc_ad_type = "smart";
amzn_assoc_marketplace = "amazon";
amzn_assoc_region = "US";
amzn_assoc_title = "My Amazon Picks";
amzn_assoc_debug = "false";
amzn_assoc_ead = "0";
amzn_assoc_linkid = "713484ed4d89ff4488813d9d6ee9e55d";
amzn_assoc_asins = "B00008W70O,B0000CFLM2,B0001HLTSE,B00L9LD85S,B0051O9YUM,B00IRU6NKG,B00BXOM4U6,B0000630NY";
Don't forget to check out my hubby's blog, Manning the Wall.