A classic recipe for Freezer French Toast that's perfect for busy mornings or a relaxing weekend. I'm including freezing tips to help you enjoy this easy recipe even on the busiest of mornings trying to get everyone out of the house. It's so easy, the kids can heat it up themselves while you're getting ready.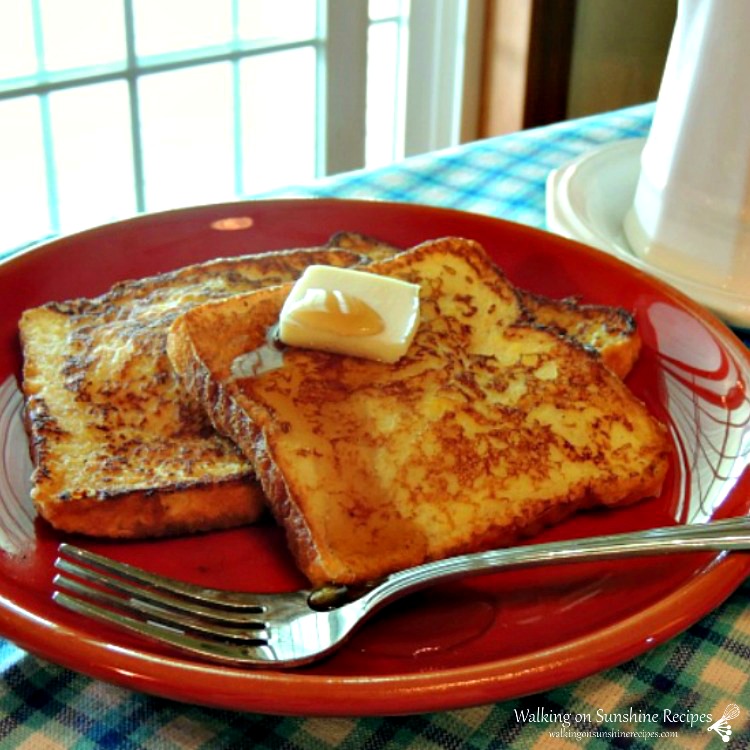 Freezer French Toast
Freezer French Toast is an easy way to enjoy French toast on busy mornings. This is a classic recipe that your family is going to love!
One of my favorite breakfasts to enjoy is French Toast. Nothing fancy like the French Toast Casserole that is so popular here on the blog, but just good old-fashioned sandwich bread dipped in an egg and milk mixture, sprinkled with some cinnamon/sugar. Once the French toast is cooked, I like to top it with warm syrup and maybe just a little bit of butter.
I also like to make extra to freeze so on busy mornings all we need to do is pull a few slices of already made French Toast from the freezer and breakfast is ready!
Classic Family Recipe
By the way, not only do I enjoy French Toast, but my family does as well. However, sometimes it can be a lot of work to get French Toast on the table, especially when you're trying to get everyone ready and out the door to school, work or even church on Sunday mornings.
French Toast is usually a Saturday breakfast for our family. Most of the time, I mix together too much egg mixture and never know what to do with the extra, but not anymore.
How to Make Freezer French Toast
This is a classic recipe meaning it's easy and there's not much to the recipe. In fact most people don't even need a recipe to make it, but there's one at the bottom of this post for you.
Make sure you print out the recipe below and save it for later!
Ingredients:
12 slices bread – I like to use white sandwich bread
6 eggs
1 cup milk
Cooking oil spray or butter
Cinnamon/sugar mixture
Directions:
Mix together the eggs and milk.
Dip the slices of white bread into the egg mixture.
Place the slices of bread onto a hot griddle that's been coated in melted butter.
Sprinkle the bread with the cinnamon/sugar mixture before flipping to continue cooking on the other side.
Let's Get Cooking!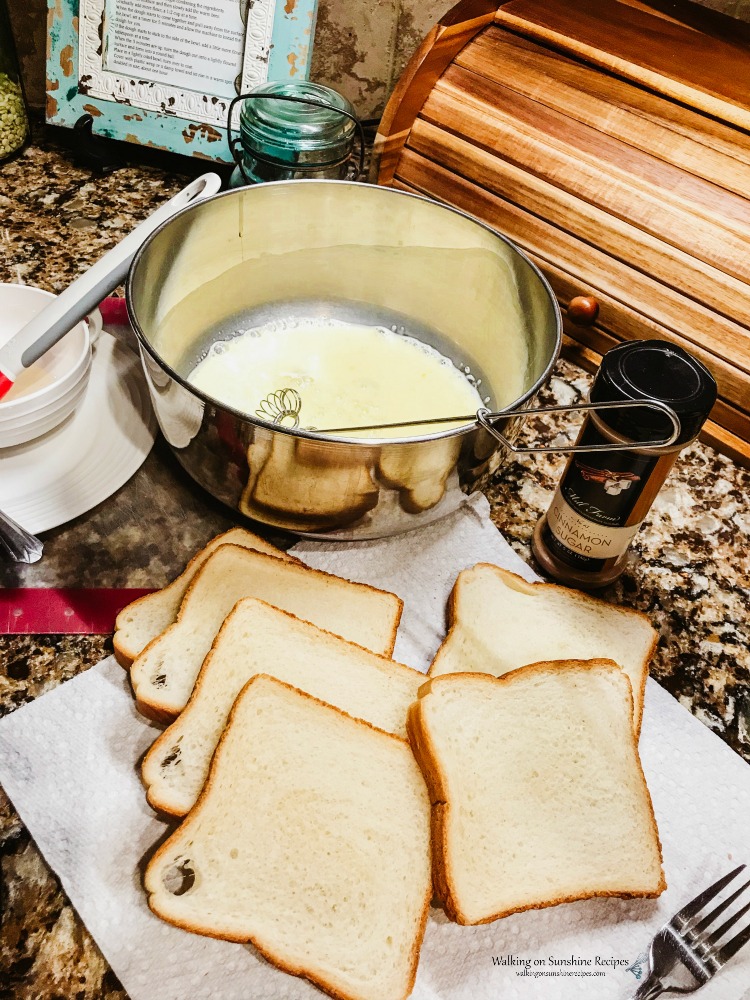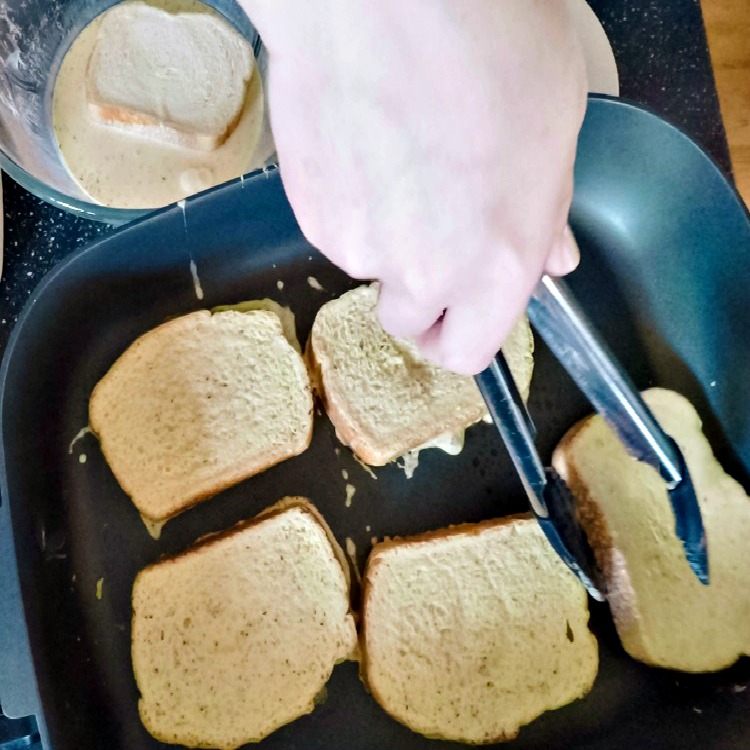 How to Serve French Toast
Serve the French toast immediately with a little butter and, of course, syrup.
We like our syrup warmed in the microwave for a few minutes.
Subsequently, you can always serve the French toast with either Homemade Strawberry Sauce or Homemade Blueberry Sauce.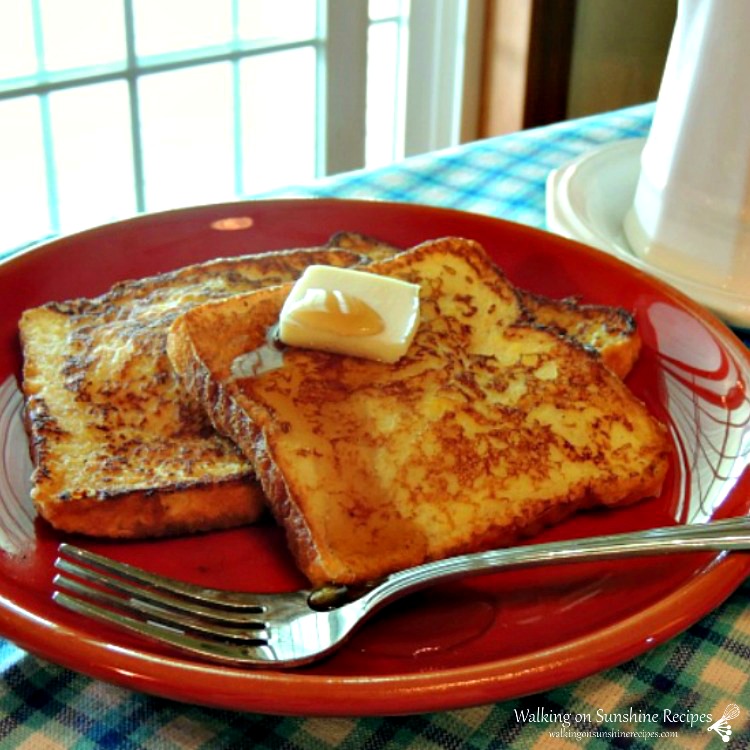 How to Freeze French Toast
In addition to this being an amazingly delicious recipe, you can also freeze the French toast. Sometimes I like to make extra so I can have leftovers to freeze. This was very helpful when my children were younger, especially my son. He loved a warm breakfast before school. My daughter was a completely different story.
Lay your leftover French Toast in a single layer on a baking sheet that's been covered in either waxed paper, parchment paper or even aluminum foil.
Next, place the tray in the freezer.
Leave the tray in the freezer for about 30 to 40 minutes.
Remove the FROZEN French Toast slices and place in a freezer safe bag.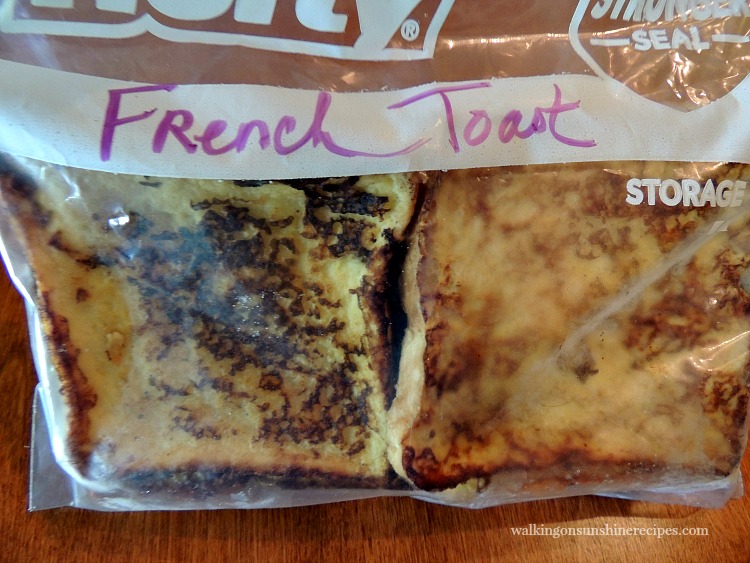 How to Reheat Frozen French Toast
The next time you're having a busy morning, just pull a few slices out of the freezer and heat up in the microwave.
You can also reheat the frozen bread slices in the toaster or on a baking sheet placed in a preheated 350 degree oven.
Serve as usual with butter and syrup.
Once you prepare and freeze French toast this way, you'll see how easy it is to reheat and prepare for breakfast on busy mornings. Even the kids can help themselves to breakfast!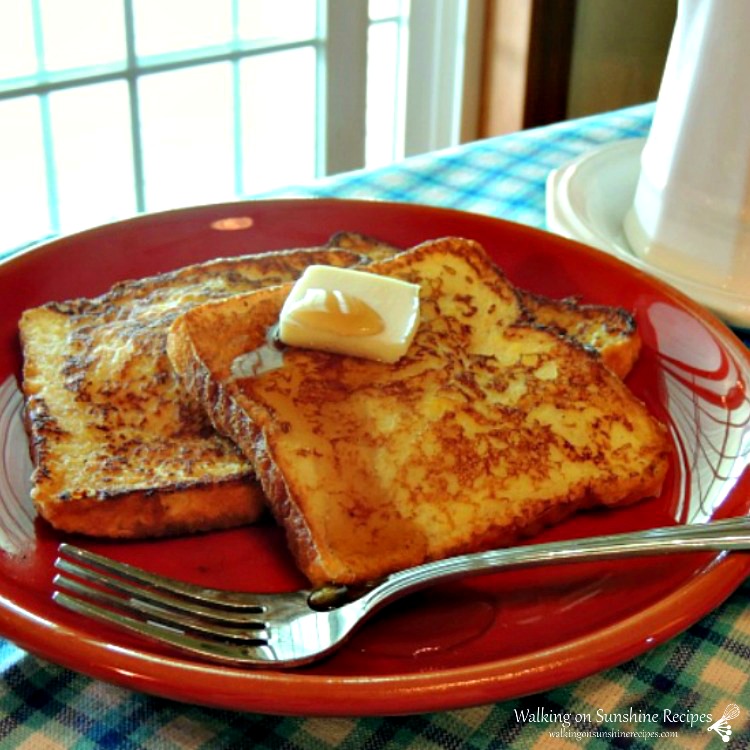 More Easy Breakfast Recipes: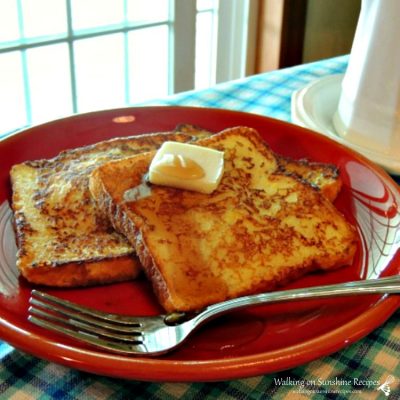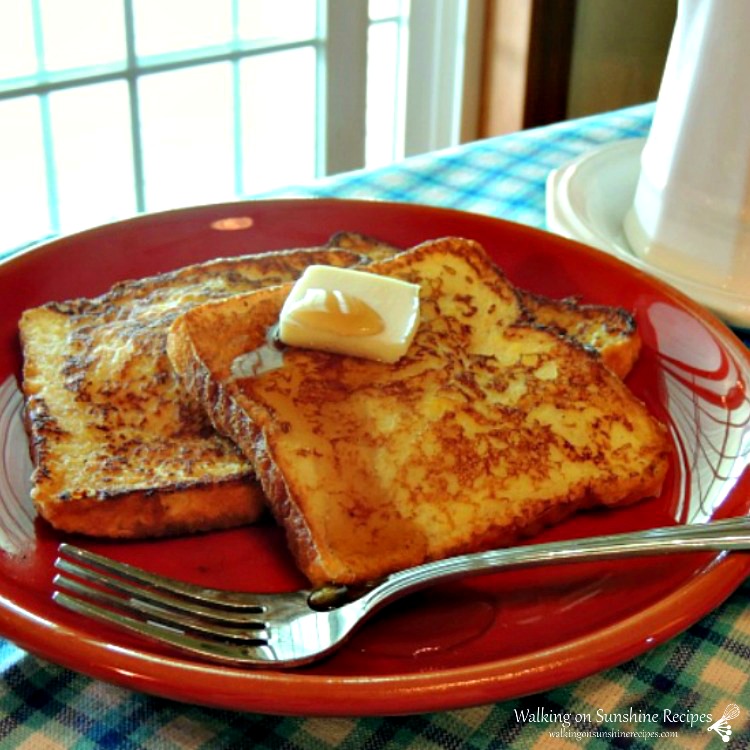 Classic French Toast
Classic French Toast with Easy Freezing Tips that's perfect for busy mornings or relaxing weekends.
Ingredients
12

slices

bread - I like to use white sandwich bread

6

eggs

1

cup

milk

Cooking oil spray or butter

Cinnamon/sugar mixture
Instructions
Preheat a frying pan or electric griddle.

Break the eggs into a bowl.

Add the milk to the eggs and beat together.

Grease the pan or griddle with the cooking spray or butter.

Dip a slice of bread into the egg mixture and flip it to coat the other side.

Place the battered bread on the griddle and cook until it's lightly golden brown.

Sprinkle the cinnamon/sugar mixture on top.

Flip and cook the other side.

Repeat until you use all the bread.
To Freeze:
Lay the French toast on a baking sheet that's been lined with parchment paper.

Place the baking sheet in the freezer for about 30 minutes or until the French toast is frozen.

Remove the slices from the tray and place in a freezer-safe container or plastic bag.
To Reheat:
You can reheat French toast in the microwave a minute or two.

You can also reheat it in the toaster.

Or you can lay the frozen slices on a baking sheet and reheat in a preheated 350 degree oven until the slices are heated through.

It also reheats well in the toaster while still frozen just like the store bought kind.