Making cinnamon rolls from frozen bread dough is a great way to enjoy the sweet taste of a bakery-style treat without having to spend hours in the kitchen.
Using Rhodes Frozen Bread as the base, all you have to do is thaw it out, roll it out and add your favorite cinnamon and sugar filling. Once filled, simply slice up the dough, place it in a baking dish, cover with foil, let it rise and bake.
In about an hour you'll have perfectly baked semi-homemade cinnamon rolls that are sure to please family and friends alike.
Check out all my other Best Cinnamon Roll Recipes for even more deliciousness!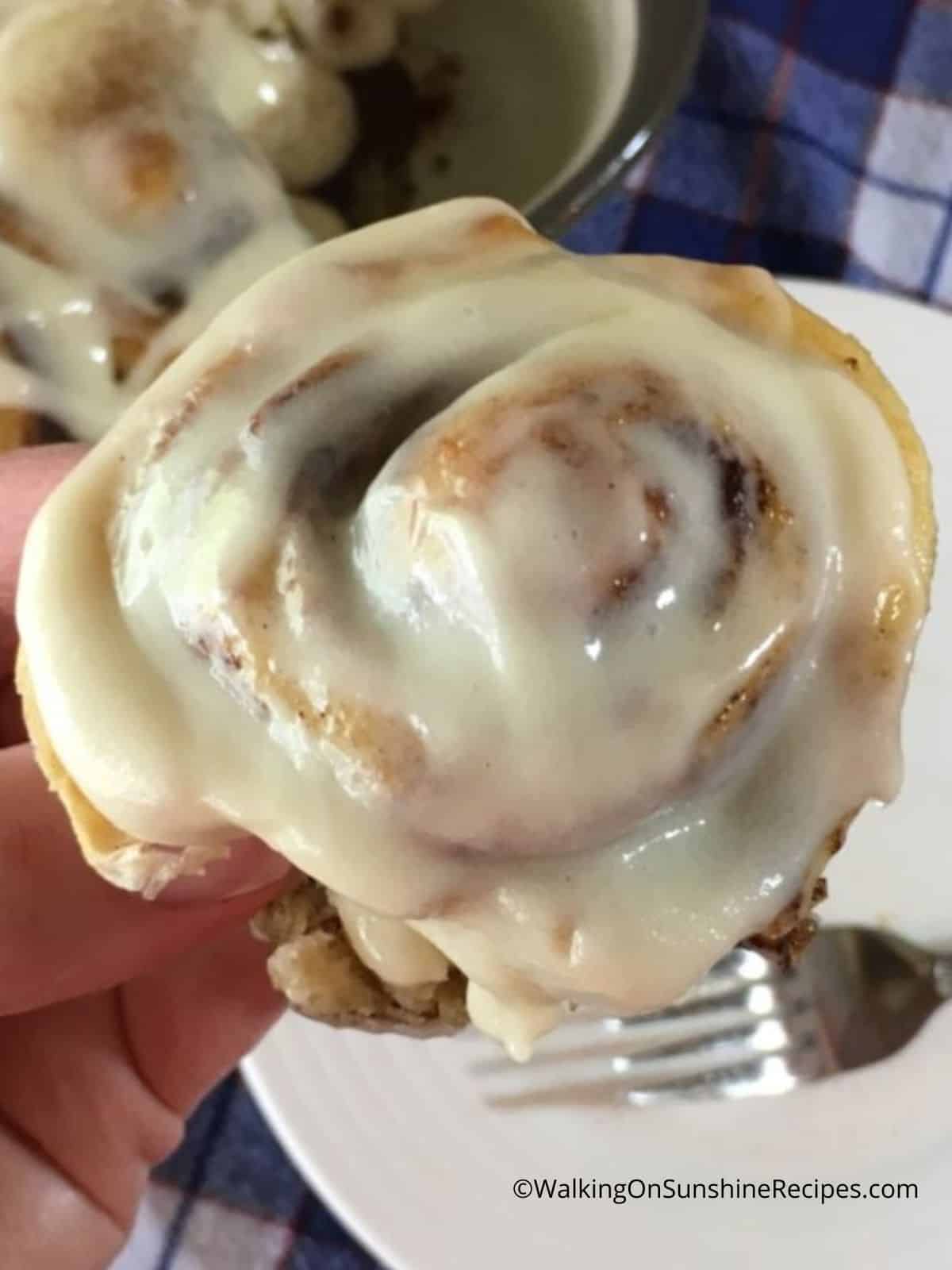 Enjoying cinnamon rolls for breakfast with your family is a treat like no other. The sweet smell of cinnamon and sugar permeates the kitchen as the rolls are baking, and when they come out of the oven, it's hard not to want to take a bite right away.
But wait for them to cool down so you can add the homemade cream cheese frosting to the top!
Sharing them over breakfast with your family while they're still warm and gooey brings a special kind of closeness, making every bite even sweeter. Cinnamon rolls are more than just a breakfast food; they are a reminder of how much love can be found in a shared meal.
Table of Contents
💭Bread Dough Recipes
There's nothing wrong with yeast dough! I love creating yummy breads like my Amish White Bread recipe and my Homemade Cinnamon Rolls recipe.
Both of those recipe use a yeast dough but sometimes we just don't have all the time required to make homemade bread dough recipes. Which is why I like using Rhodes Frozen Bread Dough.
Looking for more Breakfast Ideas? Try my Pumpkin Cream Cheese Crescents, Homemade Bulk Pancake Mix or my Blueberry Crumb Coffee Cake.
💭Rhodes Frozen Bread Dough
This recipe uses Rhodes Frozen Bread Dough which is perfect when you don't have the time to make homemade dough. Or maybe you haven't quite mastered working with a yeast dough recipe.
Your family will love the taste of these cinnamon rolls and you'll love that you can have them on the breakfast table without all the fuss of a traditional cinnamon roll recipe that uses yeast dough.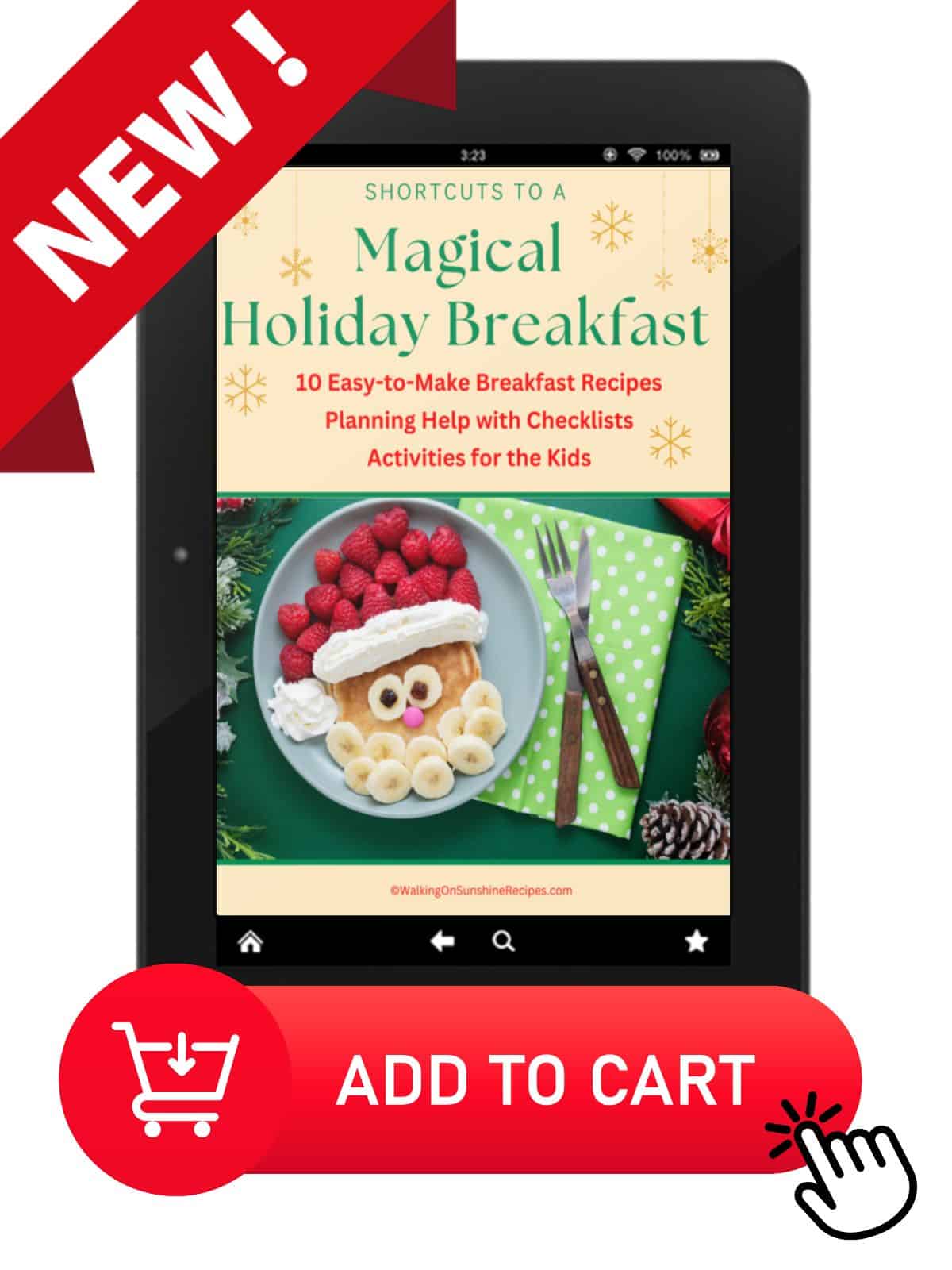 💭How to thaw frozen bread dough for cinnamon rolls?
Thawing frozen bread dough is a surprisingly simple task. All you need to do is take the frozen dough out of the package, place it on a lightly floured surface and allow it to come to room temperature.
💭How to thaw Rhodes frozen bread dough quickly?
This process usually takes about two hours, but you can quicken the process by setting the dough in your refrigerator overnight. When it's ready, the thawed dough should be soft and pliable so that you can easily flatten and shape it for baking.
🛒Helpful Kitchen Tools
Parchment Baking Sheets - waxed paper works too when you're rolling out the frozen bread dough.
Rolling pin - invest in a good rolling pin. I have a few that I love to use.
Pastry brush - to help spread the butter. Make sure you use a silicon pastry brush.
Wooden Rolling Pin for Baking
Bakeware Set, Ceramic Baking Dish
Stainless Steel Measuring Cups Set
Reynolds Kitchens Cookie Baking Sheets, Pre-Cut Parchment Paper
Main Ingredients Needed
Exact measurements are listed below in the recipe card. Make sure you scroll down to print and save the recipe for later!
Melted butter
Brown sugar
Cinnamon
1 loaf frozen bread dough; thawed - seen not above for how to thaw the dough.
Cream cheese; softened
Butter; softened
Powdered sugar
Vanilla
Milk - you'll need just a few drops to get the consistency of the frosting right.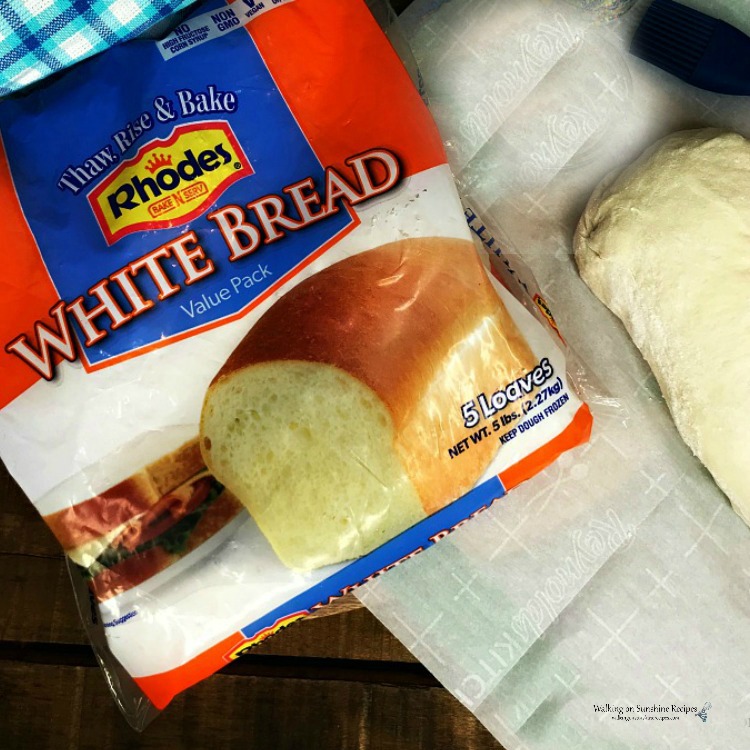 Step-by-Step Directions
Step 1 | Prepare the Bread Dough
Once the frozen dough is thawed, roll out the dough into a rectangle shape.
You can see that I'm rolling the dough right out on a piece of waxed paper.
Or you can roll it out on a floured surface or even use parchment baking sheets.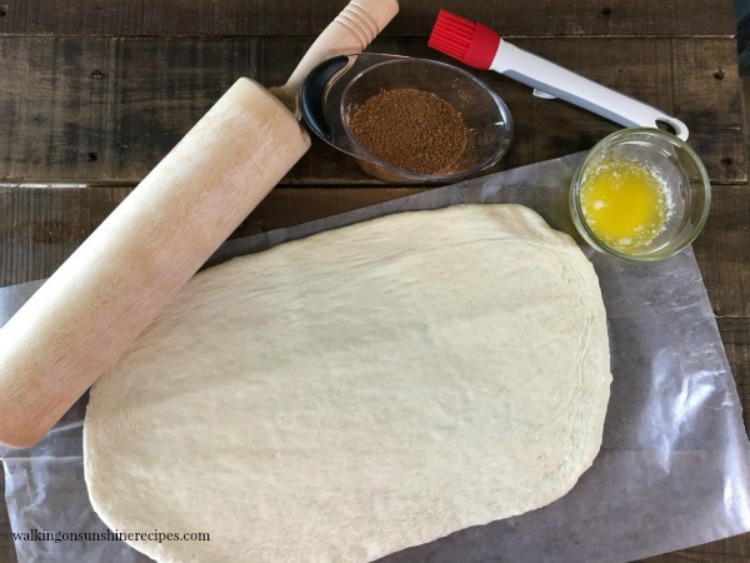 Step 2 | Spread with Melted Butter
Spread the dough with the melted butter.
You can use a knife, but I really like using a pastry brush.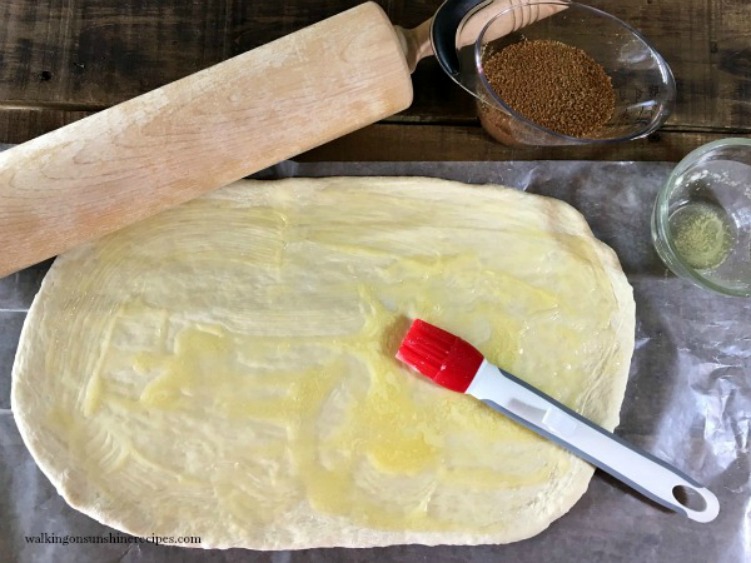 Step 3 | Add the Brown Sugar Mixture
Spread with the brown sugar and cinnamon mixture.
You can add chopped pecans too!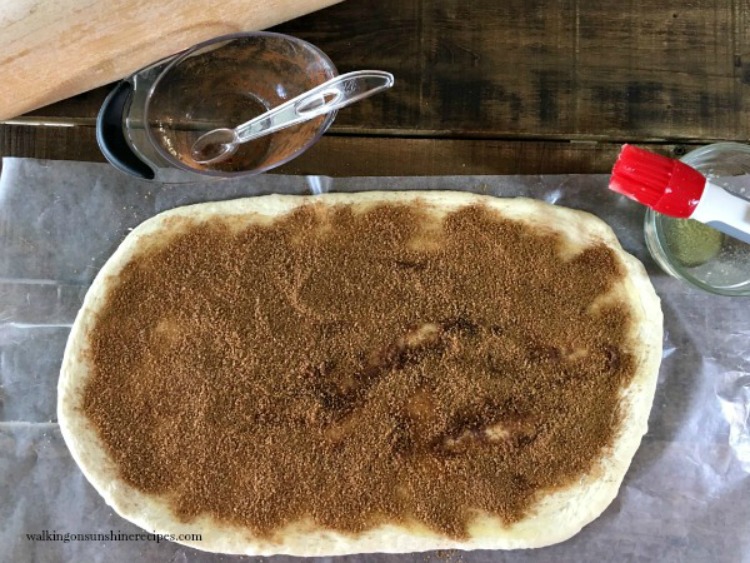 Step 4 | How to Roll up the Dough
Starting from end start rolling the dough up.
Make sure you tuck the ends under and press the seam firmly.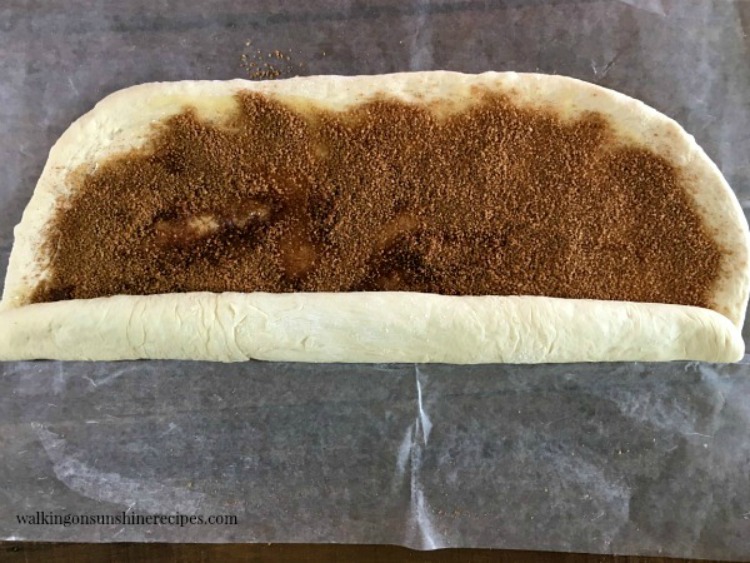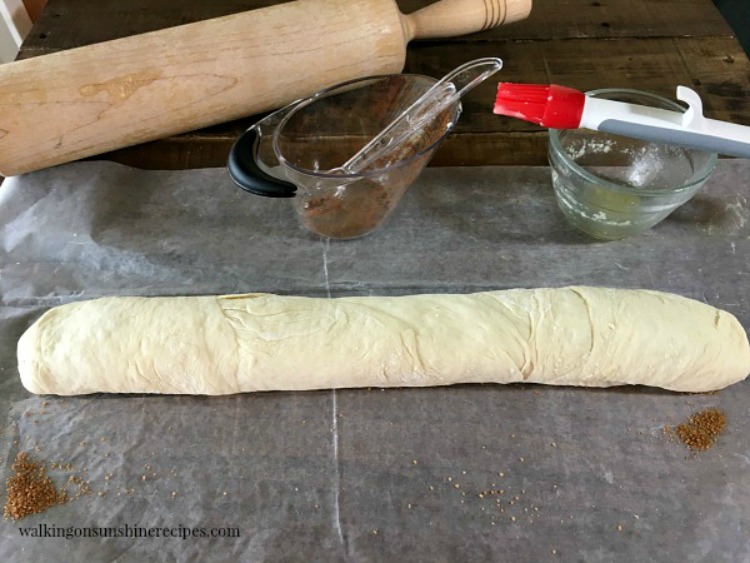 Step 5 | How to Slice the Cinnamon Rolls
I like to use a serrated knife to cut the cinnamon rolls. Some people like to use dental floss. I've never tried that method. If you do, make sure you use the unflavored dental floss, okay?
Depending on how thick you slice the rolls, you should be able to get eight to ten nice sized cinnamon rolls.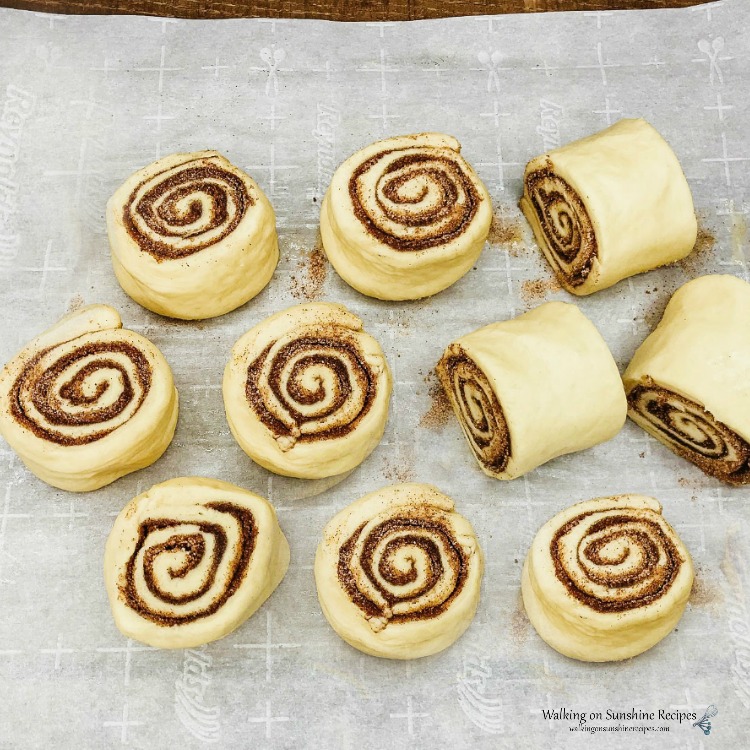 Step 6 | Rising Instructions
You can cover the rolls loosely with plastic wrap if you want. But make sure you place them in a warm, draft-free area in your kitchen. I like to place them either on the stove top or inside the microwave...but do not turn the microwave on, okay?
Allow the cinnamon rolls to rise until they are doubled in size. This could take 60 minutes or more. It all depends on how warm your kitchen is.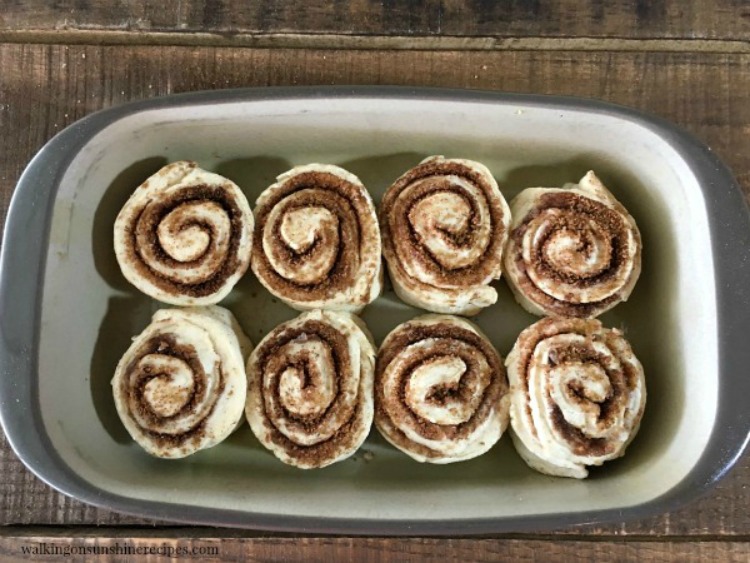 Step 7 | Baking Instructions
Bake in a preheated 350 degree oven for about 25 minutes or until they're slightly browned and the centers are set.
You could bake these semi-homemade cinnamon rolls in an air fryer if you have the proper baking pan. Bake them at 350°F for about 12 minutes.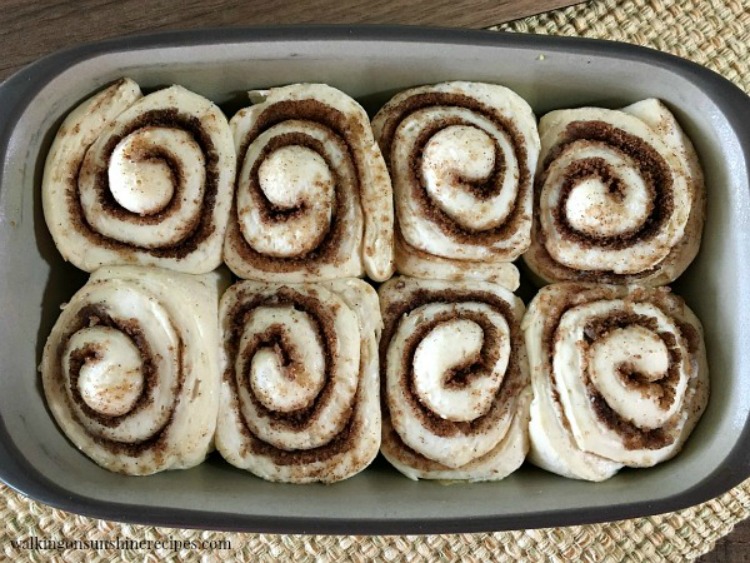 Cream Cheese Frosting Instructions
Prepare the cream cheese icing by combining the icing ingredients in a mixing bowl and beat until smooth.
Allow the cinnamon rolls to cool slightly before adding the icing.
Baking Tip: If you add the cream cheese icing too soon, you'll have a gooey mess on your hands. So be patient and wait about 20 minutes.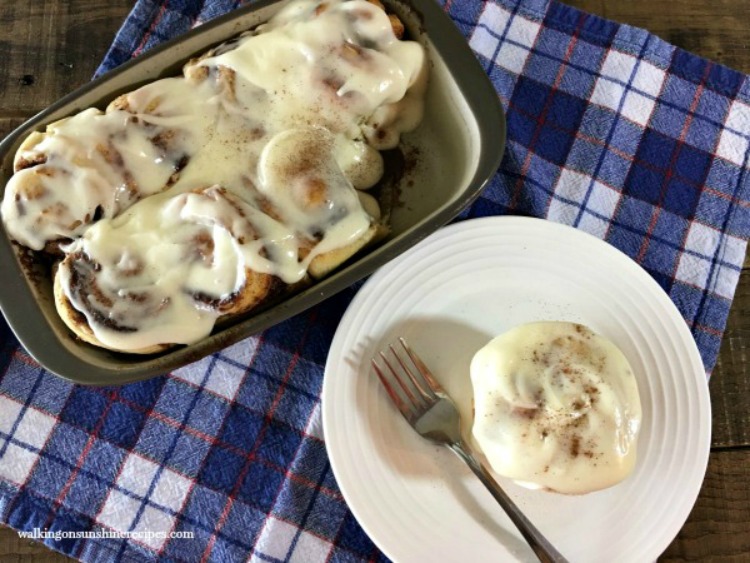 🍽 Make it a Meal
💭Storage Tips
Leftover cinnamon rolls are just as delicious as freshly made ones, but proper storage is key:
Once cooled, store them in an airtight container and they should be good for up to four days.
Alternatively, you can freeze any remaining rolls in a resealable plastic bag or airtight container for up to three months.
If you do choose to freeze them, make sure the rolls are completely cooled before putting them inside the freezer so that they won't get soggy or lose their shape.
🌟Try these recipes next...
💡Recipe FAQs
How do you thaw and rise frozen bread dough quickly?
Place the frozen dough on a plate and cover with plastic wrap. But first you should spray the plate and the plastic wrap with non-stick baking spray so the dough doesn't stick as it defrosts. Microwave the dough on high for 25 seconds. Remove the dough, flip and return to the microwave for another 25 seconds. You can also use the defrost setting for 3 to 5 minutes.
Where do you purchase frozen bread dough?
Frozen bread dough can be found in the freezer section of your local grocery store or big box store like Walmart.
⭐Before You Begin! If you make this recipe, please leave a review and star rating. This helps my business thrive and continue providing FREE recipes.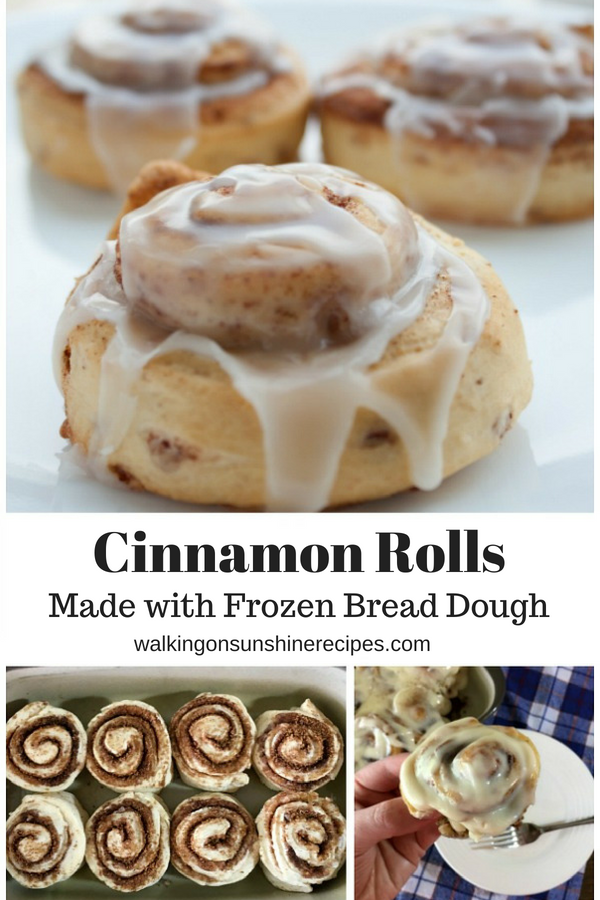 More Information
More Information
More Information
More Information
More Information
Yield: 8 - 10 cinnamon rolls depending on how thick you slice them.
Cinnamon Rolls Frozen Bread Dough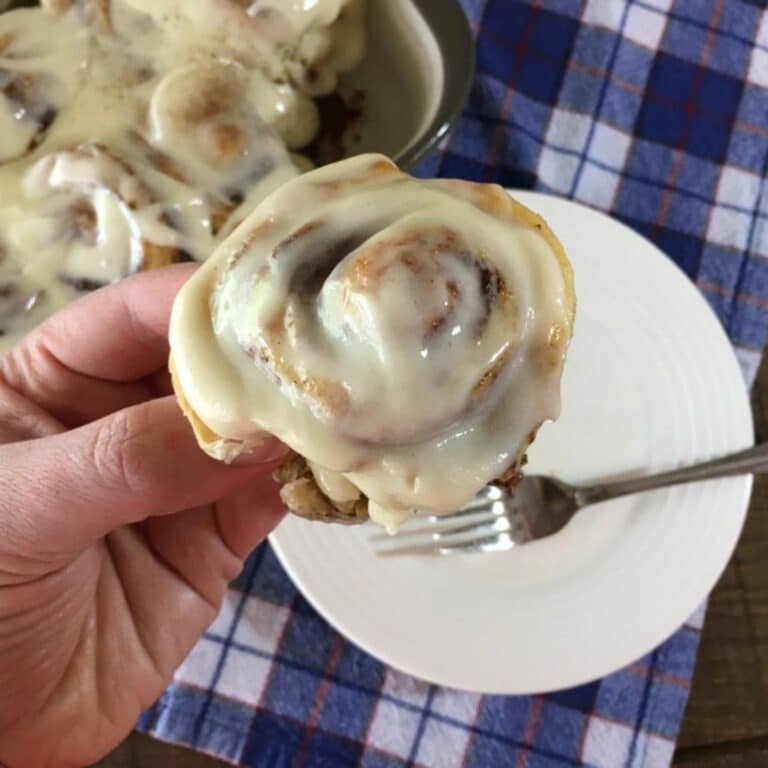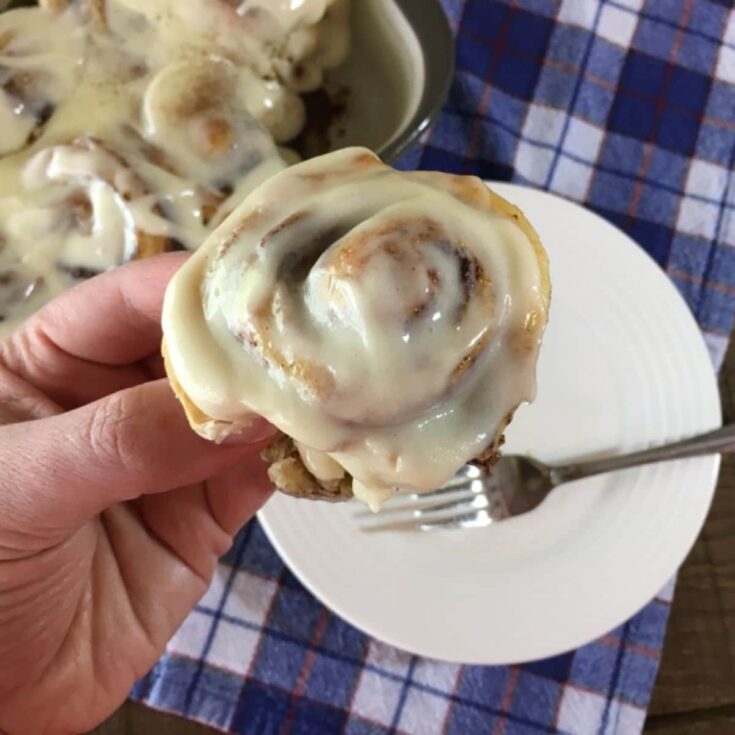 Making cinnamon rolls from frozen bread dough is and easy way to enjoy the taste of homemade without working with yeast.
Total Time
1 hour
40 minutes
Ingredients
For the cinnamon rolls:
1 loaf frozen bread dough; thawed
4 tablespoon melted butter
½ cup brown sugar
2 teaspoon cinnamon
For the icing:
4 ounces cream cheese; softened
¼ cup butter; softened
1 ½ cup powdered sugar
½ teaspoon vanilla
Few drops of milk if necessary
Instructions
For the cinnamon rolls:
On a floured surface, roll the dough out into a rectangle.
Spread the melted butter on top of the bread dough.
Combine the brown sugar and cinnamon together and spread it over the top of the butter on the bread dough.
Beginning at one end, roll the dough up into a log.
Slice the log into 2 inch thick rolls and place in a greased pan.
Cover with a cloth and allow the rolls to rise in a warm area until they have doubled in size. Depending on how warm your kitchen is, this could take 60 minutes.
Bake in a 350 degree oven for 20 to 25 minutes or until they are browned.
Allow to cool slightly before adding the cream cheese icing; about 20 minutes.
For the cream cheese icing:
In a mixing bowl, beat the softened cream cheese with the softened butter.
Add the vanilla.
Add the powdered sugar and mix until smooth.
Frost the cinnamon rolls after they've cooled for about 20 minutes.
Notes
How to Defrost the Dough
Remove a loaf from the freezer the night before you plan on making the cinnamon rolls. Wrap the loaf of dough in plastic wrap and let it thaw overnight in the refrigerator. 
Continue with the recipe as directed when the dough is defrosted. 
You may need to add a few drops of milk to the icing while mixing if it's not creamy enough.
Nutrition Information:
Yield:
8
Serving Size:
1
Amount Per Serving:
Calories:

293
Total Fat:

17g
Saturated Fat:

11g
Trans Fat:

0g
Unsaturated Fat:

5g
Cholesterol:

47mg
Sodium:

155mg
Carbohydrates:

35g
Fiber:

0g
Sugar:

32g
Protein:

2g
The nutrition information is calculated automatically. I cannot guarantee its accuracy. If this data is important to you, please verify with your trusted nutrition calculator.
This recipe has been updated since it first appeared in 2017 with new photos and a new printable recipe card that includes nutritional information. I hope you enjoy the updates as much as I enjoyed working on them!