Look no further than this collection of Halloween Themed Desserts for spooky, silly and maybe even a little scary desserts to serve to your family and friends this holiday season.
Serve these at your mom's get-together, share them with friends or bring them to your kid's school party. Either way, these festive desserts will be a hit!
Check out all the other Halloween Themed Recipes for even more fun ideas to celebrate this spookly holiday!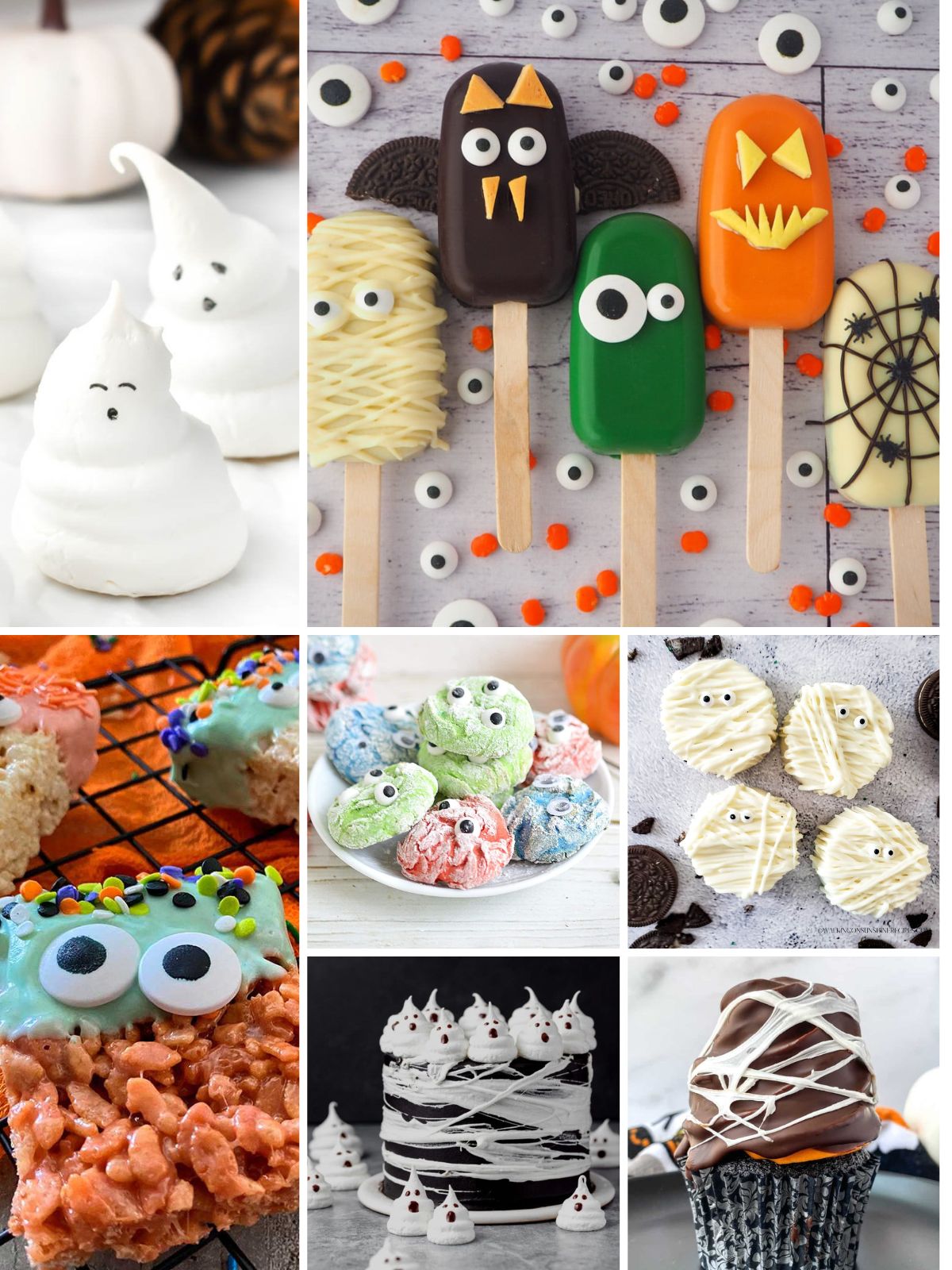 Halloween is the perfect time to get creative with your desserts. And whether you're looking for a last-minute treat or planning ahead for your Halloween bash, I know you'll find a few eerie desserts to serve to family and friends. .
Your guests will be thrilled when they see these ghoulishly good desserts staring back at them. And you'll love how easy they are to make! So go ahead and give in to your sweet tooth this Halloween - your guests will thank you for it.
Table of Contents
Looking for more Easy Dessert Recipes for Halloween? Try my Mummy Halloween Cookies or my Nutter Butter Mummy Cookies.
💭Halloween mason jar desserts
Mason jars are the perfect way to serve individual desserts at a Halloween party. Not only do they look festive, but they also allow guests to choose their own toppings.
For a spooky twist on the classic brownie, try using black food coloring in the batter. Top with orange frosting and candy corn for a frightfully delicious treat.
Or, for something a little lighter, fill jars with pumpkin mousse and top with whipped cream and a crumble of gingersnap cookies.
Another fun option is to make ghostly cupcakes by topping vanilla cupcakes with white frosting and two mini chocolate chips for eyes.
💭Halloween desserts with googly eyes
Halloween is the perfect time to get creative with your desserts. One fun way to decorate Halloween treats is to give them googly eyes. You can find small edible candy eyes at most craft stores, or even Amazon.
Just be sure to attach the eyes securely so they don't fall off. I like to use a dab of frosting or icing to hold the candy eyes in place like I did with my Halloween Brownies. For an extra-spooky effect, try making some of your desserts with two sets of eyes...or even three for really scary treats!
Cupcakes, cookies, and even rice krispie treats can be transformed into spooky creatures with a few strategically placed googly eyes. So have fun and get creative this Halloween season!
💭Halloween gift tags printable
Printable Halloween Treat Bags and Tags are perfect for you to print, cut, and use to attach to homemade treats, cookies or even store bought candy!
These digital treat bag toppers are fast, convenient, and affordable to dress up any Halloween treat bag full of goodies. They're perfect to make for your kids to pass out to their class, daycare, church group, friends, and family members. Simply print at home and attach to your treat filled bag!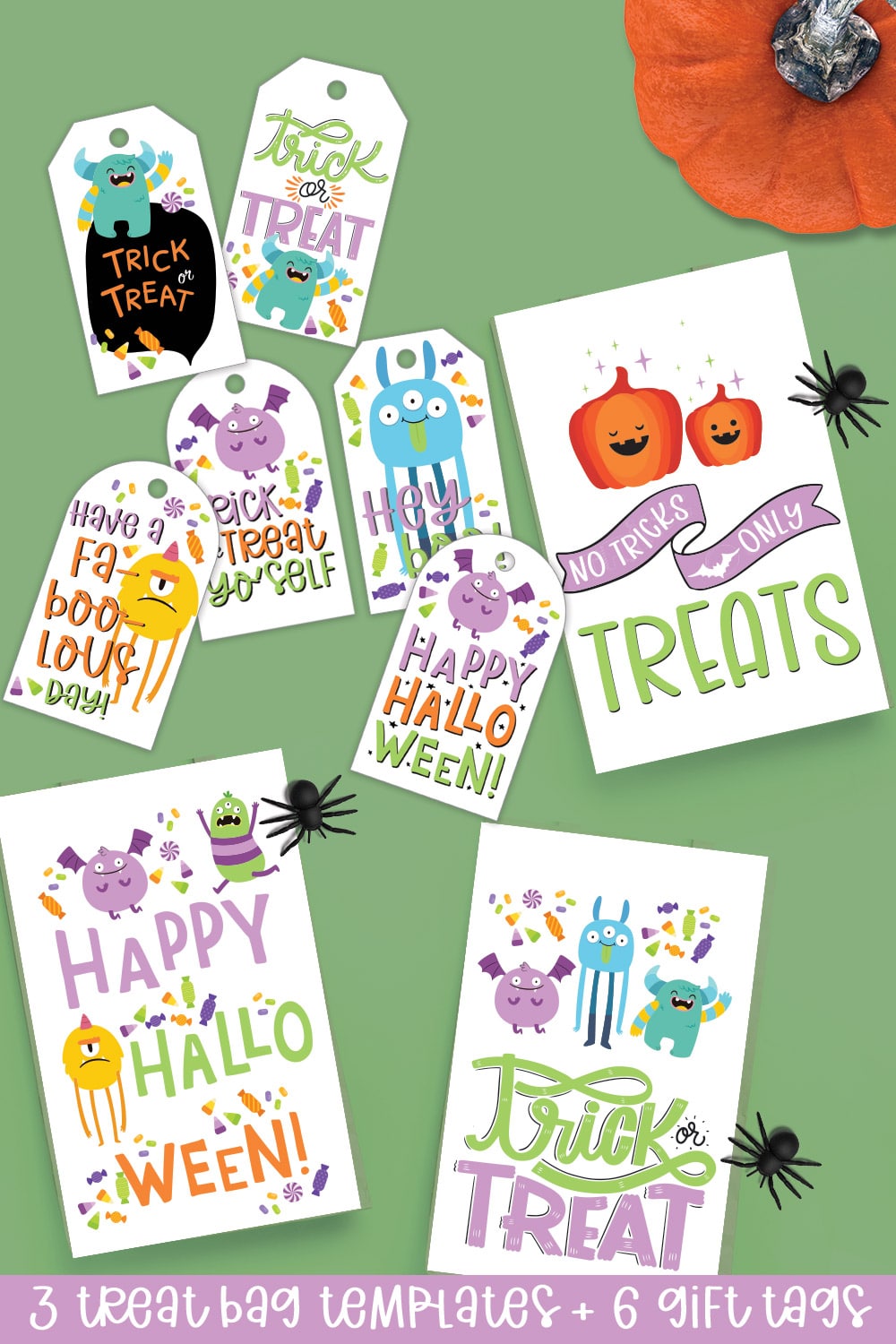 🍽Helpful Kitchen Tools
This post contains affiliate links. That means that if you make a purchase after clicking on a link I may earn a small commission at no extra cost to you. For more information, click here.
More Information
More Information
More Information
⭐Before You Begin! If you make this recipe, please leave a review and star rating. This helps my business thrive and continue providing FREE recipes.
📋Featured Recipe Collection
Unlock this recipe by creating an account with GROW! It's easy and allows you to SAVE the recipes you love from my site into your own personalized account. What is Grow? It's another way for you to save the recipes you want to try from all your favorite food bloggers.
Halloween Themed Desserts
This collection of Halloween Themed Desserts has spooky, silly and scary desserts to serve to your family and friends this holiday season.