Crispy Eggplant Slices - Perfect all by themselves or dipped in homemade tomato sauce, oven fried eggplant is the perfect appetizer to serve for your family and friends! This recipe is also the first step in preparing Eggplant Parmesan, one of my favorite Italian recipes. Let me show you how to make them perfectly crispy without deep frying or without any oil!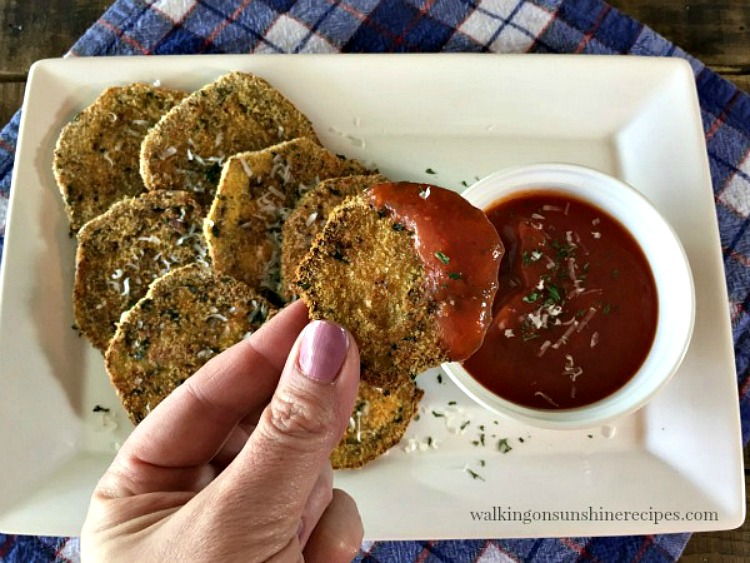 For years I made this recipe the traditional way by frying the breaded eggplant slices in a heavy skillet in oil. But then I discovered one of the ways to get crispy baked eggplant slices is to use my oven.
Healthy Eggplant Recipes
Baked eggplant slices can be used as an appetizer when served with a sprinkle of Parmesan cheese on top. You can also serve them as an appetizer with my homemade tomato sauce recipe to use a dipping sauce.
And if I can keep my family from devouring all the crispy baked eggplant slices, I'll use them to make another popular blog recipe, Eggplant Parmesan.
It's one of my favorite recipes to order when dining out in Italian restaurants, however, nothing compares to my homemade recipe!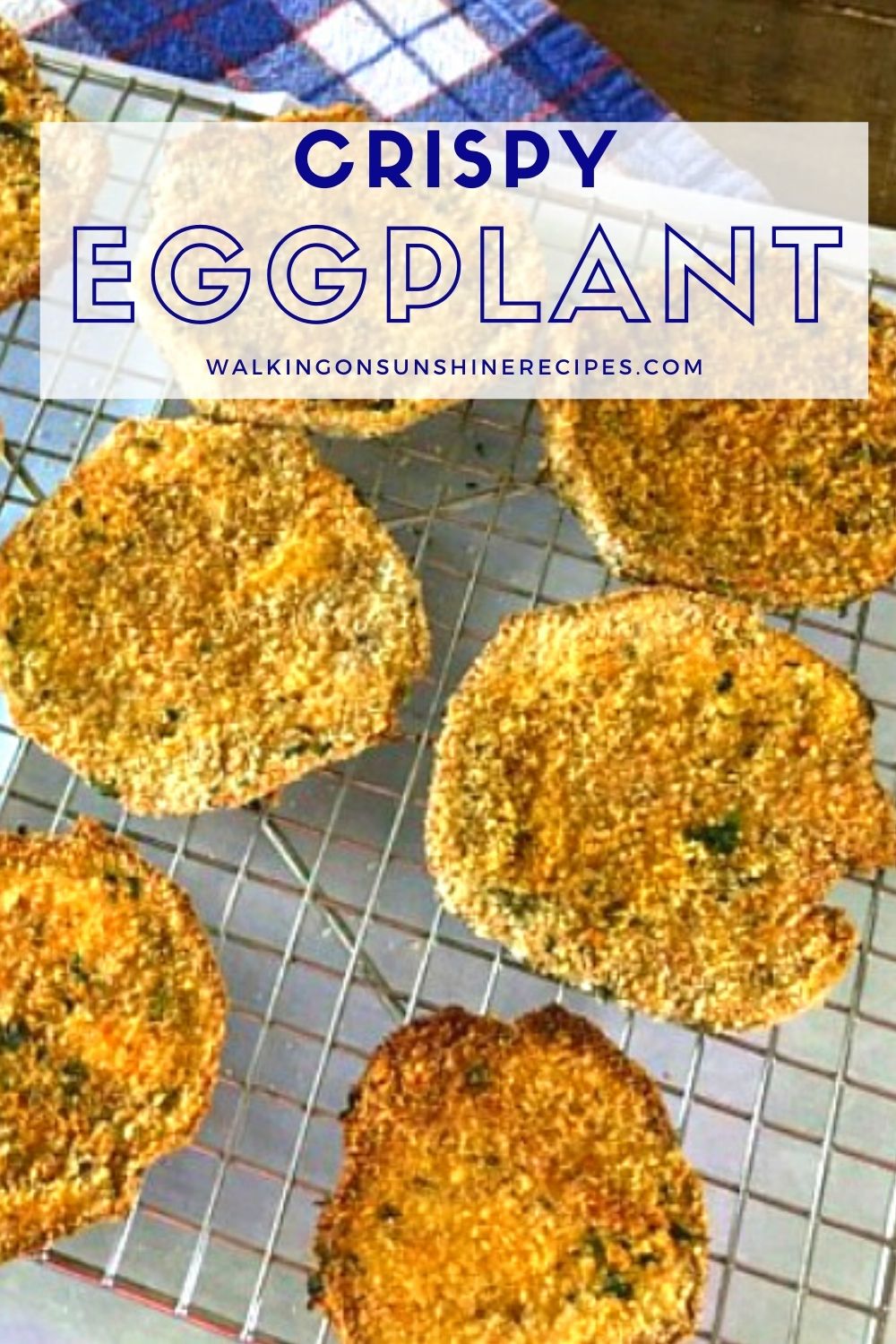 Helpful Kitchen Tools
This post contains affiliate links. As an Amazon Associate, I earn from qualifying purchases. For more information, click here.
Ingredients:
This is an overview of the ingredients and instructions. Be sure to see the recipe card below for exact quantities, detailed instructions and special notes.
1 medium-sized eggplant; peeled and sliced into thin rounds.
Eggs
Plain bread crumbs
Dried parsley
salt and pepper
non-stick cooking spray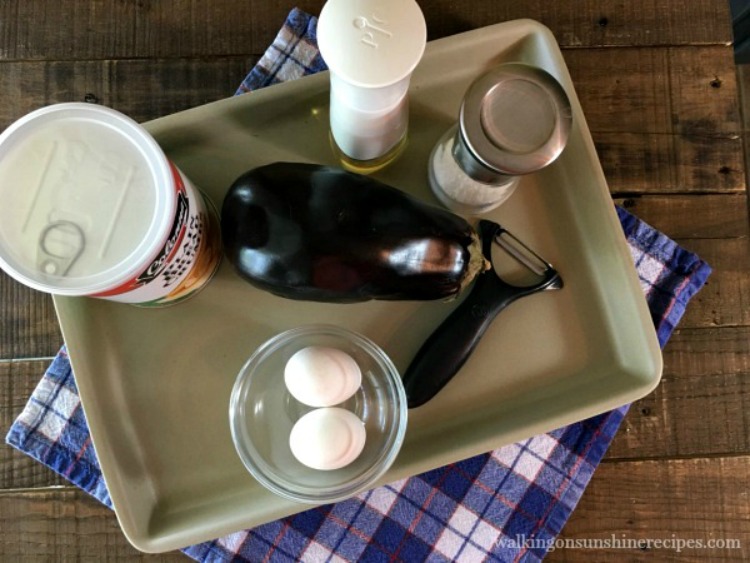 Peeling Eggplant
I like to peel my eggplant. Some people don't, so it really depends on how you like to eat eggplant. I find the skin to taste bitter and do not care for the texture of it.
If you do decide to peel the eggplant, you can use either a vegetable peeler or a sharp knife. The skin is not very thick, so it should peel pretty easily.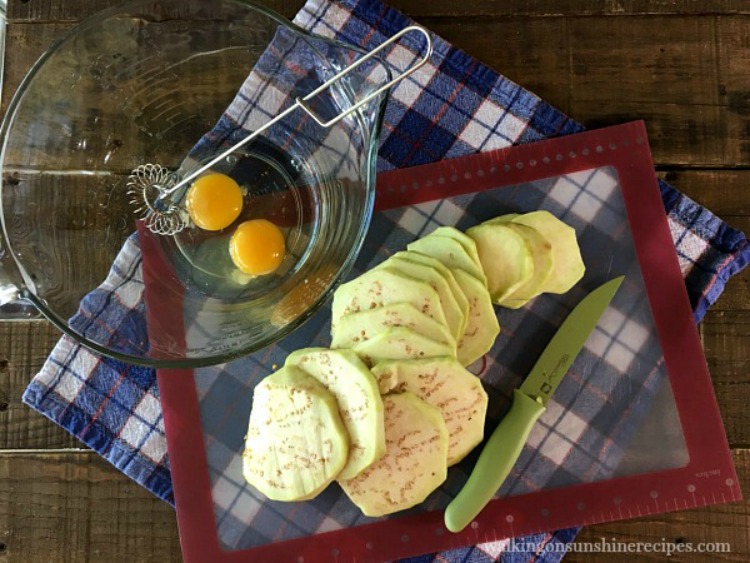 Directions
You can use seasoned bread crumbs or season them yourself which is what I prefer by adding dried parsley, salt and pepper.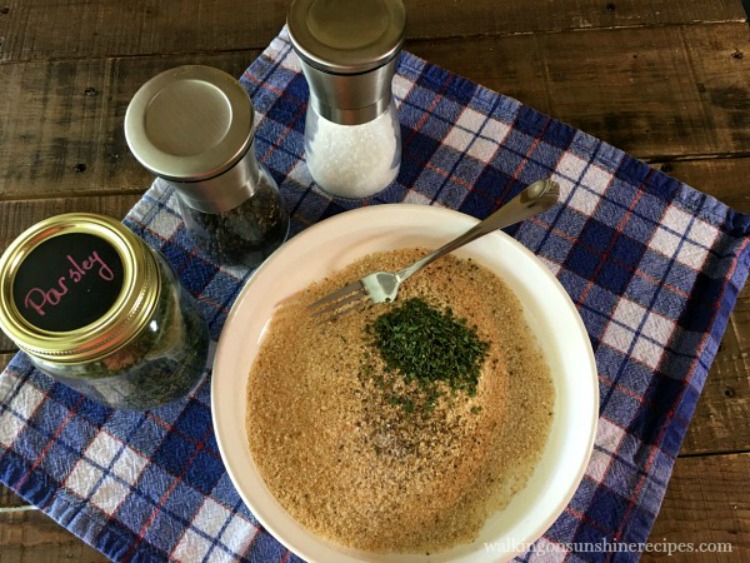 Dip the eggplant slices in the beaten eggs and then dredge in the breadcrumbs.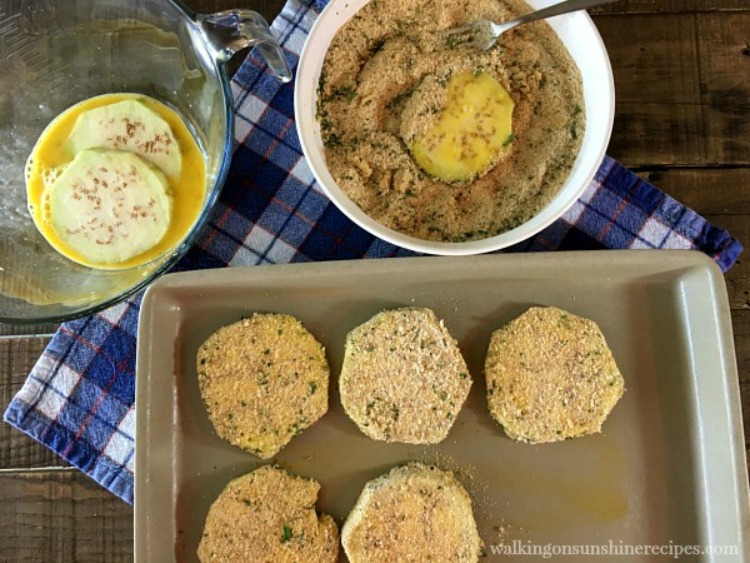 Baked Eggplant Slices
The secret to getting crispy baked eggplant is to use cooking spray. Do not brush the slices with oil. They come out too greasy and soggy. Which is not what you want!
Use a Cooking Oil Spritzer filled with regular oil and spray each eggplant slice.
You can also use non-stick cooking spray, like Pam Cooking Spray.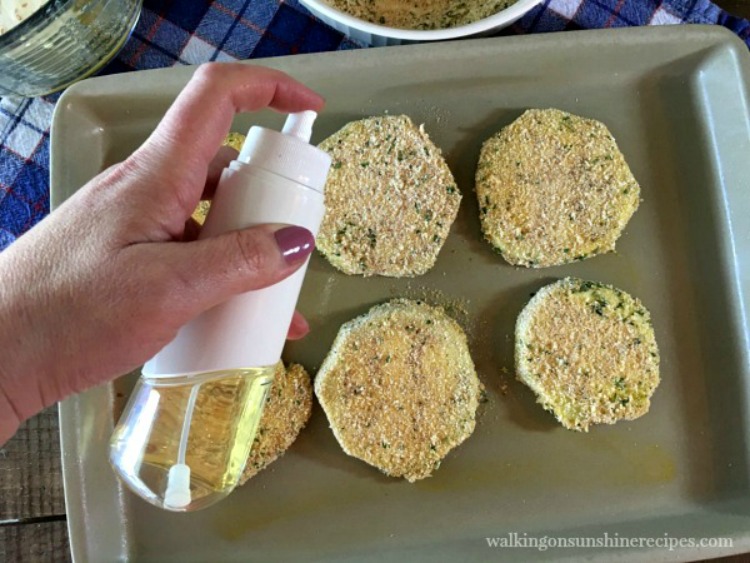 Oven Fried Eggplant
Place the tray of eggplant slices in a preheated 425 degree oven.
Bake the eggplant slices until they are golden brown on the bottom; about 8 to 10 minutes.
Flip the slices and spray the tops again with the cooking spray.
Continue baking for a few extra minutes until the eggplant is soft and the tops are crispy.
Once the eggplant slices are done, remove them to a wire baking rack.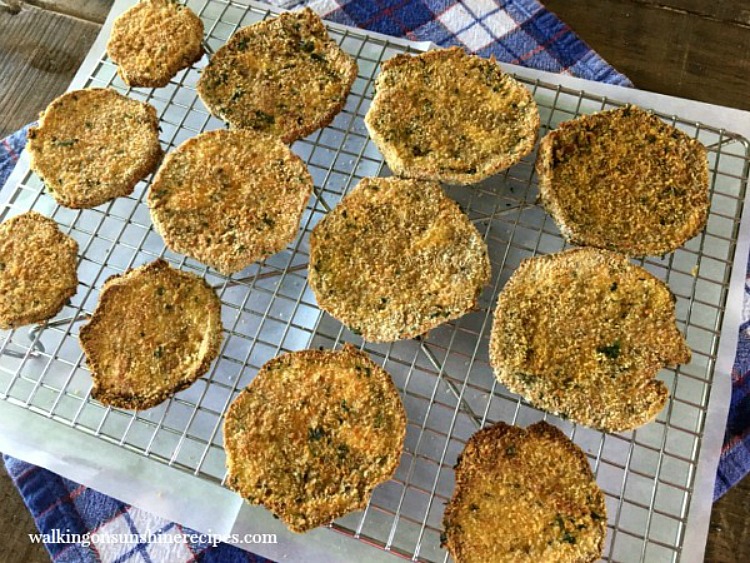 Can you see how crispy they look? And without frying! These are so addictive! I can eat the whole tray by myself!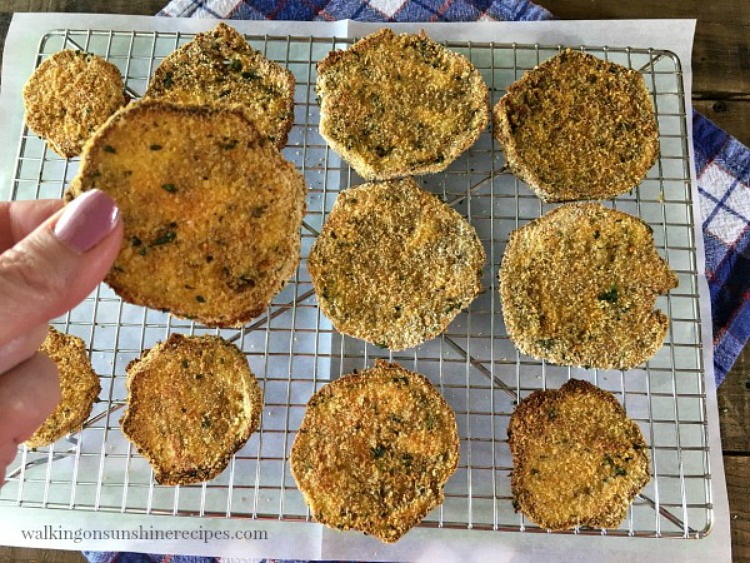 Baked Crispy Eggplant is a much healthier way to enjoy this favorite summer vegetable.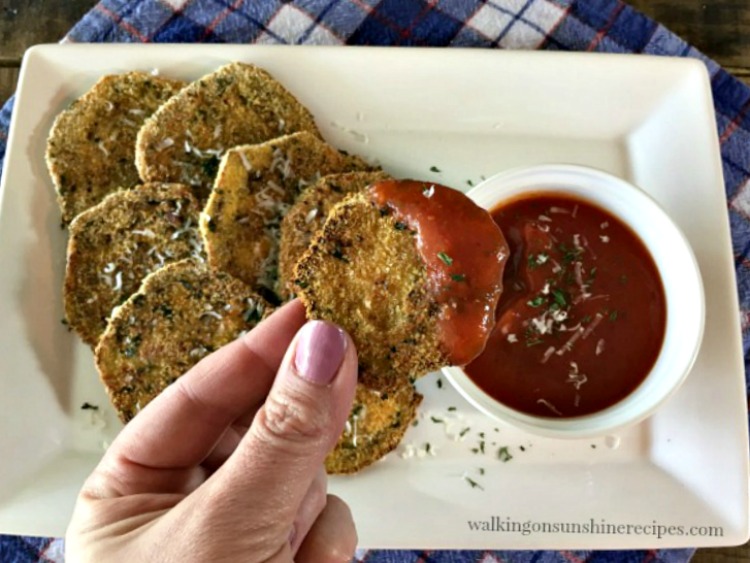 More Easy Appetizer Recipes:
Yield: 4 servings
Healthy Baked Crispy Eggplant
Baked Crispy Eggplant Slices are the perfect appetizer to serve dipped in homemade tomato sauce. Or use them as a base for Eggplant Parmesan.
Ingredients
1 medium-sized Eggplant; peeled and sliced into thin rounds.
2 large eggs
1 cup plain bread crumbs
2 teaspoons dried parsley
salt and pepper
Non-stick cooking spray
Instructions
Preheat the oven to 425 degrees.
Peel and slice the eggplant into rounds. I like them pretty thin, but it's really up to you.
In a medium bowl, beat the eggs.
In a shallow bowl or pie plate combine the bread crumbs, parsley, salt and pepper.
Dip one eggplant slice in the egg mixture and then immediately into the bread crumb mixture covering both sides of the eggplant with bread crumbs. Repeat with all the eggplant slices.
Lay the eggplant slices on a baking tray that has been lined with parchment paper or prepared baking pan.
Spray the tops of the eggplant slices with the non-stick cooking spray.
Bake until the eggplant is golden brown on the bottom; about 8 to 10 minutes.
Flip the slices and spray the tops again with the cooking oil spray.
Continue baking until the eggplant is soft and the tops are crispy.
Remove from oven and transfer to a baking rack or serving platter.
Serve with warm tomato sauce and enjoy!
Notes
Total cooking time really depends on how thick the eggplant slices are. The ones in my photos are pretty thin and cooking time was about 12 minutes total.
A medium-sized eggplant should yield enough slices for four servings.
Recommended Products
As an Amazon Associate and member of other affiliate programs, I earn from qualifying purchases.
Nutrition Information:
Yield:
4
Serving Size:
1
Amount Per Serving:
Calories:

193
Total Fat:

4g
Saturated Fat:

1g
Trans Fat:

0g
Unsaturated Fat:

2g
Cholesterol:

93mg
Sodium:

310mg
Carbohydrates:

32g
Fiber:

5g
Sugar:

6g
Protein:

8g
The nutrition information is calculated automatically. I cannot guarantee its accuracy. If this data is important to you, please verify with your trusted nutrition calculator.
This post has been updated since it first appeared here in 2017. I hope you enjoy this recipe as much as I do!