This collection of easy recipes for homemade ice cream are definitely going to help keep you cool on a hot summer day!
Whether you're a fan of classic flavors or daring combinations, making your own ice cream is a delightful way to beat the heat and indulge in pure frozen bliss!
Let's face it, nothing beats the creamy, melt-in-your-mouth goodness of homemade ice cream not only during summer, but all year long too!
Check out all the other easy desserts available here on the site for you.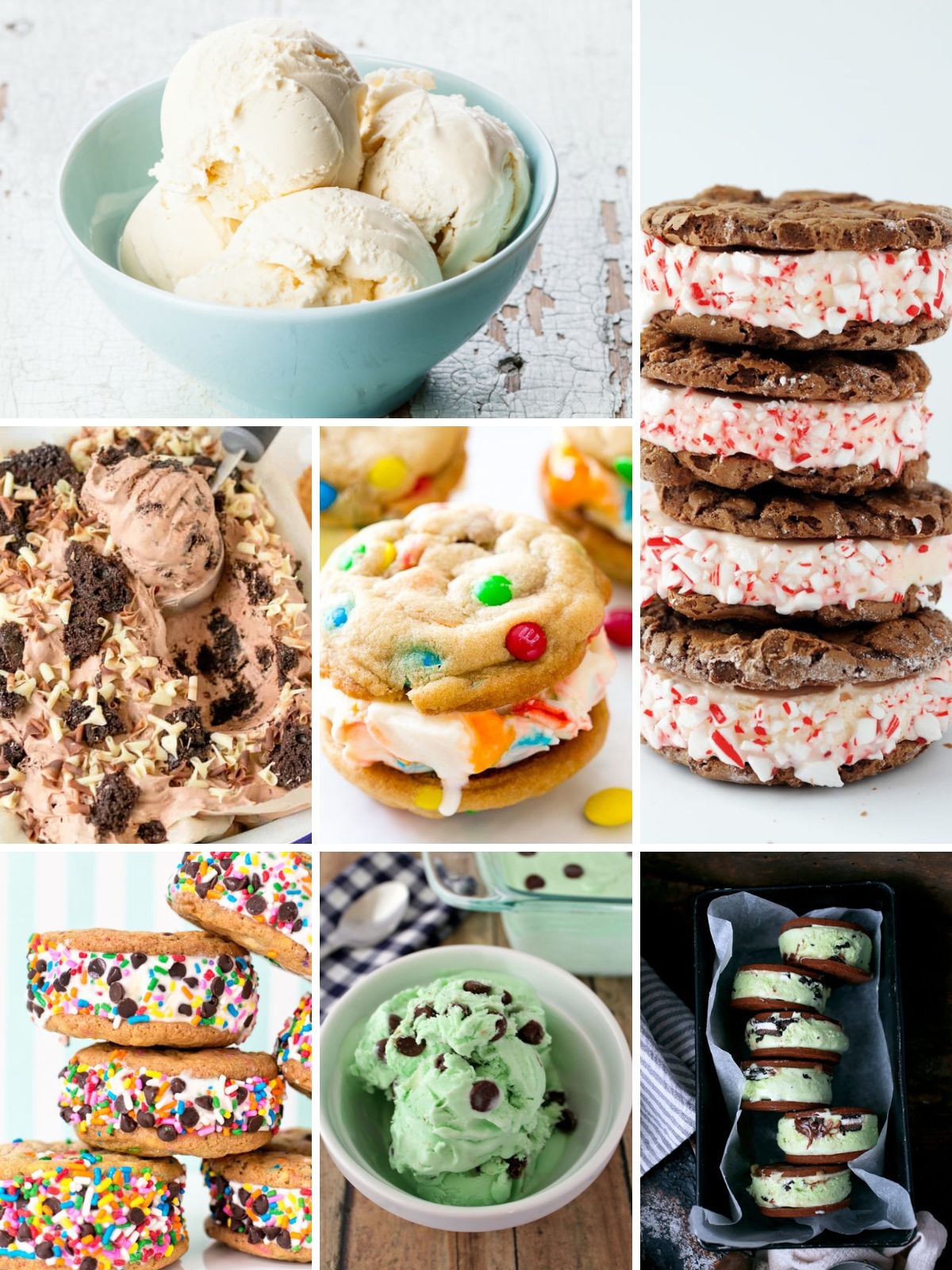 And now that summer is here it's time to start enjoying delicious treats to help keep us cool and what better way than with a bowl of delicious ice cream or another frozen homemade treat?
Some of these recipes I'm sharing with you today use an ice cream maker. However, there are also a few recipes that are no churn recipes. Which is a really easy way to make ice cream at home without having any special equipment.
Make sure you check out my very first recipe for Homemade Vanilla Ice Cream included in this fun roundup.
Table of Contents
👩‍🍳Favorite Ice Cream Sandwich Recipes
Did you know that you can turn just about anything yummy and sturdy enough can act as a sandwich for you to wedge your favorite ice cream in between?
How about pairing mint chocolate chip between cake-like brownies? Or for a Neapolitan twist, try homemade strawberry ice cream nestled between one chocolate cookie and one vanilla sugar cookie.
Here are a few recipes you can use to make your own homemade ice cream sandwiches. Once the cookies or brownies are made, all you need to do is add the ice cream. How easy is that?
Easy Family Meal PlannerClick HERE for More Information
🛒Tools to make Ice Cream
Cuisinart Ice Cream Maker Machine, 1.5 Quart Sorbet, Frozen Yogurt Maker, Double Insulated, White, ICE-21P1
DASH My Mug Ice Cream Maker, for Ice Cream, Gelato, Sorbet, Frozen Yogurt, and Custom Mix-Ins, with (2) Bowls
DASH Mini Waffle Bowl Maker for Breakfast Burrito Bowls, Ice Cream and Other Sweet Desserts, Recipe Guide Included - Black
DUNCHATY Ice Cream Containers (Set of 2, 1 Quart Each) Freezer Dessert Containers Reusable Ice Cream Storage Cups with Silicone Lids for Homemade IceCream Frozen Yogurt Sorbet Blue
💡Recipe FAQ
Simply click the plus sign to read more about the questions you see below. If YOU have a question regarding this recipe, please let me know in the comment section.
What do I need to make homemade ice cream?
Use either heavy cream or whole milk to achieve a creamy texture. Then sweeten the mixture with sugar! Add extracts like vanilla, chocolate, or fruit puree to create delicious flavors.
You'll need an ice cream maker as well.
What kind of salt for homemade ice cream?
When homemade ice cream, you'll need a specific type of salt called "ice cream salt" or "rock salt." This coarse salt is commonly used in ice cream makers to lower the freezing point of the ice surrounding the ice cream mixture. The lower freezing point helps freeze the mixture more quickly, resulting in a smoother texture.
How long does it take to make homemade ice cream?
The duration for making homemade ice cream may differ based on the chosen method and recipe. When using an electric ice cream maker, it generally takes around 30 minutes to one hour to churn the ice cream until it reaches the desired consistency.
📇Recipe Collection
⭐Before You Begin! If you make any of these recipes, please leave a review and star rating. This helps my business thrive and continue providing FREE recipes.
Easy Recipes for Homemade Ice Cream
I scream, you scream, we all scream for Ice Cream! And not just regular ice cream, but delicious Homemade Ice Cream!
homemade-ice-cream-recipes/