There's nothing quite like homemade vanilla ice cream. Rich, creamy and delicious, it's an easy dessert and treat that's worth the time and effort.
And with just five ingredients - milk, cream, sugar, vanilla and salt - it's easy to make at home.
The key to success is to use good-quality ingredients and to let the mixture churn for long enough to reach the perfect consistency.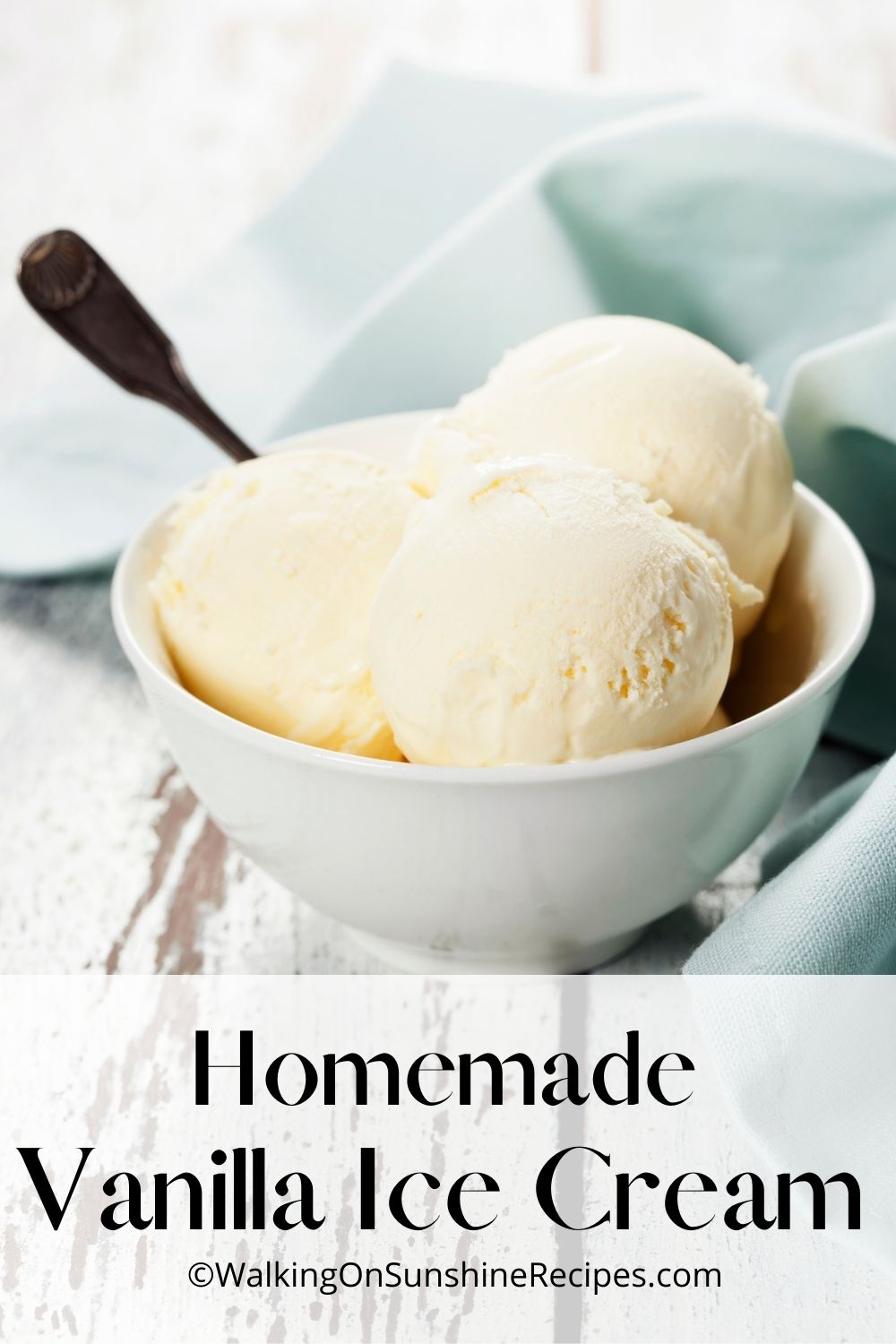 I have never made homemade ice cream before receiving this ice cream maker. My husband and I did this recipe together and it was so easy...and delicious!
You might be tempted to make ice cream sandwiches using my recipe for Jumbo Chewy Chocolate Chip Cookies.
You definitely need to put a scoop of ice cream on top of Homemade Apple Pie, Peach Cobbler or my very favorite Apple Dump Cake.
Table of Contents
Hamilton Beach Ice Cream Maker Recipes
This post was originally sponsored by Hamilton Beach, however, all opinions, as always are my own.
To show you how easy it is to make homemade ice cream, I'm using the recipe that comes with the Hamilton Beach Ice Cream Maker.
4 Quart Ice Cream Maker Recipes
I thought for my very first homemade ice cream recipe, I should follow one of the 4 quart ice cream maker recipes included in the box. There are quite a few recipes included in the booklet that comes with the machine. I chose to make the homemade vanilla recipe today.
Helpful Kitchen Tools
This post contains affiliate links. That means that if you make a purchase after clicking on a link I may earn a small commission at no extra cost to you. For more information, click here.
Hamilton Beach Automatic Ice Cream Maker, 4More Information
Mortons Salt Rock 4 Lb Pack OfMore Information
Ice Cream Scoop with Trigger Ice CreamMore Information
8oz Mini Ice Cream Containers with SiliconeMore Information
Main Ingredients Needed:
This is an overview of the ingredients and instructions. Be sure to see the recipe card below for exact quantities, detailed instructions and special notes.
Granulated Sugar
Whole Milk
Heavy Whipping Cream
Vanilla Extract
Lemon Juice
8 lbs ice
3 cups rock salt
Step-by-Step Directions
1️⃣Combine the Ingredients
In a large mixing bowl, combine the sugar, milk, cream, vanilla extract and lemon juice.
Whisk until mixed through.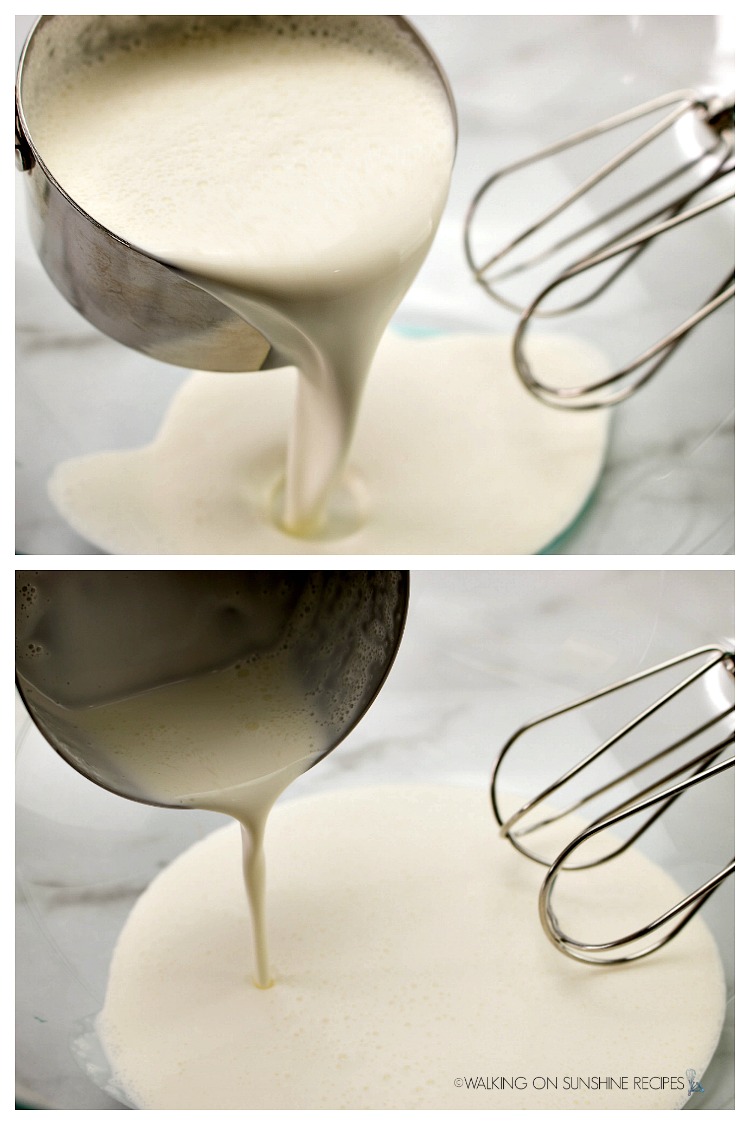 2️⃣ Add the Mixture to the Ice Cream Maker
Pour the mixture into the canister, insert the dasher, and secure the lid tightly.
Following the instructions in the manual, add the ice and rock salt to the machine and let the churning begin!
After about 40 minutes, the machine will start to slow down.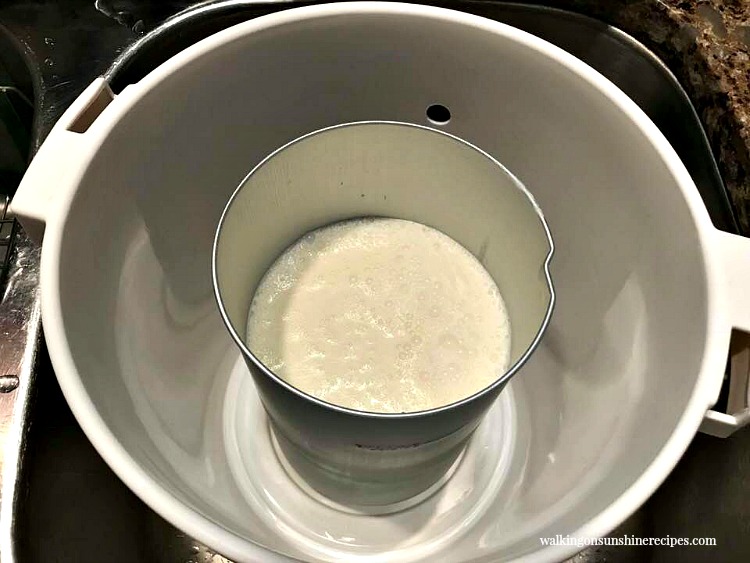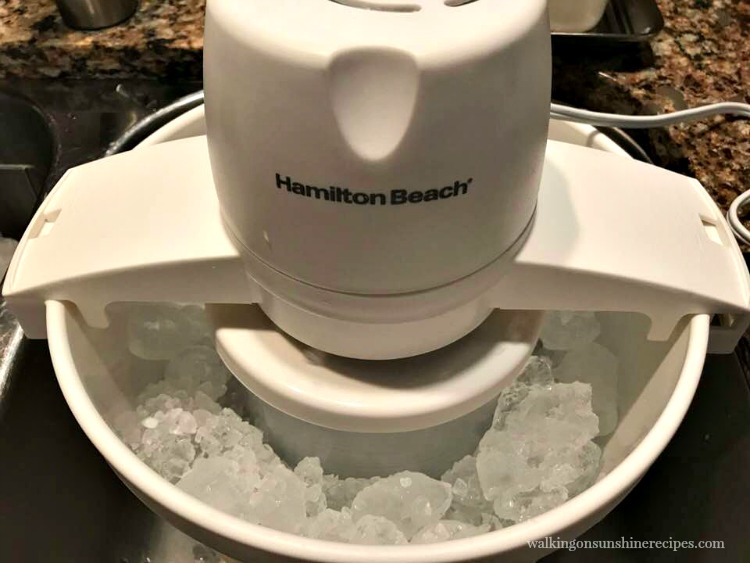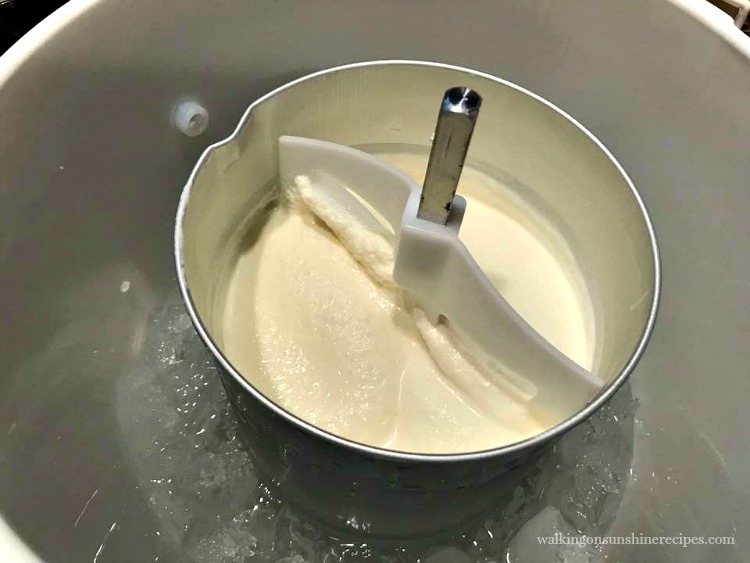 Step 3: Chilling Homemade Ice Cream
Look how delicious! Now comes the hard part...waiting.
Put the ice cream into a freezer safe container and freeze for about one to two hours before serving.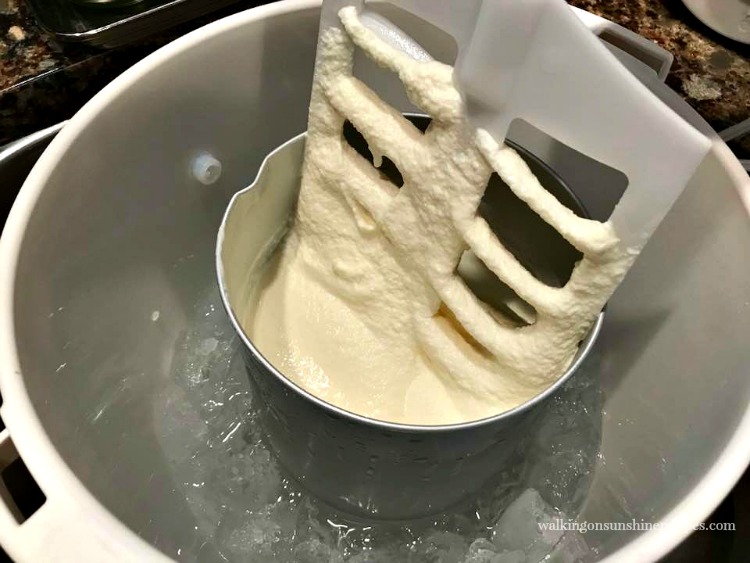 4️⃣Storage Tips
Now that you've made the ice cream, let's talk a few different ways to store homemade ice cream:
Freezer-safe plastic container
Specially made ice cream containers
Loaf pans - yes a standard 9×5-inch loaf pan you use bake bread in works great! Cover first with plastic wrap and then aluminum foil.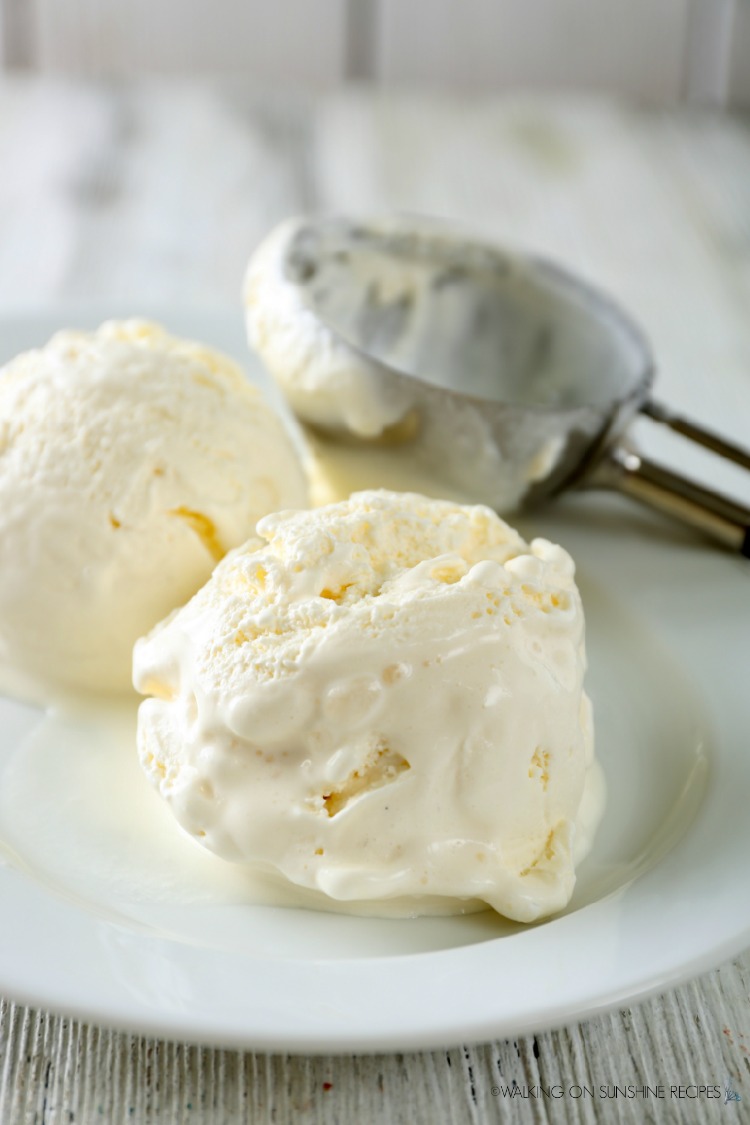 More Information
More Information
More Information
More Information
Favorite Ice Cream Toppings
Of course the ice cream is delicious just as it is, but it's always fun to add your favorite toppings:
Chocolate sauce or fudge
Chopped walnuts or pecans
Different colored sprinkles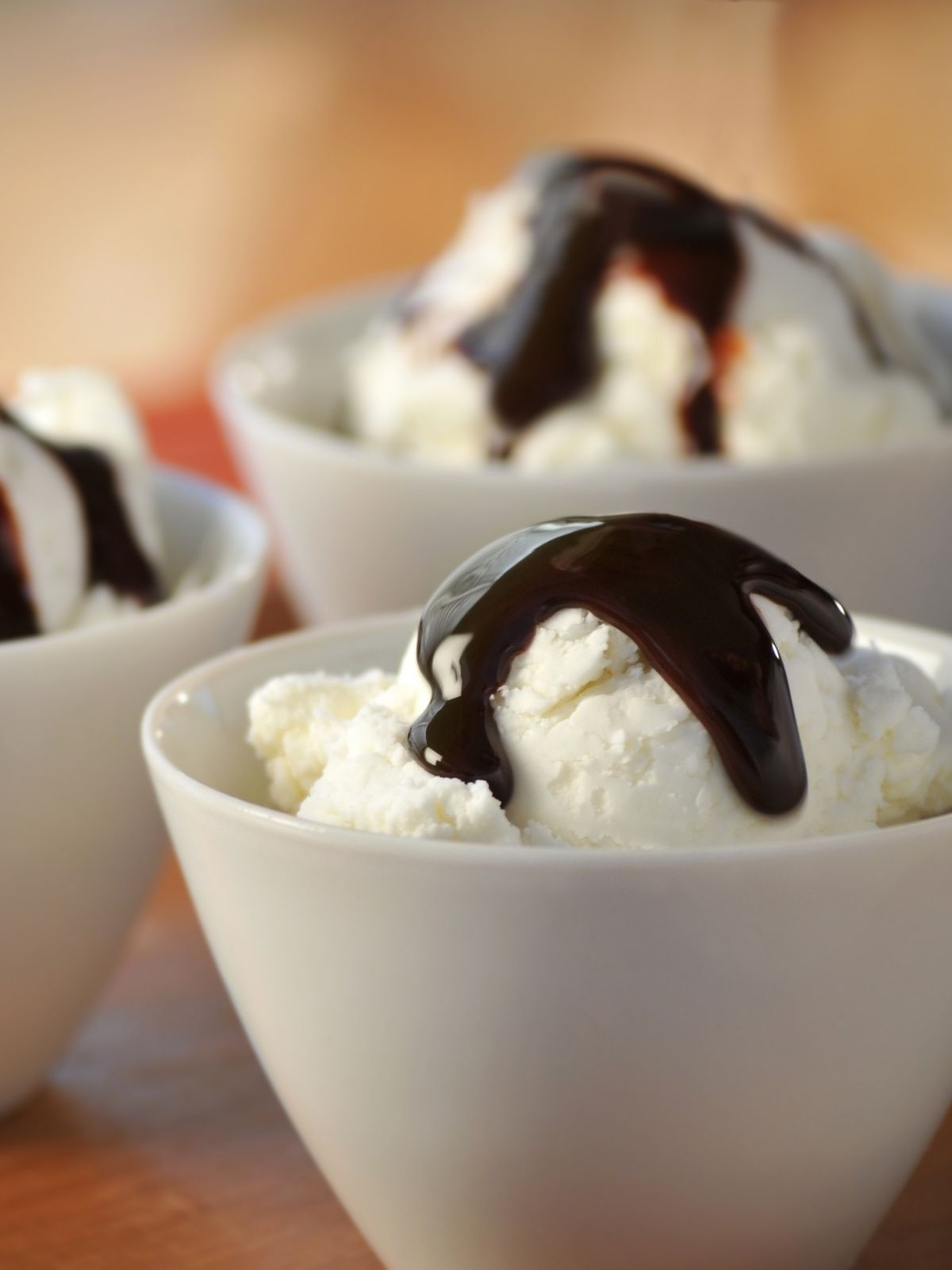 ⭐Before You Begin! If you make this recipe, please leave a review and star rating. This helps my business thrive and continue providing FREE recipes.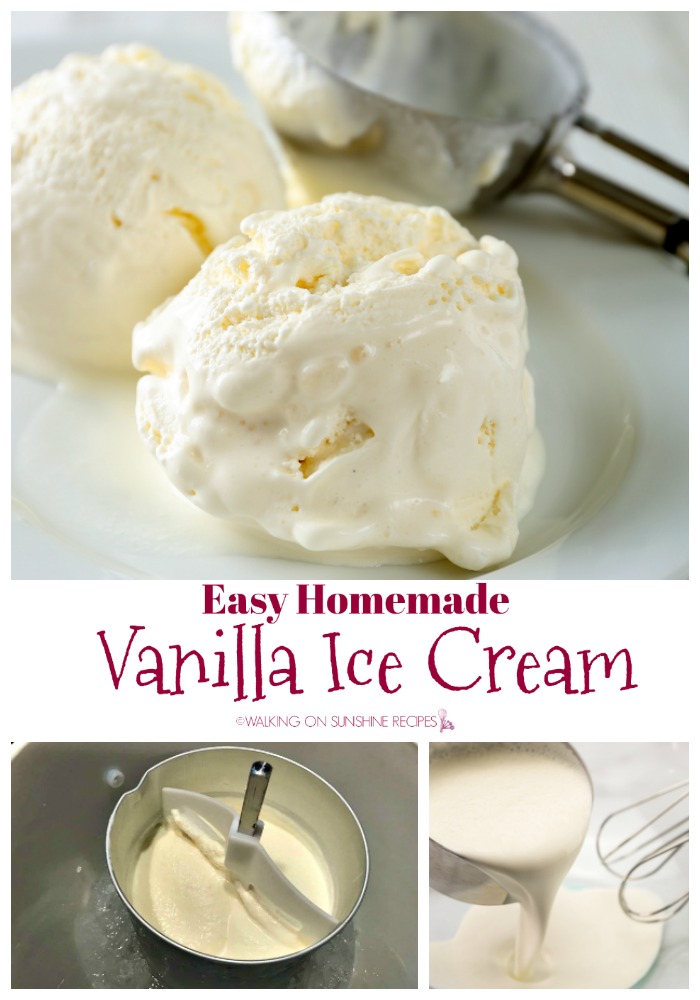 🌟Try these recipes next...
The only thing missing from this dessert is a cookie or two! Here are a few yummy recipes that you might enjoy.
Chocolate Sugar Cookies - oh my word...how about putting a scoop of this homemade vanilla ice cream between two chocolate sugar cookies? That sounds yummy, right?
Or try this recipe for M&M Cookies to make an ice cream sandwich.
More Information
More Information
More Information
More Information
💡Recipe FAQ
Simply click the plus sign to read more about the questions you see below. If YOU have a question regarding this recipe, please let me know in the comment section.
How long does homemade ice cream take?
Making ice cream at home is not a quick process. But it is truly worth the time it takes to make this delicious recipe.
What can I use instead of rock salt for making ice cream?
I've only made this recipe using rock salt, but you can use Kosher salt. From the research I've done online, it seems that using regular table salt could give the ice cream a bitter taste. Rock salt is not hard to find or purchase. I ordered mine from Amazon. It was delivered in just a day!
📇Recipe Card
Yield: 8 servings
Homemade Vanilla Ice Cream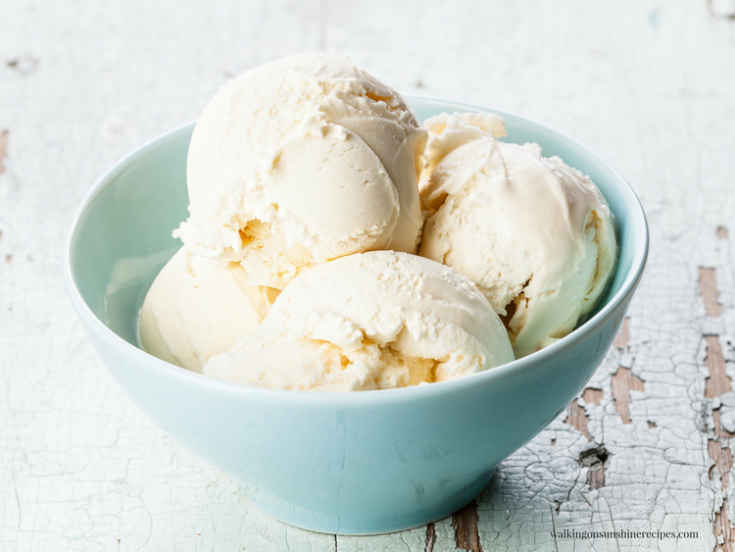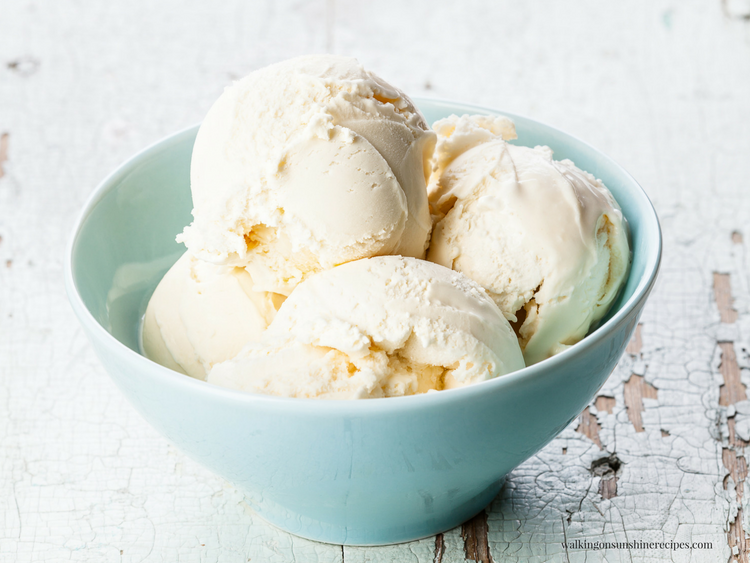 Easy Homemade Vanilla Ice Cream Recipe - smooth, creamy and so delicious! You'll love how easy this recipe is to make and keep cool on a hot summer day!
Ingredients
Ingredients for the Ice Cream Base
3 cups granulated sugar
3 cups whole milk
6 cups whipping cream
1 tablespoon vanilla extract
2 tablespoon lemon juice
Ingredients for the Ice Cream Maker
8 lbs ice
3 cups rock salt
Instructions
In a large mixing bowl, combine the sugar, milk, cream, vanilla extract and lemon juice. Whisk until mixed through.
Pour the mixture into the canister, insert the dasher, and secure the lid tightly.
Place the canister into the center of the bucket. Assemble the motor over the canister with the dasher shaft inserted into the hole in the bottom of the motor.
Turn the motor counter clockwise to lock the motor onto the bucket.
Place the bucket into the sink.
Plug in the power cord. Allow the mixture to churn for a couple minutes before adding ice to the bucket.
Unplug the motor. Add about 2 inches of ice to the bottom of the bucket and sprinkle on about a ½ cup of the rock salt. Repeat the layers until the bucket is completely full.
Plug the motor back in and allow the ice cream to churn for 20-40 minutes, or until the machine slows or stops on it's own. Keep an eye on it and add more ice as needed.
Remove the canister. If you wish to mix in items such as fresh berries, chocolate, nuts, etc, do so now with a long-handled rubber spatula.
Replace the lid, insert the storage plug, and put the canister into the freezer for 1-2 hours before serving.
Notes
This recipe should yield around 8 to 12 servings.
Recommended Products
As an Amazon Associate and member of other affiliate programs, I earn from qualifying purchases.
Nutrition Information:
Yield:
12
Serving Size:
1
Amount Per Serving:
Calories:

639
Total Fat:

45g
Saturated Fat:

29g
Trans Fat:

1g
Unsaturated Fat:

13g
Cholesterol:

141mg
Sodium:

28356mg
Carbohydrates:

56g
Fiber:

0g
Sugar:

57g
Protein:

5g
The nutrition information is calculated automatically. I cannot guarantee its accuracy. If this data is important to you, please verify with your trusted nutrition calculator.
This recipe has been updated since it first appeared in 2018 with new photos, information and a new printable recipe card that includes nutritional information. I hope you enjoy the updates as much as I enjoyed working on them!