Tips and tricks I've learned along the way for Freezing Cookie Dough which will help you have fresh baked cookies any time you want! It's as easy as reaching into the freezer and grabbing a few frozen dough balls of your favorite easy cookie recipe.
Let me show you this easy freezing tip and you too can have cookies fresh from the oven in minutes!
Today I'm sharing with you an easy tip on how to freeze cookie dough. I do this often and thought it would be fun to share with you the easy tips I've learned over the years.
These methods work on drop cookie dough, like my Jumbo Chocolate Chip Cookies, slice and bake cookie dough and cut out cookie dough, like my Easy Sugar Cookies Recipe. I started doing this a few years ago so I wouldn't be tempted to eat an entire recipe of cookies once they were baked.
Table of Contents
💭Freezing Cookie Dough
I love the idea of freezing an entire recipe of cookie dough balls and pulling out two or three to bake when I was in the mood for something sweet, but didn't want to eat all the cookies.
These freezing tips work great if you want to prepare a skillet cookie for two. Depending on the size of your cast iron skillet, you don't need a whole recipe of chocolate chip cookie dough for my Skillet Cookie Recipe. Just pull around 4 to 6 frozen cookie dough balls out and within 30 minutes you have a delicious dessert warm from the oven.
Helpful Kitchen Tools
This post contains affiliate links. That means that if you make a purchase after clicking on a link I may earn a small commission at no extra cost to you. For more information, click here.
Cookie Scoop Set - Small/1 Tablespoon, Medium/2 Tablespoon, Large/3 Tablespoon
Bakeware Nonstick Cookie Sheet
Ziploc Quart Food Storage Freezer Bags, Grip 'n Seal Technology for Easier Grip, Open, and Close, 75 Count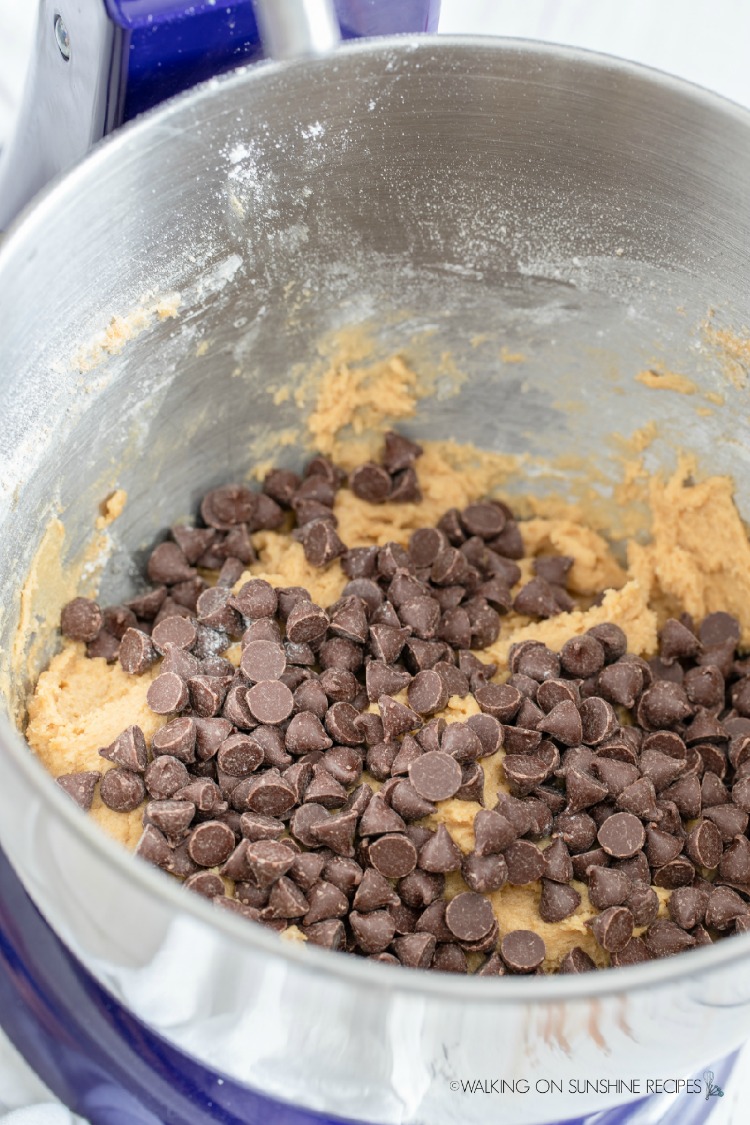 💭Tips on Freezing Drop Cookie Dough
Prepare the recipe according to the instructions.
Using a cookie scoop, divide the cookie dough and place on a baking tray.
Place the baking tray into the freezer for about 30 minutes.
Once the cookie dough balls have frozen, place them in a freezer bag and store in the freezer.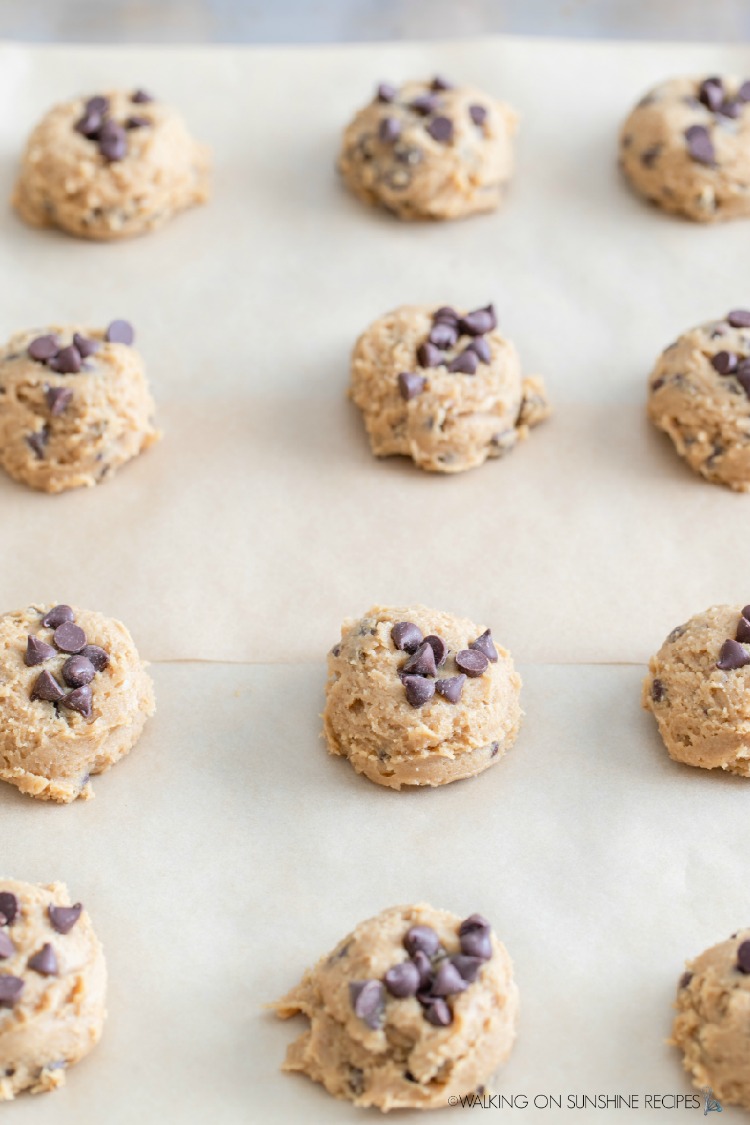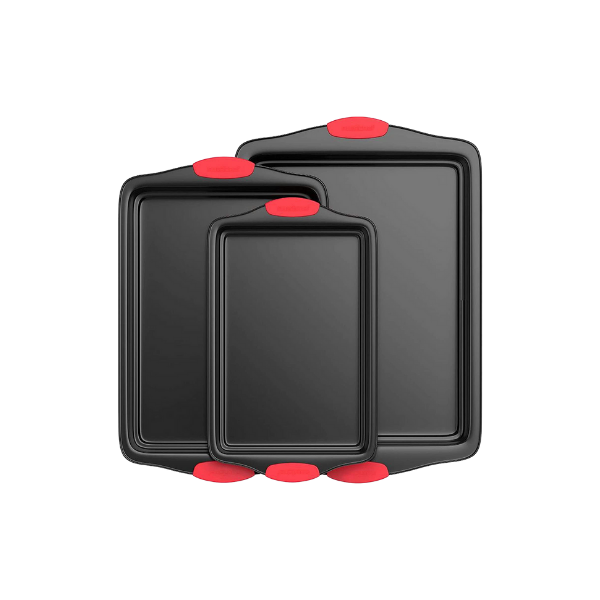 My Favorite Baking Trays: 3-piece nonstick cookware set includes the small, medium, and large size.These are non-stick carbon steel bakeware set with red silicone handles.
💭Tips on Freezing Cut Out Cookie Dough
Prepare the dough according to the recipe you are following.
Roll out the dough and cut into the shapes you want.
Place the dough shapes on a baking tray that's been lined with parchment paper.
Then place the tray in the freezer to flash freeze the dough shapes for about 30 minutes.
Remove the frozen dough shapes and place in either a freezer safe plastic container. I do not recommend storing frozen dough shapes in plastic bags because they may break.
Place the cookies in a single layer with either waxed paper or parchment paper between each layer to avoid breakage.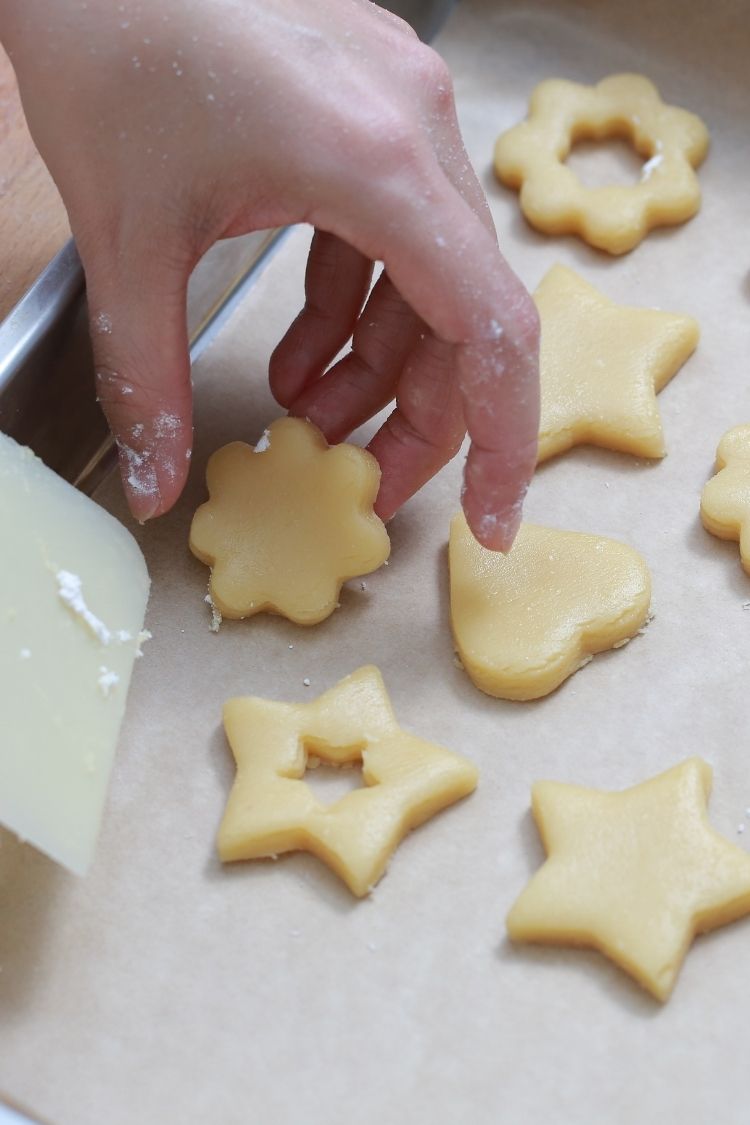 💭Tips on Freezing Slice and Bake Cookie Dough
Prepare the cookie dough according to the directions. If you're looking for a great slice and bake cookie dough to freeze, try my Slice and Bake Shortbread Cookies or Vanilla Chocolate Swirl Cookies.
Roll out the dough into a log-like form, only instead of slicing the cookies, wrap the dough first in plastic wrap, sealing tighltly.
Place the dough in an empty paper towel roll with a slit cut down the side and flash freeze the dough this way to help keep it's cylinder shape. After about 30 minutes remove the dough from the paper towel container and place in a freezer safe plastic bag or container in the freezer.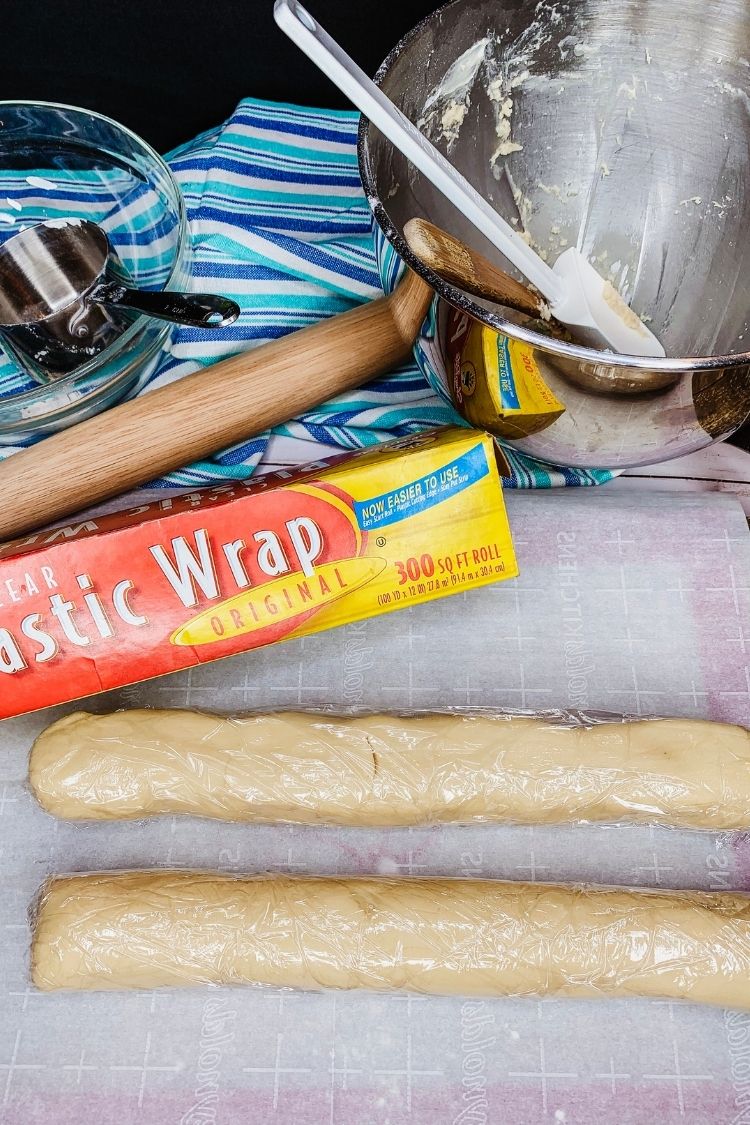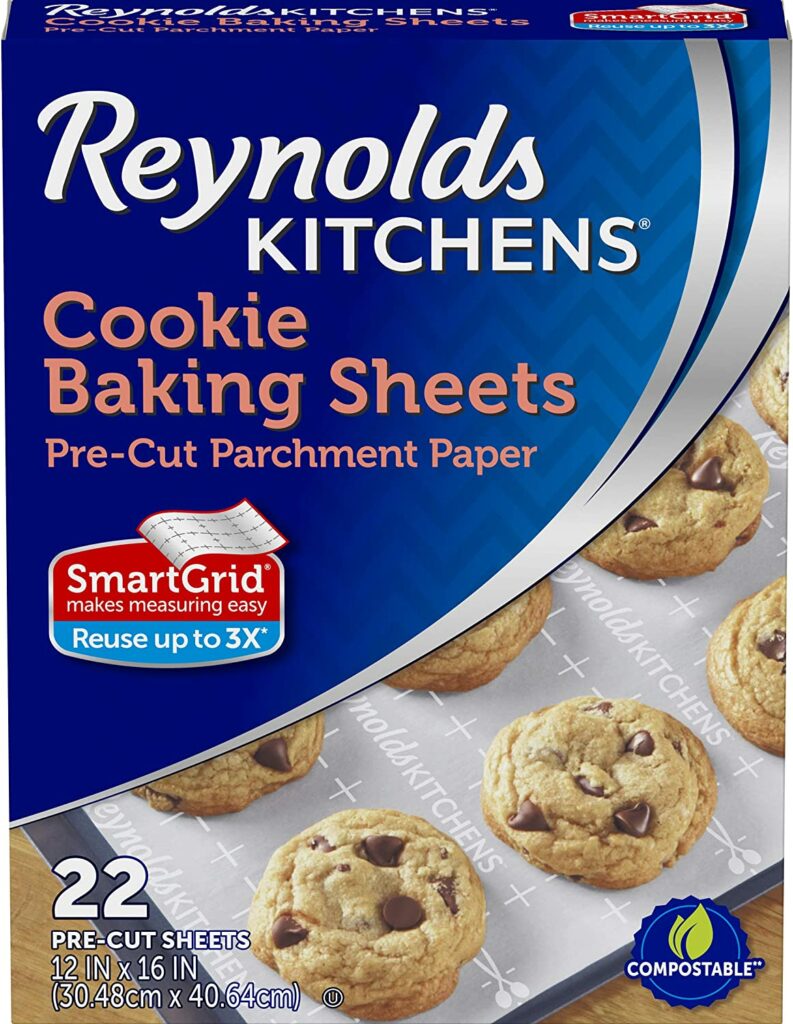 Parchment Baking Sheets: Ensure your cookies are precisely spaced and bake evenly without sticking or breaking. Pre-cut to 12" x 16" sheets, they make your prep, baking and clean-up a breeze. Use them to roll-out dough, line baking sheets, decorate cookies and even wrap your finished creations for a beautiful gift.
💭How to Bake Frozen Cookie Dough
Remove the cookies from the freezer.
Place on a baking tray that's been lined with parchment paper.
If you're baking slice and bake cookies, you may need to wait a little while for the dough cylinder to defrost and soften a bit before slicing.
Bake the cookies according to the directions on the original recipe.
Enjoy with a tall glass of ice cold milk.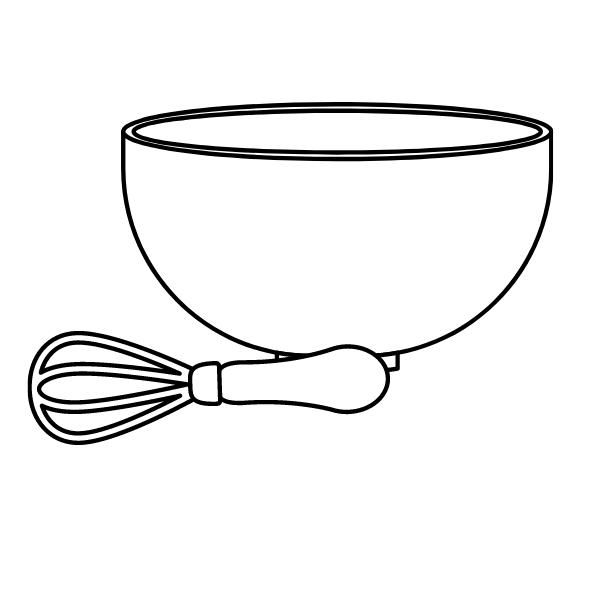 Baking Tip: Sometimes when you remove frozen cookie balls from the freezer, they can be a little crumbly. Allow them to warm up for a few minutes before baking.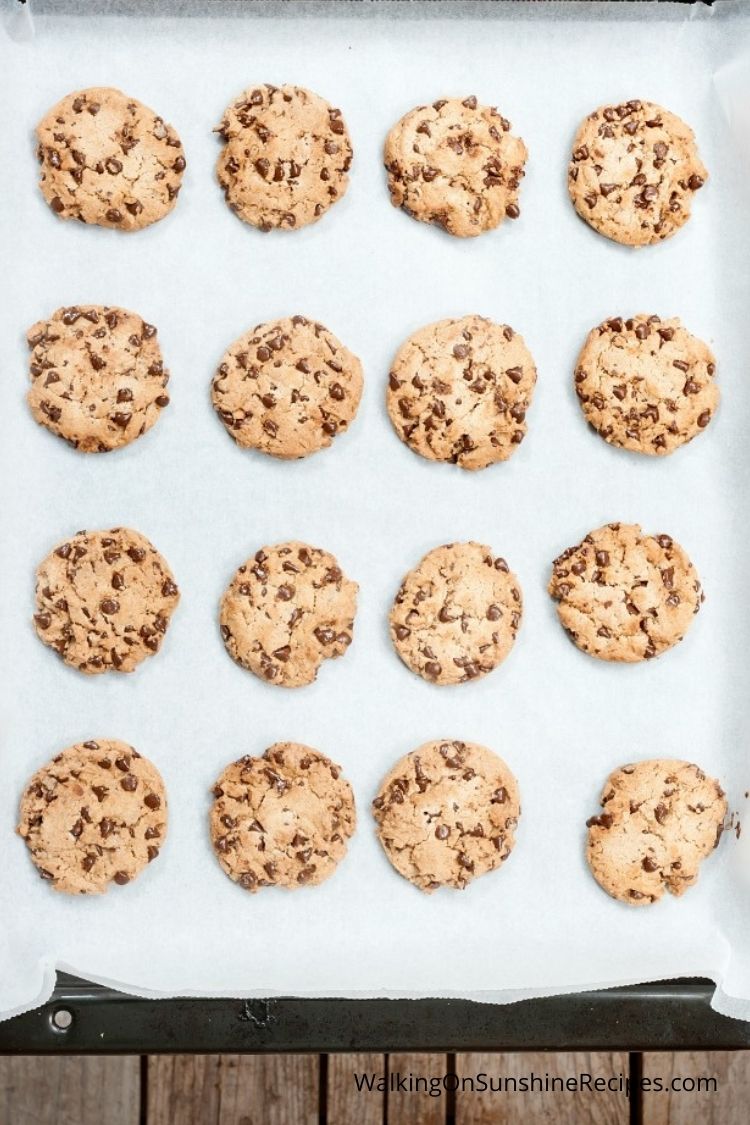 💭How Long Does Frozen Cookie Dough Last?
When frozen properly, cookie dough will last in the freezer for up to six months. These tips really come in handy when you are planning for holidays, birthday celebrations or you just want to make sure you have extra cookie dough ready to go when unexpected company drops in.
💡Frequently Asked Recipe Questions
Is it better to freeze cookie dough or baked cookies?
In my opinion, yes! Freezing cookie dough balls gives you the flexibility of only baking a few cookies as needed. It also gives you the homemade smell of fresh baked cookies!
Can you bake frozen cookie dough without thawing?
Yes, simply place the frozen cookie dough balls on a baking tray lines with parchment paper. Bake for an additional 2 to 4 minutes longer than the original recipe requires.
⭐Before You Begin! If you make this recipe, please leave a review and star rating. This helps my business thrive and continue providing FREE recipes.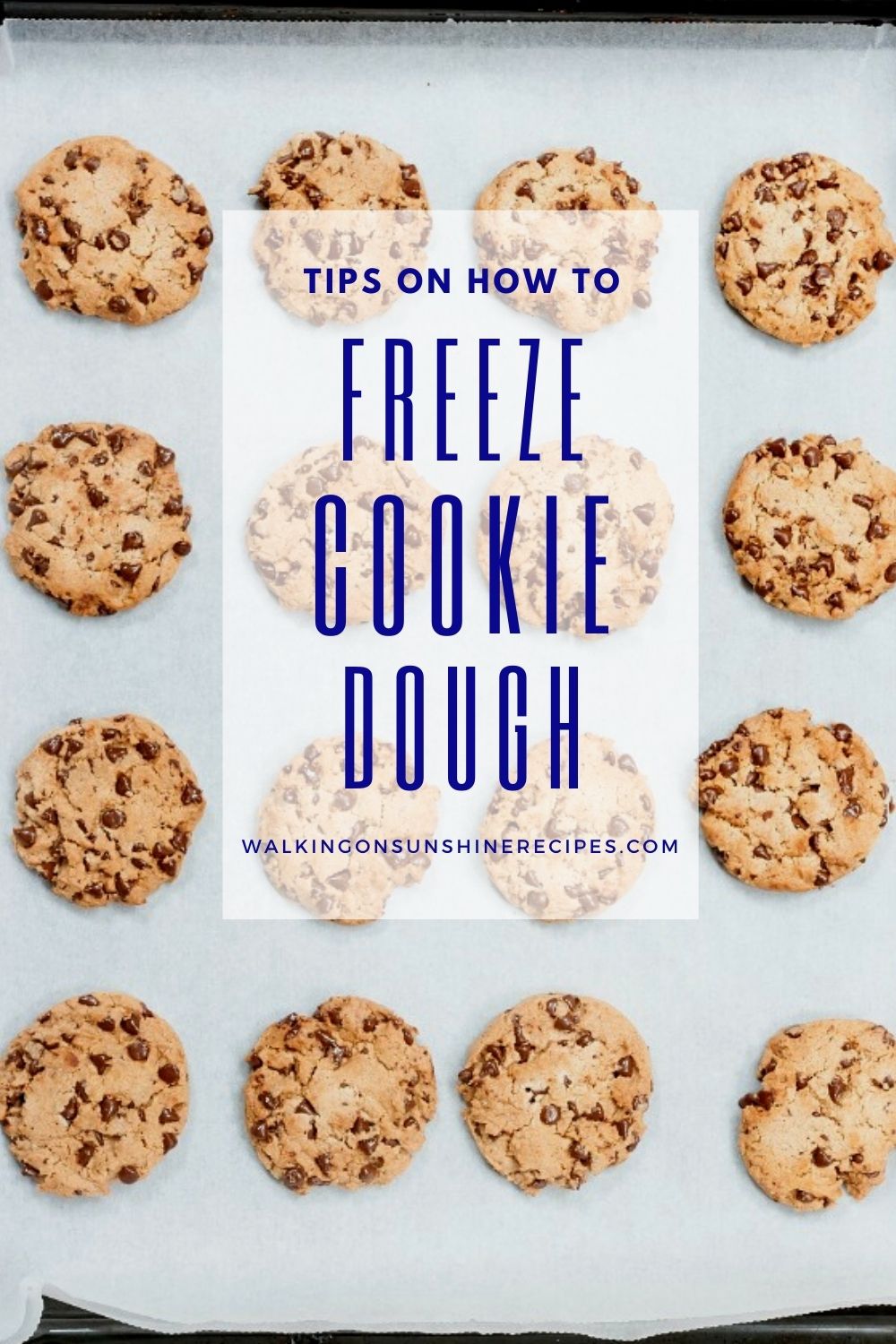 🌟Try these recipes next...
Jumbo Chocolate Chip Cookies – because a bigger cookie is always better than a smaller one, right? These are bakery style cookies with the delicious flavor of chocolate with every bite.
M&M Chocolate Chip Cookies – a basic chocolate chip cookie dough recipe but I add fun M&M candies to the dough.
Easy Sugar Cookies – dough that is very easy to roll out. The dough doesn't spread when baking either so you're sure to get beautiful cutout cookies every time.
This recipe has been updated since it first appeared in 2014 with new photos and new tips. I hope you enjoy the updates as much as I enjoyed working on them!