Looking for a quick and easy gift idea? Why not put together a few of these Mason Jar Snack Gift Ideas?
They're a fun and tasty way to show your loved ones you care, and they're also super easy to make. Just pack a bunch of your favorite snack foods into a few mason jars, tie on some festive ribbons, and you're good to go!
Here are 24 different ideas that would make great gifts over the holiday season.
Check out all the other Mason Jar Gift Ideas for even more delicious recipes to give as gifts this holiday season.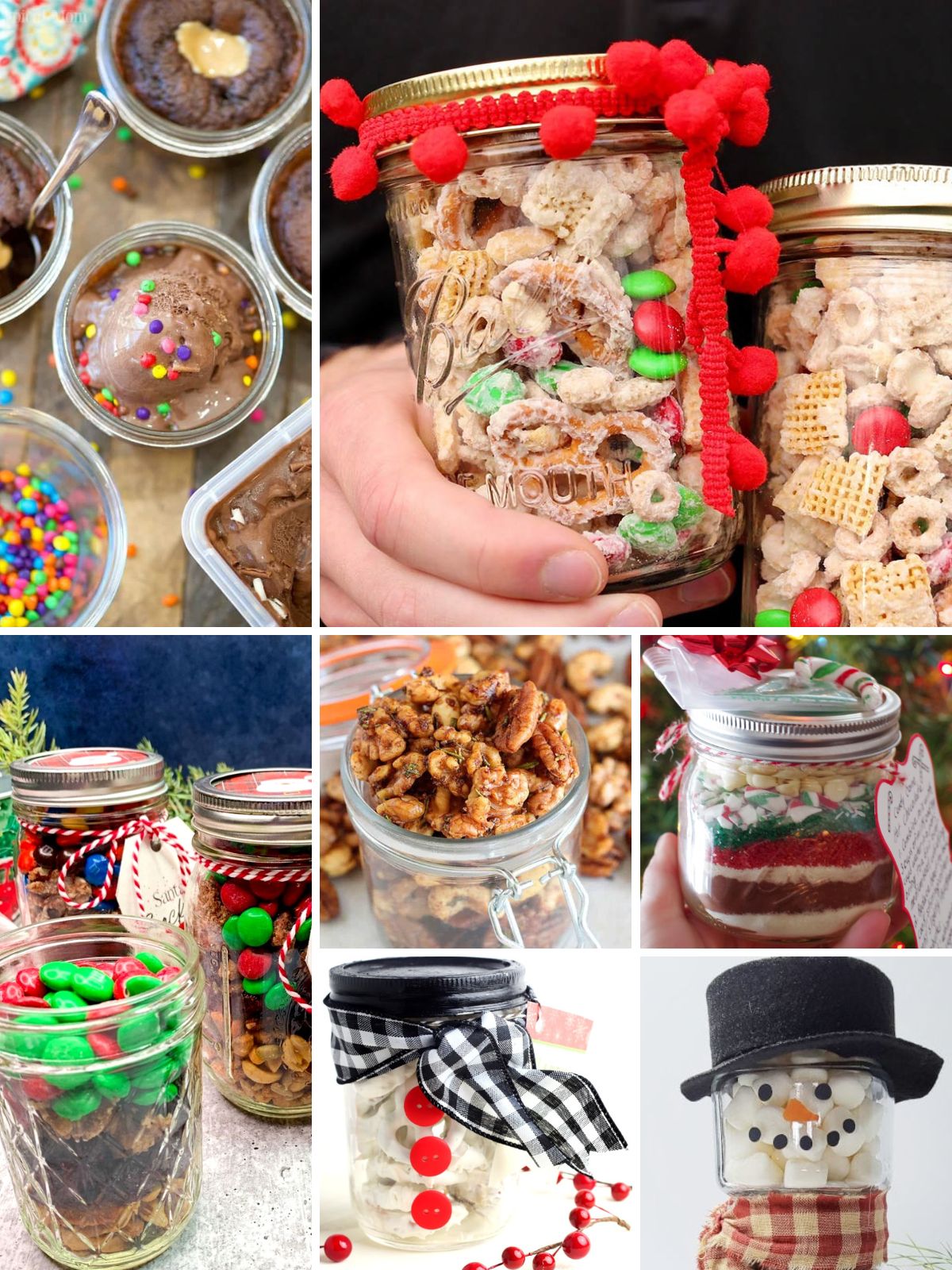 These are easy to make and can include all sorts of yummy treats. Your kids will love giving these snacks to school friends, teachers or neightbors. Plus, they make a great addition to any Christmas party!
Check out these 24 different mason jar snack gift ideas for inspiration. And if you need more ideas, check out my Mason Jar Gift Ideas for the Holidays eBook as well as my latest Christmas Trail Mix in a Jar recipe.
Looking for more Mason Jar Mix Recipes? Try my Brownie Mix in a Jar, Mason Jar Hot Chocolate or my Bulk Pancake Mix.
Table of Contents
💭Mason jar Christmas gifts
If you're looking for unique and thoughtful Christmas gift to give this holiday season, check Mason jars are a great option! They're inexpensive, easy to find, and can be used for a variety of things. Here are some snack ideas that would make perfect mason jar gifts:
Shortbread cookies
Popcorn kernels
M&Ms or other candy
Coffee beans or ground coffee
Tea bags or loose leaf tea
Just add a cute label and ribbon, and you've got a lovely and tasty gift that your friends and family will love!
Mason Jar Gifts for the HolidaysClick HERE for More Information
💭How to decorate mason jars for Christmas gifts
To decorate your mason jar Christmas gifts, start by wrapping the jar in festive ribbon or twine. Then, add a personalized label or gift tag with the recipient's name and a holiday message.
You can also embellish the jars with other festive touches like tiny holiday trees, holly sprigs, or red and green glitter. Whatever you choose, your recipients are sure to love their snack-filled mason jar Christmas gifts!
💡What can you put in a mason jar as a gift?
If you're looking for a festive and unique Christmas gift, why not try putting together a snack jar? This is a great way to show some creativity and thoughtfulness, and it's also a budget-friendly option. Plus, who doesn't love receiving a mason jar full of delicious treats? Here are a few ideas to get you started:
Salted Caramel Popcorn: This sweet and salty snack is sure to be a hit with everyone on your list. Simply make or purchase some popcorn, then drizzle it with melted caramel and a sprinkling of salt. Place the popcorn in a mason jar and tie on a cute ribbon.
Homemade Cookies: Another great option for sweet tooths. Choose your favorite Christmas cookie recipe and bake up a batch (or two!). Once they're cooled, place them in the mason jar and decorate with some festive ribbon.
Savory Snack Mix: If you're looking for something savury, try puts together a snack mix of pretzels, nuts and dried fruit. You can even add in some cheesy crackers or sausage bites for an extra special touch. Place everything in the mason jar, then seal it up with a lid and decorate with a bow.
These are just a few ideas to get you started - there are endless possibilities when it comes to using mason jars for gifts! Check out my Easter Treats for Kids if you're looking for ideas for Spring.
🛒Helpful Kitchen Tools
This post contains affiliate links. That means that if you make a purchase after clicking on a link I may earn a small commission at no extra cost to you. For more information, click here.
More Information
More Information
More Information
More Information
More Information
More Information
⭐Before You Begin! If you make this recipe, please leave a review and star rating. This helps my business thrive and continue providing FREE recipes.
📋Recipe Collection
Mason Jar Snack Gift Ideas
Included in these 24 different mason jar snack gift ideas are Chex snack mix, cupcakes, edible cookie dough and air fryer nuts!