Fall is here and the air is filled with the sweet scents of the season! If you're looking for a perfect way to celebrate this cozy time of year, then look no further than these delicious collection of Pumpkin Apple Desserts.
From classic recipes to new ideas, these recipes are sure to bring warmth and joy into your kitchen. Discover something delicious to prepare for your family!
Check out all the other easy pumpkin dessert ideas for even more delicious recipes.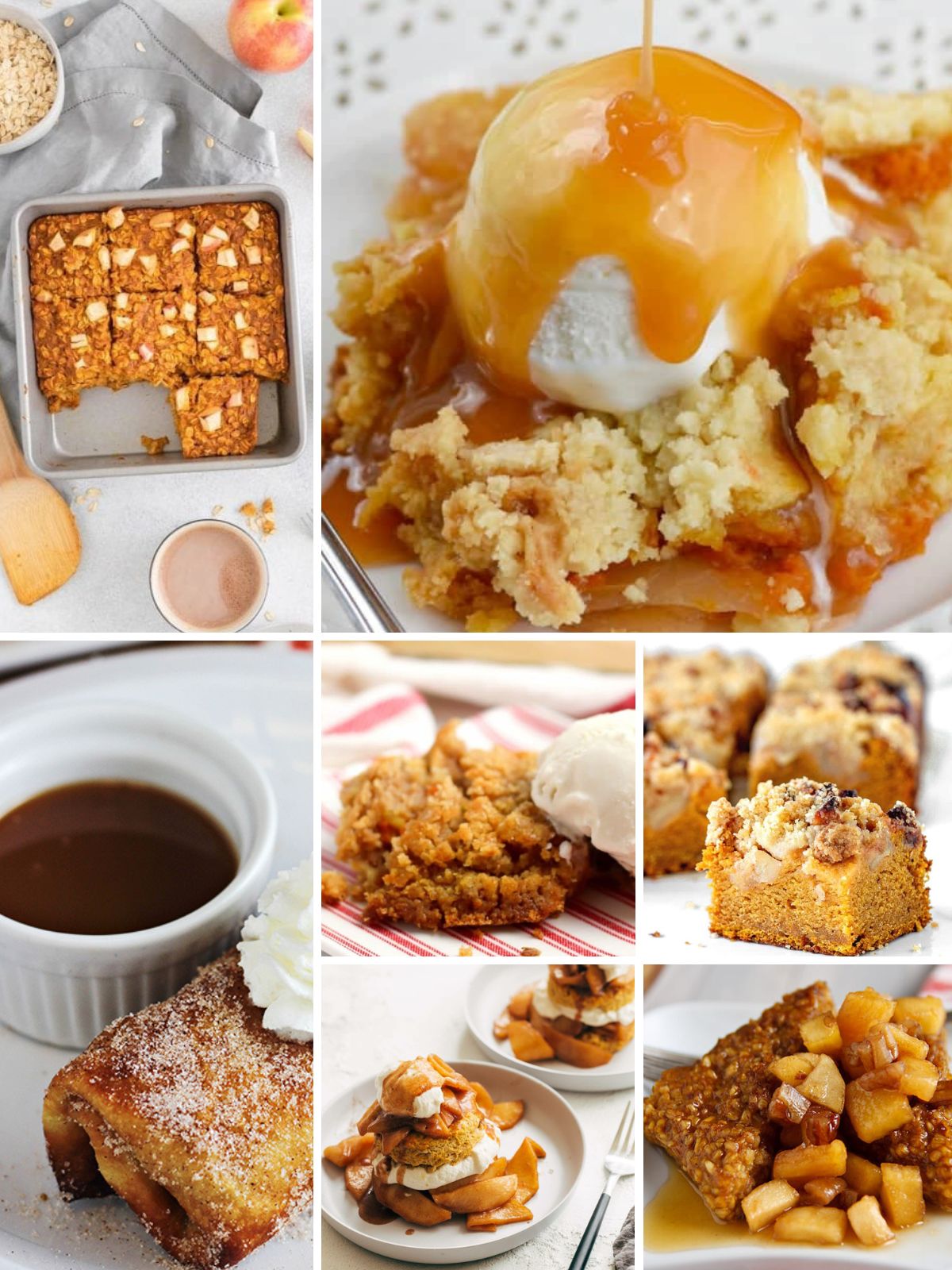 Leaves changing color, cooler temperatures, and the smell of freshly baked pies wafting through the air. We all love this time of year for its beauty and abundance.
And one fruit that perfectly captures fall's essence is the pumpkin apple combination. This classic duo never goes out of style!
From crumbles to cakes to cookies (and more!), here are 12 amazing pumpkin-apple desserts sure to make your family savor every bite!
Looking for more Apple Dessert Recipes? Try my Apple Danish Recipe, Mason Jar Apple Pie or my recipe for Pillsbury Cinnamon Rolls with Apples
Table of Contents
📌Quick Tip: When baking with apples, it's important to select the right variety for your recipe. Each apple variety has different levels of sweetness, tartness, and firmness that can impact your baked goods.
👩‍🍳Recipe Notes
The flavor combination of apple and pumpkin is a delicious blend that captures the essence of autumn. The sweet and slightly tart notes of fresh apples pair perfectly with the sweet taste of pumpkin.
Whether in a pie, a cake, or even a spiced latte, the apple-pumpkin duo offers a delightful balance of fruity freshness and rich, seasonal warmth. It's no wonder that this flavor combination has become a staple during fall festivities!
💡Recipe FAQ
Simply click the plus sign to read more about the questions you see below.
If YOU have a question regarding this recipe, please let me know in the comment section!
What are good dessert apples?
Honey Crisp, Fuji, Pink Lady and Gala all have a crisp and juicy texture, making them ideal for snacking or incorporating into desserts like tarts and cakes.
🛒Helpful Kitchen Tools
Bakeware SetMore Information
Pyrex Basics 3 Quart GlassMore Information
Insulated Expandable Double Casserole CarrierMore Information
Cook with Color 8 PieceMore Information
Pastel Polka Dot Picnic/Dinner Plate,More Information
Thanksgiving Planner with Recipes and Printables to help you have a GREAT celebration!Click HERE for More Information
📇Recipe Collection
⭐Before You Begin! If you make any of these recipes, please leave a review and star rating. This helps my business thrive and continue providing FREE recipes.
Pumpkin Apple Desserts
From classic recipes to new ideas, these Pumpkin Apple Desserts are sure to bring warmth and joy into your kitchen. Discover something delicious to prepare for your family!