Start the weekend off right with this collection of Quick and Easy Sweet Breakfast Ideas that will definitely satisfy any crowd you're feeding. Included in this list are casseroles, sweet rolls, donuts, and so much more that can be enjoyed at any breakfast you share with family and loved ones. If you have a sweet tooth, you are going to love this collection!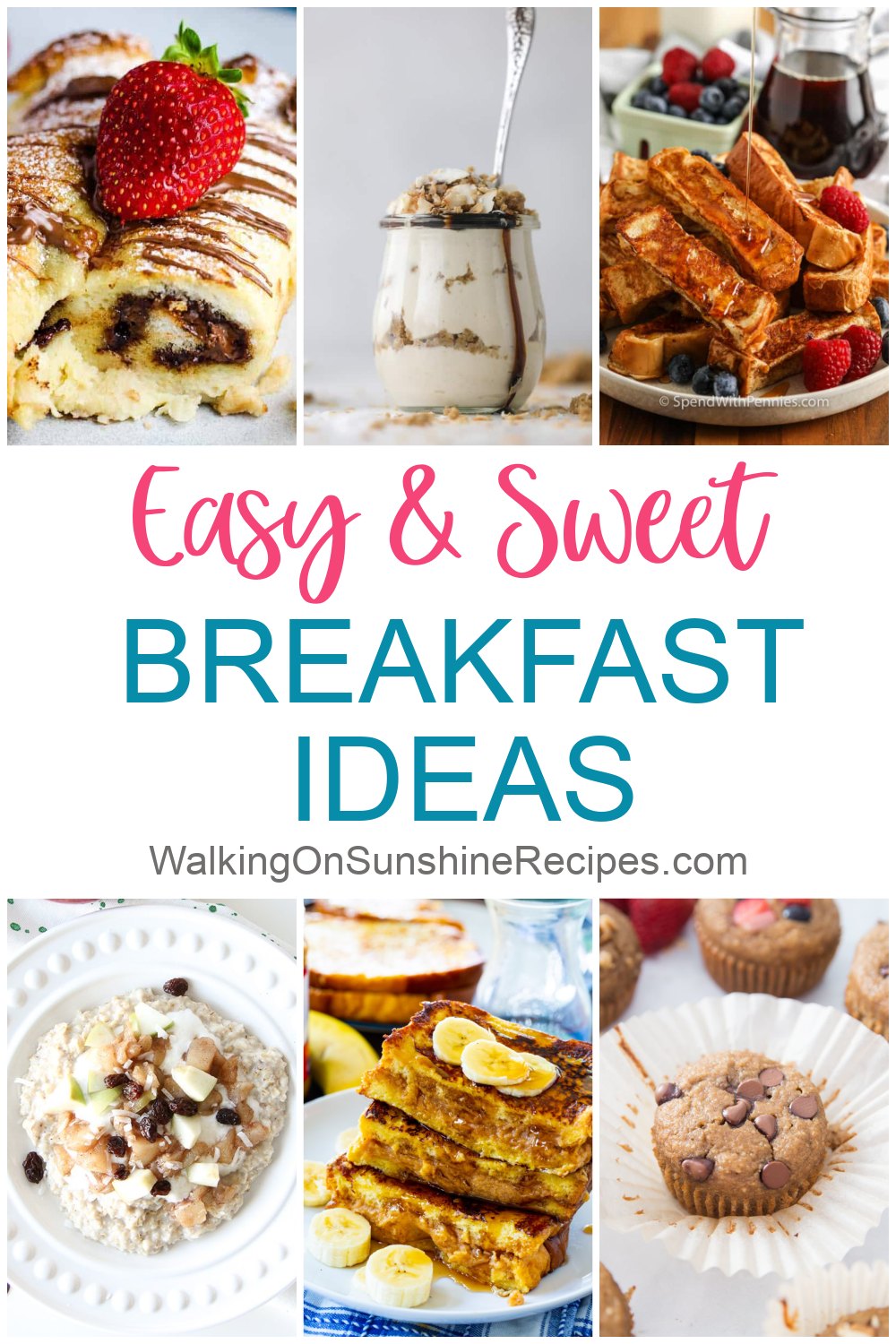 This collection was inspired by my Best Cinnamon Roll collection of recipes and my Crescent Roll Breakfast Recipes. Both categories are technically "breakfast" but there's a ton of sweetness going on in the recipes as well.
I love having company over for brunch. It's always nice to serve something sweet after the traditional breakfast food has been enjoyed.
Table of Contents
Quick Filling Breakfast
Sweet breakfast recipes will fill you up quick, but you want to make sure you're also serving eggs or another protein to serve alongside the sweet cinnamon rolls, danishes or donuts.
Try adding recipes like my Breakast Casserole with Hashbrowns, Scrambled Egg Muffins or even my Mini Quiche Recipe when serving sweet breakfast recipes.
Helpful Kitchen Tools
This post contains affiliate links. That means that if you make a purchase after clicking on a link I may earn a small commission at no extra cost to you. For more information, click here.
Dash Mini Waffle Maker for Individual WafflesClick HERE to Print
Professional Whipped Cream Dispenser for Delicious Homemade Whipped CreamClick HERE to Print
Sugar and Creamer Set, with Sugar and Sweetener Holder, Ceramic Make, WhiteClick HERE to Print
TIANGR Sugar Bowl and Creamer SetClick HERE to Print
Honey Jar with Dipper and LidClick HERE to Print
Storage Tips
Pancakes, French Toast and Waffles leftovers can easily be flash-freezed on a baking sheet in the freezer and then transferred to a freezer-safe plastic bag for up to 3 months. Flash-freezing helps ensure that the items don't freeze stuck to each other causing a huge mess when defrosting.
Leftover cinnamon rolls or buns can also be frozen this way.
You can freeze most breakfast casserole leftovers as well. Add the leftovers to freezer-safe containers.
Prep Ahead Tips
You can make-ahead quite a few of these recipes to help you plan for holidays or family celebrations.
I did this with my breakfast casserole recipe a few years ago for my son's wedding when I had to feed a huge number of out-of-town guests and groomsmen the day of the wedding. I prepared the recipe and froze it before baking. Then we traveled six hours to Vermont with the casseroles frozen to defrost and bake the morning of the wedding.
Cinnamon Rolls can also be frozen before baking. Check out my Freezer Friendly Cinnamon Rolls recipe for my tips.
⭐Before You Begin! If you make this recipe, please leave a review and star rating. This helps my business thrive and continue providing FREE recipes.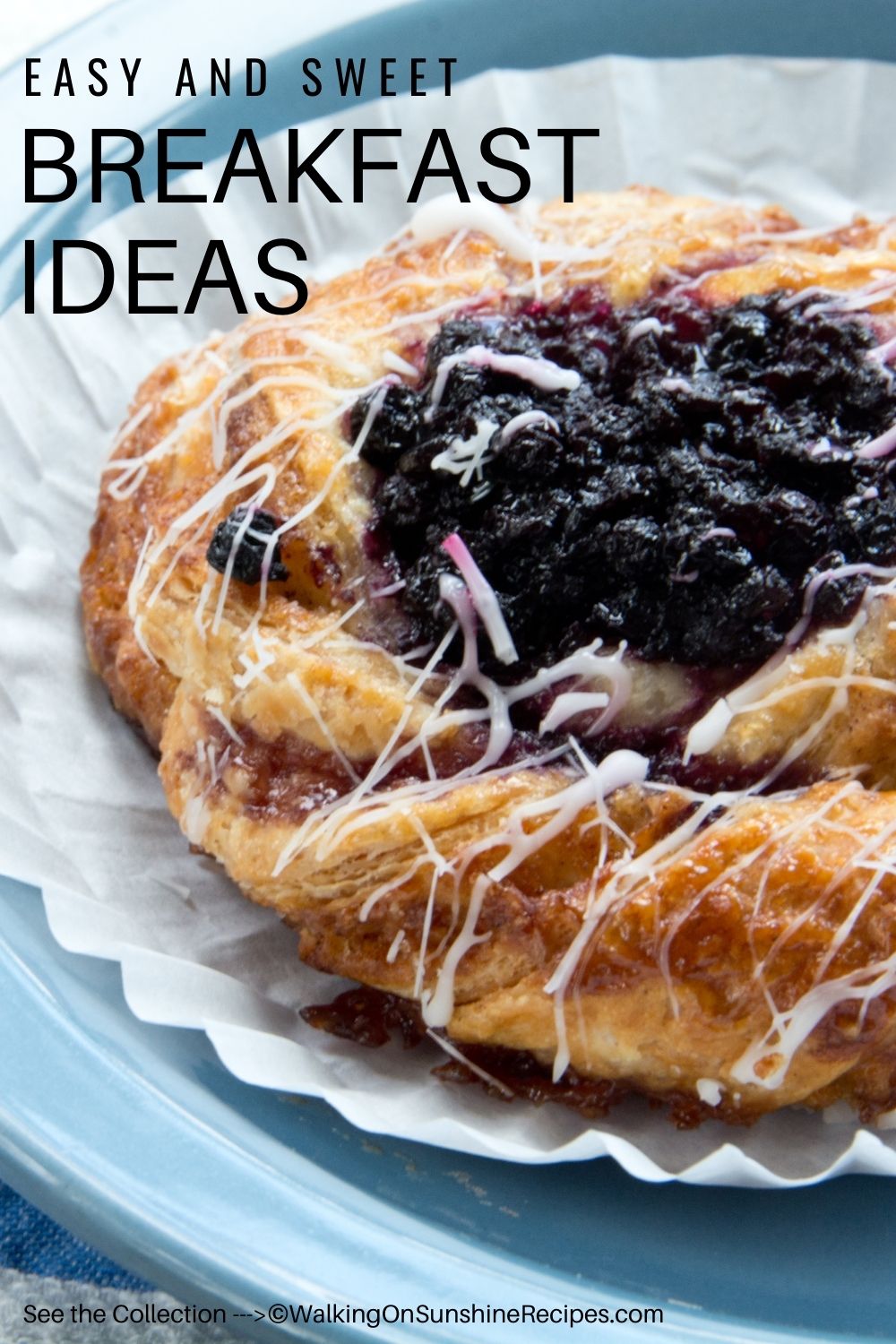 Quick and Easy Sweet Breakfast Ideas