Sweet and savory recipes are included in this collection of recipes with pumpkin puree such as pumpkin mac & cheese, cheesecake, brownies and even pumpkin pizza. These recipes are simple to follow and produce deliciously moist and flavorful results.
So, whether you're looking for a sweet or savory classic recipe or want to try something completely new, you'll find something delicious listed below. Give one of this recipes a try today!
Check out my full list of other Easy Pumpkin Desserts for even more ideas!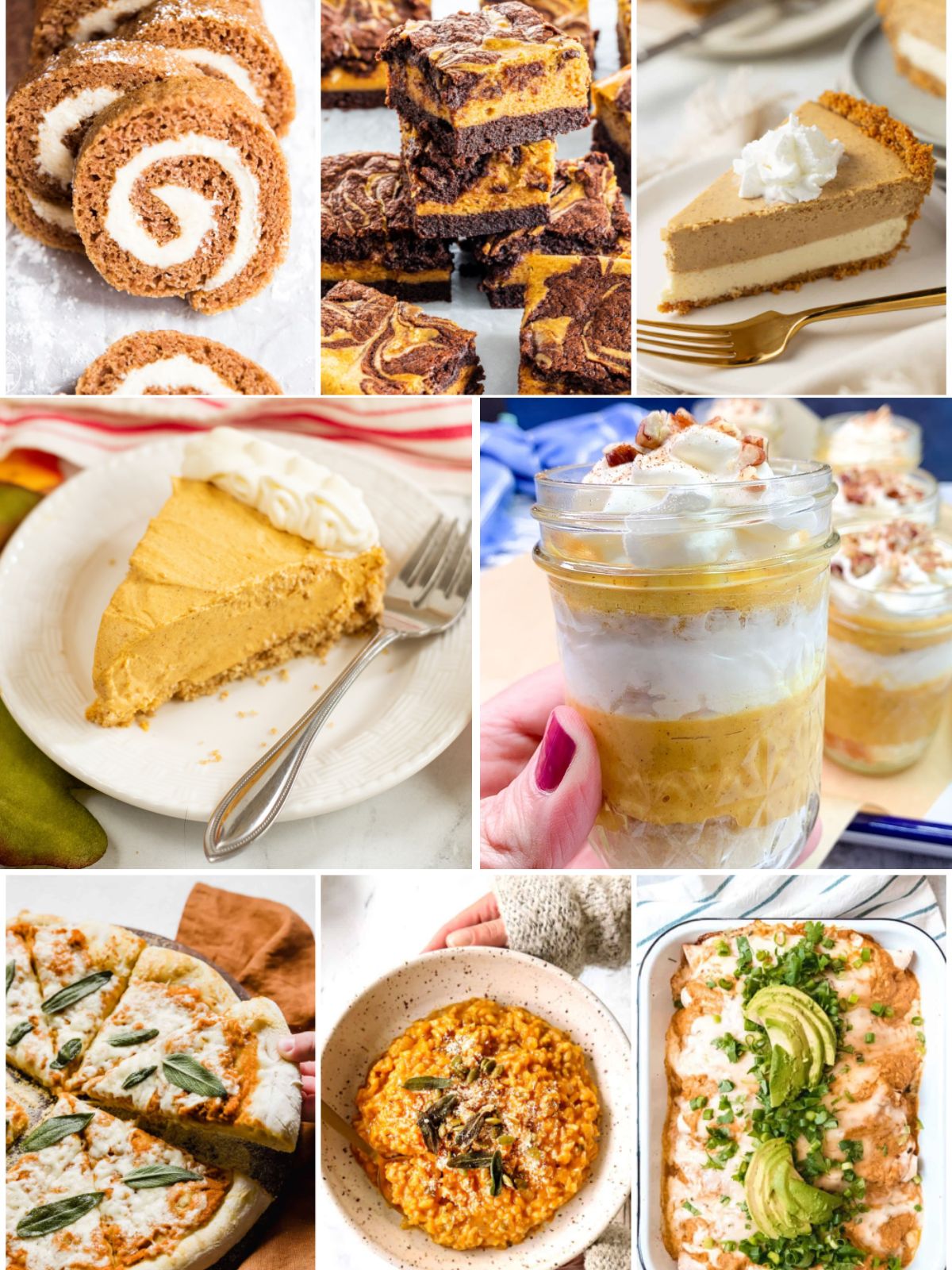 Pumpkins are not just for Halloween decorations or to decorate the fireplace for Thanksgiving. This gourd is actually quite versatile and can be used in a variety of savory and sweet recipes.
While pumpkin is often associated with sweet dishes like pies and cookies, it can also be used to create savory recipes. For example, pumpkin can be roasted and added to soups or stews for a touch of sweetness and creaminess.
It can also be used as a filling for ravioli or lasagna. When paired with the right ingredients, pumpkin can make a delicious and satisfying main course.
So next time you're looking for something new to try, consider using pumpkin in a savory dish. You may just be surprised by how good it is!
Looking for more Easy Pumpkin Recipes? Try my Pumpkin Pie Treats, Pumpkin Spice Pull Apart Bread or my Mini Pumpkin Bundt Cakes that includes a video showing you how easy they are to prepare.
Table of Contents
What to do with Leftover Pumpkin Puree?
Some recipes don't require you to use the whole can of canned pumpkin puree. So what do you to with the leftover? Do you stick it in a plastic container in hopes you'll remember it's in the back of the refrigerator?
Leftover pumpkin puree is a versatile ingredient that can be used in sweet or savory dishes. One popular option is to add it to oatmeal or waffle batter for a fall-themed breakfast.
Another is to use it in soups, stews, or chili for a heartier meal. Pumpkin puree can also be used as a healthy alternative to butter or oil when baking muffins, breads, or cakes.
For a festive twist on classic recipes, try adding pumpkin puree to macaroni and cheese, mashed potatoes, or even brownies. With so many delicious possibilities, there's no need to let leftover pumpkin puree go to waste.
Can I add Pumpkin Puree to Pancake Mix?
This is one of the MOST asked questions in my emails regarding canned pumpkin puree or leftover canned pumpkin puree. The answer is yes!
You can easily add leftover pumpkin puree to pancake mix to create a seasonal breakfast treat. Just add a quarter cup of puree for every cup of pancake mix. You may need to add a little extra milk to the batter to adjust for the extra moisture from the puree.
Then cook the pancakes as usual. The pumpkin puree will add a subtle flavor to the pancakes and a boost of nutrients. Check out my recipe for Pumpkin Pancakes that uses Hungry Jack Pancake Mix.
Storing Tips
If you have leftover canned pumpkin puree, there are a few different ways you can store it. One option is to pour the puree into an ice cube tray and freeze it. Once the pumpkin cubes are frozen, you can transfer them to a freezer bag. This way, you can thaw out only as much as you need for your next baking project.
Another option is to portion out the puree into a freezer-safe container and freeze it for up to three months. When you're ready to use it, thaw the puree in the refrigerator overnight.
Finally, you can also keep leftover pumpkin puree in a covered container in the refrigerator for up to five days. Whichever storage method you choose, be sure to label the container with the date so you know when it needs to be used up.
Helpful Kitchen Tools
This post contains affiliate links. That means that if you make a purchase after clicking on a link I may earn a small commission at no extra cost to you. For more information, click here.
More Information
More Information
More Information
More Information
More Information
⭐Before You Begin! If you make this recipe, please leave a review and star rating. This helps my business thrive and continue providing FREE recipes.
Recipes with Pumpkin Puree