Mini Pumpkin Pie Treats make the perfect dessert for Thanksgiving or any fall gathering!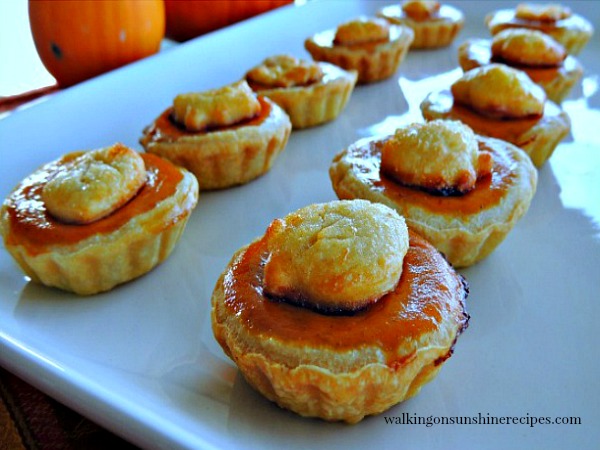 Do you love tiny treats as much as I do? If you answer YES, then you're going to enjoy these Mini Pumpkin Pie Treats I'm sharing with you today.
One of my favorite things to do is experiment with making "tiny" desserts or hand-held desserts that are perfect for buffets. I think what I really enjoy about tiny desserts is that they look so pretty and you can enjoy the taste of the dessert in a tiny bite without over-eating.

Over the weekend, I made these delicious mini pumpkin pie treats. They're very similar to the Mini Pumpkin Pies I shared last year, but I made them even prettier by placing a mini baked pie crust cut out on top of the treats as they came out of the oven.
So delicious and they will look beautiful on your dessert table for Thanksgiving or any Fall gathering.
Mini Pumpkin Pie Treats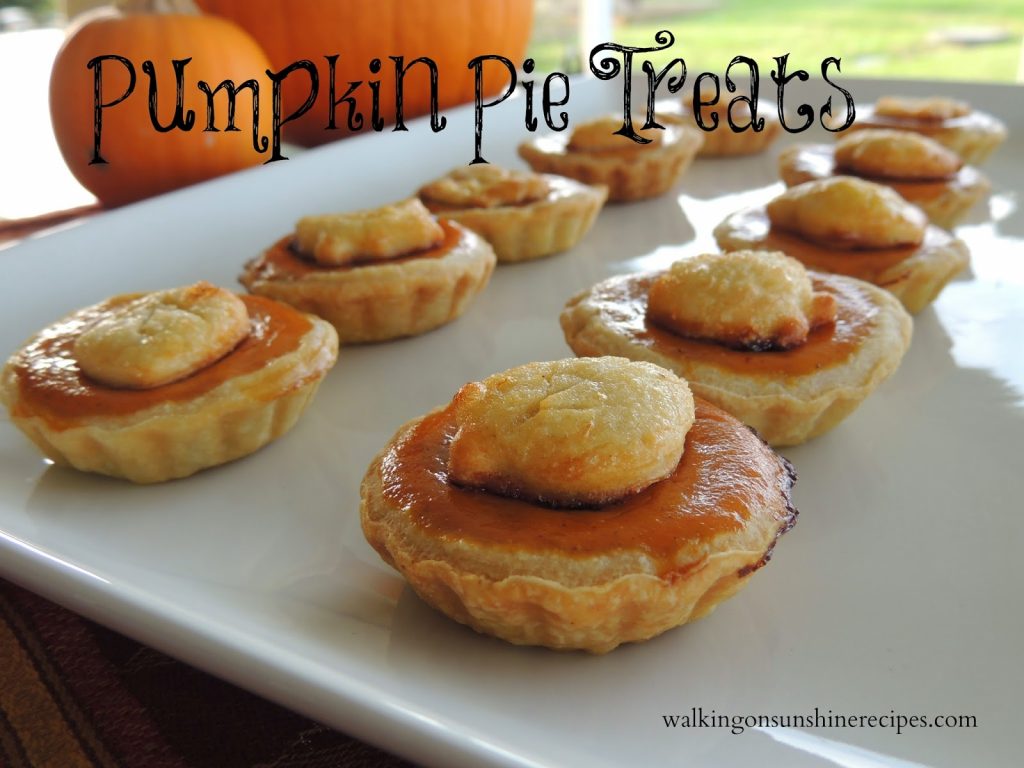 This post contains affiliate links. Your cost is the same, but I earn a commission when you shop through them. Your purchase helps support this site and the fun things I share. For more information, click
HERE
.
To make this recipe, I used my
Mini Tart Pan
. You can also use a regular sized muffin pan, but your pies will be a bit larger than the ones I created. Make sure you check out the full list of the kitchen tools I used at the bottom of this post.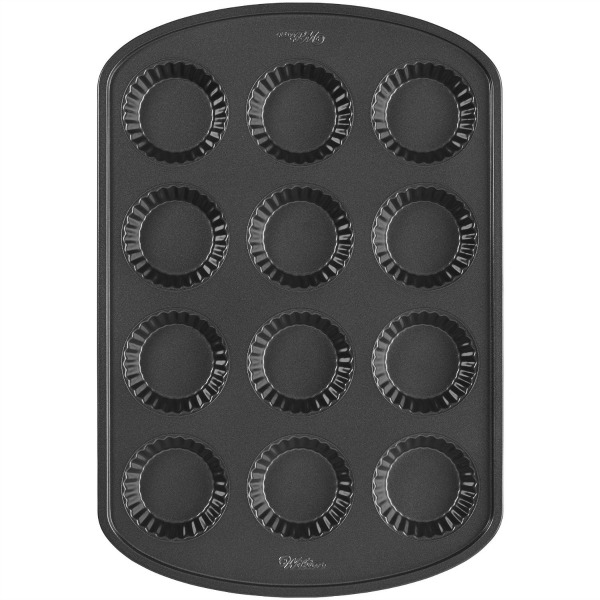 This
Tart Tamper
is an amazing tool. I use this for so many different pastry recipes.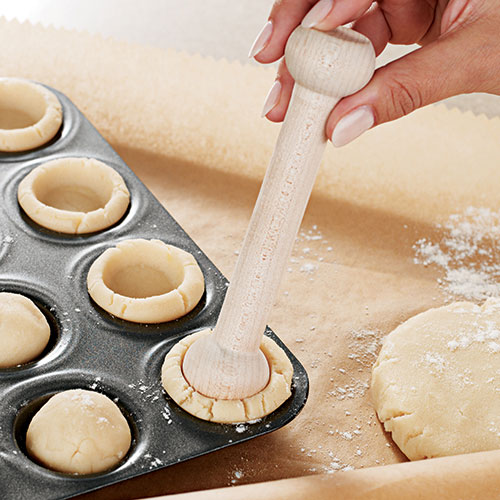 print recipe
Pumpkin Pie Treats
prep time: 20 MINScook time: 15 MINStotal time: 35 mins
Mini Pumpkin Pie Treats make the perfect dessert for Thanksgiving or any fall gathering.
INGREDIENTS:
1 unbaked pie crust/shell
3/4 cup white sugar
2 eggs
1 15 ounce can Libby's 100% Pure Pumpkin
1 12 ounce can evaporated milk
2 to 3 teaspoons of Pumpkin Pie Spice
INSTRUCTIONS:
Beat eggs in a large bowl with an electric mixer.
Stir in the pumpkin, sugar and Pumpkin Pie Spice.
Gradually add in the evaporated milk and combine.
Set aside while you prepare the pie crust.
Roll out the dough and using a biscuit cutter, cut into shapes and press into the bottom of each individual tart pan.
Using a small scoop, fill up each tart with the pumpkin pie mixture. Bake in a 400 degree oven for 15 minutes; checking after 10 minutes. Since they are small pies, they bake much quicker than a full sized pie. AND oven temperatures vary. You know they are done when you insert a knife in the center and it comes out clean AND the pie dough is a nice color.
Collect the scraps and re-roll the dough and using your mini-cookie cutters, cut out the shapes that you want to place on top of each mini pie.
Place the shapes on a parchment lined baking tray and brush with an egg glaze.
Bake in a 400 degree oven for 8 minutes or until browned nicely.
Once you remove the pumpkin pies from the oven, place a baked pie dough shape on top of the still warm pie and press lightly. Let cool slightly in the pan before removing to a baking rack to cool completely.
Transfer pies to a wire rack to cool before serving.
.recipe-inner{max-width:620px;border:6px double #009BFF;padding:20px;background:#f2f2f2;margin: 40px auto;font-family:Lato, sans-serif;}#recipe .info{font-size:13px;text-transform:capitalize;border-bottom:2px solid #000;padding-bottom:7px;margin-bottom:20px}#recipe .info span{margin-top:-6px}#recipe .info span:first-child{margin-right:30px}#printbutton{color:#fff;float:right;background:#555;padding:5px;border-radius:3px;cursor:pointer}#recipe .time{text-transform:uppercase;font-size:12px;text-align:center;background:#fff;padding:15px 0;margin-bottom:20px}#recipe .time span:not(:last-child){margin-right:12px}#recipe .time span:not(:last-child):after{content:";display:inline-block;height:10px;width:1px;background:#000;vertical-align:middle;margin-left:12px}#recipe .summary{line-height:1.7;font-style:italic}.ingredients{line-height:1.7}.ingredients h3,.instructions h3{font-size:22px !important;margin-bottom:0;color:#000}.ingredients ul{margin-top:5px}.instructions li{margin-bottom:15px !important;line-height:1.6}#recipe .instructions{margin-top: 30px;}#recipe .instructions ol{padding-left:39px;margin-top:6px;}.posturl{border-top:1px solid #ccc;padding-top:10px;}.ing-section{padding-left:20px;margin: 10px 0;}.ing-section > span{font-weight:700}#recipe .image{text-align:center;margin-bottom:25px}#recipe .image img{max-width:100%}#recipe .recipe-name{line-height:1.6;text-transform:uppercase;margin-top:0;letter-spacing:1px;text-align:center;margin-bottom:20px}#recipe .time{border-top:1px dashed #000;border-bottom:1px dashed #000;border-right:0;border-left:0}#recipe .summary{margin-bottom:30px}#recipe .summary:after{content:";display:block;width:50px;height:2px;background:#000;margin:auto;margin-top:10px}#recipe .instructions{margin-top:30px}#recipe .instructions ol{padding-left:39px;margin-top:6px}function printDiv(a){var b=document.getElementById(a);newWin=window.open(",'printwin');var c=newWin.document.createElement('style');c.innerHTML='html{font-family:sans-serif}img{display:none;}#printbutton{visibility:hidden;display:none;}.info{text-align:center;text-transform:capitalize}.recipe-name{text-align:center}.info span{margin-right:20px}.time{text-align:center;padding:10px;border-top:1px dashed #000;border-bottom:1px dashed #000;}.time span{margin-right:20px}';newWin.document.getElementsByTagName('head')[0].appendChild(c);newWin.document.getElementsByTagName('body')[0].innerHTML = b.innerHTML;newWin.print();newWin.close()}